To be honest, I didn't love Sydney. But I think a lot of that is due to the weather, which was rainy the entire time we were there. So we couldn't really do some of the outdoor activities we had planned. What we were able to do, we enjoyed. The opera was everything we hoped for and more. 
Day 0: Honolulu to Sydney
We lost a day. And it feels like it. It's amazing how tiring it can be to sit on a plane for ten hours. I forgot about the International Date Line when planning the trip, so we ended up with one less day in Sydney than we originally planned. 
Day 1: Arriving in Sydney
Our first stop after dropping our bags was the local Woolworth's to get Opal cards so we can use public transportation and a SIM card so we have an Australian phone. And we got some beer to relax with. That was a price shock, especially the beer.
We swapped SIM cards for the first time, and it was amazingly easy to do. The hardest part was getting the US plan turned off!
The flight was pretty good. Qantas actually provides meals and beverages and you kinda don't have to pay for anything, you know like most airlines used to be. The flight attendants were very friendly and asked us about our holidays (aka vacation).
Day 2: Sydney Botanical Gardens
We also walked over to the opera house and picked up our tickets for Saturday, catching views of the Harbour Bridge and the Queen Elizabeth in port. Then onto to the New South Wales art museum where we strolled around and looked at art for a while. The aboriginal art was especially interesting.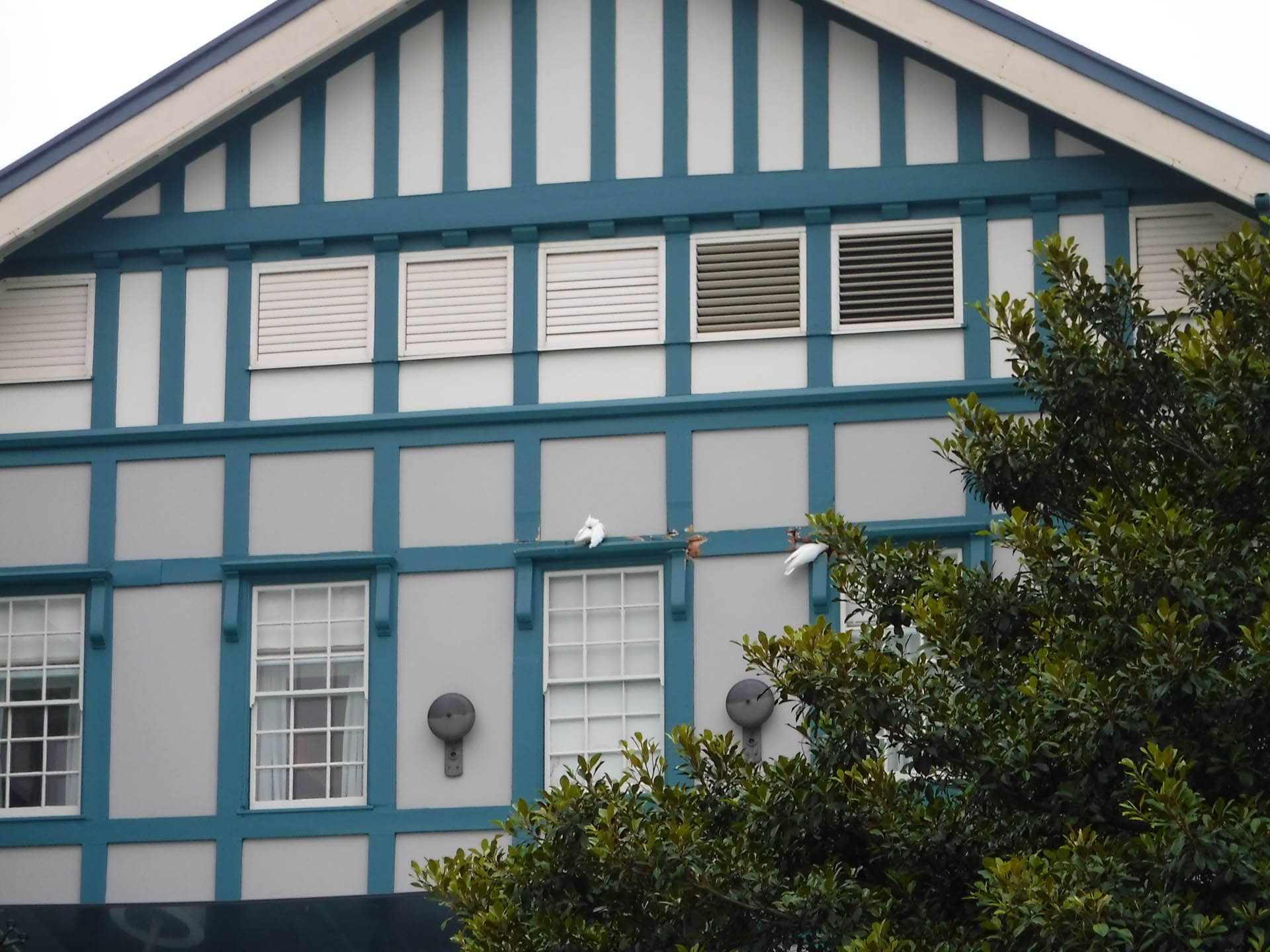 After we had enough culture we went to the pub. Or as they call them in Australia, a hotel. We went to the Old Fitzroy. We had a couple of beers and a local give us free peaches. Then we walked around the neighborhood some more, and ended up having dinner at an Italian restaurant, Sienna Marina, that was recommended by our host, and for which we got a 10% off coupon.
At the end of the day we relaxed with some beer while looking at our photos on the TV in our room. Because we're smart and we figured out how to do that. Oh and we were kind of tired because we walked 7.82 miles. So we deserved that beer.
Day 3: Harbour Bridge, Manly Beach, and the Zoo
We walked 10 miles today, despite more rain. We've been trying to make the most of it. Since it hasn't been raining very hard, and we have good rain gear, we have been able to do what we want to do if not quite as comfortably.
We walked across the Harbour Bridge and back, which had lovely views, though only of one side of the bridge, since you can only walk on one side.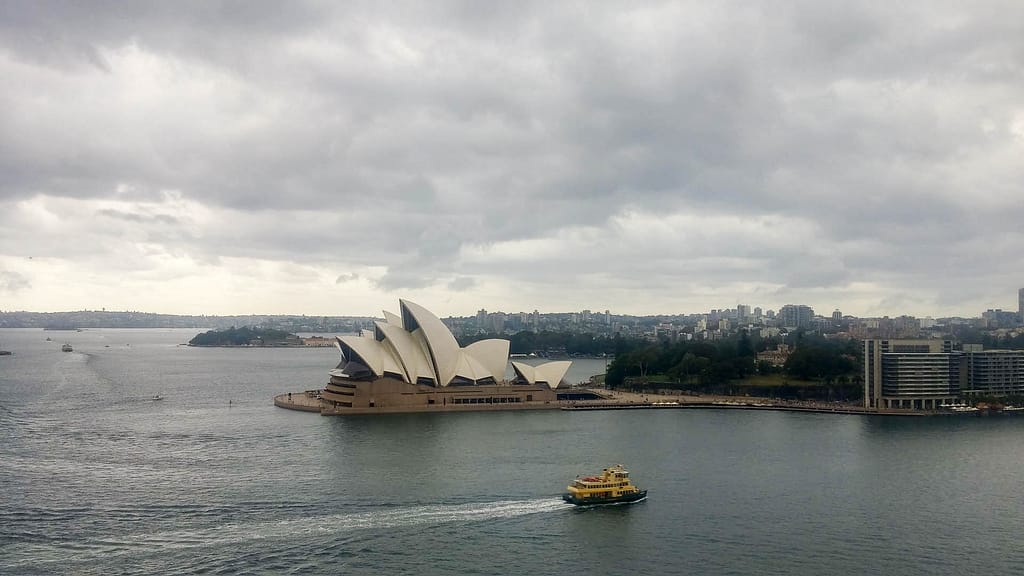 Then we took the ferry to Manly Beach, which is north of Sydney. It was raining, so it wasn't very nice but we did get to see the beach and some people surfing.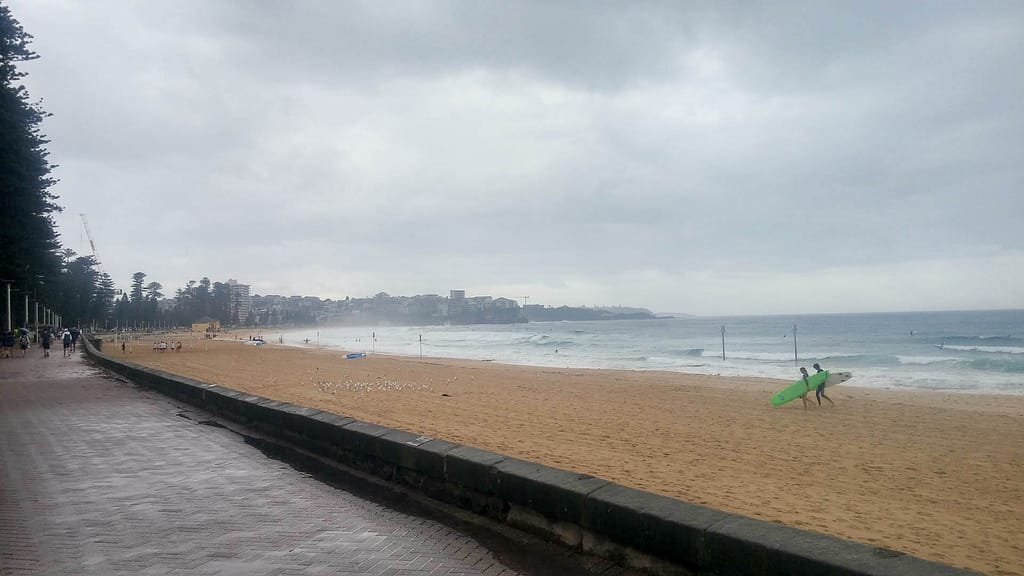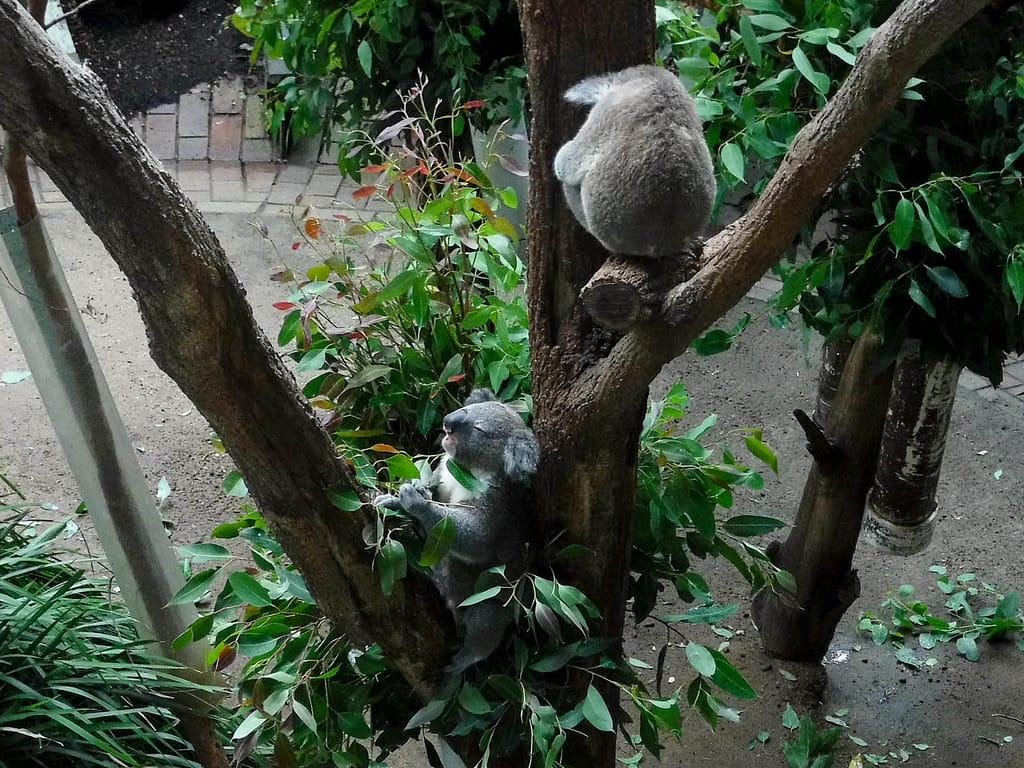 We were pretty exhausted at the end of this and ended up having pizza at The Frisco Hotel right around the corner from where we're staying. Because pizza was on special today and it sounded good even though we just had it yesterday. And it was good!
Ironically, had the weather been good we would not have been able to fit in as many activities, since we would have spent some time at the beach.
We both felt awful today, so we didn't go out other than to buy sandwiches. And we climbed some of the many stairs here in Sydney. Both of us have headaches, fever, runny noses, and hocking up green phlegm. And coughing painfully.
A little about people here in Sydney. The first day we were here three different people saw us looking at our map and asked if we needed help. One man even got out his phone and tried to find a restaurant we were looking for. (Which turned out to be closed.) The city also provides signs not just for drivers, but for walkers, with directions and estimates for how long it will take to get somewhere. It makes it very easy to be a visitor here. When you're not sick.
We travel with painkillers, decongestants, and cough drops, so at least we were prepared. We did have to top up the cough drops.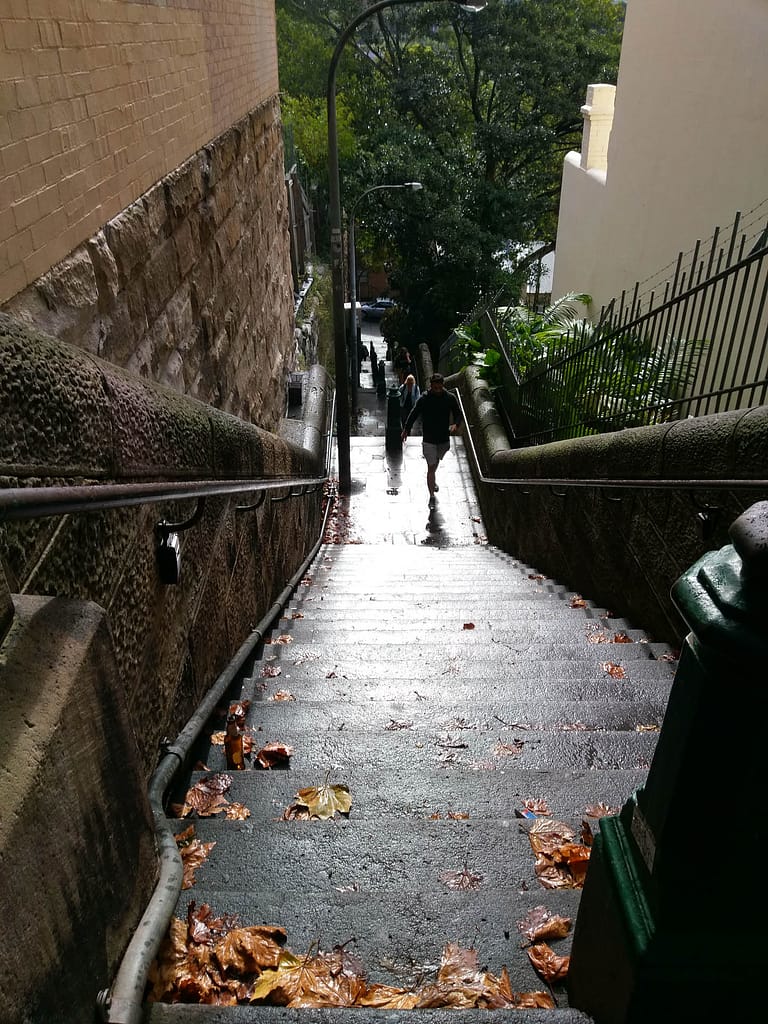 Day 5: Tower Eye, Bondi Beach, and the Opera
We feel much better today thankfully. First on the agenda was the Sydney Tower Eye. Got an overview of the city and a different view of places that we've been to, and got to see some places that we aren't going to get to. Then we walked over to The Rocks, which is the oldest part of Sydney. All the buildings are built out of sandstone which is common to the area. They had a street market going on but not our kind of street market. A little too upmarket.
Despite it still not being beach weather, we took a train and a bus to Bondi Beach to get some photos for a niece who is a huge fan of a show called Bondi Rescue. It wasn't really beach weather so we watched surfers for a while and then headed back.
And then tonight was our first time at the opera. We had a nice dinner beforehand at Portside Sydney, one of the restaurants at the opera house, and were glad we chose that restaurant because it was pouring rain. So at least we had a chance to dry out while having dinner before the show.
We both enjoyed the opera more than we expected. They had subtitles above the stage so you could tell what people were singing, since everything's in Italian. The subtitles were in Chinese and English. (The opera we saw, Turandot, is set in China.) Some of the visuals were really quite amazing and the singers were too, of course. During intermission, we had a chance to view the city lights over the harbor.
Tomorrow we leave for Hobart. We've enjoyed Sydney despite the weather. It felt a little rushed since we lost a day to illness. Just another good reason to not plan to fill every minute of your time. 
This section contains affiliate links. If you click on a link we may receive a commission at no cost to you. 
We loved the Mariner's Court. It was in a quiet residential neighborhood yet well-placed for shops, restaurants, and downtown. The room had everything we needed including a small balcony which we didn't use much due to the rain. The hot breakfast buffet was good and they even had a cappucino machine. The staff were friendly and amusing. 
There is a dizzying variety of places to eat in Sydney. We chose our lodging in part based on nearby places to eat. If you're going to the opera several restaurants nearby offer special pre-opera menus. We chose Portside Sydney because it wasn't super high priced and it was right at the opera house and we didn't have to allow for travel time to get there. 
Portside Sydney
Opera House
Very good set menu with wine for the price. Wonderful harbour view. Expected better service for the price.
We used the AirBus Sydney shuttle to get to and from the airport. We used the Opal card to get around in Sydney. We got them at the grocery store our first day and topped them up right there. You then use the card for the metro, buses, and ferries. Do some research before you go so you know how much to put on the card; ferries will be the big ticket items. We did much more walking that we thought we would and ended up with about $18 left on the cards when we were through. Since we were staying with family at our next stop, we left the cards with them to use the next time there were in Sydney.