Our must-dos in Madrid were the art museums, the Palacio Real, and the El Rastro flea market. It's also conveniently located for day trips. We made two, to Toledo and Segovia.
Day 1: Barcelona to Madrid
We successfully purchased our train tickets this morning. I was originally thinking we would take the metro to Barcelona Sants station but it turns out you can get an actual Cercanias train from Plaza Catalunya that goes directly to the train station. Same price. So we did that. Getting on our high speed train to Madrid included going through security similar to the airport though not as elaborate and then through a gate where they verified our tickets. It was a double-decker train and we had seats on the top level. It was a pleasant 3-hour journey to Madrid. The scenery wasn't stunning but it wasn't boring either. It's our first view of Spain other than Barcelona. Didn't see a whole lot of animal life from the train but Steve did see a couple of deer, some sheep, and a few cranes. And we saw the odd castle and monastery in the distance.
We figured there was a way to get from the train station to the metro without leaving the train station but we never found it so we just walked outside and ended up crossing the street. Getting our travel card and 10 trip tickets for Madrid was easy since they had people standing by to assist the poor tourists like us. The most exciting part was getting off the crowded metro at our stop. The metro here is much busier than the one in Barcelona was. And if Barcelona reminds me of what I think Paris would look like, Madrid kind of reminds me of London.
We checked into our hostel and got a lovely marked up local map from the person who checked us in. She pointed out the different underground stations and tourist areas and where to avoid restaurants and some places to look for restaurants. Then we dropped our stuff off and headed for the Reina Sofia museum to see Guernica and other modern art. We got our fill of modern art, checking out Picasso and some other cubist and surrealism and then headed back to our hostel by a different route. We had dinner at Sahuaro, a Mexican restaurant right next door. It took us two grocery stores to find cold beer but in the end we only paid €6.80 for six beers and some marble cake for breakfast.
There's a lot of orange dust around that blew in from the Sahara.
Day 2: Palacio Real and Art Museums
Our first full day here. We had marble cake for breakfast along with the hostel's excellent coffee from a cappuccino machine. Then we started the day at the Palacio Real (Royal Palace).
It was still raining a bit when we left so we went right next door to the cathedral and checked that out. Then we followed the walking path I found in the Lonely Planet guidebook in the general direction of the Prado. The walk was mildly interesting. 
The Prado was very interesting and fairly overwhelming in the quantity and quality of the art on display. So we tried to cherry pick the ones we were most interested in, which were basically the ones that had their names on the floor plan. By the time we were done we were both exhausted and both of us could pretty much recognize an artist's work when we entered a room. Oh look more Goyas!
After exhausting ourselves with art we decided to go find some lunch and exhaust my Spanish vocabulary by ordering food. Anyway the person who checked us in at the hostel had recommended a place called Los Gatos and that's the first one we saw so we went there. They had a table in the back where they served raciones. Those are basically larger plates to share. So we only ordered two because we weren't sure exactly what we were going to get. We ended up with delicious little pieces of chicken on skewers with a delicious sauce to dip them in and some shoestring potatoes and a plate of smoked salmon with dill and some kind of cheese? They were both really good and with that and a beer we were pretty full.
We were also revived so we decided we might as well hit the Thyssen-Bornemisza museum. The entrance was quite minimal so we had to ask where to start. We started on the ground floor and then took the elevator up to the second floor and work worked our way back down. There was a range of art from older pieces to impressionists to modern art plus a whole section on American art. I think I like the impressionists the best. Still amazes me how they paint something that doesn't look at all realistic and yet completely captures what's going on. I think I especially like Pisarro. After we once again wore ourselves out with art we made our way back to our hostel. Where we decided we needed a shower and then dinner. We found a pizza place around the corner, La Capricciosa, that had good reviews. We concur. Then we came back and drank some beer and tried to get to bed early since we have to get up and get on a train in the morning.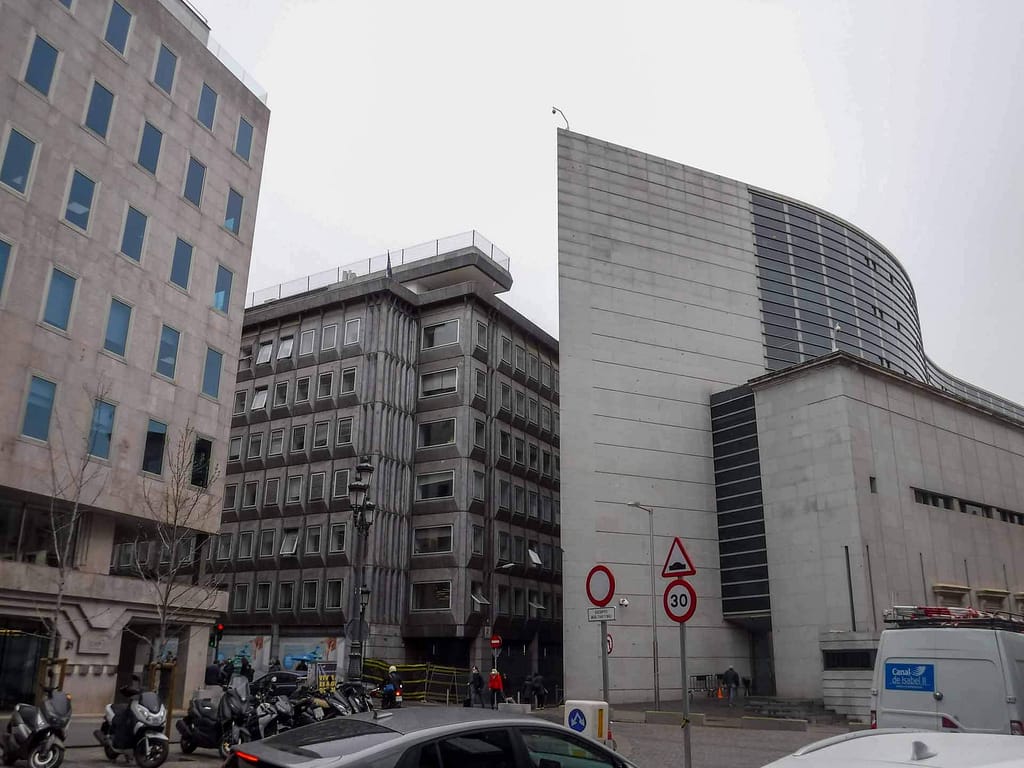 We had an early morning since our train to Toledo left at 9:20. So we were up at 6:30 so we could get ready and walk to the train station. I need to remember in future how long it takes to get to the starting point for a day trip!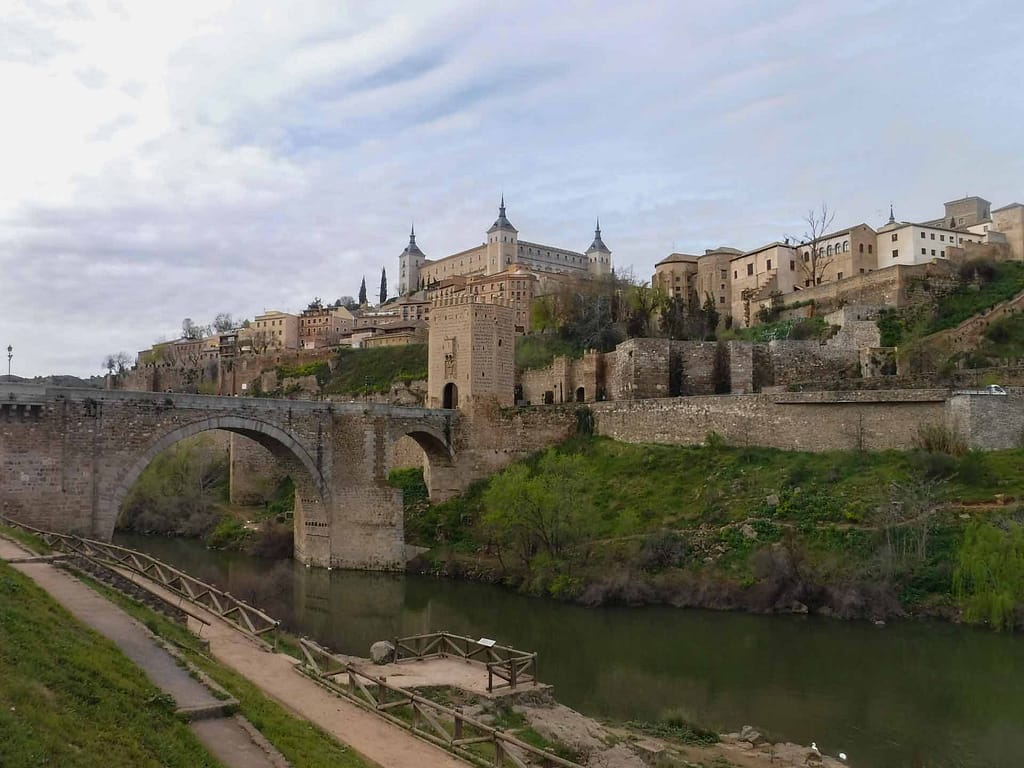 We had a nice long day in Toledo, got the train back to Madrid, made a quick stop at the supermarket for beer, and now we're sitting on our terrace because it's warm enough that we can actually do this.
Day 4: Calle de Cava Baja
Today was a light day since we were exhausted from yesterday. We slept in late and then had breakfast here at the hostel. They have a very nice breakfast for €5: eggs, bacon, beans, toast, pastries, cereal, juice and coffee. Pretty much the works. Then we did some laundry and discovered it's more effort to dry clothes than it is to wash them. Later we went out and had pizza again at the same place and then walked over to a street that's known for tapas bars basically just to check out the street and see if it looked like any place we wanted to have a beer. We didn't see anything so we stopped at the supermarket and got some baked goods for breakfast tomorrow and then stopped and got some beer. So we didn't get a lot of steps in but we did get credit for a walk today. Below are some photos from the neighborhood.
Part of the reason I booked this hostel is because it was close to El Rastro, a local flea market that's been around for about 300 years. We didn't realize how close we were until we went there this morning: it literally starts at the end of the street. We didn't walk the entire thing but we walked a good way down it. Saw lots of secondhand clothes and new clothes. Jewelry and other accessories. The odd handicraft stand. I could have done some shopping if I needed anything which I don't. We did see some cute retro looking scooters and things at a stand that looked like a potential Christmas ornament so we bought one for €7.
After the flea market we came back to the hostel to regroup. We had heard there were lots of pickpockets at the flea market so we didn't take any valuables. So back at the room we grabbed our wallets and the camera and such and headed for El Retiro park. And discovered that there's a demonstration going on today. Lots of people in orange. We looked it up and it appears to be rural people and farmers protesting about high prices for things they need and low prices for their products.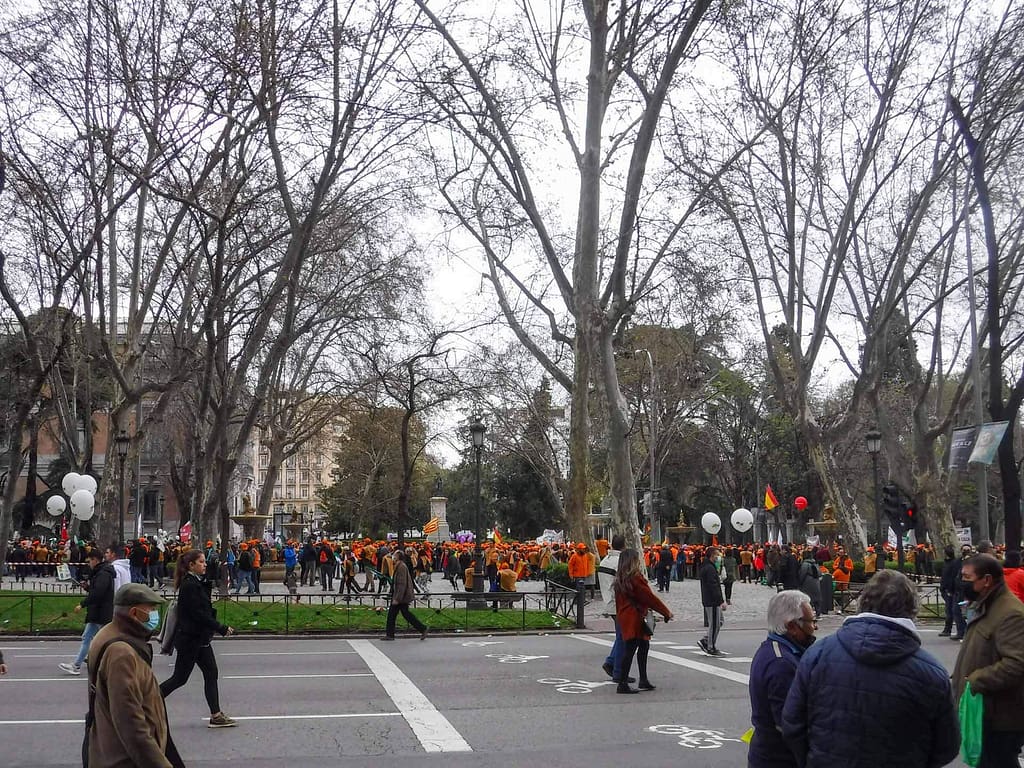 We timed it about right and were able to cross over into the park behind the end of the marchers. We walked fairly aimlessly through the park managing to find the rose garden and the man-made lake. There weren't any roses blooming but the structure was pretty.
Then we made our way back to the hostel and ended up going to Tirso de Molina for dinner. It was the usual cluster trying to order with my less than stellar Spanish but we managed to get what we wanted to eat. Then we walked over to the supermarket to get breakfast for tomorrow and headed back to take showers. We went through the self-checkout at the supermarket and used cash. First time I've ever done that and of course I try that at a supermarket in Madrid. It worked eventually.
Today was our Segovia day trip. We started with apple pastries and coffee for breakfast, then caught the Metro, a train, and a local bus to get to Segovia. (It's easier than it sounds. They time the buses to the train schedule.)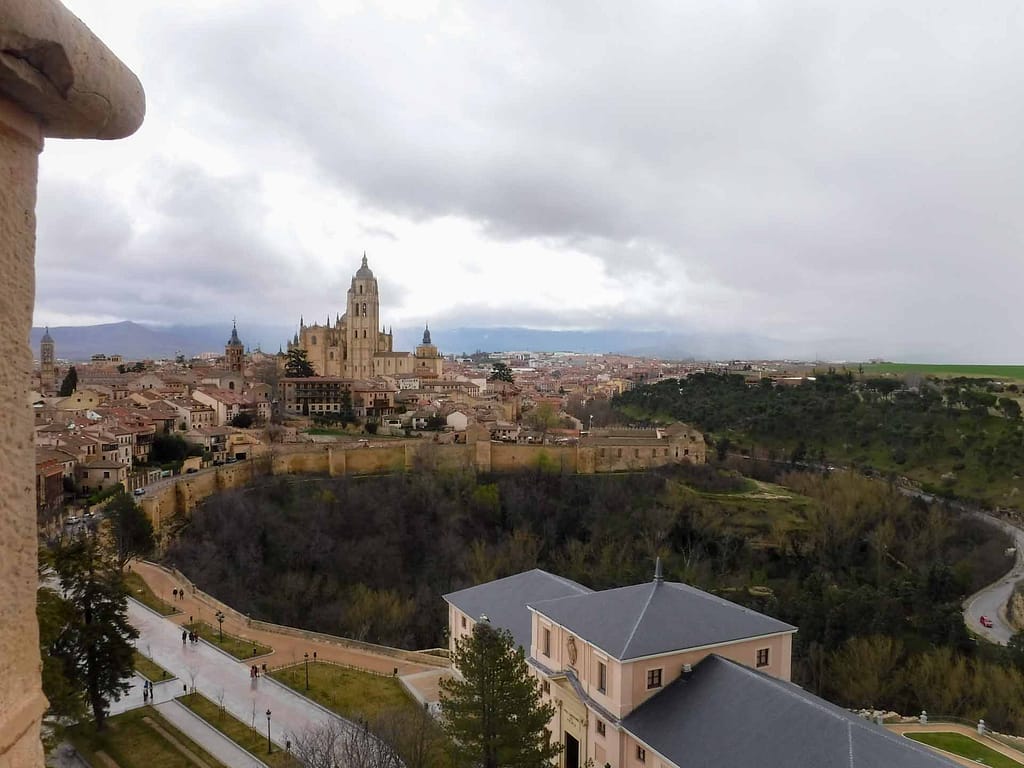 The trip back to Madrid was a reverse of our trip to Segovia and then we hit the grocery store for breakfast pastries and our usual little kiosk for our last beers in Madrid. At this point the owner recognizes us.
Steve and I had been commenting that we hadn't seen many cats on this trip. We did see a cat in Segovia. And on the metro ride home saw a guy riding in between the cars?! It's not meant to have anyone ride there.
This section contains affiliate links. If you click on a link we may receive a commission at no cost to you. 
The OK Hostel was in a great location at a great price. Our private double with bath and terrace was as nice as many hotel rooms. The staff  were super friendly and helpful and breakfast is a bargain. We still don't know if that sign was serious or not!
There are of course so many places to eat in Madrid it's hard to decide, and we didn't have a bad meal while we were there. If you're in the same neighborhood we were, we enjoyed the pizza at La Capricciosa. Tasty, easy, and nearby. The roast suckling pig in Segovia was just stellar. Juicy meat and crispy skins. Plus tasty side dishes. 
We were able to walk most places and where we couldn't, we took the Metro. We got a 10-trip ticket to share and that was all we needed for our original six days in the city plus the day before we left Spain. We took a Ouigo train from Barcelona. It was super fast and cheap.