The Harry Potter tour is an easy day trip from London. I'd describe us as fans but not super fans. We had great fun.
The Harry Potter Studio Tour was a late addition to our plans. I kind of forgot it existed and am glad I ran across a mention of it, because it was fun. The map below shows what you actually go through on the tour. 
We took the train from London to Watford Junction and back. We were able to use our Oyster cards on the train both ways. A studio shuttle bus — included in the ticket — picks you up at the Watford Junction train station and takes you out to the studio where you do the tour and then you take the shuttle bus back. We had to wait for quite a while for a shuttle bus on the way back because each was filling up.
We got the digital guides which you didn't really have to have because there were various video guides and signs within the studio to inform you about what you were looking at.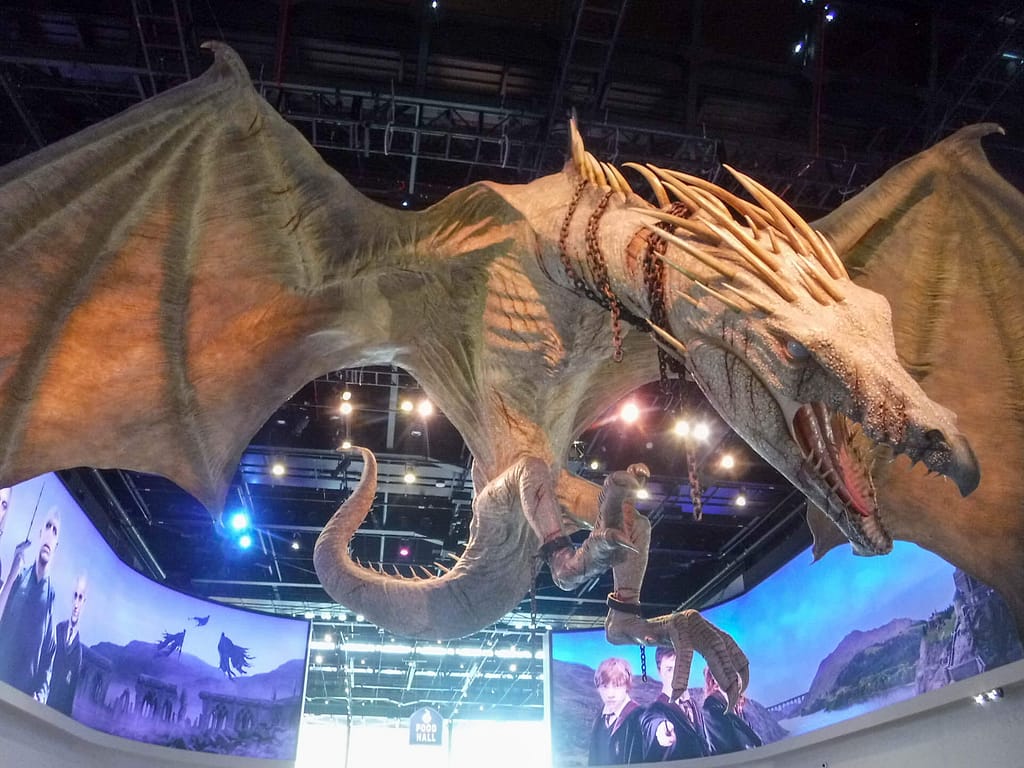 Once you thread through what seemed like an unnecessarily complicated entry process, you're let loose into the Great Hall. Since we were there in October, Halloween them was in effect, including Death Eaters walking through the crowds. 
Sets and displays are arranged around a large warehouse-like space. They're numbered to help ensure you don't miss anything. That's a circle of wands below, and a display of small props. 
There are green screen areas where you can pretend you're flying on a broom or sitting on the train, for example. 
Here are some of the sets on display, including a forced perspective set. Members of the cast and crew posed for some of the paintings. 
At the Weasley house set you push buttons to activate a knife chopping carrots, self-knitting needles, etc. The Dursley house is in the background of the Burrow on the backlot. You can walk through the interior of the Dursley house. We thought the vines growing out through the window was a nice touch. 
You can climb on the Knight bus and on the backlot are models of different vehicles that you can pose with. 
There's a scene with an animated dragon. 
A scale model of the castle allows you to walk around all sides of it.
There are loads of different wands for sale in the gift shop. Surprisingly we didn't find a golden snitch, but we bought one online.