The town of Canyon, Texas isn't much but it's a nice enough place for a road trip break. And Palo Duro canyon outside of town was worth staying a second night so we could visit.
Drove through a whole lotta empty, especially the Texas panhandle. Oklahoma has crazy turnpikes. We hit two and on the first one got off to pee and fill the tank. Getting back on we hit an unmanned toll booth that required quarters that we didn't have. And we'd already paid anyway. So we drove on by. We asked about it at the next toll plaza but it was a different turnpike so she didn't know much and was quite irritated about us asking. We're hoping a giant fine doesn't arrive in the mail.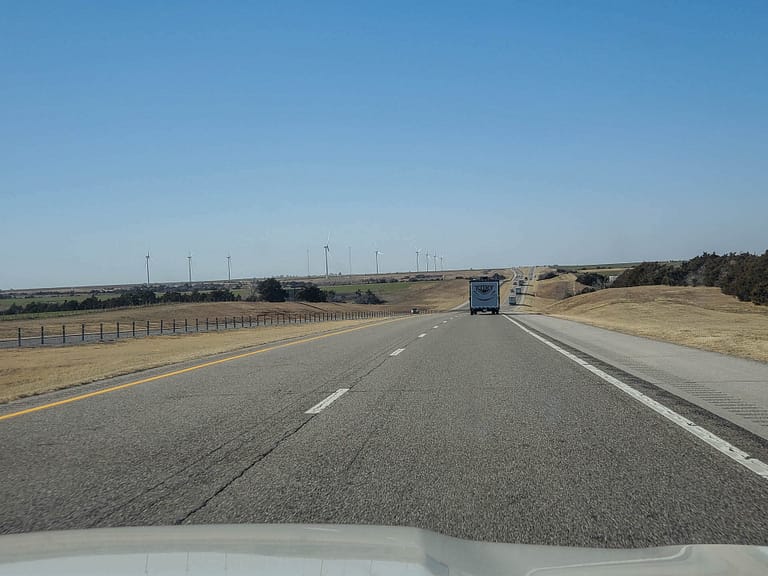 Day 2: Palo Duro Canyon State Park
After seeing a description of Palo Duro Canyon State Park in a guidebook and then photos online we decided to spend a couple of nights in Canyon on the way to Big Bend. That's one reason why I like guidebooks: We didn't know this place existed.
It's a big canyon full of colorful rocks. We did the Lighthouse hike. The lighthouse is THE focal point of the park and the best view of it is near the trailhead parking lot so you don't have to do the hike in order to see it.
It was very windy the day we hiked — like painful-blow-sand-and-small-rocks-into-your-skin windy — and there was a dust storm warning. It was also chilly.
The trail winds across the front of the hill going away from the lighthouse rock formation and then around the back of the hill. It was most windy in front of the hill and calmer around back. There were several seats to stop and rest, some with rustic pergolas over them. There wasn't much shade otherwise so I imagine it's very hot in warmer weather. It was an easy hike; no long steep climbs and the footing was generally good though there were spots of slippery ice.
The view of the Lighthouse changes as you hike. 
We didn't climb up the rocks to the lighthouse.
There are other interesting rock formations in addition to Lighthouse Rock. We liked this one. 
Palo Duro Canyon has many different rock colors and textures. It's stunning.
We then drove the rest of the scenic road inside the park and did the Pioneer Nature Trail. That was a pleasant walk although we didn't see any wildlife. Other than half a dead badger. Ewww.
We did see a deer at the picnic area where we had lunch, and a tree full of bluebirds on the trail.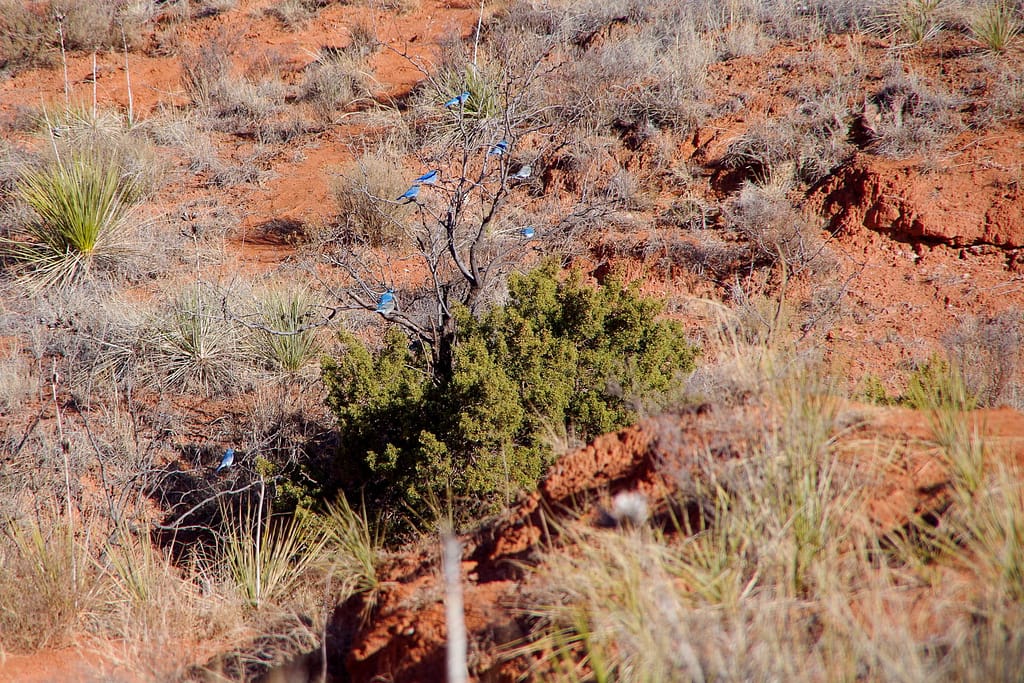 This section contains affiliate links. If you click on a link we may receive a commission at no cost to you. 
I was expecting a little more vintage from the Buffalo Inn but it was clean, friendly, and convenient. 
The Wrong Way Diner was walking distance from where we stayed. With a name like that, we had to eat there. Our second night we kept it simple with Domino's.
Feldman's Wrong Way Diner
The burger was excellent, so was the chicken fried chicken with mashed potatoes and gravy and salad. No salt or pepper needed!