I said I would feel like I was on vacation when we were walking to the village down a dusty dirt road along the beach and that's exactly like it happened. Cahuita is pretty close to our ideal beach location in this hemisphere. We think we could spend a couple of weeks here.
We spent the night before our early flight at La Quinta, which was fine. Jet's Pizza for dinner was a treat. While getting up in the middle of the night for an early flight isn't fun, it is nice that the airport is more calm. We waited for a while until desk staff showed up and the self check kiosks didn't open until then either. There was some confusion over getting various documents reviewed by different people. We had to change gates in Miami. Our Detroit flight was early so we had plenty of time. The Costa Rica flight was full. There were farmers with drawls sitting in front of us. We had a potentially long wait at immigration. We got bumped to a shorter line for no apparent reason. That was nice until the guy running that line went on break. But it wasn't a long break. Got our included taxi to Adventure Inn. It continues to amaze us how Costa Ricans help each other (and us) out. Like guys who didn't work for our taxi company helping us find our taxi company. No "that's not my job" attitude.
We had lunch at Adventure Inn. Then we walked to the supermarket for the ATM (for colones) and beer. One of the things we love about Adventure Inn is its proximity to the supermarket with its ATMs, since it doesn't make sense to get colones outside Costa Rica. One of our beer selections was an interesting beer with hibiscus. We had dinner here also. Then a couple of beers after dinner: a red ale and an IPA.
The funny looking ducks still hang out in the pond by Adventure Inn. They gave us a free upgrade to a jacuzzi room, which includes a sitting area shared among three rooms. We didn't use the jacuzzi but there was a nice view from the terrace. 
Day 1: San Jose to Cahuita
We had the included breakfast at Adventure Inn. Their hot breakfast is good but we both opted for the cold breakfast since neither of us was feeling that great and were kind of full from the night before. I think I was inadvertently humorous when I told the waiter I was still full from the casado last night. "Casado" is the name of the dish I had for dinner but it also means married man in Spanish. It's called that because Costa Rican wives would send their husbands off to work with that meal. So that's probably why he laughed so much.
Our Interbus shuttle was a few minutes late but arrived as planned. The magic of Costa Rica. The ride down to Cahuita was long and full of traffic stops and slow downs. We were in an interesting assorted shuttle. There was the river rafting guy from Tennessee who was sitting next to and talking with the female pediatrician from Denmark. There was the aging New York hippie woman who was going to Puerto Viejo rather than cooking for a retreat because that job fell through at the last minute because of health issues. There was the (of course) friendly Canadian from Vancouver and an Italian couple. We got to see a little bit of San Jose just picking people up. Steve thought the Radisson where we picked up the Italian couple looked familiar but then we thought maybe that's because all Radissons look the same. I nodded off a few times on the drive. A lot of it was fairly mountainous and there were lots of trees. One of the times I nodded off was at one of the major traffic issues where an ambulance had hit another vehicle. That had traffic backed up for miles. We made an official stop at Guapiles for bathrooms and refreshment and then another quick stop in Cahuita I think because the driver really needed to pee. I don't blame him. I am very happy we chose not to rent a car and drive.
The entrance to Playa Negra Guesthouse is a gate in a wall. There was a doorbell which we pressed but no one answered so I called. And she came right down.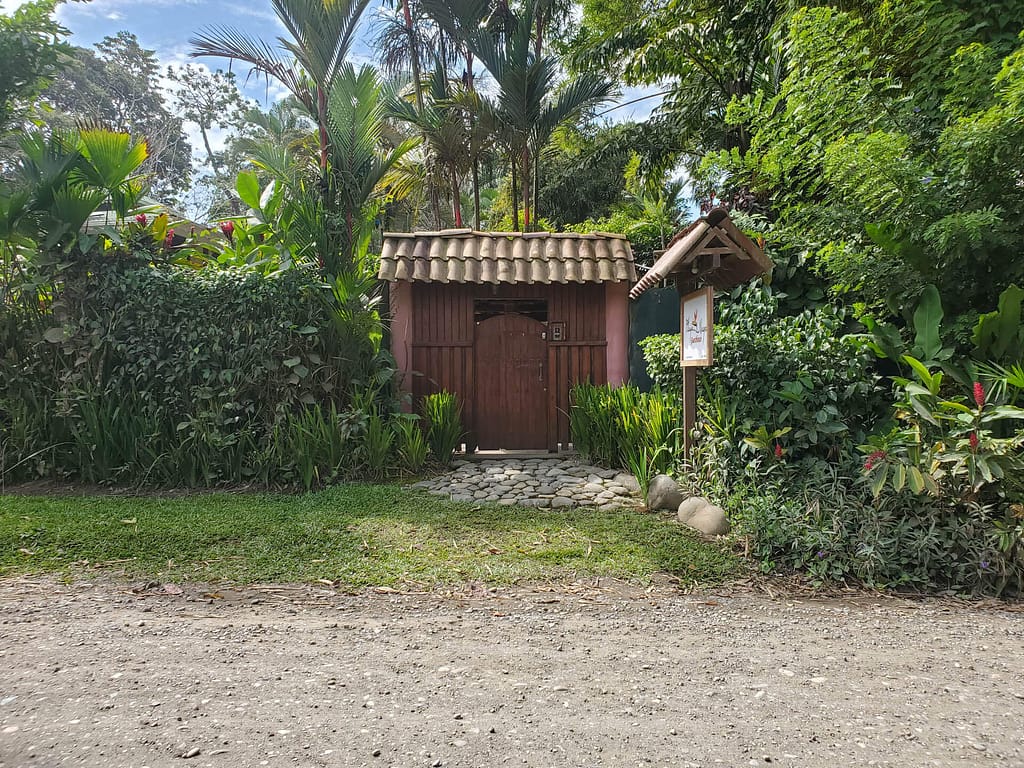 Our room wasn't ready and she gave us a nice tour of the grounds including the pool, the honor bar and the outdoor showers. Also some of the local residents: a mama sloth and her baby and some pretty but poisonous frogs. She told us to watch for agoutis and for toucans and for a sloth that lives down at the beach. It's nice to have hosts who appreciate wildlife.
While we waited for our room to be ready we walked into town for lunch. We were headed for an Italian place that our host told us about but it was closed on Thursday so we went to the next closest place we found, Las Olas. We had Caribbean food and a beer. Two beers actually. We ordered an Imperial, got a Pilsen and then ordered another Imperial. Pilsen is fine but we're still team Imperial. Then we hit the grocery store for beer and rum. We're going to try drinking some rum rather than just beer on this trip. Save some calories.
We got back to our room and they brought our bags which was nice. We were hot and sweaty so we walked down to the beach for a little bit because there was a breeze. Then we came back and sat by the pool. I wasn't feeling so hot. I suspect lack of sleep and lack of hydration. So we decided to make it an early and easy night. We walked down the road away from town thinking there was a small supermarket where we could get some snacks but there wasn't. So we went to Reggae Bar and had a beer and a lighter dinner. Then we came back and had one beer before going to bed early.
Day 2: Playa Negra Beach (and the pool)
Our first full day here. We slept in as long as we wanted to. Which means Steve got up earlier than I did, of course. He went out wildlife spotting around the property and came back to get me so I could see frogs and sloths. Then I was a sloth and went back to bed. We actually saw a sloth hanging from a branch instead of all huddled up around a trunk like we usually see them. Steve also saw one of our favorite helicopter dragonflies although it was uncooperative and would not fly so we could see the helicopter effect.
After I got up we made coffee here in the room that the hosts provided and drank it with two of the breakfast bars we brought from home. And we went over to the beach and sat for a while. Steve got his feet wet. We didn't see any sloths, but we did see some horseback riders go by with a doggy escort. We were also visited by a puppy as we sat there. And a crab.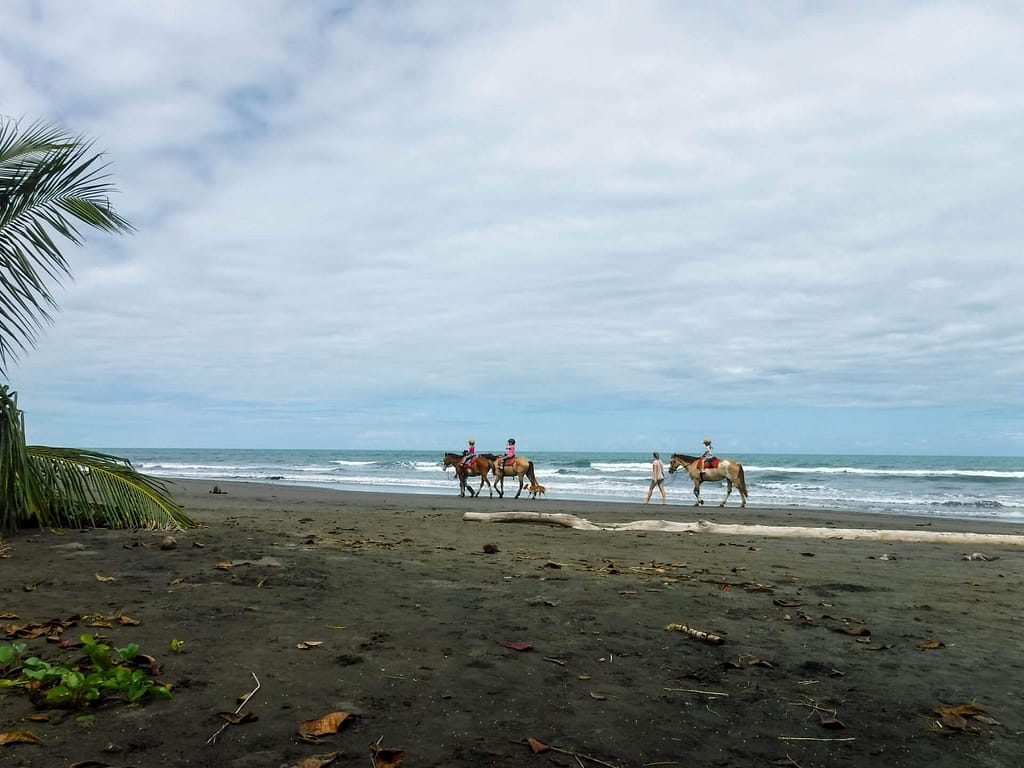 After leaving the beach we got dressed and walked into town to the restaurant we missed yesterday, CahuITA Inn. So cool. Maybe the best location we've ever eaten in. They have a dock right next to the water with a few tables in the shade.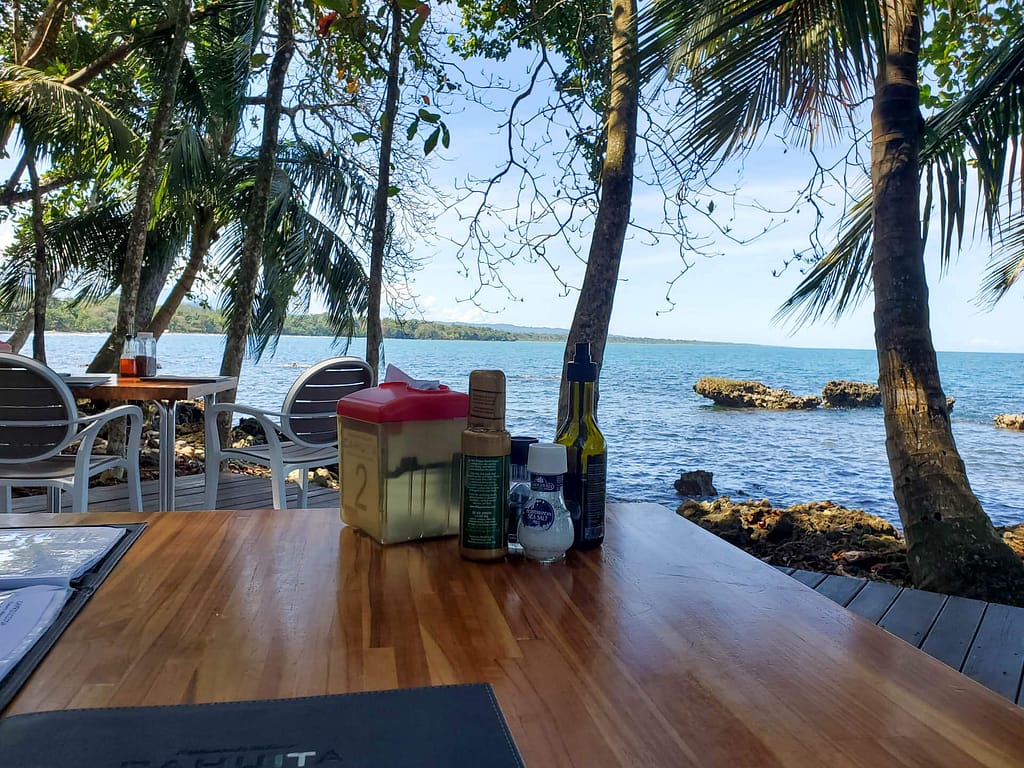 After lunch we went to the supermarket again for more beer, some items for breakfast and some snacks since we were wanting them yesterday. We got Pringles and some kind of snack mix with Doritos, Sunchips, pretzels, and Cheetos. And laughed about coming all the way to Costa Rica to get Pringles, which we never buy at home.
Then we hit the pool to rinse off a bit and to cool off. We saw monkeys in the near distance.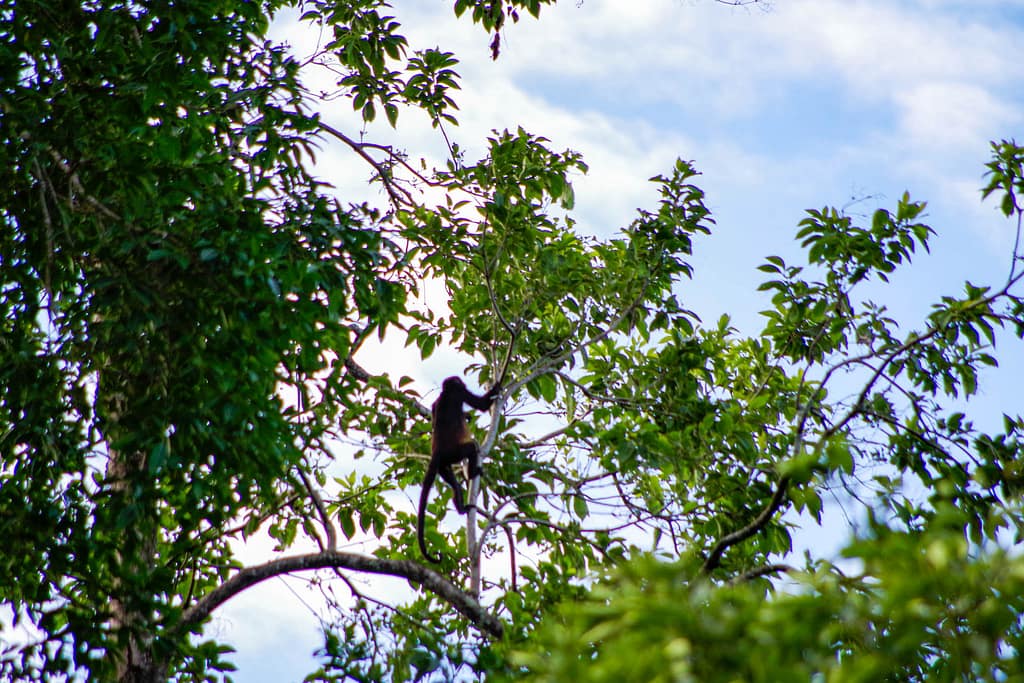 After showers we headed back to Reggae Bar for dinner. There was a cat on the sidewalk to our room to see us off. Friday nights they do barbecue and live music. We didn't see live music although they did have a live DJ playing very loud music for very loud girls. But it was all good fun. The local dog that was barking at me for food was unhappy that I didn't give him the bones.
Back here we tried our drink concoction. We bought some coconut rum and mixed it with some cherry pomegranate Crystal Light we brought from home. It's not the best cocktail in the world but it's not the worst either. The coconut rum is actually pretty good. I think we could drink it with just water. And maybe we'll be doing that once we finish up the rest of the mixer. The small lizards around here have figured out that if they hang out on the pathway lights bugs will come and they'll get an easy dinner. We had a good long downpour tonight. Glad we ate early.
We thought we might go to the national park today but by the time I woke up we thought rather than rushing around we'll just wait and go tomorrow. Today we did take a walk along Playa Negra beach, walking as far as we could in both directions. It's a nice beach for walking. The sand is nicely packed and it's not slanted. We saw a few other people on the beach, a few dogs. Someone came by selling ceviche. We didn't have any money so we couldn't have bought any even if we wanted to. Then we came back and grabbed chairs and went back and sat on the beach for a while.
At lunch time we decided to go back to Reggae Bar. Then we sat by the pool again.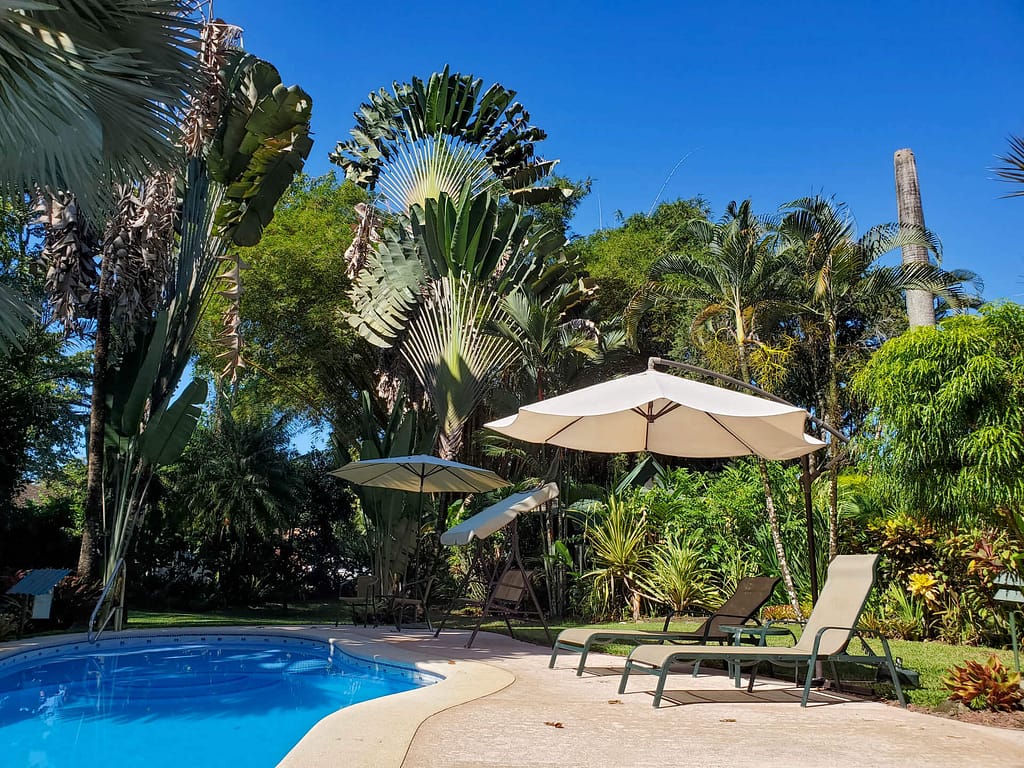 We were treated to what we think is a kiskadee swooping into the pool and then out again. There was a smaller one doing it yesterday. We thought it was drinking but today it looked more like the bird was bathing. Either way it was entertaining to watch. We got a close look at agoutis too.
We also saw a turf war – okay a palm war – between two large iguanas which culminated in one of them falling about 40 to 50 feet with a solid thwack on the sidewalk. And then it got up and walked away.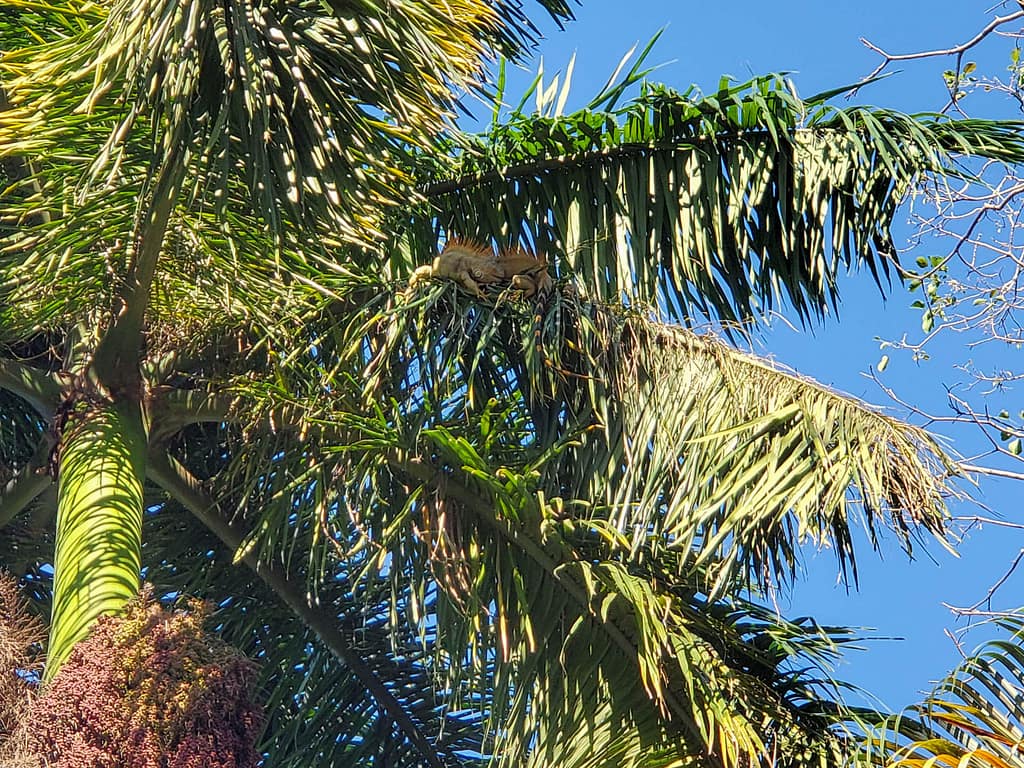 We lazed around some more after that and have decided that we're just going to stay here and eat chips for dinner so we can get to bed early and get an early start tomorrow.
Day 4: Cahuita National Park
So we didn't get that early a start this morning. But we tried. And we were mentally prepared. This applies more to me than to Steve. We had coffee and cookies and then hit the road for Cahuita National Park.
We were good doobees and drank most of our water on the trail. After leaving the park we went to El Rincon de Amor for lunch. The host called out to us as we were looking at the menu posted outside and showed us some squirming lobsters that were the special of the day. We were going to eat there anyway but it was a good way to get us in. Both of our meals came with salad. I like that in Costa Rica you often get a small salad with your meal. One of our servers was a 12-year-old(?) who seemed to be learning the ropes. He brought us our starter and our water. 
After lunch we went to the supermarket for more beer and rum and Oreos of all things. By the time we walked back to our place we were super hot and super sweaty and got in the pool just as quickly as we could. No iguanas fell from the sky today although we did see about eight of them? They were in different trees and unlike sloths they move around so it's harder to keep track of them. One of the iguanas was getting pretty far out on some smaller branches right overhead so we switched chairs.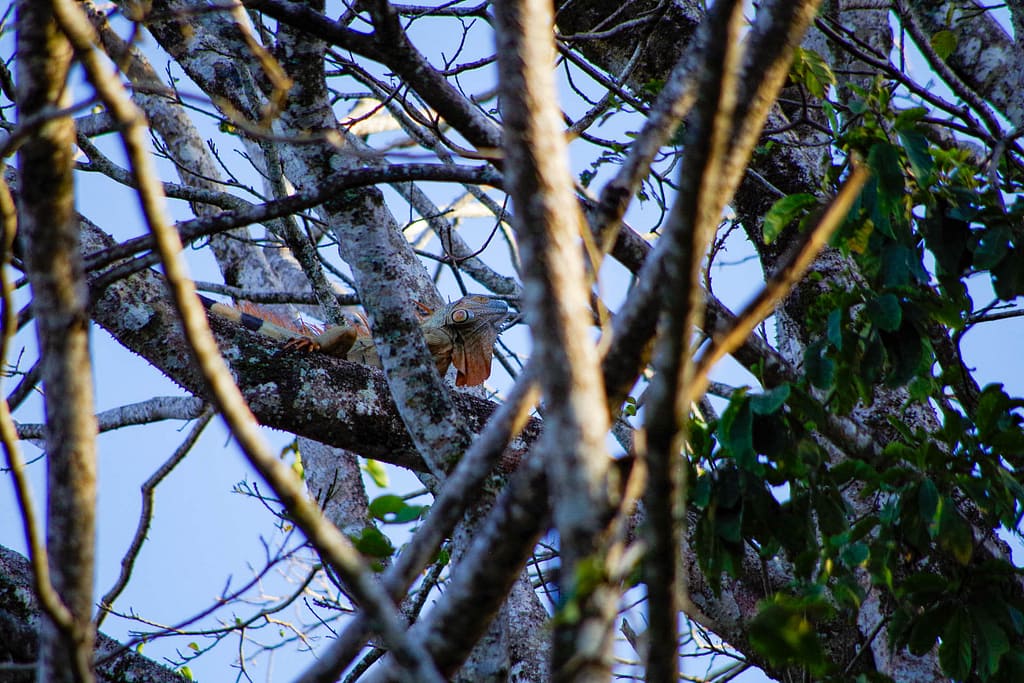 Day 5: Cahuita National Park Beach
Today was kind of a repeat of yesterday although we got up a little later and hit the ATM before going to the national park. Our plan for today was to spend time at the beach at the National Park which has a very nice beach. We were looking for the perfect spot that didn't have any people or monkeys and had a place to hang our bags and some sand in the shade where we could sit and take turns going out into the water. On our way out we were reminded why we did that. We saw some girls down the water screaming as raccoons approached their bags. Of course they were also taking photos at the same time so who knows how worried they actually were.
The water was beautiful, the temperature was perfect, the waves were not bad though there were red flags out and we thoroughly enjoyed our time at the beach. We saw ultra light helicopters fly and saw a large soaring bird that looked like a frigate bird hit the water. And take off from the water. We didn't think frigate birds hit the water, they just stole from other birds.
After the beach we walked a bit further until we ran into a tour group which was kind of clogging the trail and at that point we decided we might as well turn around and walk back. There are many places along the trail with benches, tables, and sometimes roofs where you can stop and rest.
We went to the same pizza place we went to on our second day here and we got exactly the same meal. And it was exactly as good. Except that they were out of Imperial so we had to drink Pilsen. Then we came back here and as has become our new habit we hit the pool to cool off and rinse off. (I think a pool may become a requirement on tropical vacations.) While we were at the pool I had a call from my mother's doctor to say that she wasn't doing so well so that kind of put a damper on the vacation for me but it hasn't destroyed it yet. After hanging out by the pool we did some laundry. Our host stopped by to check in on us. We told her about the iguana falling out of the tree. She said we should have taken bets on which one fell. I don't know that I could have figured out which one was which. And now we're sitting here doing our usual snacks and drinks for dinner.
This morning we walked over to Brigitte's for breakfast. Then we walked back and looked around for toucans because we thought we heard some. A neighbor came by looking for an iguana because another one fell from a tree.
It was really cloudy and kind of looked like rain so we walked over to the beach with the idea that we would have to dash back pretty quickly. We saw an egret and a hawk while we were there.
We sat there for a while and then it started feeling more like rain so we packed up and came across the street. Good thing we did because it started raining shortly after we got back. (It did rain a little bit before we went down to the beach.) We sat on the porch and read to wait out the rain and then after it cleared up we walked down the street to Sobre Las Olas for a late lunch/early dinner. We're trying to eat one meal a day since two large meals just feels like too much.
Then we came back and did some preliminary packing. We don't leave until 10:20 tomorrow so we won't be in a hurry. And then we drank some rum with water because we don't want to put together more mix and transport it.
This section contains affiliate links. If you click on a link we may receive a commission at no cost to you. 
Adventure Inn is our go-to place when we need an overnight stay in San Jose. The rooms are spacious, they offer a free shuttle to and from the airport, it's near a supermarket with an ATM, the onsite restaurant is good, and there's a pool to relax by. It's just a painless and pleasant way to start or end a trip. Oh, and the host is super helpful. He sends a detailed intro email on Costa Rica and helped us sort out how to get the COVID test we needed before leaving. This trip we're spending a night both the day we arrive and the night before we leave. On arrival they gave us a free upgrade to a jacuzzi room, which we also booked for the night before we left. We didn't use the jacuzzi but it was nice to have the sitting area outside the room.
We loved Playa Negra Guest House in Cahuita. The grounds are beautiful and there's lots of wildlife to see, which the hosts will happily point out to you. We had the least expensive room and it was still nice. We thought we might miss having air conditioning but with the ceiling fan and auxiliary standing fan it was fine. Each room has its own personal outdoor space and there's a common area near the pool also. It's about a mile from the village itself but there are a handful of restaurants and bars closer than that.
Cahuita has a good variety of restaurants and all of them that we tried had good food. CahuITA Inn and El Rincon de Amor were our favorites. At CahuITA Inn we ate on the dock right next to the water. Our first visit we had a caprese salad and split a supreme pizza. It was a really good thin crust pizza that was still chewy and had great flavor. And a beer. It was so good we went back a couple of days later and had the same thing. El Rincon de Amor was unusual in being an indoor restaurant. There was no air conditioning but there were fans and we parked ourselves underneath one. I actually ended up ordering the lobster special though I did not have the monster that our host showed us when we were looking at the menu. I got it with garlic sauce and french fries and yes the garlic sauce went just as well with the french fries as I thought it would. The lobster itself was good though it reminded me why I don't eat lobster more often. I just don't enjoy it enough to justify the price tag. Steve's fish with Caribbean sauce was very good also.
At Las Olas we had beef and chicken with Caribbean sauce, which came with beans, rice, vegetables, salad and patacones. The food and the service was good.
Reggae Bar was right down the road from where we stayed and the food was good, though it is loud. We ate here three times, trying the fish with Caribbean sauce, fried calamari, garlic fish, and chicken and port at the Friday night barbeque. The barbeque came with rice and beans and salad and macaroni salad. We're not sure what was in the macaroni salad. It seemed to have some kind of seafood like fake crab or something? Anyway it was good. The pork was a little hard to navigate having bones but it was good.
Our host recommended Brigitte's for breakfast. It's right around the corner. It's a little open-air restaurant at a set of cabins. We had the El Pinto which included beans and rice, eggs, maduros, a fried bread that was really good, tomato, avocado and a choice of cheese or bacon (we had bacon). And coffee. It was good and pretty cheap.
Sobre Las Olas (not to be confused with Las Olas) was a small disappointment. The seafood sauce was a little tricky to eat and the Thai sauce reminded me more of Indian curry sauce than Thai but then I'm not an expert on Thai food. We also ordered a Korean salad but they forgot to bring it. The waterside location is nice.
We took an Interbus shuttle to and from Cahuita and were glad we did because there were lots of slowdowns. Once in Cahuita we walked everywhere. If we'd ventured further out there are local buses and taxis, so no need to rent a car.