The Natchez Trace from Florence to Tupelo includes a couple of interesting nature walks. A short detour to a state park nets you a restroom and a swinging bridge.
Day 1: Florence to Tupelo
We had a hot breakfast served by a chin masked woman. But good eggs and turkey sausage links. We left Florence at 10:30 AM.
We had a nice easy walk at Rock Spring which was cool. There was a pond with some fish and turtles. And a kingfisher; that made Steve happy. There was some mud to navigate and manmade stepping stones across Colbert Creek.
Colbert Ferry had maps! We've missed having a printed map. Google maps and Nagatha are fine for navigating, but not for looking ahead on a scenic drive. We drove over to the recreation area on the Tennessee River. There was a boat launch and no real beach. We then drove over to the historic area and walked to the stand. We weren't sure we found the trail to the bluff. We then continued driving to the original ferry location at the end of the road. There wasn't much there other than a view of the river and bridge. We heard a heron; it was surprisingly loud.
It was quite a hike to the top of the Freedom Hills overlook for a nice though not spectacular view. A good workout.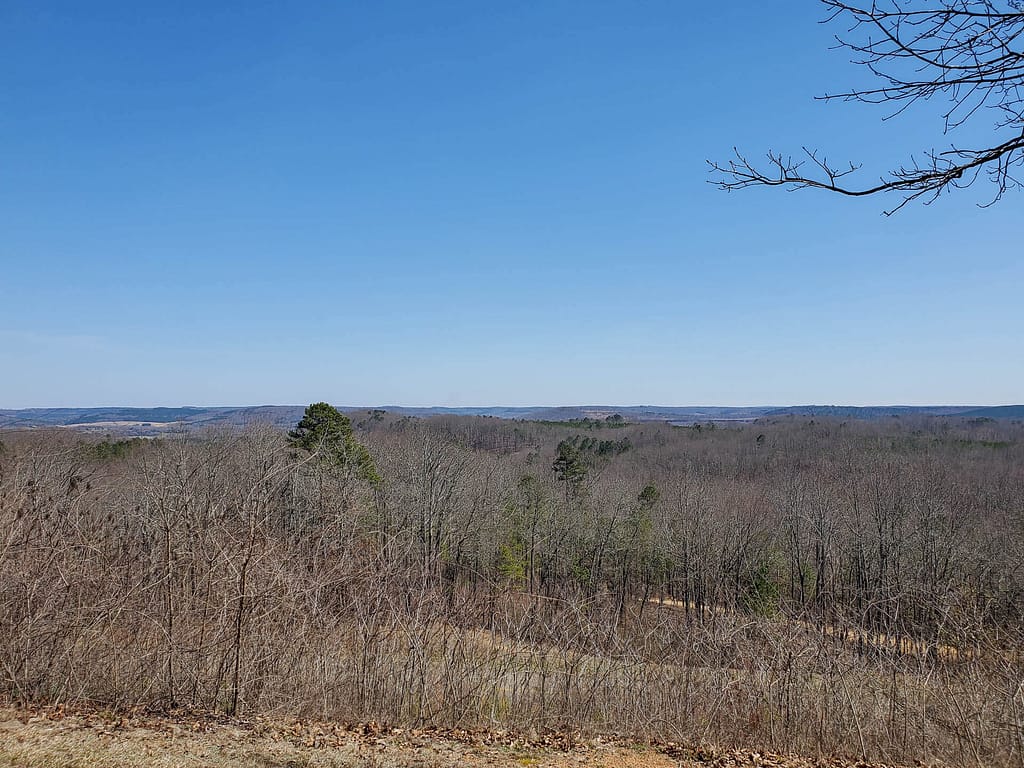 We ate lunch at Bear Creek near a creek that was more like a river. Someone had rigged a huge water pump on the opposite bank. Bear Creek Mound was interesting. We missed Cave Spring and backtracked to find it was closed.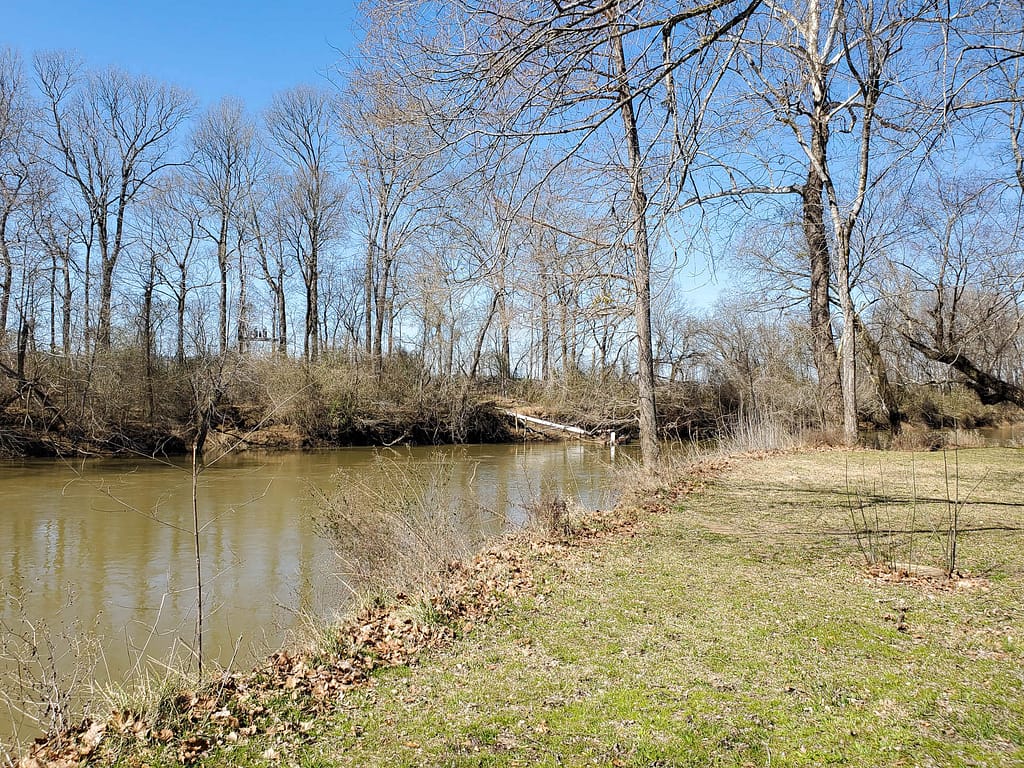 We stopped at Tishomingo State Park in Mississippi to use the restroom and to check out a trail with a swinging bridge. The park was pretty but had confusing signage and roads with steep shoulders. And lots of rocks. The only rocks in Mississippi? There were many outcroppings.
The Pharr Mounds were widely scattered, photogenic, and had one of the more complete and interesting exhibits we saw about the mounds.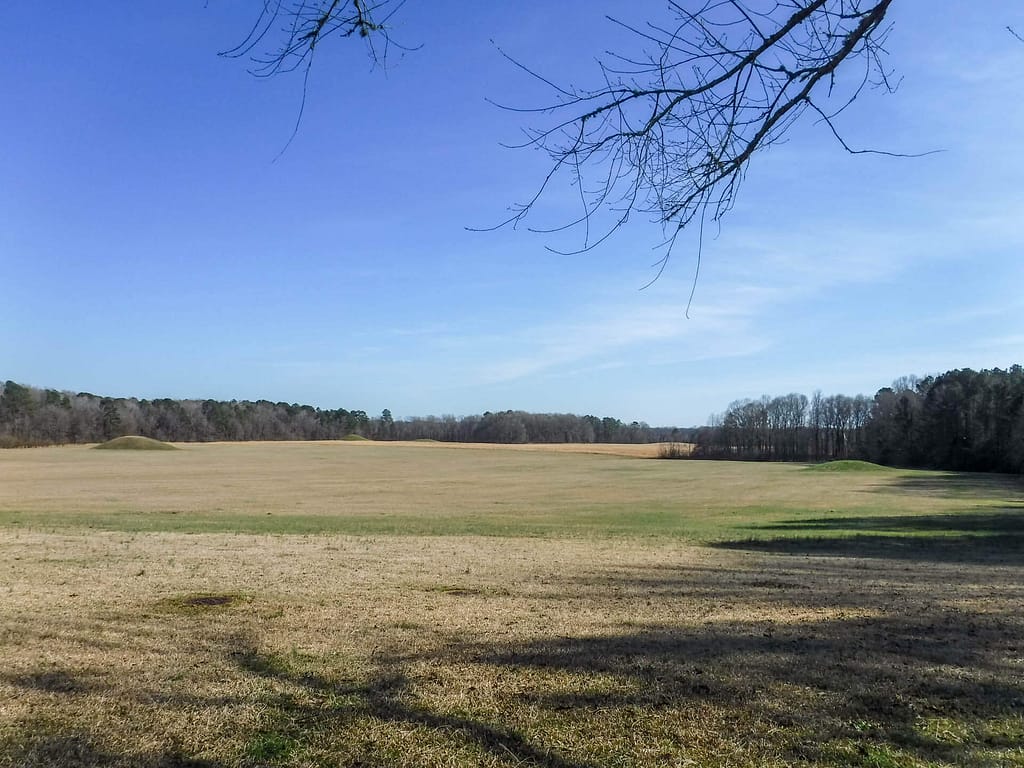 The Donivan Slough nature trail had interesting bits of information about different local trees and cypress knees. One of the best places along the Trace to see cypress trees is closed due to storm damage so we were happy to see them elsewhere.
Dogwood Valley has a brief sunken trace section for another short and easy hike. It was leafy, like most of the trails. It also features a small graveyard of unknown Confederate soldiers. The Visitor Center was just closing when we arrived.
Day 2: Day Trip to Oxford
We had raisin bread with cream cheese for breakfast, along with coffee from the lobby and some Mocha Latte we brought from home to use in the Keurig. Then we drove to Oxford and walked Bailey's Woods trail at Ole Miss. 
Then we drove back to Tupelo and walked around downtown a little. Mississippi is hillier than expected. I pictured a lot of flat and wet. We saw the hardware store where Elvis got his first guitar. Tomorrow we plan to drive by his birthplace on our way out of town.
This section contains affiliate links. If you click on a link we may receive a commission at no cost to you. 
Our room was smaller and older looking. Slow wifi. The sink dripped, the HVAC was noisy, the toilet ran. The location is good, the staff was friendly.
We ate at the restaurant next door the first night because it was easy and went back the second night because it was great.
Fairpark Grill
We ate dinner here both nights. Caribbean marinated beef. Good mashed potatoes. Interesting bread, almost french toast. Crispy and hot spring rolls with two great dipping sauces. Uptown Burger and Sweet Heat Chicken sliders. Good craft beer selection.
We drove our own car. Downtown Tupelo is pleasant to stroll.