The Natchez Trace Parkway from Franklin to Florence has some of the more dramatic scenery on the route, including two waterfalls.
We left Franklin at 10 AM. Yesterday we got a hot (heated up in the microwave) sandwich for breakfast. They were out today so we got cereal.
We have about 150 miles to drive on the Trace today. The Natchez Trace Parkway is more historic than scenic, though it's certainly not ugly. It does lack the dramatic mountain vistas of the Blue Ridge Parkway. Our plan is to stop at every pullout to check out whatever is there: nature, history, whatever. We don't expect many great hiking opportunities. It sounds like many trails are overgrown and some are closed due to storm damage or flooding. So we'll be winging it.
Our first highlight stop today was at the double arch bridge. There were speed racer vehicles there doing … something. The bridge is impressive.
We saw some cyclists in that area too. We're hoping there aren't too many of those to slow us down. (There weren't.) 
The Gordon House is one of the few remaining buildings on the Trace. There's a trail to the nearby ford. It had random daffodils growing through it. Was saw lots of daffodils.
Two waterfalls were top features today. Both were pretty and involved some light hiking. Jackson Falls was steep but paved.
Fall Hollow was not steep but had slippery/muddy spots.
We also had two opportunities to drive the trace. Both were interesting. The second one was confusing. The directions indicated it was one-way, yet we saw an ATV come from the direction we should have been driving. We think they were going the wrong way; just go straight.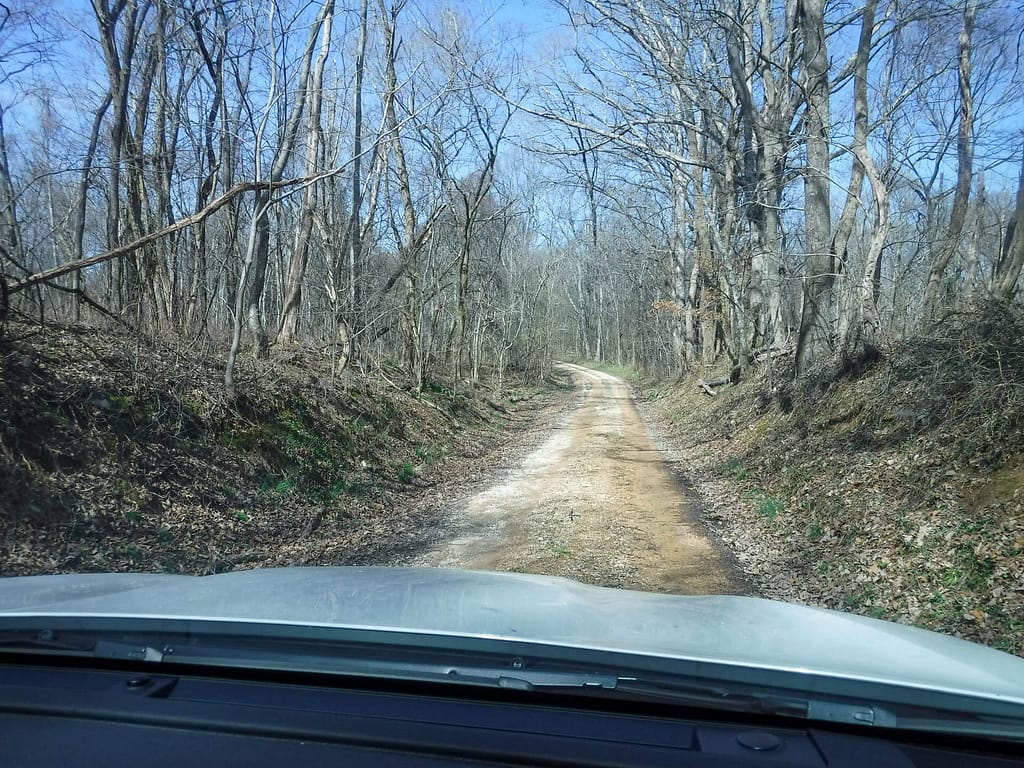 The metal ford was unexpectedly interesting. There were pretty river and water views. We saw a dog on the road. The overlooks were pretty but mostly forested. Not dramatic like the Blue Ridge.
We arrived in Florence around 4 PM and walked downtown to check out restaurants and stretch our legs. It was quaint, quiet, and unexciting. We decided to order Domino's rather than walking to pick up a local pizza or going through a third-party delivery service.
This section contains affiliate links. If you click on a link we may receive a commission at no cost to you. 
Great location near downtown restaurants and such, which we didn't try thanks to COVID-19. A fairly typical example of Hampton Inns that reminded me why this is one of my go-to chains when there are no good local options available.
Again there were some local options that sounded good but we were leery of dining indoors thanks to COVID-19 so we passed on them.
We drove our own car. Downtown was walkable.