We came to Page for Antelope Canyon. Lake Powell looked like it could be fun if we'd had more time in the area.
Bagels again, then off to Page, Arizona via Monument Valley. We'd thought about the Moki Dugway drive but decided to skip it due to iffy weather. We bought Subway in Blanding for lunch and ate it at Monument Valley. The whole drive was beautiful with some of the best rock colors we've seen. Navajo Mountain rising over the canyons was eerie.
And yes, Utah has tourist traps too.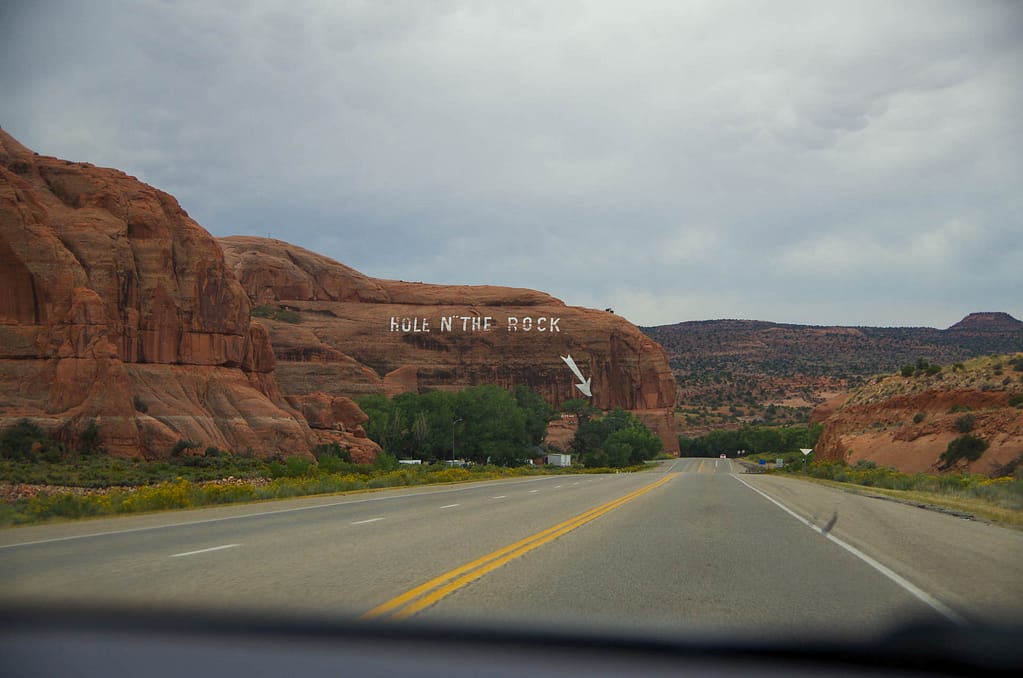 We saw deer on the side of the road where it said there were lots of them, in southern Utah. And we saw tourists standing in the middle of the road as we approached at 65mph. Our place in Page was as nice as pictured. We sat outside and drank beer – one thing we missed at our last place! – then went to Bonkers for dinner. We came back and had more beer and met our host, Gary, and paid via Square. Our apartment was designed as a standard rental. We watched some baseball on TV and went to bed. Only 1.36 miles walked today.
We went to the Ranch House Grille for breakfast with lots of locals. Then to Antelope Canyon, which I'm glad I remembered was in this area. After that we hit Horseshoe Bend, then Glen Canyon Dam and finally the hard-to-find beach at Wahweap. 
We had a shower and packed, then went to Stromboli's for dinner. Then a few more beers on our deck before leaving around 7 AM tomorrow for Las Vegas.
This section contains affiliate links. If you click on a link we may receive a commission at no cost to you. 
Wish we could have stayed longer, it was such a nice place! Full kitchen, living room, and bedroom. Outside seating on a shared balcony. All beautifully decorated. Walking distance to restaurants and a party store. Kind of an odd location, bordering on a light industrial area and above office suites, Very quiet in evening, if not much of a view. Booking with Gary couldn't have been easier: a couple of email exchanges, door was unlocked and key was on the counter when we arrived. I would happily stay here again if we come back to Page.
Bonker's Restaurant
I was expecting super casual based on the name, which it isn't. It's a nice, good-quality restaurant with a varied menu, decent beer selection, and great service. We had the garlic burger and the pasta special, which was an early dinner special (lower price before 6 PM, I think). Anyway, it was all good. Decor is entertaining. The rolls were GREAT!
Stromboli's
Pesto pizza was so-so; calzone was much better, though still not great. The real issue was the service. People arriving after us had eaten and gone by the time we got our food. The table across from us waited for at least a half-hour to place their order, after speaking to serving staff twice. It was painful to watch. There were similar delays in getting and paying the check.
Ranch House Grille
A classic breakfast place that serves up coffee, eggs, omelets and such efficiently and without a lot of fuss. Kind of a longish wait to cash out — wait staff manned the register in between serving tables — but we weren't in a hurry anyway.
We had a rental car and you'll need one to see the sights. Page itself is somewhat walkable.