Franklin is a cute and busy town at the north end of the Natchez Trace Parkway. Steve used to live in the area so we were focused on revisiting his old haunts instead.
We got off to an inauspicious start when I ran over a squirrel less than 5 miles from home. Stupid squirrel! Why did you run back in front of the car? In Franklin we walked to Subway for dinner. I think they must have just opened. In any case they gave us free cookies. We were able to drink outdoors because it was warm enough. The room is small but large enough. It's on a super busy road. No way could you cross it on foot. We put our folding aluminum table to work to put dinner on.
Steve used to live in this area and we set aside a day to drive down there and meet with Rich, his former landlord, who's developing a neighborhood around some lakes. He took us around the neighborhood. We got to see the old cabin where Steve lived and new additions like a covered bridge and new houses.
And a new lake (money pit) that's in progress. It's a beautiful area and it was nice to meet someone Steve remembers fondly.
After that we went to the Meriwether Lewis monument to eat our lunch and do some hiking on the Old Trace. We made a loop from the monument to the CCC trail (.5) then took the CCC trail to the Overlook (.4). We walked back to the monument via the road and the Old Trace (.5). A little over a mile altogether, which was fine with us.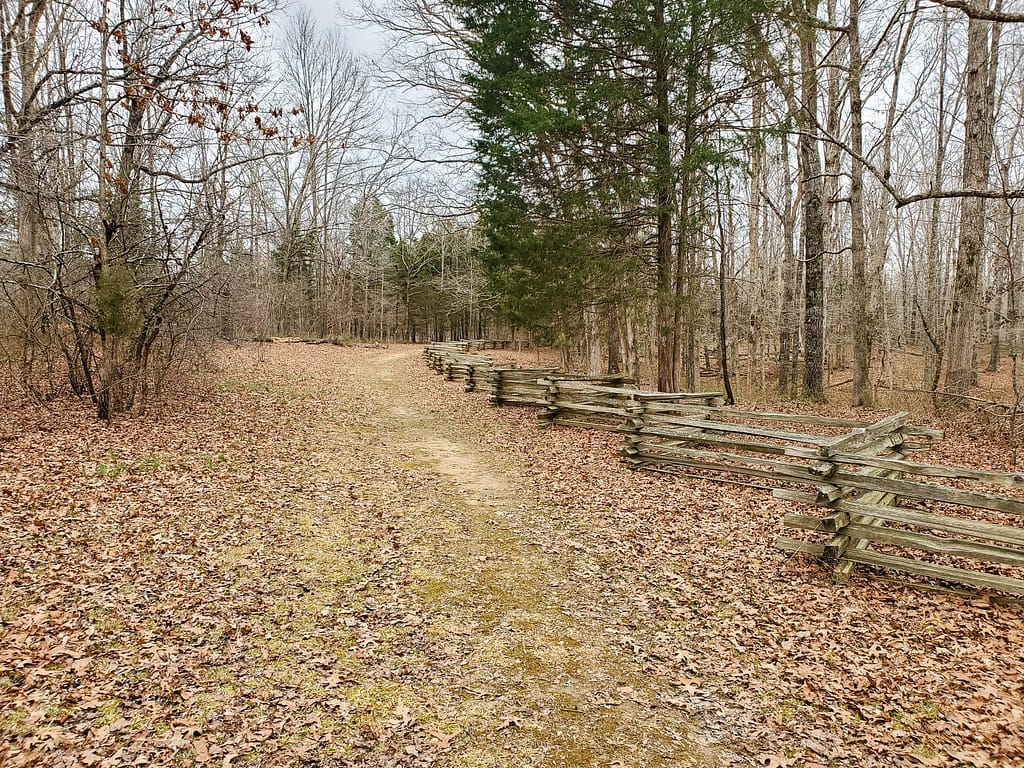 We drove back to Franklin via the Trace. It was a cute town and very crowded. I wanted fried chicken but we didn't want to eat indoors due to COVID so we got Wendy's spicy chicken sandwiches for dinner. And we found out that we can get vaccinated for COVID in Michigan starting Monday.
This section contains affiliate links. If you click on a link we may receive a commission at no cost to you. 
The room was smallish but large enough. Staff was friendly. Murfreesboro Road is super busy but the noise didn't impact us. Impossible to cross on foot though, making the area less walkable. 
There were some interesting sounding restaurants in the Franklin area. Thanks to COVID-19 and not wanting to dine indoors, we tried none of them.