Naxos has everything we want in a Greek island: Nice beaches, an atmospheric old town, old buildings, the odd ruin, and great food. And good ferry connections.
We were slightly nervous about getting to the port at Piraeus from our hotel since we had to catch the first metro train to get there on time. It ended up being uneventful though there were a surprising number of people around at 5 AM.
Our ferry trip to Naxos was also uneventful and scenic, other than we had great seats but everyone wanted to stand at the rail and block the view.
Below is the huge mob scene when we got off the boat at Naxos. Herds of rolling luggage went clattering across the cobblestones. There were the luggage people who piled all their luggage and golf clubs right at the railing in the middle, so no one could get through.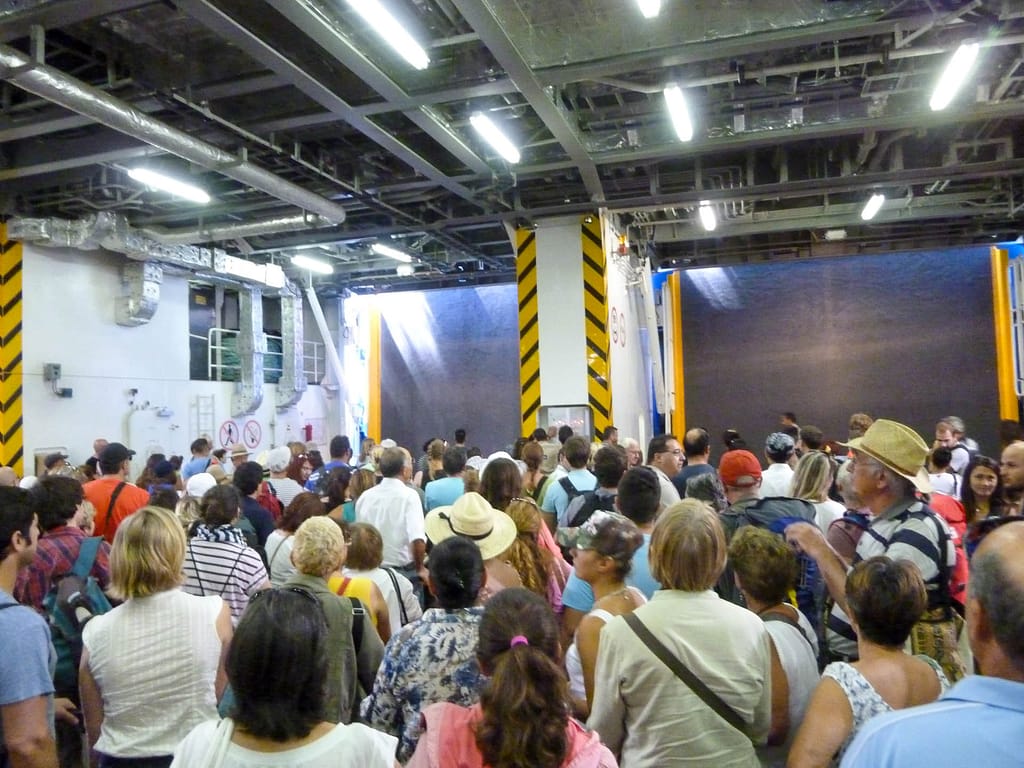 We had a hard time finding our place on Naxos, though everyone was helpful and friendly. It really is a maze. First a nice man gave us directions to the market and told us to ask at the market for directions from there. The market spilled into the surrounding "streets." We ended up with a bottle of water because I felt like I should buy something while asking directions. With much waving and pointing we found our way. Had we entered the maze at a different point we would have seen the arrows below. (Start at the sister Apollon Hotel to find it easier than we did.)
Chateau Zevgoli is a very nice and friendly place. Our host brought us cold water and juice and helped with directions and recommendations.
We had a big lunch at Meze Meze, despite the name. The beer was relatively cheap. Then we took a nap.
We had dinner at Irini's, which is also on the waterfront. Then we stopped at a couple of cafes for beer. When we discussed our plans with our host, she mentioned that the man who worked the night shift at the hotel also occasionally arranged guided tours for people. After dinner, we met Demitris and his family back at the hotel and discussed doing a tour with him.
Today was beach day. We took the bus to Plaka beach — at the end of line. We got to scout the other beaches on our way there and decided that one worked for us. We had an umbrella and loungers, and could buy beer at a mini market across the road. The beach itself was nice sand, with large flattish rocks in the water. The temperature was similar to what we had in the Dominican Republic: cool enough that it took a little getting used to and refreshing. We saw our first lizards there.
We took a shower, then went to Apostolis at our hosts recommendation. We saw the standoff below between a local dog and cat. (The cat kind of blends into the stones.)
After dinner we picked up our next ferry tickets and made final arrangements for our tour with Demitris.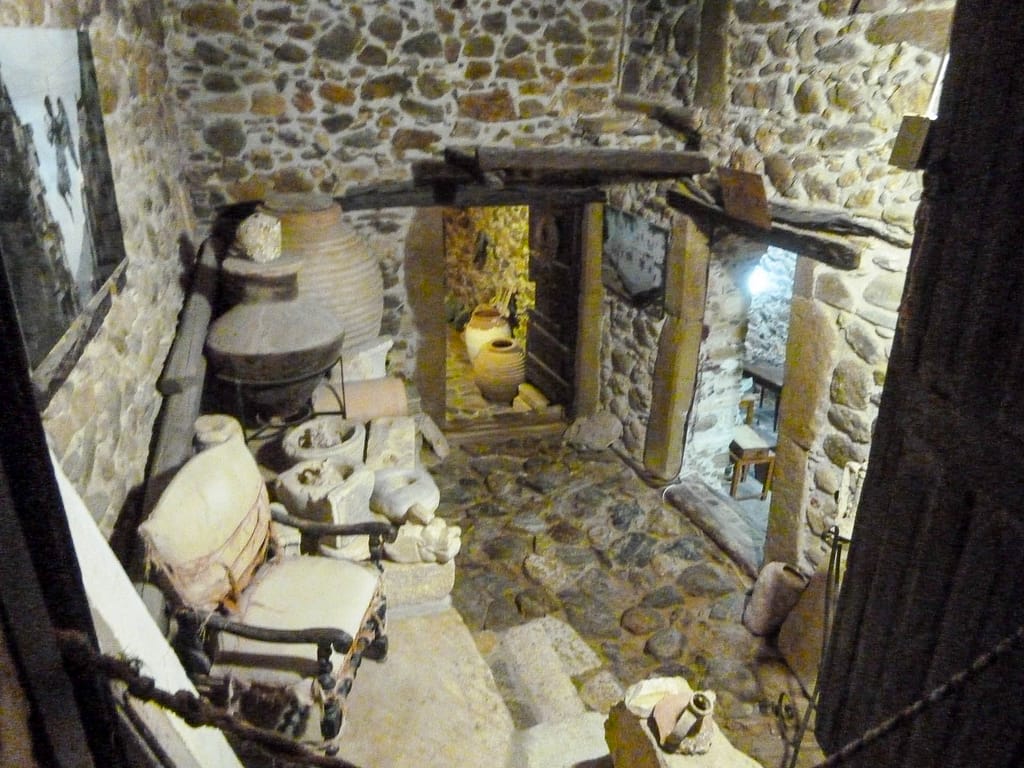 Day 3: Guided Tour of Naxos
We spent the day on a wonderful guided tour with Demitris. After that we had another nap — that man could sprint in street shoes! — then dinner at Meze Meze. We looked into a Delos day trip, bought a bottle of Naxos red wine, and drank it on the terrace.
Day 4: Day Trip to Delos and Mykonos
We booked a day trip to Delos with a stop at Mykonos on the way back. We were there for Delos. A couple of hours in pricey Mykonos was all we needed! While waiting for our boat to arrive we got to see some fishermen at work at the harbor. 
I got very dizzy on the boat going back to Naxos. Probably dehydration. Our boat had to turn around at Paros because someone didn't get off at the right spot. So we were back in port later than scheduled. 
We had dinner at Lucullus in the old town and sat in the alley. Steve was afraid of falling over backwards down the hill! Then we went to Ebeeria for beers.
Day 5: Naxos to Thira (Santorini)
Our ferry to Thira didn't leave until the afternoon, so we had some time to sightsee before we left. We walked out to the Temple of Apollo, also known as the Portara. It didn't look like much from town, but this little peninsula just outside town offers a nice view of the town and is a little escape from the crowds. Except maybe at sunset, when it looked like a lot of people headed that way. We went in the morning and it was peaceful and beautiful. The water is very clear.
Then we found our way up to the Kastro and walked around. We found the tower that was visible from our terrace, which is the bamboo roof in the top left photo.
Then we discovered the boat left earlier than I thought, so we checked out, bought body lotion, and headed for the port.
This section contains affiliate links. If you click on a link we may receive a commission at no cost to you. 
We had a lovely room with antiques looking over the city to the temple of Apollo. The tree growing through the middle of the building is just magical, as is the garden patio you walk through at the entrance. The breakfast (bread, jam, honey, hard boiled egg, cheese, lunchmeat, yogurt, coffee, juice, fruit) didn't sound like much on reading it but was surprisingly filling. The rooftop deck was a nice place for a glass of wine at night; the hotel provided the corkscrew and glasses. All of the staff members we interacted with were wonderful. The location in the old town is just what we were looking for.
One of the reasons we chose Naxos was because of its reputation for great food. Every meal we had was great. 
The old town and waterfront is easily walkable. In fact, you can't drive in the old town! We used the bus to get to the beach.