Lindos was a nice way to get through jet lag. An acropolis to climb to and a beach for relaxing. More people than I expected in the village after dark - I thought there would be more day trippers - but not mobbed. Should have made dinner reservations though.
Day 1: Athens (Αθήνα) to Lindos (Λίνδος)
So technically our day began at Kos because that's how far the boat made it until we got up this morning around 7:30-8:00. We went in search of coffee and breakfast first and got an Americano and a double cappuccino from one of the coffee bars along with two banana muffins with chocolate cream inside. Those were pretty tasty and the coffee was good too. Then we went up to the atrium bar again just to get a look outdoors, then went back to our cabin to brush teeth etc. By about 9:30 we were pretty much done in the cabin so we grabbed our bags, turned in our keys, and spent the rest of the time sitting on the deck as we approached Rhodes.
Side note: Our Fitbits don't seem to be working quite well for some reason. They are failing to record hours of heartbeat and it didn't record most of my sleep last night. Of course maybe the motion of the boat was faking it out. It thought I was still moving. The boat would make a lot of noise and do a lot of shuddering whenever they had to stop at a port. The boat also wallowed from side to side during the night. Then again it could be the time change. [Edit: It's the time change. We've had the issue since.]
Getting off the ferry in Rhodes was the same controlled chaos we've experienced getting off other ferries in Greece. For one thing the alarm was super loud and it took them a while to get the ramp in place. But once the ramp was in place everyone started herding off the boat and we more or less followed the crowd out to the main road. We used Google maps to figure out how to walk to the bus station in Rhodes Town and it worked pretty well. Steve thought we were lost a couple of times but the handy feature where it shows you which direction you're facing saved us. We got lucky with the bus. One was just pulling out as we got there so the women at the ticket booth pointed us to it and said go get on that last bus. Okay well it wasn't the last bus in line it was the next one but we made it. Steve managed to get his bag into the overhead rack but mine just wouldn't fit so I rode to Lindos with it on my lap. Which wasn't bad. The bus got quite full and the bus driver had to deal with lots of somewhat clueless people who didn't understand that they needed to wait for a different bus to get to where they wanted to go. (It was nice that the driver took the time and effort to verify that it was the right bus.) One woman got sent to the drugstore to buy a mask because she couldn't get on the bus without one. There were several people hacking/coughing on the bus too. Steve noticed; I didn't.
We got off the bus at Lindos and phoned our pension as instructed to get directions. The first thing she said we should do is get on the shuttle bus that left as I was talking to them on the phone. Which was fine because the shuttle bus comes every 10 to 15 minutes. We caught the next shuttle to Lindos center and started trying to follow Google instructions. That worked reasonably well until the end when it directed us down a hill and up some unnecessary steps. Either that or I couldn't read the map right. Google maps finds the narrow walkways in Greek villages … challenging. In any case, we found our pension (Electra*****) and were immediately handed cold bottles of water which were very welcome! They showed us to our small and quite basic room but it had all our essentials and for $50 a night in an expensive tourist town I am not complaining.
Our first act after checking in was to find something to eat so we headed for Mavrikos which was highly recommended and on the main square so we knew where it was. We had a nice relaxing lunch with Zythos Vap, a local Rhodes lager.
After lunch we wandered around the village. It looked small as we were making our way to our pension but we discovered there's much more to it when you don't have a location in mind and just wander down the next alley that you see. Yes there are no real roads in the village, it's all narrow alleys designed primarily for humans though they do have cute donkeys that give people rides. And sometimes take off on their own; we saw a couple do that. We also saw a couple of delivery vans very carefully make their way through the narrow streets. I think any pedestrians had to step into a nearby doorway to get out of their way. The shuttle bus also had to wait for pedestrians making its way into Lindos center.
Once we had enough of wandering we went back to our room and sat on the terrace and drank some water and figured out what to do next. We decided to get supplies first. So we went to the ABC supermarket that we found earlier and got cinnamon rolls, Nescafe gold, and coffee cream for breakfast and some beer for whatever. We bought Mythos and Fix so we can do a taste comparison. We have a small refrigerator in our room. And use of a small shared kitchen which has an electric kettle so we can make instant coffee. It'll be just like Australia.
Then we decided to try Hermes for dinner. Steve wasn't real hungry because he had a big lunch but my grilled sardines were just that: they didn't come with any kind of side. So I was hungry. We ended up getting tzatziki and souvlaki. I'd been craving french fries and the cold unsalted ones on the boat just didn't do it. The ones we had here on the other hand were great. I think maybe they fried the potato slices in butter. We also got Alpha beer. I don't remember liking Alpha that much the last time we were here but this was fine; go figure. And then we finished the night by sitting on the terrace drinking some beer. We expect to have an early night tonight because while we slept better on the boat than we did on the plane that's not saying much.
We have a great view from the terrace both day and night, from the beach down in the bay to the acropolis up the hill. Tomorrow our plan is to climb the acropolis in the morning while it's cooler and then go to the beach. If Steve stops sneezing.
Day 2: Lindos Acropolis and the Beach
We didn't get up very early this morning but we still made it up the acropolis while it was sort of cool? We woke up about 10:00 and probably got started to the acropolis about noon. There were a bunch of people coming down the stairs as we were heading up so we waited for a little while. (Thankfully there were not as many people going down when we came down later.)
After climbing back down from the acropolis we cooled off for a few minutes then changed into bathing suits and headed down to the beach. By this time it was probably about 2:15 and there were no vacant sunbeds to be seen. So we found a likely beach taverna and had lunch. And a couple of beers. We saw some guy reading a magazine in the water. Or as Steve said he had a user's guide to the ocean. We also saw lots of people with sunburns. It's a nice sandy beach although a little crowded. And that's with the umbrellas spaced for COVID. I can only imagine how crowded it usually is.
After lunch we decided we'd eaten so much we didn't need a full meal so we went back to the supermarket and got snacky food for dinner: salami, edam cheese, olives, and some rye bread. We thought about getting pita bread but they only had a really large bag and it wasn't resealable. Then we sat outside on the terrace for a while and got the sand off our feet. We wore our water shoes down to the beach. (We brought those in case we run into any rocky beaches on the trip.) That worked pretty good for climbing down the hill. Probably could have done it in our Teva flip flops but the water shoes worked well and we got to use them. Tomorrow we plan to go to the beach earlier and hopefully get a couple of chairs and an umbrella.
We each took a short nap and relaxed for a while, then sat on the shared veranda drinking beer eating snacks.
Lindos has many pebble mosaics. Here are just a couple of examples.
Today was a beach day. We got up a little earlier so we could get to the beach by 9:30ish and get a sunbed. We ended up going to Ammos. Their sunbeds were nice aluminum with mesh seats and arms (cooler and easier to move than wooden ones) and they had very convenient safes with combination locks to secure your stuff while you were in the water. We also ate lunch there. And a couple beers down at the beach. They had call buttons where you could call for service or you could just wait for someone to show up like we did. The beach is nice and sandy and the water was a nice temperature. Refreshing, but didn't take getting used to. We were at the beach until about 5:00. Steve saw turtles while swimming.
Then we came back and took showers and I discovered that the water here does not remove bar shampoo from your hair. So my hair looked like crap but who cares. We went to Dionysus for dinner. It was super busy and we couldn't sit on the top deck because we didn't have reservations. But Steve still got to watch goats. As usual it took some work to find the place but we eventually located it.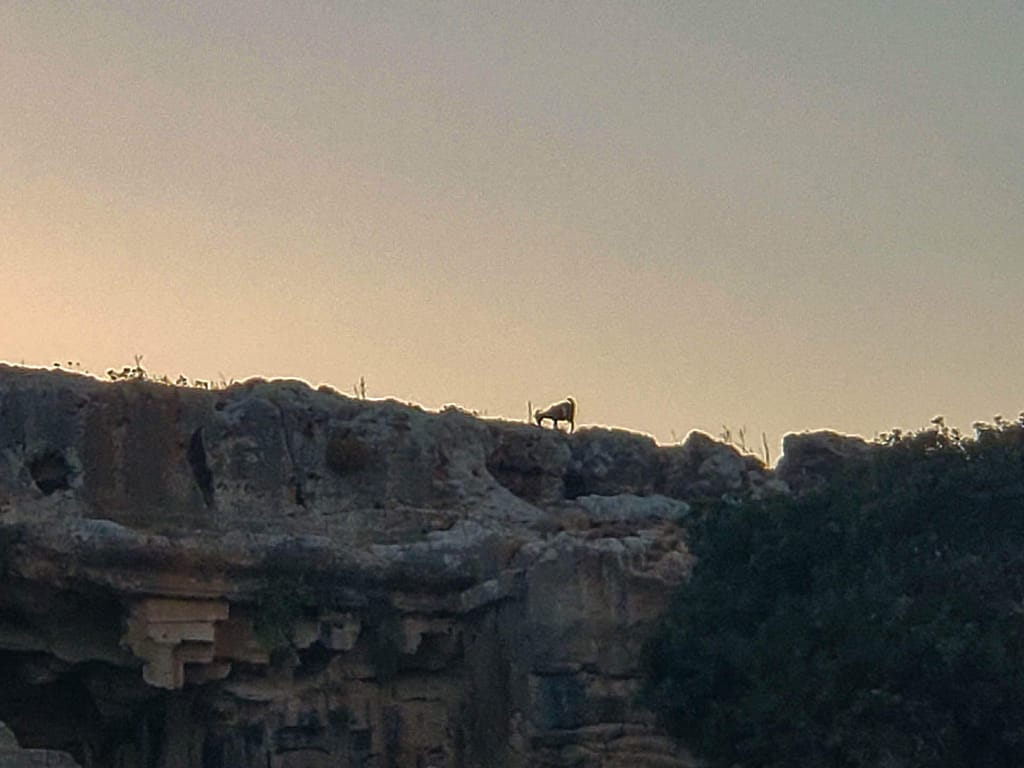 After dinner we stopped by the supermarket to get more rolls for breakfast then came back to drink some local Rhodes wine we bought which is pretty good. Tomorrow we plan on a leisurely breakfast and then we'll head for Rhodes Town around noon.
This section contains affiliate links. If you click on a link we may receive a commission at no cost to you. 
Prices in Lindos tend to be high and not everything described as being in Lindos is actually in the village. Our pension was not luxurious but it was nicely located, had great views from the spacious shared terrace, and was inexpensive. Be warned there was only one outlet in our room.
LOTS of restaurants to choose from. Many in the village have rooftop seating, which was different.
Hermes
We got the recommended tzatziki along with some delicious olive tapenade and grilled pita bread followed by souvlaki, which came with grilled bell peppers and balsamic vinegar. Well presented. Nice view and good service.
Dionysos
Shrimp saganaki to start, then swordfish with more shrimp, garlic, and lots of different vegetables and sea bass with arugula prosciutto, a pesto puree that might have been cauliflower, and tomatoes. They were both really good.
At the end of the beach. We had mixed souvlaki and calamari and chips. Good food; nothing spectacular.
Mavrikos
We had taramasalata, grilled sardines and lamb kleftiko. There was no view but it was quiet and shaded and that was just what we needed for our first lunch. And it was easy to find on the main square. A plus when you're hot and tired!
Ammos
We chose based on their beach setup rather than the restaurant. The souvlaki was good. The waiter seemed miffed that we didn't order the expensive seafood platter. Just not what we wanted right then.
Once in Lindos you can walk everywhere. In fact, you don't have much choice!