Glacier National Park is gorgeous and worth the long drive across the plains, even with part of the park closed due to COVID-19 and visibility diminished by smoke from wildfires.
Day 1: Going-to-the-Sun Road
We got into Columbia Falls in time to check-in and have dinner. We spent the first three nights at the Meadow Lake Inn, part of a golf course community outside of town. It was odd to have a view of a golf course on a hiking vacation! We'd originally planned to spend the first three nights on the east side of the park but when it didn't open we needed to find another option.
Our first full day in the Glacier area we drove the Going-to-the-Sun Road to get our bearings.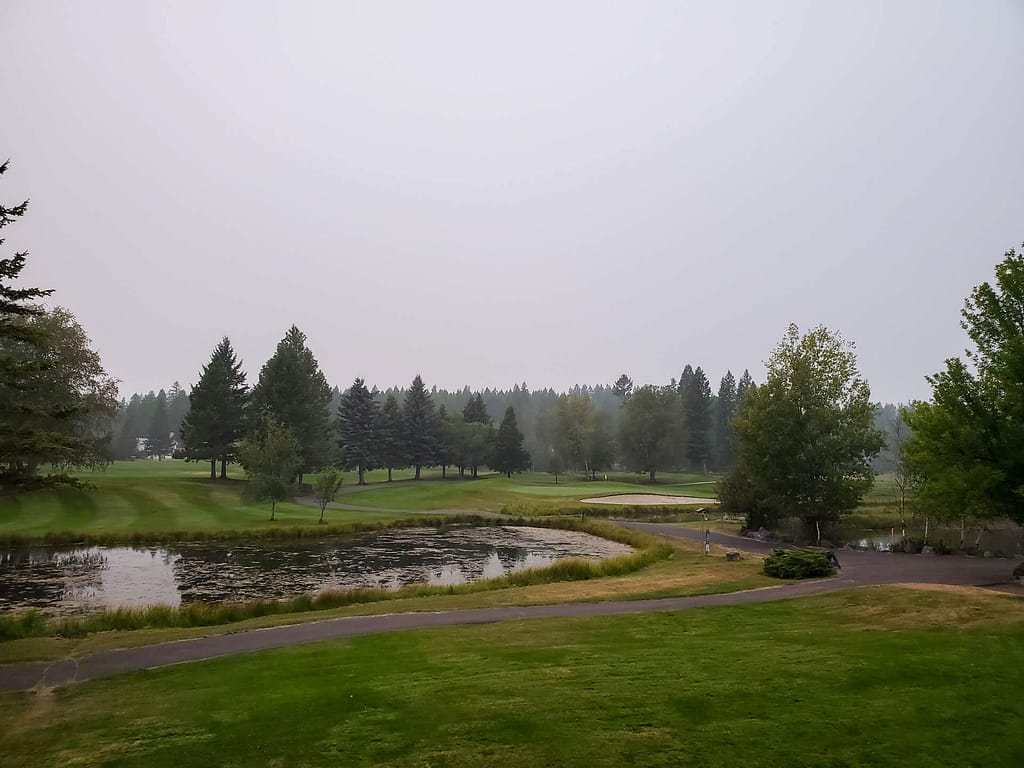 The air quality alert level was Unhealthy and you could see and smell the smoke in the air so we didn't do a lot of hiking. We did stop at the Sun Point Nature Trail and walk to Baring Falls to stretch our legs. And we came REALLY close to seeing grizzly bear: one ran through the St Mary Lake boat launch area just minutes before we got there. We saw photos.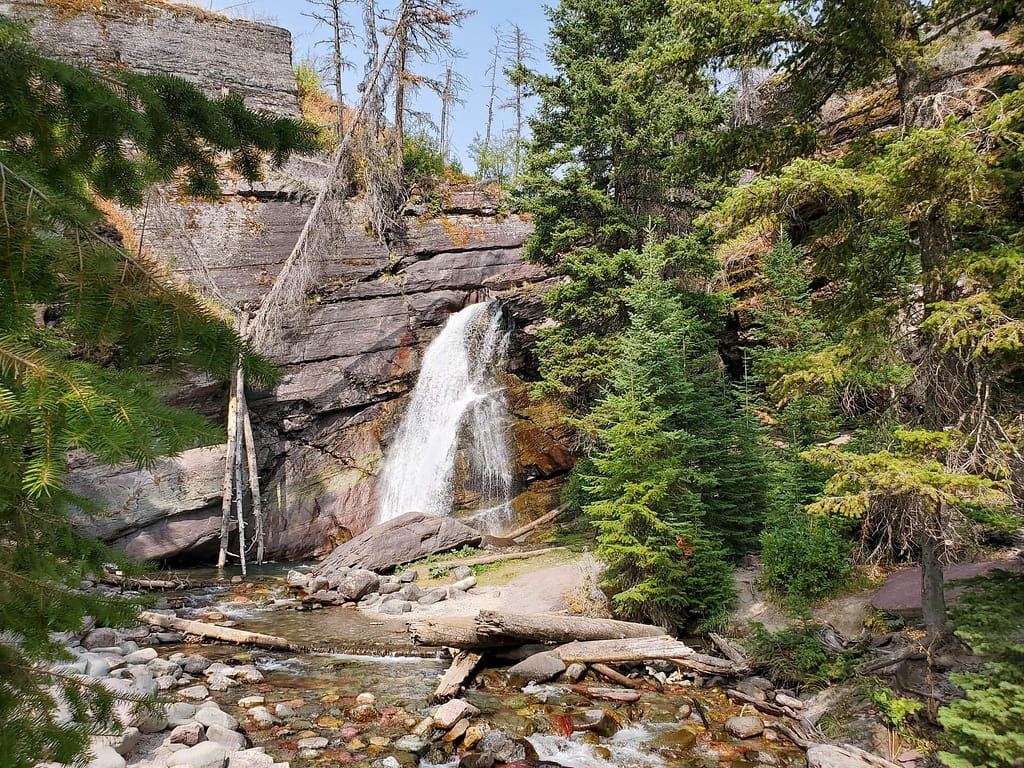 Day 2: Avalanche Lake Hike
Today was an early start in order to get a parking spot for the Avalanche Lake trail. After hiking we drove to Logan Pass but the parking lot was full so we turned around shortly thereafter. We stopped at some overlooks along the way and got a glimpse of a grizzly bear running across the road in front of us. That's two near misses so far!
Day 3: Switching Lodgings
We had a later start today since we moved to the Airbnb where we'll be spending the next five nights. We had a nice room with a bath plus a shared kitchen, dining, living room and yard to spread out in. And a great host!
We were walking distance to downtown Columbia Falls, which had restaurants and bars and some interesting murals.
We stopped at Apgar Village and walked around. Bought a Christmas ornament to commemorate the trip. We drove through Lake McDonald Lodge area. There wasn't much there except the lodge itself. We tried Logan Pass again but no parking. So we explored some different turnouts and then went to Sprague Creek to have lunch and sit on the beach at Lake McDonald until the flies drove us away.
Day 4: Hiking from Logan Pass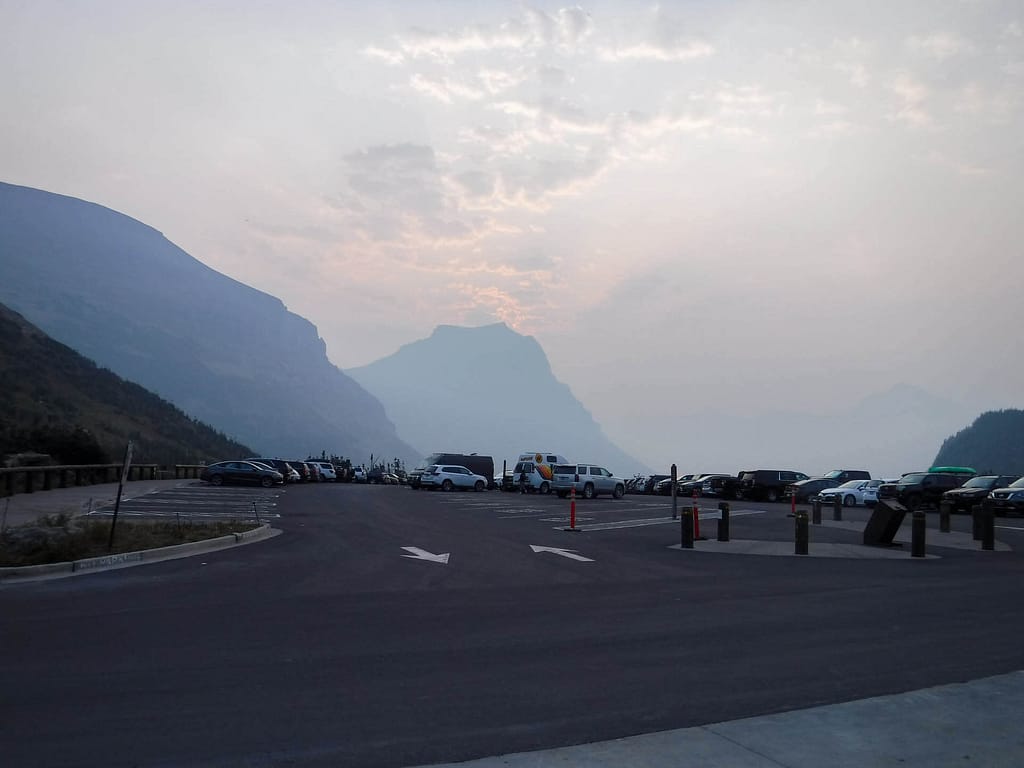 We went to Sprague Creek again until the flies became unbearable again. McDonald Lake is beautiful. And very cold. We stopped at the grocery store for Pig's Ass Porter, a beer we fondly remember from our Yellowstone trip in 2011 when we first started targeting local craft beer. It didn't have the bacon flavor we remember but it's still a decent porter. 
Day 5: Daytrip to Whitefish
With rain in the forecast, we went to Whitefish for the day. It's a cute little town and good for a couple of hours wandering even if you don't like cute little shops. We did love Meriwether and are happy to see you can buy from them online, since we couldn't decide on anything while we were actually there. And we had great – and pretty – burritos at Mama Blanca's. 
Sat and chatted with our host for a while in the morning, which was fun. We had lots in common. We drove to Avalanche and there was no parking, so we walked for a little on the beach at McDonald Lake. 
We ate a late lunch/early dinner at Backslope Brewery. Both the food – a pork sandwich with ginger sauce and fried chicken sandwich – and the beer were great. We bought pumpkin fritters for breakfast and drank beer in the backyard. Lots of rain on and off today.
Day 7: St Mary Falls Hike
We slept in a bit on our last day here, then did the St Mary Falls hike. We were happy we didn't continue on to Virginia Falls since we heard afterward that a grizzly bear was sighted along the road after we stopped hiking. We went back to Three Forks Grille for another great dinner. Get there early, they don't take reservations!
This section contains affiliate links. If you click on a link we may receive a commission at no cost to you. 
Most lodgings inside the park were closed due to the pandemic along with everything on the east side. Options outside the park on the west side are strung out along US-2. Columbia Falls is the closest place of any size. Whitefish has more lodging and dining options but is further away.
The Meadow Lake Inn is a bit out of the way but a decent restaurant on site. Nice rooms with small balconies and good service.
Peacefull Retreat is a great Airbnb option. Mary is a great host, the room cozy, the bathroom spacious, and it's great to be able to spread out into the kitchen, yard, and living room if you want. Walkable to downtown.
There are some nice dining options in Columbia Falls and more in Whitefish. Take food into the park with you. There aren't that many place to get something to eat inside the park. 
We drove our own car and put 618 miles on it during our stay. Gas up before you head into the park. There's no place to get gas once inside.