Door County is a charming peninsula in Wisconsin that juts out into Lake Michigan. We're glad we came, though we like our "up north" more rugged. And let's face it, when you live in Michigan, northern Michigan is more convenient!
We spent five days here on a road trip that included Lake Huron in Michigan. We spent our first night at Straits State Park in St Ignace, just north of the Mackinac Bridge, which brings us to …
Day 1: St Ignace to Door County
We started our drive from Straits State Park at 9:20 AM and arrived at 4:00 PM local time (Door County is in the Central Time Zone). We stopped at the Holiday for gas and coffee before leaving St Ignace, then hit US-2. We ended up stopping at the same rest area on Lake Michigan that we hit last year going in the opposite direction. There weren't many lunch options along the way so we ended up in Cedar River at Sues Two Plaza Grill inside the Shell station/store. It doesn't sound very exciting but I had a chicken melt that our server — who was great! — recommended. Garlic texas toast with chicken, swiss, and bacon, with fries and great slaw. And a reuben for Steve. For about $20. We might have to try the chicken melt at home!
It was a little blustery on the bridge in Green Bay, but we made it. Peninsula State Park is a very popular park, so if you want to stay there I recommend you book early. I thought we booked pretty early and even then we couldn't find a single site for five nights. We had to book one site for a single night and the rest next door, which mean having to check in twice. We decided to go ahead and unhook the trailer, especially since checkout time was 3:00 PM. We got wood for $6.50 at the campground, then checked out the restrooms and the beach. We didn't have a lot of trouble leveling the trailer, though a badly placed tree made backing in challenging. There are cute squirrels in the neighborhood too. Looks like snack bar at the beach is closed for the season. Today, whichever today that was!
Our first full day in camp we did the Eagle hike. As we suspected, it wasn't super strenuous; the difficult rating was for some spots where footing was tough due to rocks and roots. We hiked the Minnehaha trail from the campground over to the Eagle trail. I think we did it the right way in terms of tackling the up and down slope. (We did the loop clockwise.) There were great views of the rocks from the bottom, and a nice view of the bay and some villages from the top. And it wasn't too tiring.
When we got back to camp there was a Corvette parked on our new site. Thankfully the driver was down the road talking to the camp hosts. We got a good laugh over that. 
We moved the trailer over to the new site, then drove over to Bailey's Harbor to Door County Brewing. Steve had It Just Does Funny Things and I had a peach milkshake IPA called Whatever You Like? We also had a charcuterie platter that was pretty good. Prosciutto, soppressata, another sausage, artichokes, almonds, some kind of dried fruit, pesto cheese. It was tasty but it wasn't dinner, so we drove back to camp, picked up firewood, finished setting up and tidying up, then drove into Wild Tomato for pizza. Conveniently located right outside the state park. We split a 16" half deluxe, half sausage and pesto. It was really good. We were able to sit outside because there were lots of outdoor heaters. Kind of a chilly fall night.
Day 3: Whitefish Dunes and Cave Point County Park
We organized our time in Door County so that we could take in the scenery and some of the local restaurants while getting to and from hikes. Peninsula State Park is pretty centrally located and camping here made that easier.
After hiking Whitefish Dunes we drove over to Cave Point county park, which was just as picturesque as the photos. This is what you see when you Google search "Door County." Oh, and our camera is misbehaving, so you might want to run that search to see better photos!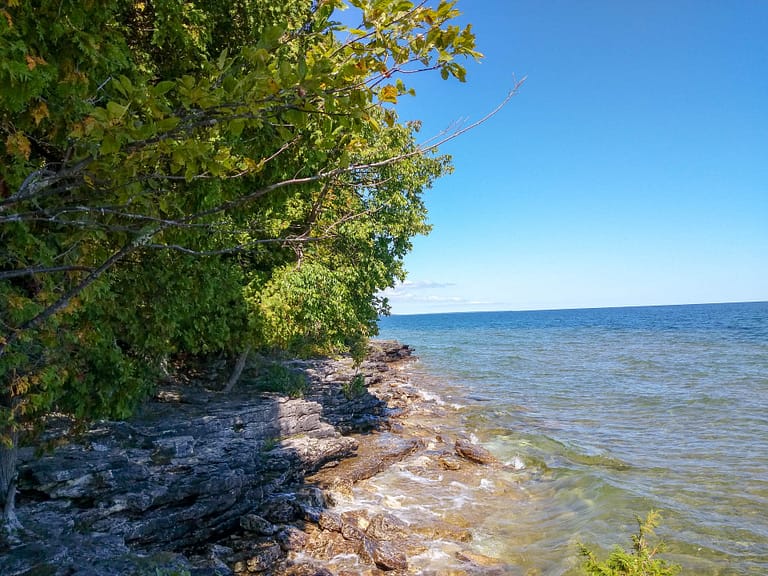 We had lunch in Jacksonport at Island Fever. We each had Door County Brewing beers. Pallet Jack IPA for Steve, and Polka King Porter for me. Both were good. We each had burritos; both needed hot sauce but were tasty.
Then we drove over to Egg Harbor. It looked more interesting driving through than once you stopped and looked in detail, but we wandered into a couple of shops and got gas. I guess we're just not the browse-the-gift-shops type.
We stopped in Ephraim at the Old Post Office to make reservations for the fish boil tonight, then at Shopko for mouthwash for Steve. Shopko was not at all what I thought it was. Kind of a Meijer/Target kind of store. Then we hiked at Europe Bay  After hiking we stopped at Grandma's Swedish Bakery. We didn't see anything worth buying, so we backtracked and drove up to Northport on the famously twisty road, then headed back down the coast. We stopped at Piggly Wiggly and got some local beer – Ahnapee Two Stall chocolate stout, Perky Porter, and New Glarus Spotted Cow, a cream ale. After a quick lunch and showers, it was off to the Old Post Office for the fish boil. 
Day 5: Touring Door County
Before touring Door County we ate breakfast out at Julie's, right outside the park. Steve had a farmer's omelette and I had french toast stuffed with cherries and cream cheese and served with whipped cream. Yum! The cherries were just tart enough. Oh and latte. Service wasn't great – he forgot us – but okay.
We stopped in Sister Bay for lunch at Al Johnson's, since they were closing early for an employee party. Steve had a chicken sandwich and corn and sausage chowder. I had fish and chips. My fish and chips were so so. The lingonberry ice tea was very good. The gift shop was full of Nordic stuff. And the turf roof with the goats was fun. No goats when we were there for lunch, but we got to see them on a previous drive through the area.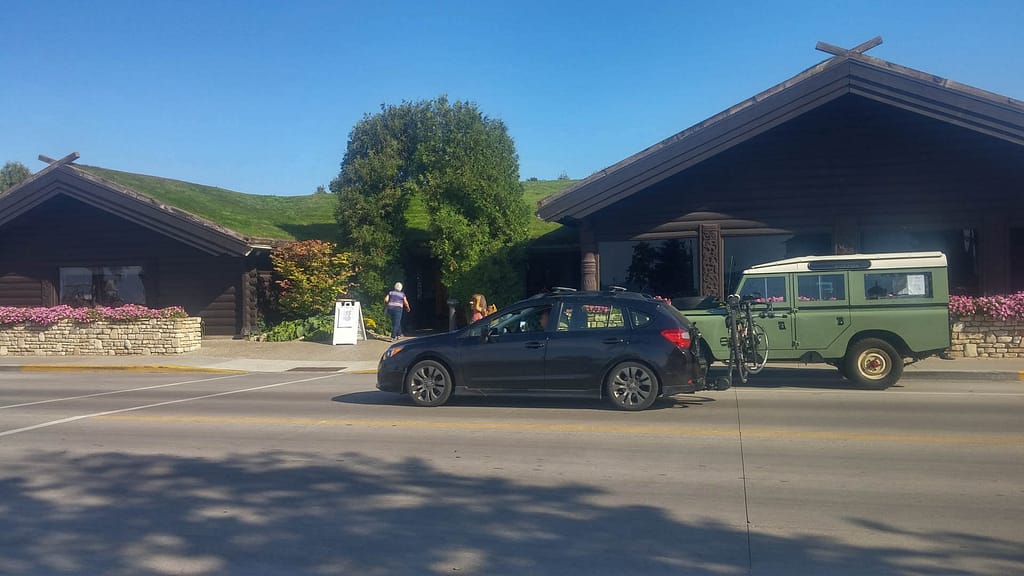 We had goat's milk gelato at the Door County Creamery. Stracciatella for Steve, Salted Caramel for me. I tried the olive oil and sea salt flavor but it wasn't as interesting as it sounded. And I wouldn't have known it was goat's milk if you hadn't told me. Then we got ice and headed into Fish Creek to walk around, then back to camp to hitch up the trailer for an early start. We also walked down to the beach and stuck our feet in the water. It was super cold, as we expected!
This state park is HUGE. It has lots of hiking and biking trails, multiple campgrounds, beaches, a lighthouse, even a golf course! The firewood was well stocked. The showerhead in the camp shower was awful at first, we couldn't adjust the temperature, but we did get clean. The beach near the campground was pleasant. Somewhat confused reservation process. 
Dining options are scattered throughout the local villages. There's a Piggly Wiggly for groceries.
We were pulling our trailer so we had our own vehicle.