Auckland is a nice city and a good base for our day trip to Hobbiton. We opted to stay there rather than breaking the stay into Auckland and Rotorua. 
Day 1: Cairns, Australia to Auckland
We had a 5:45 AM flight, which meant a 3:30 AM shuttle, which meant getting up at 2:30 AM. So it was a long day.
Our first flight was delayed 20 minutes, which made our connection in Brisbane more stressful. Somewhere in there Steve lost his Gore-Tex jacket and didn't realize it until we were at the international terminal waiting for security. So we reported it, but don't expect to see it again.
Fortunately when we checked in here in Auckland, the guy at the desk pointed us to place a couple of blocks away where we could get a replacement. And we did. For a 40% discount in exchange for an email address. MacPac, in case you find yourself in similar straits! 
The photos below are the view from our verandah and our room at Verandahs Parkside Lodge.
Ponsonby looks like a nice neighborhood, with shops, bars, restaurants, and a nearby supermarket.
Day 2: Exploring Auckland
We slept late, because we didn't get much sleep last night. Our first full day in Auckland we spent walking around the city. We saw a lot of downtown. We took a little detour through a park and saw some really cool old trees.
We did some wandering down along the waterfront and ended up having dinner down there. Fish and chips, and a bento box of ika mata, which is raw fish with coconut and such. It was really good. We enjoyed some of the modern and traditionally inspired architecture at the waterfront.
We saw a large sailing yacht named Janice of Wyoming. We were so curious we had to look it up. Because one doesn't naturally associate Wyoming with sailing. Turns out it's owned by a New Zealand couple and a couple from the United States. Apparently, it's going to be in the America's Cup race.
Then we went back to our neighborhood, which is supposed to be one of the better neighborhoods for restaurants and bars, and had beers at a couple of bars. Then to the supermarket for cheese, coffee walnut and lemon passion fruit muffins for dessert, and a couple of dessert beers to finish off the night, which we drank on our veranda. The communal kitchens are handy.
Day 3: Hobbiton and Waitomo Caves
Today we took an all-day bus tour to the Hobbiton movie set. Our second stop was the Waitomo caves. The caves themselves have lots of stalactites and stalagmites and are very pretty. The acoustics are good too, so our guide – who had a very nice voice – sang, and the rest of us joined in on the chorus. They do an annual Christmas concert in the cave, and local people have gotten married there. Then we got to the glowworm section. The glowworms put out bioluminescence, similar to fireflies except blue. They live in the cave's ceiling. We took a short boat trip inside the cave, in the dark, to see them. We thought it was really cool.
We got caught up in a traffic jam on the way back. We were in Auckland shortly after the terrorist shootings at mosques in Christchurch and there was a memorial service in Auckland that day. Based on the reactions we saw among New Zealanders the shootings brought them together rather than dividing them.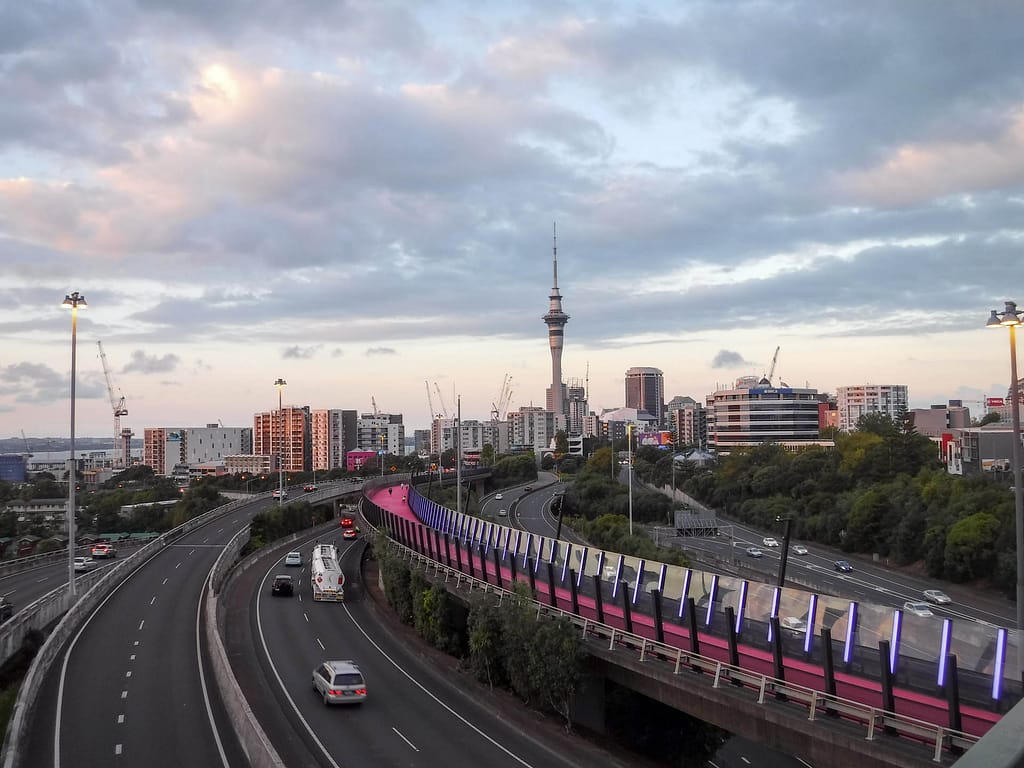 We climbed Mt Eden, one of 50-60 extinct volcanoes that Auckland is built on and around. It was a steep but short climb, and not far from where we're staying, so it was a nice urban hike, with great views of the city and the water from the top. And free! It was our host that told us about the Mt Eden walk. We'd originally thought about taking a ferry to Rangitoto Island, but decided the Mt Eden walk made more sense.
There's a pedestal at the top that shows different points of interest and their distance from Mt Eden. 
Auckland has some interesting architecture. Old, new, and creative.
This section contains affiliate links. If you click on a link we may receive a commission at no cost to you. 
Verandahs is a backpackers lodge that's a series of Victorian houses with verandahs on the back with a view of the Sky Tower. The rooms have high ceilings and interesting gingerbread trim. Our double ensuite had a wood stove tucked into where the fireplace would have been. And we had a little kitchen sink tucked into a closet. Nice place and the staff are very friendly and helpful. Walkable to downtown.
Auckland has lots of dining options. The Ponsonby neighborhood we stayed in had great options so we didn't have to go far. 
The Good Luck Coconut
Fish and chips and the bento box which had lots of interesting items inside. Nice view of the water. All in all a pleasant meal.
Freeman and Grey
The pizza was an excellent choice for two sharing when we didn't want a full meal. Service was a bit uneven, but not bad.
Bird on a Wire
The skin was crispy, just how I like it. Salads and bread were also tasty. Comfortable, casual seating area.
We were able to walk everywhere we wanted to go. It did sound like Auckland has a good bus system.