Yellowstone National Park is huge, can be crowded, and has lots to see and do, requiring careful planning.
Yellowstone has spectacular mountain scenery, waterfalls, a grand canyon, plus all the thermal features like hot springs and geysers, wildlife, and hiking. The Grand Loop road is the center of the park, with approach roads leading to the five entrances in the north, south, east, west, and northeast. Driving is generally slow due to other traffic and to wildlife, which can either stop traffic altogether by being in the road, or be visible and therefore cause drivers to stop traffic. If you see traffic stopped, look around. There's probably a hairy or furry reason. Traffic also backs up getting into the park. Stay inside the park if you can.
Besides wanting to see all the major sights — and as many of the minor sights as we could fit — we also planned to do some hiking. I tried to plan our days with minimal backtracking.
Day 1: Southwest Quadrant
We arrived at Yellowstone in the late afternoon, through the east entrance. So we saw that scenery before we even checked in. 
The park was not very busy. People around, but no huge crowds. We started at Old Faithful and worked our way up to Norris. Here are a couple of highlights, with more photos here. 
No hiking today but we did plenty of walking just taking in the sights. In fact we ended up not doing Norris because I was exhausted and it was 6:15 PM by then. Plus it was getting so all the geysers and springs just looked the same.
We lost time on smaller areas, but enjoyed them. In addition to our planned itinerary, we went to Firehole Canyon Drive, Beryl Spring, Artist Paintpots, and Gibbon Falls. Plus stops for wildlife. We saw mule deer while looking at geysers.
Temperatures today in the upper 60s. We had flannel shirts on, then off, then on again after the wind picked up. Steve's new hat works great, it stays on even in high wind. Others were not so lucky. We saw six incidents of hat pollution in thermal features.
Day 2: The Northern Quadrants
Today's itinerary is Norris around to the Beartooth Highway and then back to Canyon Village. We got a fairly late start due to sinuses acting up.
We also stopped at the backcountry office to discuss hikes. They were quite helpful. We did the Cascade Lake trail today because it sounded like good warmup hike. The hot springs at Mammoth and the drive there were scenic and we saw lots of wildlife around Lamar Valley. That's a mineral spring below, not regular water. There are more photos from this section of the park, and our hike, here. 
Going to dinner at the Lake Hotel was an adventure. We got caught up in buffalo trying to cross the road. Traffic was backed up for probably two miles. At one point we were sitting stuck on the road next to a large bull making angry sounding huffy-snorty noises. We were just happy he wasn't looking at us. And we're wishing the people in front of us would DRIVE THEIR CAR! Good thing we left an hour early, because we were still 15 minutes late!
Day 3: Mt Washburn and the Canyon
Today we climbed Mt Washburn and focused on the canyon area, which is one of my favorite parts of the park. Less sightseeing since we did a longer hike. And we're staying right at Canyon so we went back to the cabin for lunch.  
We saw wildlife out our cabin window: a mule deer with a nice rack in the morning and an elk at lunch. Where else can you see wildlife out the cabin window?
After our hiking and sightseeing we drove to Idaho so Steve could say he's been there, then to West Yellowstone for some great pizza at Wild West Pizzeria.
Day 4: The Southeast Quadrant
On our last day in the park we focused on the southeast quadrant because we're on our way out to  Grand Tetons National Park, where we'll spend the next couple of days.
We were up — and bundled up — before dawn in hopes of seeing wolves at Hayden Valley. We heard there was a chance, but no luck. We hiked Elephant Back mountain while we were in the neighborhood.
Here's a line-up of the beers we've tried so far on this trip. All relatively local options.
This section contains affiliate links. If you click on a link we may receive a commission at no cost to you.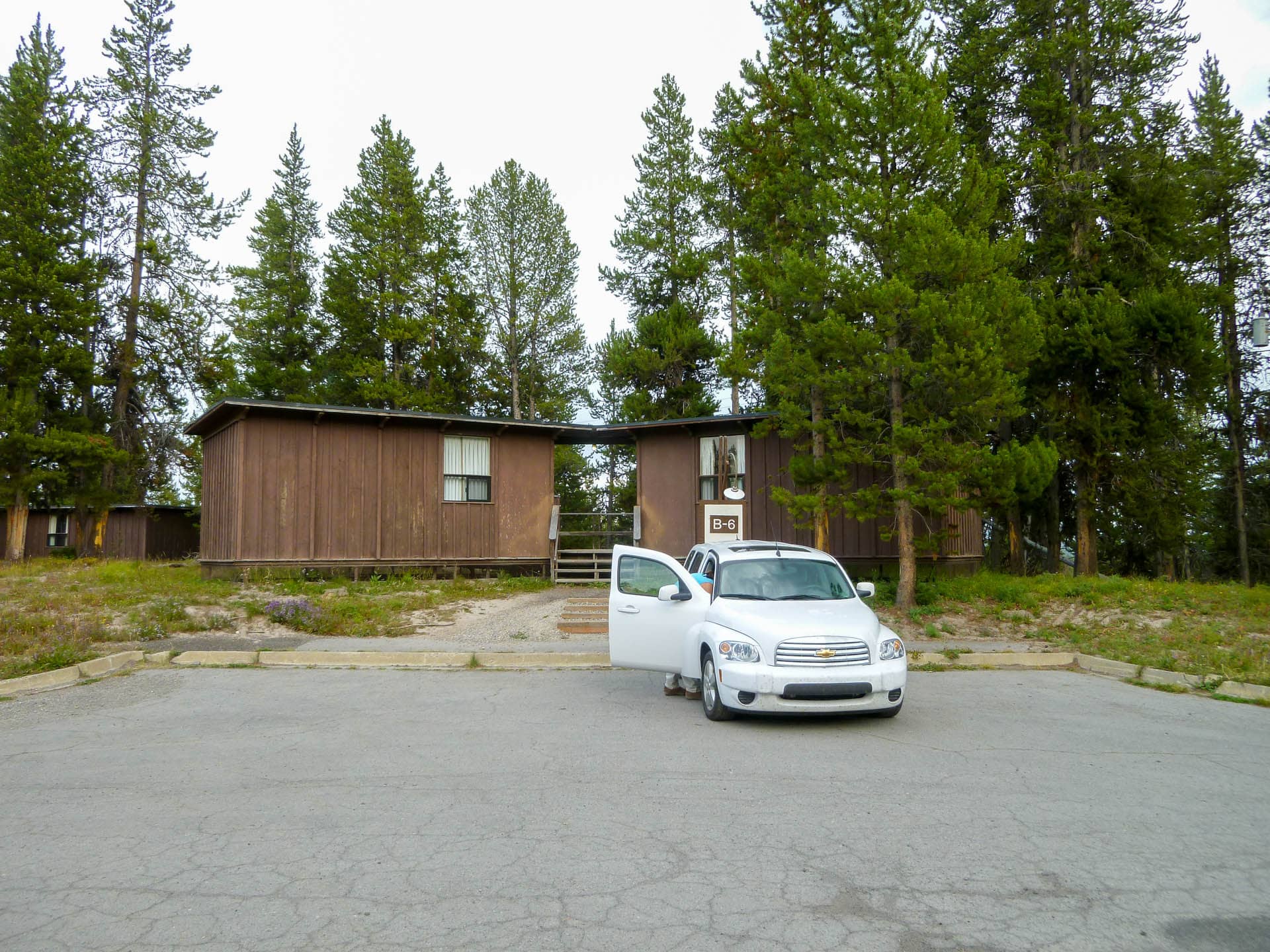 Our room at Canyon Lodge and Cabins was basic but fine. Kind of like motel camping. We were just happy we found a place inside the park. Stay in the park if you can. It's pricey but saves a lot of time. I looked for months and never saw anything available. Then a visitor gets killed by a bear and suddenly there's an opening. Thanks, bear? Not good for the guy from Michigan's UP that was killed.
We had dinner at the Canyon dining room, which was okay but overpriced. We found the Canyon cafeteria overall a better deal than the dining room. We made a reservation at the Lake Hotel for a bit of a splurge. Dinner was unexciting. Food was quite good, service not so much. Steve had house salad and swordfish special. I had pear salad and sautéed duck. Pear salad was wonderful. Duck was interesting; I would eat it again. Quite meaty, more like a steak. Bulghur side dish was also good. We had to ask for bread; service was slow. I think it was our particular waiter.
Unless the park introduces shuttles you really need a car here, though you don't need 4 wheel drive or anything. Allow plenty of time for wildlife traffic jams! I cannot recommend Yellowstone Treasures: The Traveler's Companion to the National Park highly enough. We used it in planning the trip and in navigating once we got there. It's organized by mile markers, making it easy to find sights along the way.