We loved Wellington. It's quirky, walkable, has some great sights and restaurants. And it is windy!
Day 1: Auckland to Wellington
Arriving from Auckland via the Northern Explorer scenic train, we got a shuttle from the train station to Wellington City Cottages where we'll be staying. They're right at the end of Cuba St, which is a main shopping/dining/drinking street, which is convenient. Tonight we had beer, fish burgers, and sweet potato fries right around the corner at Heyday beer company. We discovered hot sauce goes well with sweet potato fries.
Tomorrow we have a day long tour of Middle Earth (Lord of the Rings) filming sites and the Weta Workshop where they did a lot of the armor and special effects for the movies. We'd planned it for Monday but were able to move it to tomorrow because road work starts that will not allow access to one of the sites.
Day 2: We Went on an Adventure
We took a day tour of several Lord of the Rings filming sites. Well, part of a day tour. It got interrupted so we'll finish it up tomorrow.
When we got home, we got to do mundane things like laundry. Which is still an adventure, when you're dealing with a foreign washer and dryer. In this case a single machine that does washing and drying. Then we went to the Tuatara brewery down the street for beer and pizza.
Day 3: More Lord of the Rings and Te Papa
We finished up the parts of yesterday's tour that we missed, which included the Weta Workshop.
We had them drop us off at Te Papa, the national museum of New Zealand. Incredible place. They had a great section on the WWI battle Gallipoli, that a lot of Anzac soldiers fought in. Weta built 2.5 times life-size models for the exhibit. 
There were also stories, props, and interactive pieces. It was very good. And very sad. Only 3000 soldiers retreated, and they lost to the Turks. We also saw sections on the Maori, Pacific islanders, modern art, and how New Zealand developed. Nice museum with lots of space, context, and interaction.
Then we were tired so we went to Fidel's Cafe (yes, that Fidel) for Cuban sandwiches before having a few beers.
We went back to Fidel's for breakfast – they have chicken and waffles!
Our main activity today was Zealandia ecosanctuary. We went by way of a funicular cable car that runs from downtown Wellington up into the hills and has good views over the city. From there Zealandia runs a free shuttle to the sanctuary.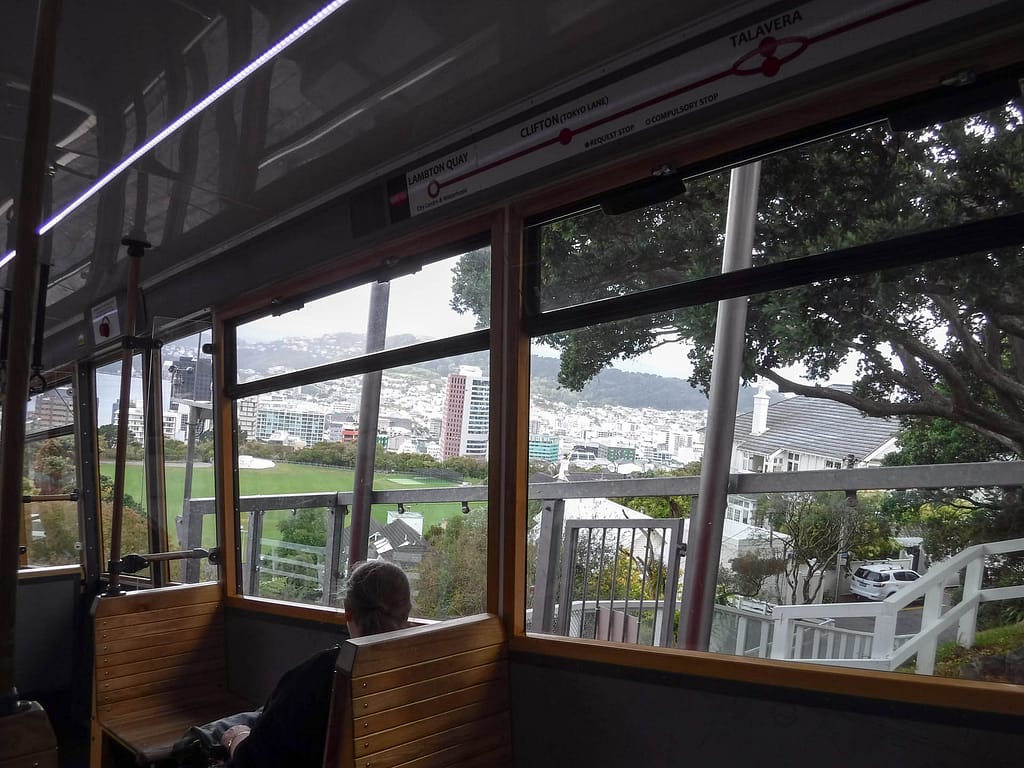 Then we looked around the free and humorous Wellington Museum, which had an eclectic collection of stuff. Then we battled the wind – Wellington is the windiest city in the world, it was blowing my purse around while on my shoulder – to Fork and Brewer, where we had a burger, fish and chips, and beer for dinner. They create funny posters for each of their beers and have amusing restroom signs.
Tomorrow we head for the south island.
This section contains affiliate links. If you click on a link we may receive a commission at no cost to you. 
They're right at the end of Cuba St, which is a main shopping/dining/drinking street; convenient yet still quiet. We walked everywhere. Two brew pubs in a three minute walk! Cottage was spacious, clean, and comfortable, with a courtyard to sit outside. Laundry facilities came in handy. Kitchen would have too, had there not been so many great restaurants around. Friendly and helpful hosts. Would definitely stay here again!
Wellington offers a number of interesting restaurants to choose from.
We got a shuttle to and from our lodging and otherwise walked everywhere. We used Super Shuttle where available in New Zealand and their service was great. In Wellington they couldn't get a shuttle to us on time so they arranged a taxi for us instead at no additional cost.