Day 1: St John to Virgin Gorda
Getting from St John to Virgin Gorda was more complicated than we originally planned due to hurricane disruptions. Originally we planned to take a ferry direct from St John to Virgin Gorda. Since that ferry wasn't running, we had to take an alternate route …
We were up at 5:15 to catch our ferry. We went straight to the ferry, which was just leaving. There was no one to sell us tickets so we got to ride for free! Our next stop was the Interisland Ferry desk on St Thomas to buy our tickets from St Thomas to Tortola. We paid $96 cash for those tickets. It was a smaller and older boat than the ferry from St Thomas to St John. We landed in Tortola to complicated immigration and customs. (Tortola is in the British Virgin Islands.) And two ferry terminals. We didn't know which one we needed so Steve asked a nice lady who pointed us to the Speedy's building. They had a ferry leaving right then, so we hopped it and bought our tickets on board. We reached Virgin Gorda around 10:00 AM.
Sweet Ice Willy (we love that name) gave us a taxi ride and a mini-tour on the way to Fischer's Cove. Our room wasn't ready, so we ate breakfast while we waited. We dropped off our stuff and decided to walk to the Baths, the primary reason for us coming to Virgin Gorda. Back at the Top of the Baths, we stopped for another beer and water and I rinsed my feet off in the pool. First bar/restaurant we've ever seen with a pool! There were pigeons on a beam above us that were so quiet we didn't notice them until we left. On the way back we ran into other walkers who reported a pit bull on the loose and gave us a stick they had picked up. Travelers looking out for each other! We stopped at the store for breakfast supplies, beer, and rum.
We had a couple of rum drinks before going to the hotel restaurant for surf and turf. Barbeque ribs, shrimp, salad, sides, and dessert. And three beers. And live music from John and John. We were drunk. It was pretty fun. The food was good. We also had a little to and fro about the rental car with Mahogany Rentals. Their phone was out of order so we sent an email and we exchanged mobile numbers and got pick up arranged for our hotel, which was convenient. Yet another consequence of storm damage: finding ways to get in touch with people.
Day 2: Touring Virgin Gorda by Car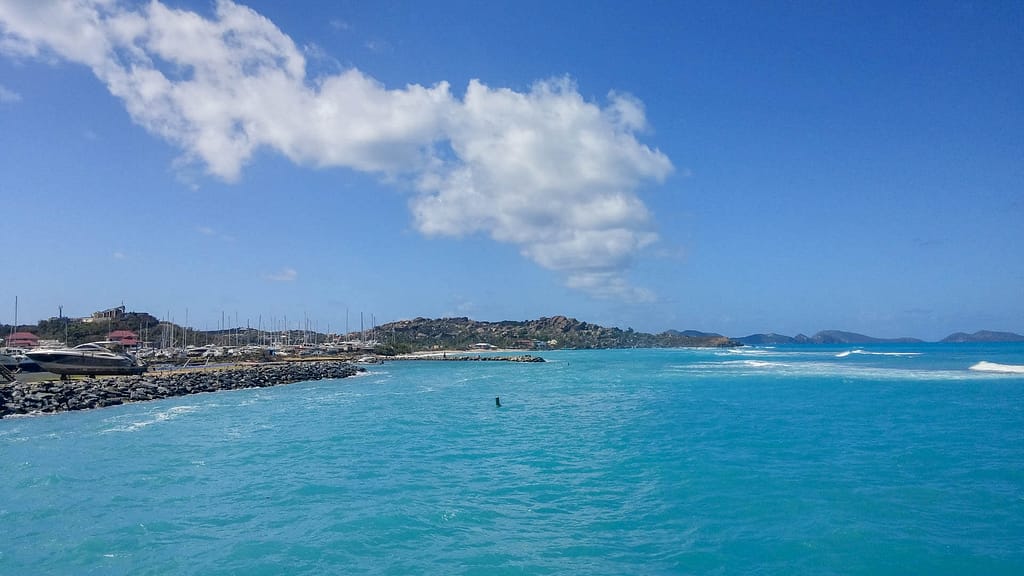 We opted to get a car for the day to explore the island. We went to the store for coffee and water, since there was no coffee in the room and you couldn't drink the tap water. We saw refilling stations along the road where people could bring containers and get drinking water. Then we got our swimsuits and drove to Spring Bay, which is near the Baths. There were cool rocks and waves, but it was rocks under the water rather than sand so we didn't really swim. We opted to come back to the beach at our hotel and check it out. It was surprisingly busy. Lots of kids, and it looked like maybe a group over from Tortola on a tour? We drank some Shaefer, then kicked back at our room before dinner, observing the crabs on the lawn outside our room. The crabs were pretty large and definitely skittish.
We went to the Bath and Turtle for dinner, with music from John and John again. We wondered if they were the only musical act on the island? We both had Presidente beer and really good grouper burgers. Then back home for more beer and enjoying a lit-up sailing ship offshore.
We still had the car for the morning so we drove to the ATM in town to get cash for the rest of the trip. We don't expect to find ATMs on Jost. We had tea-bag style coffee for breakfast with bagels and cream cheese. Then we walked back down to the Baths for another look around.
We stopped at the store again for rum and mixers, then had lunch and a couple of beers at the resort: hot wings and fries for me, reggae fish sandwich for Steve. My wings were not traditional buffalo style hot wings, but more of a Chinese ginger sauce. A biggish tour group came in for lunch, so at least the hotel appears to making some money off their restaurant. We stopped by Coco Maya and made dinner reservations for 6:15. Drank Shaefer on our patio because it's cloudy.
It started to look like rain so we walked over to the restaurant early. It's close to Fischer's but we didn't want to get drenched. They had to reseat us because our original table wasn't undercover. The restaurant is outdoors, with parts of it under a roof. We had San Pellegrino, Coco Maya roll (tempura shrimp, avocado, spicy mayo), and beer can chicken with hot sauce and fried rice. The rice was excellent. The chicken was not all that interesting. Then we had basil passionfruit margaritas for dessert, which were really good, and a free lemon drop shot.
Day 4: Hanging Out at the Resort
A relaxed day for our last day here, hanging out at our beach under a palapa. Nice and breezy and not too many people around until the kids showed up. Steve ended up taking several group photos. Rightfully people recognize him as the photographer, not me! It turns out it was a group of volunteers from the UK teaching kids to swim.
We had fish and chips for lunch at the hotel. Interesting dipping sauces, not the typical tartar sauce. One tasted like mango, the other more like cherry. We packed up our stuff for leaving in the morning and walked over by the boatyard to check out the wreckage more closely. Basically just hung out until it was time to go eat pizza.
Back to the hotel restaurant for a pepperoni, onion, and mushroom pizza, and Painkillers. Then back to our room to finish up our rum and mixer so we don't have to tote it with us tomorrow.
This section contains affiliate links. If you click on a link we may receive a commission at no cost to you. 
We chose Fischer's Cove because of the reasonable price on the beach and the on site restaurant so we could save on driving. We stayed here the spring post Irma and Maria; only five rooms were habitable. Our room was clean and comfortable. The patio had a partial sea view. The staff were friendly and helpful. As I'd hoped, we could walk to the Baths from there, which saved on transportation. There's also a store within walking distance, along with a couple of restaurants in addition to the one at Fischer's Cove.
There was no public transportation on Virgin Gorda. We rented a car for a day so we could explore the island on our own and walked or took taxis otherwise. We rented from Mahogany Car Rentals, who kindly dropped the vehicle off and picked it up from our hotel.