There is NOTHING to do on Tobacco Caye but eat, sleep, play in or on the water, hang out at one of the two beach bars, or just plain hang out. Which is why we came here! Oh, and to stay in an over-the-water bungalow.
Day 1: Bocawina Rainforest Lodge to Tobacco Caye
Our trek to Tobacco Caye began with a 30-mile drive to Dangriga to meet "Captain Bossman" at the boat. (We don't know if that's a nickname or a real name, but we like it.) Captain Bossman wasn't there when we arrived at the dock, which was just one of many docks along the river bank. No office, no signs … glad this trip was organized for us! We stood around at the dock while several guys bailed out the boat and gassed it up, piled luggage in the bow, and put an extra wooden bench in the boat. Then we climbed into our little open boat and set off for Tobacco Caye, 12 miles offshore.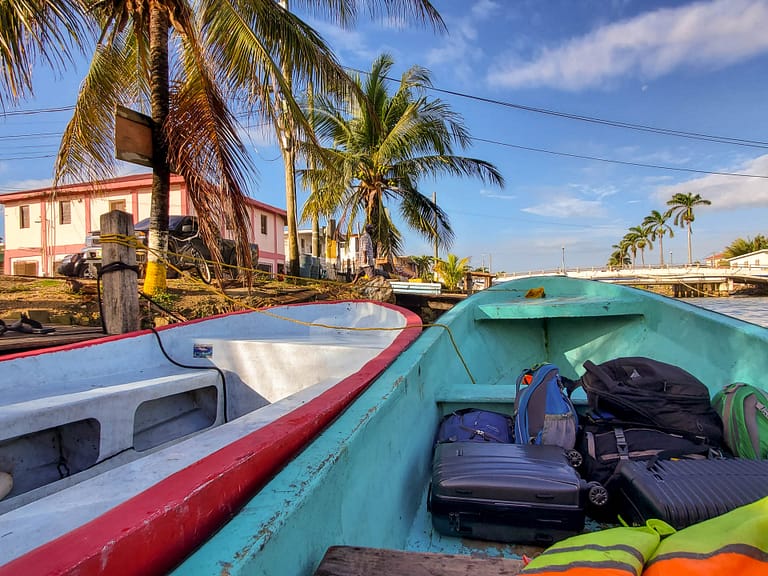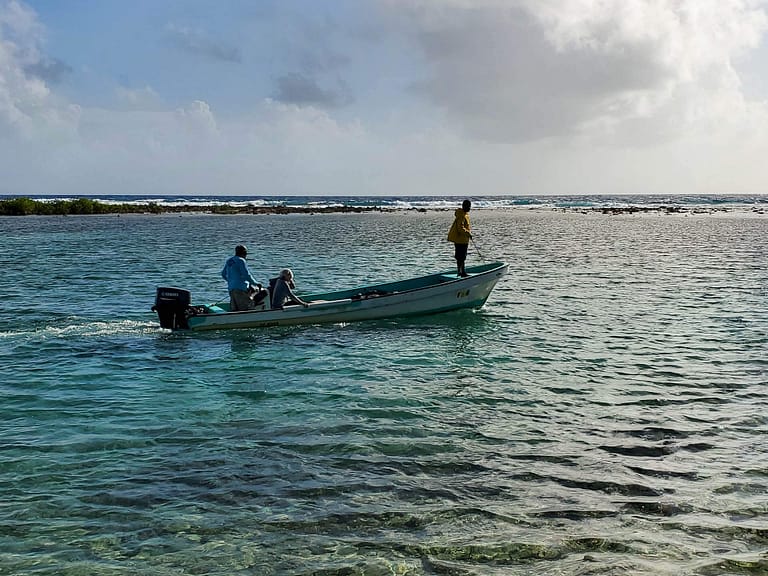 We were glad the rain that morning was inland. It was a windy and rough, butt-thumping ride as we crested wave after wave for 45 minutes. The forecast was for 5-8 foot waves. The captain rated it a 6 out of 10 – and says he goes out in a 10! We arrived safely if a little sore and damp. Antonio the maintenance guy was fixing a window in our cabin so they let us use another cabin for the afternoon. We lazed around the shady central area on the picnic table and hammocks, and took a walk around the island, which took a total of about 10 minutes. This is a small island.
Day 2: Snorkeling from Shore
The barrier reef is right off the island, and you can snorkel from the shore or borrow a kayak or stand up paddleboard. Our first full day there we got the snorkel equipment out and snorkeled off the shore, ending up IN the water with a large ray. We hadn't seen it and a local guy on the dock pointed it out to us. I almost stepped on a smaller ray getting in the water.
The highlight for us was staying in an over the water bungalow. (At a price that was in our budget!) We did a lot of reading on our private little deck overhanging the water, watching a ray swim by about every 10 minutes. Besides sea life, entertainment is what you bring with you. Wi-Fi is patchy so it's a good excuse to unplug. We did hear the other bar had board games and you can arrange snorkeling or fishing expeditions.
Days 3 and 4: Dodging Squalls
It was unseasonably rainy while we were there, so we spent a couple of days dodging rain showers. Sit on the deck. Run inside and close the shutters to keep the rain out. Hope the rain doesn't go horizontal again and drive through the shutters and the seam on the roof. When the rain stops, dry off the chairs and sit on the deck some more. Repeat. Then hit the beach bar later in the afternoon. Oh, and don't try and order a pina colada until 3:30. That's when they turn the generator on so they can run the blender. (The things you don't think about when going off the grid!)
Want to see more beautiful sea and sky? Click here!
All too soon it was time to load up our luggage, get some trash bags from the kitchen to help keep it dry, and get back in the small boat for the trip back to the mainland. Despite storm clouds on the horizon, the trip back was less bumpy, though more wet, than the trip out. Tobacco Caye was an affordable place to get away from it all.
Please wear reef safe sunscreen!
And please don't stand on the coral. Help preserve our reefs so we can enjoy them forever.
This section contains affiliate links. If you click on a link we may receive a commission at no cost to you. 
Tobacco Caye Paradise covers the northern tip of the caye, with several cabins and the dining room and attached deck arranged around a shaded area with hammocks. Our cabin had a bedroom and a bathroom with cold water only and a room safe, and a lovely deck with chairs hanging over the Caribbean. There was a fan but we never needed it because there was always a breeze. We were only ever in the room to sleep and when it rained. Very friendly, welcoming, and laid back.
You purchase a meal plan along with your room. Family-style meals were at 8:00 am, 12 noon, and 6:00 pm when they blow the conch shell. We had a variety of delicious, home-cooked food over the four days we were there. Each meal had a main course, multiple side dishes, and lots of fruit and vegetables, with dessert for lunch and dinner. They do ask about food sensitivities and allergies and work around them, and there was a good mix of international dishes and local specialties.
We arranged our stay at Tobacco Caye through Island Expeditions as part of their Rainforest & Reef Explorer package along with the Bocawina Rainforest Resort. I highly recommend this as a way to get a taste of both environments without a huge expense in time or money.