Four days driving from Michigan to Yellowstone, by way of the Badlands and Mount Rushmore.
Day 1: Home to Albert Lea, MN
Our goal for today was to at least get through Chicago. We need to be in the Badlands tomorrow night. We made it this far before we got too tired. We booked a last minute motel from the road. 
Left home around 11:00 AM. We had to wrap trees before taking off so the deer won't uproot them! Traffic through Chicago was very slow, from the time we got off the Skyway until we went past O'Hare and such. Other than that, uneventful. We didn't eat lunch until 5:00 PM. Ate at Burger King. Crossing the Mississippi was the most interesting part of today's trip.
Day 2: Albert Lea, MN to Badlands National Park
We ate sandwiches in the car. We hiked the Window, Door, Cliff Shelf, and Notch trails once we got to the Badlands. Maybe 3-3.5 miles. Notch trail included an interesting cable and log ladder to get up a steep part, plus a tricky cliff to navigate later on. Saw grasshoppers and green grass, plus mosquitos, none of which they usually have, but had this year because they had 200% of their usual rainfall.
We went to ranger show on astronomy and got to look through big telescopes at the Hercules cluster, a ring nebula, also Antares? He used mosquito netting to refract the light so we could see the real light of the bright star. Great program! We also saw dear run through the middle of the cabins. And a bunny. And bluebirds, but not like our bluebirds.
Day 3: Badlands National Park and Mount Rushmore
We don't have a lot of driving to do today. We're going to spend some time in the park then drive to Rapid City for the night, fitting in Mount Rushmore sometime.
We had a leisurely breakfast buffet at the lodge, followed by a visit to the visitor's center and leisurely packing. Then we did the Castle Wall- Medicine Root loop starting from the Door/Window parking area. Nice hike, not too challenging. Lots of rock formations and some wildlife. Sunny and 72-73°, which made for a pleasant hike. Sweaty, but not too much. We ran into a Canadian who told us about some bighorn sheep in the area. We hiked back in to see them. Three rams, just sitting there relaxing.
When we came back around, they were still around, and this time we got to see them move. We did the 6.6 miles in about 4 hours. The first part — Castle Wall — had more rock formations. The last part was more grassland. Both were interesting.
We ate sandwiches at the visitor's center, then drove on around to Wall, where we had ice cream at Wall Drug. Before leaving the park, we saw pronghorn antelope opposite a view point.
We drove onto Rapid City where we stayed at a lodge convenient to Mount Rushmore. We checked in, checked out Mount Rushmore — looks just like the pictures — had dinner, and stocked up on beer and sandwich makings. We're focusing on local craft beers this trip, so we tried Fat Tire and Somersault, from New Belgium Brewing in Colorado.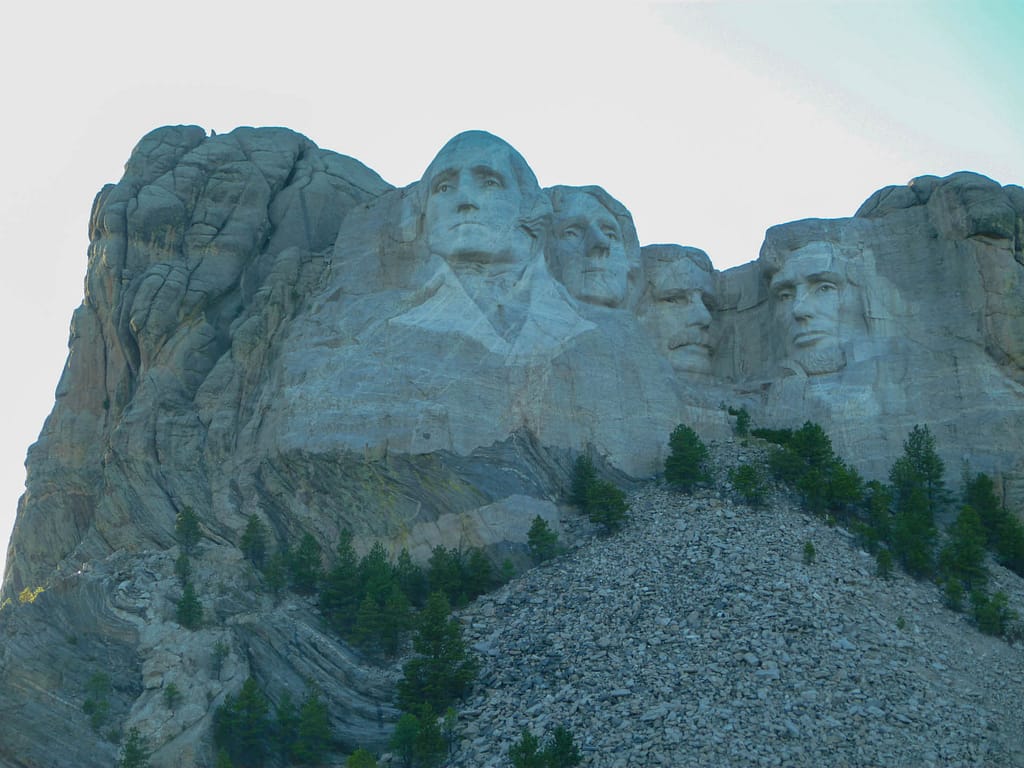 Day 4: Rapid City to Yellowstone National Park
We took the alternate route through the Bighorn mountains that I enjoyed on my first trip here. Steve enjoyed it too. We stopped to stock up in Cody. Had to go to Walmart — ick! And we had to buy beer elsewhere. We got Huckle-weizen from Yellowstone Valley Brewing in Billings Montana (Steve's pick) and Moose Drool, from Big Sky Brewing in Missoula, Montana, a very dark chocolaty kind of beer. Very smooth.
We saw a wildfire as we approached Yellowstone. 
We saw a few bison and a herd of elk before we even got to Canyon, where we'll be staying. We waited awhile at Hayden Valley without any action, then saw a herd up the road. We also saw elk out our cabin window.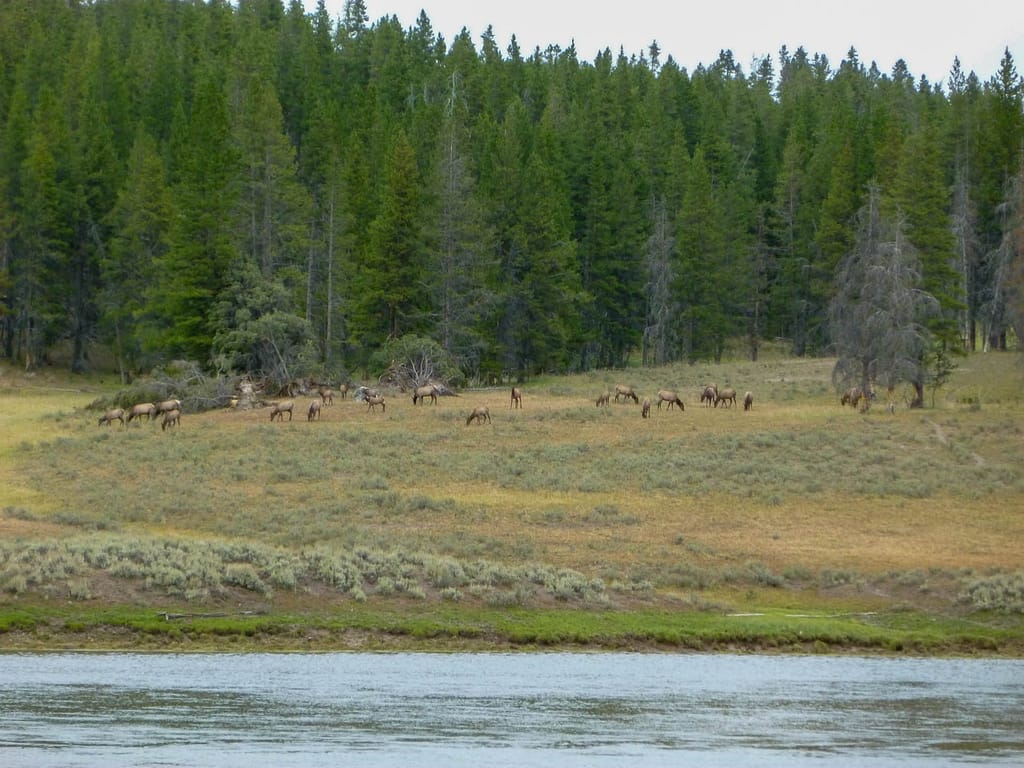 This section contains affiliate links. If you click on a link we may receive a commission at no cost to you. 
Ceder Pass Lodge, Badlands National Park: They've replaced the cabins since we stayed there. Current rates are $182 per night. We enjoyed our stay there but I don't know that I would pay that much to do it again. 
Big Sky Lodge, Rapid City: We found it average, but it was conveniently located for Mount Rushmore.
There was one place to eat in Badlands National Park and we had a good, reasonably priced meal there, which was a pleasant surprise. It may have changed since. We enjoyed our buffalo patties at the Colonial House in Rapid City. It's one of those giant places with a giant menu. Nothing fancy.