It's a long drive from mid-Michigan to Glacier National Park and not a lot along the way. Theodore Roosevelt National Park makes a nice stopover.
Day 1: Harrison to Munising, Michigan
It's a good thing Steve didn't have to work today because it took us most of the day to pack. Then we had stops to make before we left town: Meijer for some last-minute food and beverage, two Jersey Giants for dinner subs (because the first one was unexpectedly closed), and my office to drop off my laptop so the techs could work on it while we're gone.
We drove as far as the cottage and I got my first experience driving my new Subaru (pictured below at the lake) in the dark and the rain. This cottage, by the way, is why we don't travel in the summer. We come here!
As usual, it was a painless drive north to Munising. We never get tired of the Mackinac Bridge. I will put it up against any bridge in the world for beauty. And surprise, the Cut River bridge is finished! The last few times we've been this way there was a detour. 
We got into Munising around 2:00 PM. We checked in and ate the sandwiches we brought with us, then walked downtown. A beer outdoors sounded good but Beer by George didn't have any outdoor seating or any beer that sounded interesting. Instead we bought some Keweenaw Brewing Company Point Trail Ale and Ore Dock Brewing Company Porter at a small beer and wine shop, and got fritters from the IGA for breakfast. We planned to get pizza from Pictured Rocks Pizza but they were closed today so we got a Main Street Pizza special instead. 
Day 2: Munising, Michigan to Walker, Minnesota
Today was lots of two-lane highway through the forest, with the occasional glimpse of lake. We found a new place for treats: Huron Mountain Bakery. Their website mentioned salt bagels which they didn't have, dammit, but they did have lots of other yummy treats. Loved the adaptive cruise control on the two-lane roads and appreciated navigation through Duluth.
We stopped near Jacobsen, Minnesota by the Mississippi, pictured here. LOTS of mosquitoes so we didn't linger! We spent the night in Walker, Minnesota.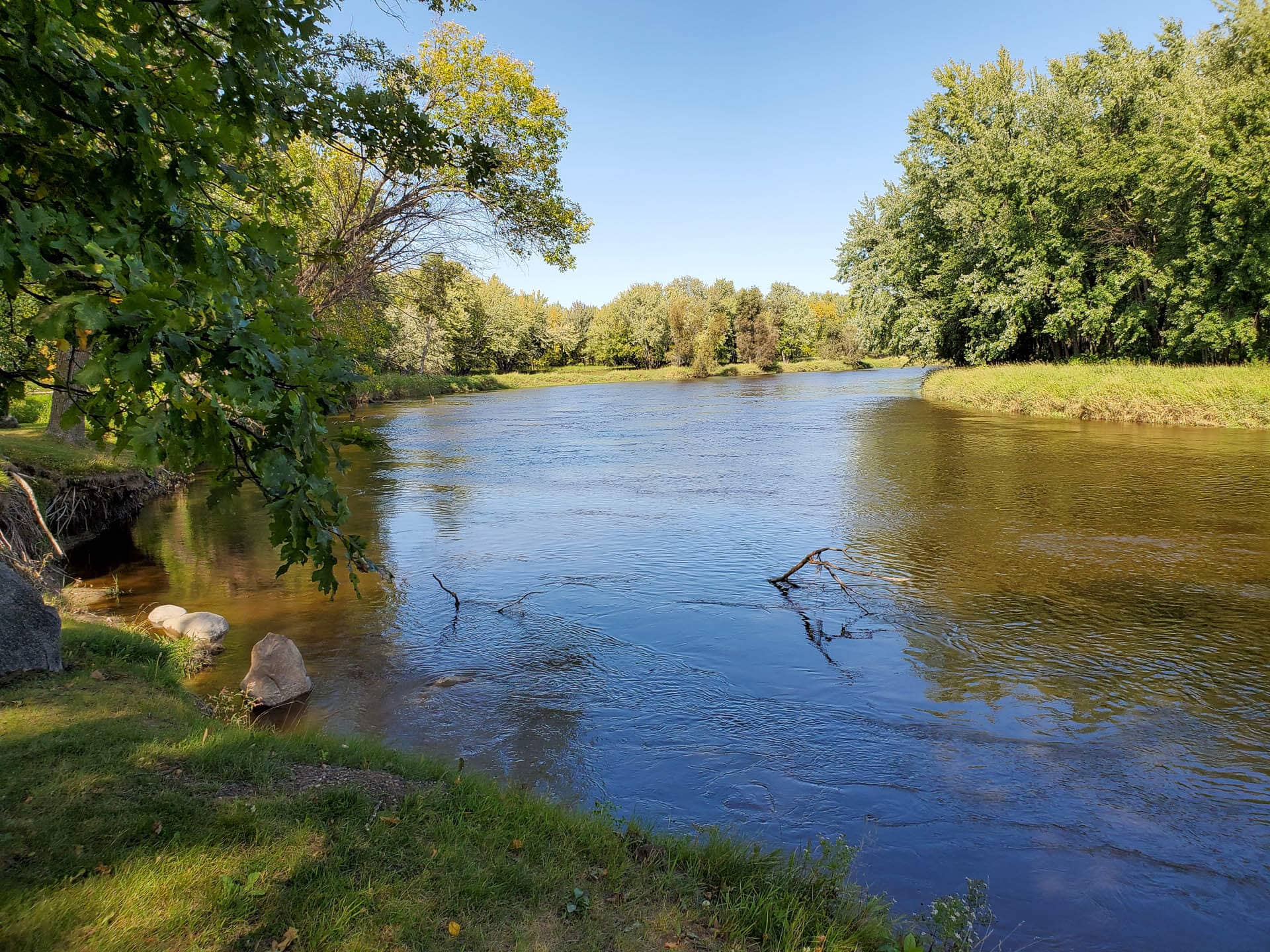 Day 3: Walker, Minnesota to Medora, North Dakota
This is our first time in North Dakota, which is a lot like South Dakota: flat farmland in the east, badlands and a few hills in the west. We appreciated the wood chipper at the Fargo rest area and the Fargo Brewing Company Wood Chipper IPA. (If you've seen the movie Fargo you'll understand.)
We saw a prairie dog town near the freeway and mule deer in downtown Medora. 
Medora was a surprise. We were expecting a string of businesses along a highway and got a cute little tourist town instead. A little crowded on Saturday when we arrived; quieter on Sunday. 
Day 4: Theodore Roosevelt National Park (South Unit)
We spent two nights in Medora so we'd have a day to explore Theodore Roosevelt National Park's South Unit. After that we went to Boots Bar and Grill to eat and explored the bookstore associated with where we stayed. If you are interested in the history of the American west this would be a great stop. My dad would have loved it.
Day 5: Medora, North Dakota to Columbia Falls, Montana
A looooooooong drive today. A little over 10 hours with stops for lunch, groceries, and twice for gas. Even the scenic part of the drive wasn't THAT scenic. Lots of emptiness and smoke impacting visibility and for a while, breathing. We saw deer, pronghorn, dead porcupines, magpies, and magpies eating a dead mourning dove next to the car. Also cows, sheep, and horses. Ducks. Maybe a pheasant? And train cars. 14 miles of them AFTER we started counting them, so maybe 25 miles total. We hit mountain scenery when we got back on US2 near Glacier. It was obscured by smoke but still visible. And we saw our first bison on the Blackfeet reservation just east of Glacier.
We did see a couple of roadside attractions – literally – as we drove through.
This section contains affiliate links. If you click on a link we may receive a commission at no cost to you. 
None of the places we stopped had a wide variety of options but we found good choices.
The Terrace Motel is an inexpensive locally run motel that meets the necessities. Clean, comfortable, and functional. Walking distance to downtown.
The Walker Hotel is a fine option for a one night stay. Finding a sock and charcoal(?) in the room left us wondering about housekeeping standards. (To be fair, we didn't notice the sock until the following morning it blended in with the carpet so well!)
At the Amble Inn we had a pleasant, quiet room behind a bookstore with a nice place to sit outside in between the two. Nice western touches. Right "downtown" Medora, walking distance to everything.
We drove our own car. A lot of the roads we drove were two-lane highways. There wasn't much traffic and speed limits were generally 65-70 mph so traffic moved along. There are long distances between towns so don't let the gas tank get too empty. And long distances between rest areas too! There is only one gas station in Medora and it looked so inconvenient we got back on the freeway to Belfield to fill up.