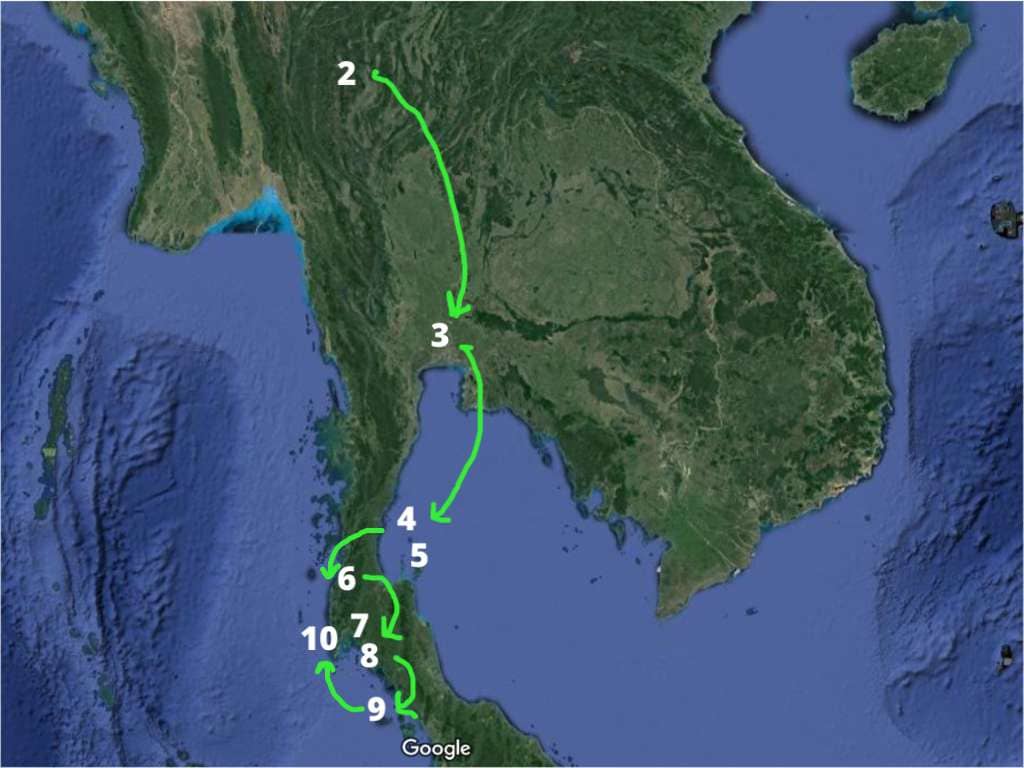 This trip was a challenge to plan, in part because it's longer than usual. But since we're literally going halfway around the world, we want to make the most of our time while we're there. We also want to cut down on individual flight times by making a stopover on the way there and back. (We did this when we went to Australia and New Zealand and it worked well for us.)
I'd originally thought to combine Thailand with a guided tour of Vietnam and Cambodia, then decided the only thing I was really interested in was Angkor Wat, so I considered doing just that first as a tour from Bangkok. But Thai visas require you to get permission to leave and return which sounds like a hassle. So we nixed that. 
We plan on hitting more laid back Chaing Mai first, then Bangkok, then with cultural interests satisfied, focus on nature and beaches for the remainder of our time in Thailand. Then we ramp up again with Singapore and Japan. This will be our first visit to Asia.
The Plan: I've always been interested in Istanbul yet it just isn't near anywhere else I'd like to visit. So when I saw that Turkish Airlines has nonstop flights to Bangkok I thought "Aha! Now is my chance. We can do a stopover here on the way to Thailand! I even remember reading about how we could do it for free!" Well, we could do it for free if our trip met certain conditions (it doesn't). Then I realized how cold it would be in Istanbul in winter. But we're doing it anyway. As most of the sights are indoors we'll be out of the cold most of the time anyway. 
With this brief a stay we plan to spend most — if not all — of our time in the Sultanahmet neighborhood, where the major historic sights are. In addition to the sights listed we'll likely do one or more of Rick Steves' walks, as a plan to get to the sights and to have a guided wander around the city. I've tried to prioritize so that if we run out of time — or energy — we'll still have seen our top priorities.
Day 1: Travel day
Day 2

Haghia Sophia
Basilica Cistern
Blue Mosque
Hippodrome

Day 3

Topkapi Palace
Grand Bazaar
Suleymaniye Kulliyesi mosque
Spice Bazaar
Rustem Pasa Camii mosque

Day 4

Archeology Museum
Fly to Thailand
The Plan: I want to hit Chiang Mai first, since it's smaller and probably less intense than Bangkok. We need to go by way of Bangkok, however. The current plan is to fly into Bangkok, spend the day there, and then take the night sleeper train to Chiang Mai. It's cheaper than flying (though flights are pretty cheap) and will be a new experience. 
Then we'll have four full days to explore Chiang Mai and the surrounding area. Since we will be jet lagged we didn't want to pack these days too tight. We should be able to fit in some down time around the temples and shopping if we want. 
Bangkok

Wat Traimit
Chinatown
Night train to Chiang Mai

Day 1 (Chiang Mai)

Ping River boat trip
Traditional massage

Day 2
Day 3

Wat Chedi Luang
Night bazaar

Day 4
The Plan: Now that we're somewhat recovered from jet lag and have eased into Thailand a bit, we should be ready for Bangkok. We plan to fly there to save a little time. Otherwise it would take an entire day to travel between the two. In Bangkok we'll focus on temples with a museum or two if we can fit them in. And as usual do some wandering. I expect we'll stay in Banglamphu for price, proximity to restaurants, and because it's such a budget travel mecca. 
Day 1

Travel from Chiang Mai
Wat Saket
Thanon Kao San

Day 2

Wat Phra Kaeo and the Grand Palace
Wat Pho (Wat Phra Chetuphon) and Wat Arun
Dinner on the river

Day 3

Jim Thompson's House
The National Museum
Suan Pakkad Palace Museum
The Plan: Island time begins! It will take us a day to travel from Bangkok to Ko Tao. It sounds like a bus/boat combination might work best. Snorkeling will be a priority here. It sounds like there might also be hiking opportunities. And some beach time. We won't be scuba diving, even though the island is known for that. 
Travel from Bangkok
Round-island boat tour
Ang Thong National Marine Park
Exploring rough trails
The Plan: It shouldn't take long to get from Ko Tao. Ko Samui will be mostly about beach time. We're spending time here because this is one of the places Elephant Hills picks people up for their tours.
Travel from Ko Tao
Visit Fishermen's Village (Bophut)
Beach time
Days 23-24: Khao Sok National Park
The Plan: I'm really excited about the Elephant Hills tour that includes interacting with elephants plus spending the night in a floating tent on the lake. And since they will pick you up and drop you off at certain hotels, this will also act as our transfer from the gulf coast to the Andaman coast. 
Transfer to Elephant Hills Camp
Cheow Larn Lake
Canoe safari and transfer to hotel
The Plan: Elephant Hills does transfers from Krabi so the plan is to stop here for a couple of days and tour the east side of Phang Nga bay and check out the area. Krabi is also a good jumping off place to the southern islands.  
Transfer from Elephant Hills Camp
Tour of Phang Nga bay
Beach time?
The Plan: Ko Lanta sounds like it has enough going on that we won't get bored yet is not a frenetic party island.  
The Plan: Sounds similar to Ko Lanta but more of a party island?  And proximity to some beautiful islands further south, for day trips if we want. 
Ko Tarutao National Marine Park
Snorkeling
Beach time
The Plan: Phuket is another starting point for tours of Phang Nga bay. We will likely stay in Phuket Town and travel to the beach if and when we want to. We can also fly to Singapore from here without backtracking, which is why Phuket is at the end of our time in Thailand. 
Tour of Phang Nga bay
Snorkeling
Beach time
The Plan: I've been curious about Singapore for a while and since it's relatively close to Thailand I thought we'd include it on this trip. The manmade "trees" are one of the must-sees for me here but it sounds like there is plenty to see otherwise, as you can probably tell from our itinerary! I'm looking forward to the blend of British colonial, Chinese, and Indian cultures.
Day 1

Colonial District
Temples (Sri Mariamman, Buddha Tooth Relic, Thian Hock Keng)
Bukit Pasoh Road
Pinnacle@Duxton
Night Safari

Day 2

Sri Veeramakaliamman temple
Tekka Market and shopping
Emerald Hill bars
Gardens by the Bay

Day 3

Jungle Breakfast
Botanic Gardens
Singapore River evening cruise
The Plan: I was looking for a stopover between Singapore and home and arrived at Tokyo by researching nonstop flights from Singapore and nonstop flights from Detroit. The two likely options were Seoul and Tokyo and of the two Tokyo sounded more interesting. (I looked at middle eastern options first but Dubai seemed the best of those options and we both thought it sounded like Vegas in the middle east which did not appeal.)
Japan is not on our list of places of interest but that doesn't mean we don't want to go there, just that it isn't a priority. We want to stopover somewhere and this seems like a good way to at least sample Japan. Who knows, we may like it. I consulted different guidebooks to see what they recommended and came up with this itinerary, which sounds like the mix of historical and modern frenzy that I'm looking for. I lean toward staying in Shinjuku since there's a particular hotel that is recommended by multiple sources. Hotels are pricy, as expected, but not impossible. 
Day 1

Meiji-jingū
Omote-sandō
Shibuya Crossing and Shibuya Center-gai
Tokyu Hands
Shinjuku
Tokyo Metropolitan Government Building observatories

Day 2

Tsukiji Market
Hama-rikyū Onshi-teien garden
stroll around Ginza
Tokyo Bay?
Akihabara?

Day 3

Sensō-ji temple
Asakusa-jinja shrine
Ueno-kōen, Tokyo National Museum, temples and shrines
Ameya-yokochō market
Yanaka neighbourhood
Sensō-ji lit up
Craft beer at Ryōgoku
*As an Amazon Associate we earn from qualifying purchases. We get commissions for purchases made through links in this post. There is no extra charge to you. The commissions help cover the costs of this blog.