Tawas Point State Park is on Lake Huron. I recall camping there with my family when I was a kid and remembered a nice beach. That was at the campground in town. We camped for five days at the state park, which has nice beaches and an interesting nature trail.
Day 1: Cheboygan to Tawas Point State Park
We left Cheboygan for Tawas at 11:10 AM and arrived at 3:30 PM. We weren't in a hurry since we didn't have that far to go. Tawas is more of a downstate state park with grass and deciduous trees. The campground is mostly flat, though we had slight difficulty positioning the trailer due to a hump on the outside of the site and the placement of the firepit.
We walked to the campers' beach, the lighthouse, and the day-use beach. All the beaches had nice sand, and the water was pretty warm.
Day 2: Sandy Point Nature Hike
Our goal for today is to not drive the truck! So we took the Sandy Point hike right in the state park.
After lunch we wandered around the campground. Our campsite was on the bayside of the campground. On the lakeside, there's a pond and swampy area between the campground and the beach, as well as the road to the day-use beach.
Our luck ran out. It rained most of the day, so we spent it inside the trailer playing backgammon and Yahtzee. At least we got to experience what it's like being in the trailer all day!
Day 4: High Bluffs Hike on the Au Sable
The rain stopped, but the wind was about 30 mph. At least it wasn't wet, so we headed for the High Bluffs hike at Iargo Springs. It was still windy when we got back to camp so we gave up on a campfire and played more Yahtzee inside.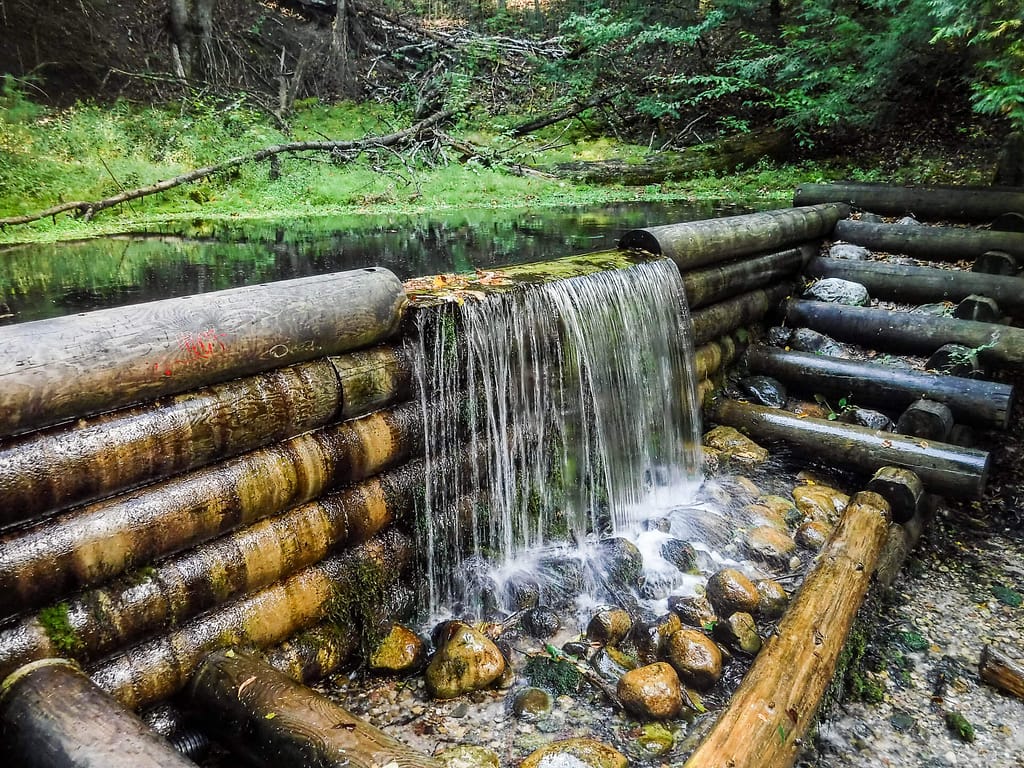 Day 5: Tuttle Marsh Wildlife Area
The wind stopped on our last day, so we went out to the Tuttle Marsh Wildlife Area. We enjoyed it, but honestly, if you're not into birds you might find it boring. 
Back in town, we walked around East Tawas then went to the Boathouse Beer Co. & Boozery for lunch. We tried their Alabaster'd IPA and I had chicken and waffles for the first time. 
Tomorrow we head home.
The camping area was nice, though surprisingly flat and grassy; I was expecting more sand. There's a nice little beach for campers separate from the day-use beach.
There are restaurants and a good sized grocery store in the Tawas area. 
Boathouse Beer Co. & Boozery
The food and beer was good and there was a nice view of the bay across the street. Easy to find right on the main highway.
There is no public transportation in the area. We were towing our trailer so we had our own vehicle.