We spent three relaxing days on St Croix, including snorkeling at Buck Island.
Since our flight was early in the morning, we spent the night before at a hotel near DTW, leaving home about 7:30 PM or so. This trip I managed to forget only a toothbrush, so we bought a replacement on the way.
We ate at the hotel restaurant, Capitol Grille, since it was late. Steve had a mushroom swiss burger, I had a really good pretzel burger with sauteed onions and cheese and ham. I also had a Hopfield IPA, Belgian style, from Vivant in Grand Rapids. No parking at the hotel this time; they gave us vouchers for Quik Park. We only drank two of the beers we brought because it was late and we were full.
No issues at DTW other than trying to figure out how to tag the checked bag, and me being randomly selected for screening. We had Einstein bagels and coffee in MIA. Steve had a breakfast sandwich with egg and bacon, I had a french toast bagel with cream cheese and a latte. Our flight kept getting delayed. First, the incoming international flight was late, then the crew was stuck in immigration, then the official tablet was missing. In the end we were about 1.5 hours late. At one point they even boarded ADA passengers and then took them off again.
We arrived in St Croix to walk down steps to the tarmac and a free rum shot. Our bag was one of the last off, but picking up the rental car at Centerline went fine. One reason we rented from them was that we could pick up the car at the airport and drop it near the seaplane when we leave the island. It was fun finding the hotel without road signs or functioning navigation while driving on the left side of the road in a left-hand drive car but we made it. Nice room, nice bed, nice balcony.
We dropped our stuff and went down to the hotel bar to watch the sunset and have a couple of drinks followed by dinner: mahi sandwich for Steve, mahi skewers for me, bang bang shrimp to start. Nice hot/sweet combo. The coconut rice was a little sweet but paired nicely with the fish. We had Painkillers for dessert.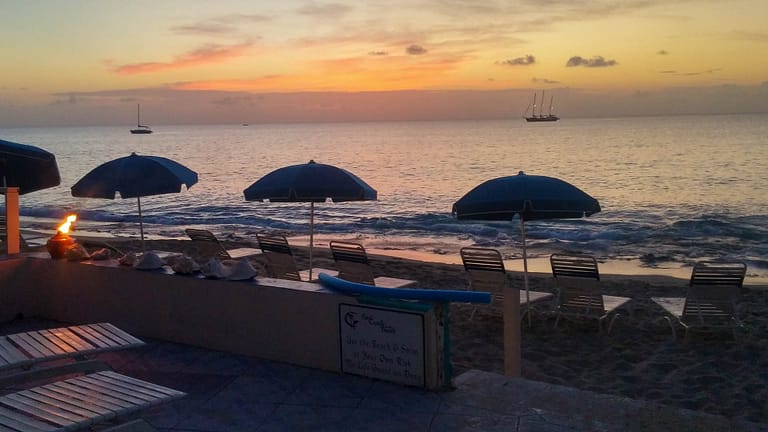 We organized our stuff for our Buck Island snorkeling trip the next day and got details from the desk on getting there and such. We also got bottled water, since they don't recommend drinking tap water.
Day 2: Buck Island Snorkeling and Touring the Island
We started with our included continental breakfast at the hotel of bread, cheese, juice, and coffee. While we were getting breakfast a bird flew into the office window and died! Then we headed off to Christiansted around 8 AM. We might have taken a wrong turn, but we ended up where we needed to be for our Buck Island snorkeling trip with Big Beard's.
We returned from the serenity of our snorkeling excursion to a Christiansted jammed for the St Patrick's Day parade. St Patrick's Day is HUGE here. Green everywhere. Lots of (drunk) people. The parade lasted from 11:00-3:15? It was just winding up when we got back to tow. We walked around town some and decided it would be easier to get out of town if we left before all the revelers. We took a scenic drive back via the north coast along Cane Bay, then cut south. We got lost a couple of times but it is an island, so we weren't lost for long. We were more concerned about running into closed roads with no way to turn around. We stopped at a store for beer (St John's Amber and Island Hoppin' IPA) and water. Both good. Always nice to find good local craft beer!
Back at the hotel, we grabbed a beer and went down for sunset, where we met Jim and several other regular guests. Jim's been coming here for 35 years. He took our photo at sunset and bought us cocktails later. We had a couple of beers at the gazebo, then went over to dinner. Steve had a burger, I had the fried shrimp basket. It wasn't hot, but it was good. Our waitress offered to choose our cocktails for us, so we took her up on that. She selected a Bushwacker for Steve, which he'd been talking about, and a Carpashio for me (coconut, pineapple, and pistachio liqueur). They were both excellent and we were happy we took her recommendations!
Day 3: Sandy Point Wildlife Refuge
Kind of a light day today. We slept until 8:30 or so, then had breakfast. We drove down to Sandy Point wildlife refuge and walked the beach from mid-point down to the point. We saw a nice conch shell there – and left it, as you're supposed to! Then we drove up to Rainbow beach near the beach bar and checked it out. We stopped at the store for beer and ice, then went back to the hotel and sat on the beach and did a little snorkeling. Not much snorkeling; there wasn't much to see. Some shorts someone left behind. Conch shells, a few fish. Then we had brunch at the hotel. Monte Cristo for me, bacon broccoli benedict for Steve. Both were excellent with roasted potatoes. We packed, took a nap, then took showers and had a couple of beers on our patio before going down to the bar. We chatted with the guys from New Hampshire until dinnertime. They recommend Budapest.
Dinner was a tuna starter followed by pasta. Mine was Mediterranean (capers, tomatoes, feta, shrimp) Steve had the special with mahi and broccoli. Then we went out and talked to the gang while we finished our beer. We also checked out, since we were leaving at 7:00 AM. The weekend rate is cheaper, which surprised me.
This section contains affiliate links. If you click on a link we may receive a commission at no cost to you. 
We chose Sand Castle on the Beach because it sounded like a good value on a good beach and it had a restaurant on site, so we wouldn't have to drive to dinner every night. We saw mentions of it being gay friendly which we were a little afraid might mean straight unfriendly but that was definitely not the case. Sand Castle is one of those places people return to again and again. We would; it was one of the highlights of our trip to St Croix.
Beach Side Cafe
We ate dinner here three times and brunch once. Overall the food is good and the service friendly, if occasionally spotty. The owners are quite attentive. The view helps compensate – that and not being in a hurry. We would happily eat here again!
There is little public transportation on St Croix. We rented a car so we could explore the island on our own. We rented from Centerline and were very happy with them.