Day 1: Folegandros (Φολέγανδρος) to Santorini
Santorini is a unique place worth visiting. I don't care how touristy it is. The caldera is beautiful from the water and Perissa is our favorite beach town.
We went to our usual breakfast spot one last time. This time we had coffee and breakfast cake with yogurt and honey. The breakfast cake was a Scandinavian style coffee cake complete with coriander. That was a blast from the past and tasty.
There was a little confusion about the ferry since they brought in a new boat. We weren't sure if we were stopping at Ios before we went to Santorini or not. We didn't. As we suspected this boat was much bigger than the one we would have taken. It had car decks and it had two decks for people to sit. When we got on the boat they said not to worry about seat numbers or anything, just have a seat as quickly as possible because the ferry was rocking and rolling pretty good. Another couple walked by. He was telling her for God's sakes just sit down. Yes it was not a time when you wanted to be picky about where you were going to sit. Especially when it was only for about an hour.
Looking out the windows we could tell we were arriving at Santorini because we recognized the cliffs. (Plus they eventually announced in English that that's where we were stopping.) We got off the boat and looked around for our ride. We didn't find Stelios on the first pass; we did on the second. He looks just the way we remember him from our first visit and the drive up the cliff is just the way we recall it. We rode with a couple of German couples who were also repeat customers. The one woman was quite talkative. It's nice being back someplace that is kind of familiar and that you liked.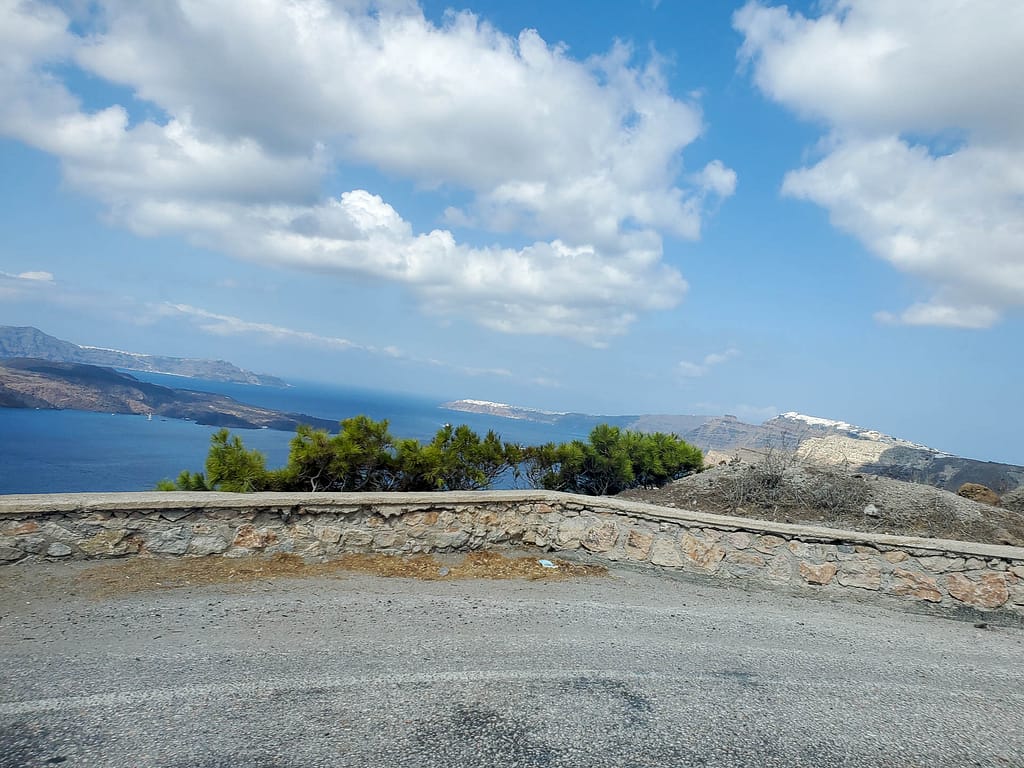 We got our choice of rooms: either the double room that we booked or they offered us a quad room for the same price. We took the quad because it was a little bigger. They have a new dog called Milo who's cute though sometimes noisy and a grandchild who's the same. We dropped our stuff in our room and immediately headed for lunch. We went to The Volcano which was the second place we hit on the beach road. And we had a beer of course. After lunch we headed down the beach road on our way to the larger of the two supermarkets. It was a longer walk than we remember to the supermarket and it was a really long walk on the way back carrying a six pack of large bottles of water. Plus eight beers and some milk for coffee. And the pastries we bought at the bakery for breakfast: apple cake and raisin cake. But we made it.
Back at our hotel we wanted to sit outside but our balcony was in the shade and it was kind of cool with the breeze so we went down to the pool to sit in the sun and just kind of relaxed and read for a while.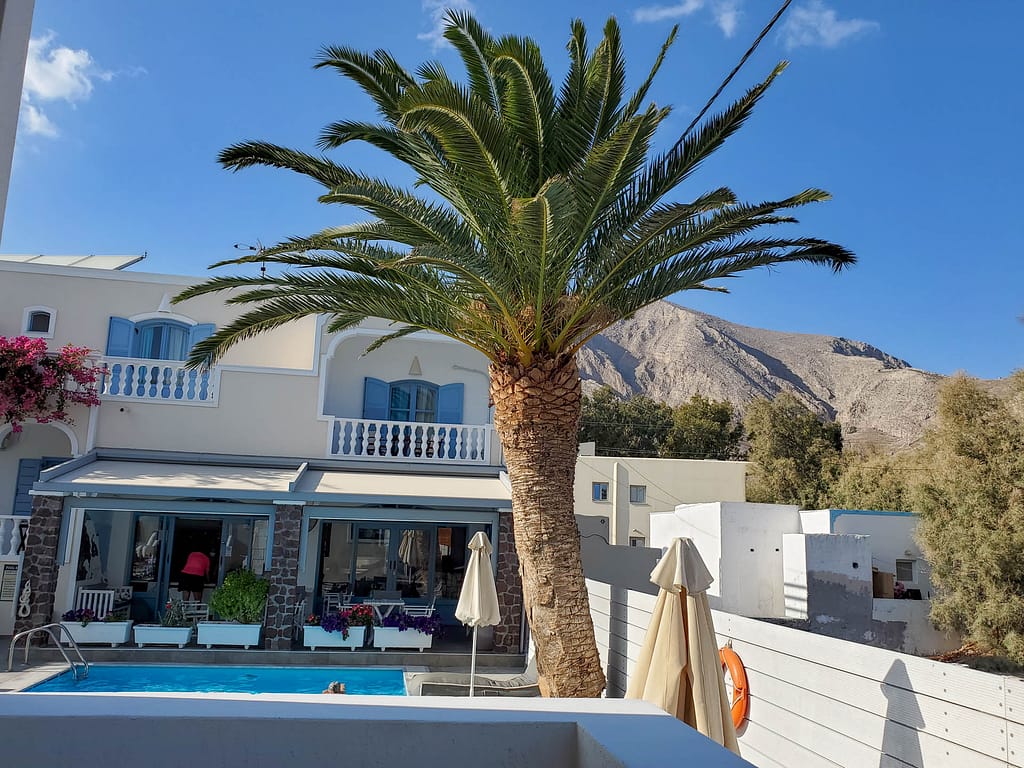 For dinner I was craving pizza so we went to Noma Kuzina Mediterra. Then we went back to our room and drank a beer. Indoors, because it was just too cold outdoors. And just one because we were really tired and full. Ironically I opened the door to let some fresh air in and cool the room down a little bit and immediately fireworks started going off.
We woke to the sound of waves, wind, and chanting from a church. We must be in Greece. The church bells started at 6:30 in the morning. We got up when we damn well felt like it and made coffee in our room and ate our apple cake. Was nice to be able to make coffee in the room. Not that the coffee we've been drinking was bad, it's just convenient when you can do it on your own time and without having to get dressed.
Then we headed for the beach. We sat at Aqua, the same place that we sat when we spent the day at the beach last time we were here. And once again it was good. It was breezy and somewhat cloudy all day so it actually felt good to be in the sun where it was warmer. We sat and read until about 12:30 when we started drinking beer. We had a couple of beers and then ordered lunch on the beach. We stayed on the beach for a while longer, probably until about 4:30. Then we went back to the hotel and took a nap.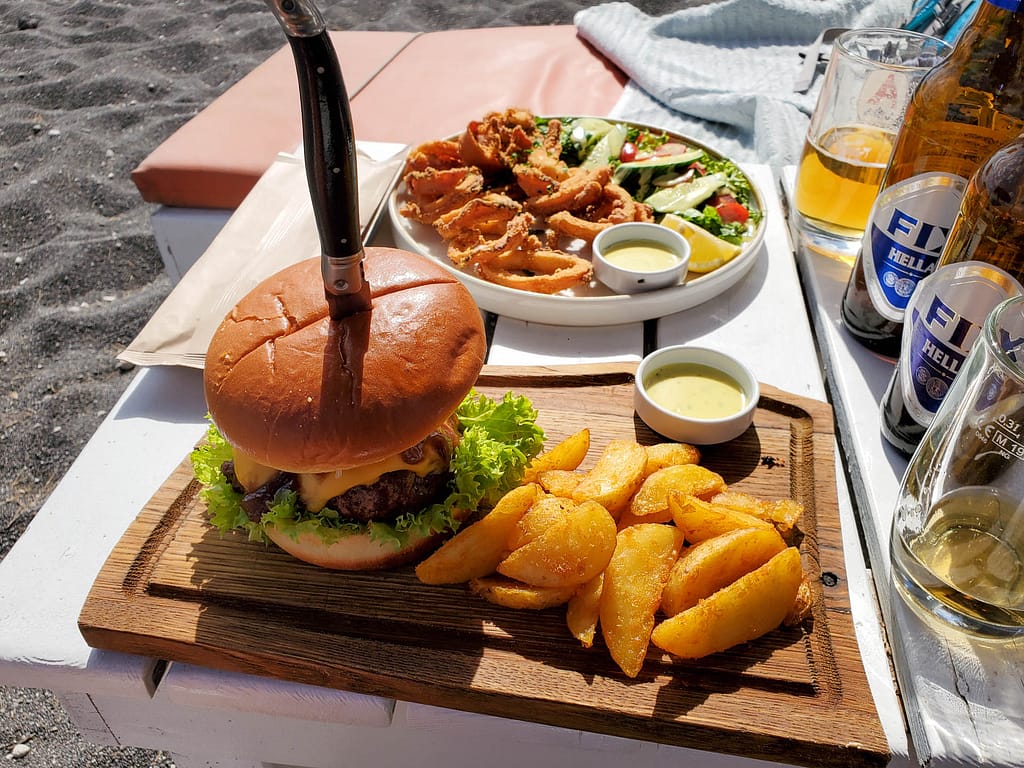 We went back to Noma Kuzina Mediterra for dinner. We drank wine with dinner because after dinner we're drinking the bottle of wine that the hotel gave us when we checked in.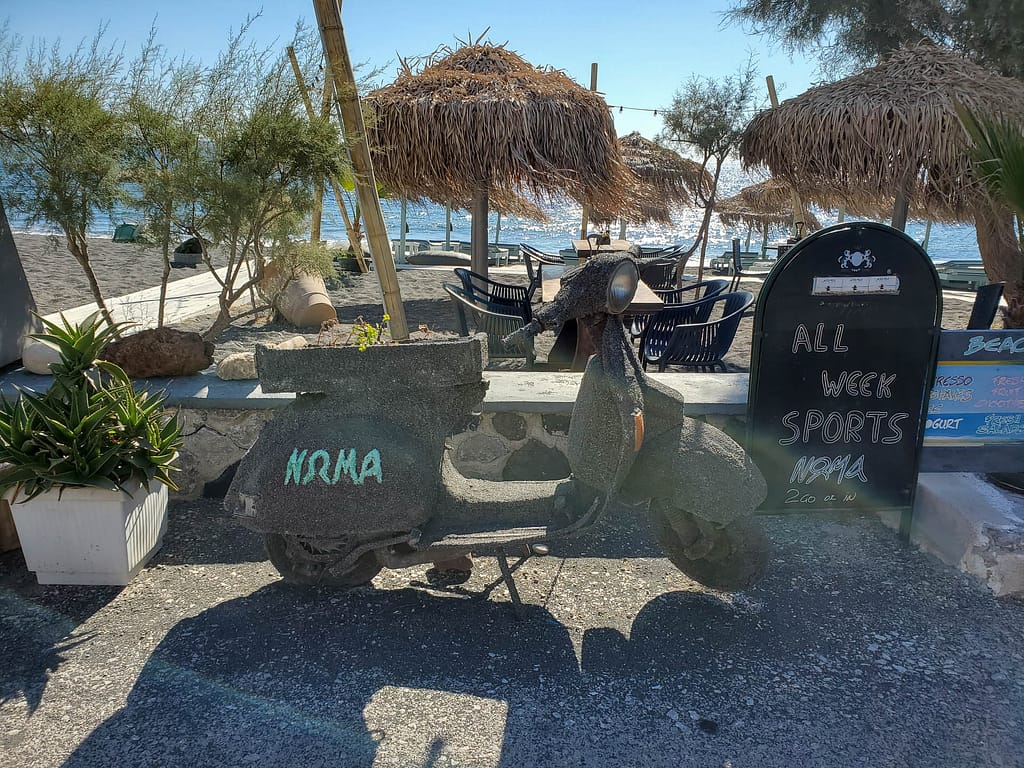 Day 3: Walking Near and Sitting On the Beach
Today we did some errands. We went to the pharmacy to check on a COVID test and scheduled one for Friday morning. Then we hit a small local market for water and beer and a local bakery for some muffins for breakfast. After that we took a walk along the beach toward the headland. We walked all the way to the landing platform right up against the cliff and then walked inland until we found where the trail to Ancient Thera starts. We may do that trail.
On the way back we went shopping for something for me to wear on the boat trip we plan to take, because the weather has been cool and I didn't bring a jacket or anything with long sleeves. I was thinking of a long sleeved top or dress but I ended up with a cotton jacket. It's actually pretty cool. It's two jackets that combine together so you can have one heavier weight jacket or two lighter weight ones. We bought it at The Old Cellar Gift Shop. The owner was super helpful and showed me all about how the jacket worked. She also had an interesting place to keep her dogs in the shop. There was a glass in area under the counter so that the dogs could see out and you could see the dogs but the misbehaving Greek Houdini dog couldn't escape. The jacket was €90 but she gave us a couple discounts for cash and not getting a receipt so it ended up being €70. I thought that was a pretty good deal for two jackets.
We dropped off our shopping at the hotel and headed for the beach. We sat in the same spot we did yesterday and did pretty much the same thing: read, drink beer, and eat lunch. Steve went in the water and slipped on some rock and gouged his knee. After the beach we went back and took a nap and a shower.
For dinner we went to Visanto, an Indian restaurant.
I didn't sleep very well last night so we didn't do a whole lot today. After breakfast we headed for the beach for pretty much a repeat of yesterday.
For dinner we went to Ntomatini. The restaurant was about as busy as any we've seen.
Day 5: Ancient Thera Attempt
This morning we tried the hike to ancient Thera. We didn't get very far. We think we got just short of where the trail branched off to go to the church before we turned back. We were both doing okay physically as far as energy, cardio, and muscles but Steve was feeling disequilibrium and we ran into another couple who said it got worse as you went further because there was no wall on the cliffside. So we decided to call it a day. We did get up high enough to get a nice view over Perissa.
We did our usual, having pork and chicken gyros for lunch. Then we went back to our place, had a beer, relaxed for a bit, took showers, and then went to Acropolis for dinner. Acropolis is one of the two neighboring tacky tavernas here with the pictures of all the things on the menu. We felt like we needed to go there at least once. When we walked by our lunch place one of our servers called out "Where's your jacket?" I didn't bring one, because it was supposed to be warm! So now we have a new pet phrase to add to our collection.
Today we actually ate cooked breakfast. We went to the Indian restaurant and got English breakfast. Then we came back and sat by the pool while waiting for our sunset cruise to start.
Now we're back home having a couple of beers and it's actually comfortable sitting outside because there's no wind tonight. Yay! We have a view of the pool and the illuminated chapel from our balcony.
Day 7: Last Day at the Beach
We got our work out of the way first: we went and got our COVID test (our first!) which came up negative so yay? We get to go home. It was actually kind of a non-event; not as painful as I thought it might be. Though not comfortable. And we came back and did our Verifly stuff and had breakfast and coffee. Then we went down and made arrangements for getting to the airport. We sat in different chairs today because we knew we wanted to be out of the sun so we picked a couple where we weren't so hemmed in by the boardwalks on the sand. The servers know our beer order by now.
After we left the beach we went to the store for two more bottles of water and more beer, then came back, took a little nap, did some packing, took showers, had a beer and then went to Ntomatini for dinner. We also paid our bill, since Katerina won't be here in the morning. I needed to have taramasalata and souvlaki one last time. Mission accomplished. Then we came back here and drink some more beer. Tomorrow we have to leave. Here's Milo the dog and a view of the sunset over the abandoned restaurant next door.
There's a lot more to do on Santorini. On our first visit we went to Akrotiri, the Red beach, and hiked to Oia for the sunset. This time around we just wanted to soak in the beach. 
This section contains affiliate links. If you click on a link we may receive a commission at no cost to you. 
The property is clean and has everything you need. It's in a quiet location yet about 3 minutes from the beach and the beach road with all its restaurants. LOVE IT! Can't wait to come back again.
The beach road in Perissa has a string of restaurants to choose from. 
We were able to walk everywhere. Our hosts picked us up from the port and dropped us off at the airport.