Santorini is justifiably famous for its cliffs on the caldera but there's more to the island. We loved Perissa and didn't feel like we missed out staying on that side of the island.
Day 1: Naxos to Santorini
We had some time to explore Naxos town before our afternoon ferry. You can read about Naxos here.
Our ferry trip was again uneventful. Well, an old guy fell down the escalator. That looked scary. We got to see the uninhabited side of Ios as we went by. I never saw that when I was on the island. We found our host easily despite the crowds. The cliffs are amazing, as advertised.
Perissa is a great, laid back beach resort. Stelio's Place is very friendly, with nice perks like a clothesline and towels for the pool and beach.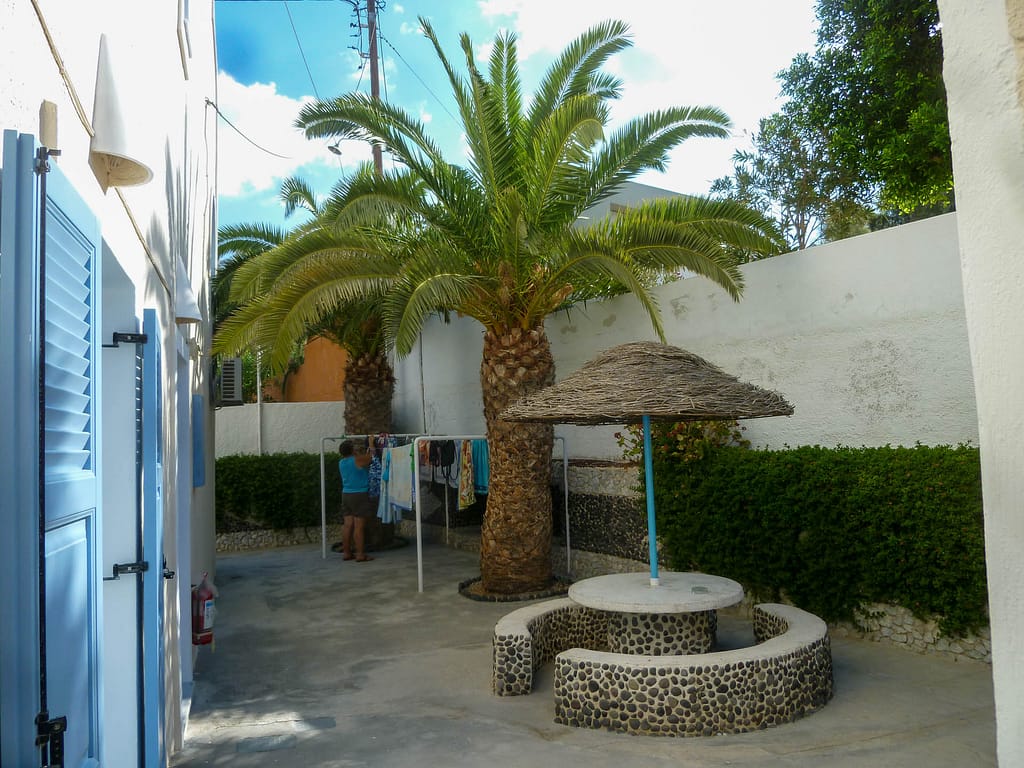 The beach road in Perissa was open to traffic during the day and at night closed for pedestrians only. We walked the beach road in both directions, from Magic Bus on one end to Tranquilo on the other. We had beer at Tranquilo, then dinner at Noma Kuzina. We had Naxos white wine, fried calamari and pizza. Our server was kind enough to tell us they were large pizzas, and split the toppings for us. Then we finished up with beer at The Magic Bus. The owner talked to us and other Americans there about politics. He was at the big protest in Athens with his wife and kids and didn't realize there were problems until he saw it on the news later. They saw no violence.
Day 2: Akrotiri and the Hike to Oia
We decided it didn't look like rain and the timing was right to catch the sunset, so we made the spur-of-the-moment decision to walk from Fira to Oia. 
After sunset in Oia we got the bus back to Fira — with seats, yay! We were exhausted. We had some time to kill in Fira while waiting for our bus to Perissa, so we were able to pick up our next ferry tickets, then got back just in time for our bus, which was early. After a quick wash-up we went to Ntomotini for dinner. Our first real mezes meal: bakalao, taramasalata, saganaki, bekri meze. Then we bought beer at the supermarket and sat outside our room to drink it. 
We got a message from my brother that our power was out at home, so we had some back and forth on that.
We had the continental breakfast again. We slept in later, then went to the beach. We sat in the Aqua section on the beach and napped, swam, and drank beer. They had the typical arrangement that if you eat there, they don't charge you for the umbrella and loungers. We had souvlaki and chips and a stuffed burger. Served by our enthusiastic server. Two thumbs up that Steve enjoyed his stuffed burger. I feel like crap; I have some kind of sinus issue. 
We went to the Acropolis taverna for a dinner of wine, greek salad, and veal stifado. Then we bought beer and went back to our room and sat outside.
Tomorrow afternoon we're off to Crete.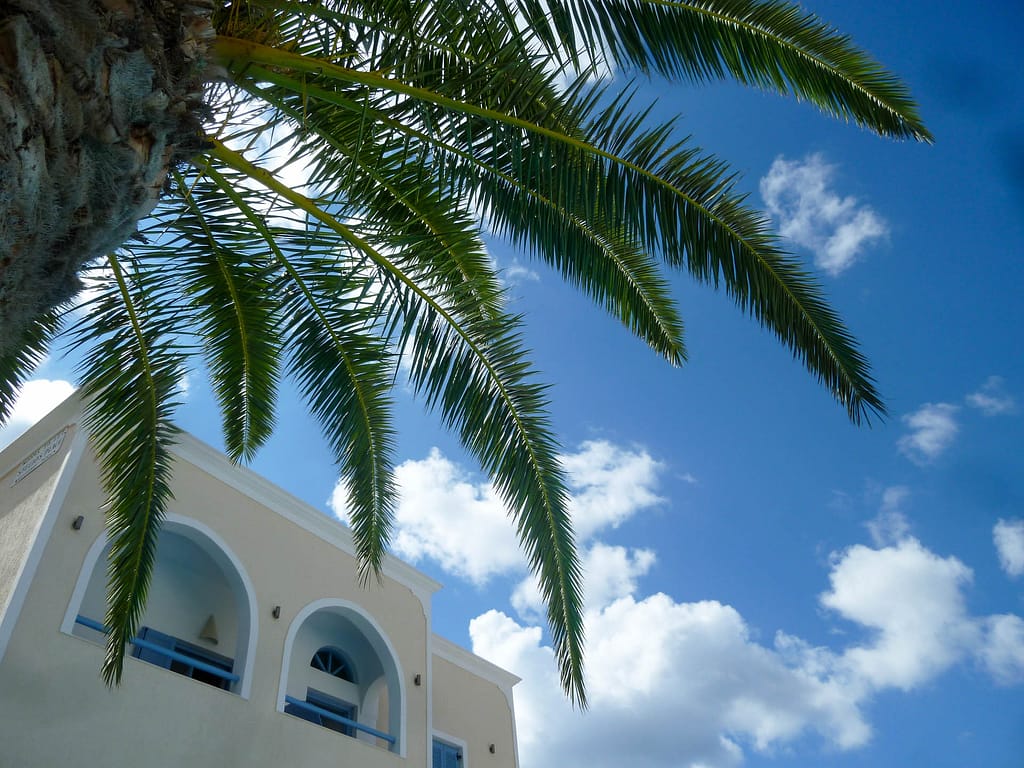 This section contains affiliate links. If you click on a link we may receive a commission at no cost to you. 
The owners were very friendly and helpful. They picked us up and dropped us off at the port, which was a nice plus. The room was clean and simple. Towels for the beach and pool were provided. There was also a place outdoors to hang wet suits and towels. And it appeared each room had its own outdoor seating. Everyone was very helpful about answering questions, letting us store our luggage and hang around by the pool until our boat left on the last day. It's very well located close to the beach, yet quiet. LOVE Perissa! In fact, we're going back!
We found great dining options right in Perissa.
We walked around Perissa and took the bus elsewhere on the island. Our hotel offered a free ride to and from the port.