This was not my first visit to San Antonio. I'd been there on business and wanted to come back when I had more free time to explore with Steve.
Day 1: Austin to San Antonio
We bought pastries from The Meteor for breakfast: blueberry muffin, dirty chai cupcake, and a chocolate pecan cookie. Because what's the difference between a muffin and a cupcake really? We bought a Christmas ornament from Prima Dora too, and left about 10:45. Since it won't take us long to get to San Antonio and we have lots of time until check-in, we planned a meandering route today.
Our first stop was Wimberley, a cute little town with lots of little shops, where we wandered around for a bit and I bought a tie-dye poncho top. It's known for hand-painted boot statues that are scattered around town.
Then we made our way to the Canyon Lake overlook. There was a nice view of the blue lake and of the dam, if you're into that kind of thing. You could walk across the dam. We ate lunch there and walked around. Then we stopped at Gruene. Another small town, Gruene was more historical and focused on food and beverage, like the place pictured below.  We poked around a cute lawn trash place. Then onto the freeway and San Antonio. We were glad we didn't take the freeway all the way there. Traffic was fairly awful.
We got to our B&B, A Yellow Rose, right at check-in time and just as our host was arriving with shopping. The room and bath were lovely. Spacious and historic-looking, yet without fragile antiques to worry about. We had a nice outdoor sitting area on the second-floor porch and a chaise longue inside. We walked around the King William neighborhood to look at the Victorian houses, then headed for The Friendly Spot Ice House for beer and burgers. We had Yellow Rose IPA to go with our Yellow Rose B&B and enjoyed watching the grackles.
Another relaxed morning; we made an appointment for the Alamo at noon. It's by appointment only due to COVID-19. We had breakfast bars for breakfast. While we're staying at a B&B (bed and breakfast) breakfast is optional. Our B&B is only a .8 mile walk from the Alamo and the River Walk and everything downtown, so it's a perfect location for us: quiet, yet within easy reach of sights and restaurants.
Our walk took us past the Tower of the Americas. We also saw a group of scooters, all with sidecars. Motorcycles with sidecars we've seen. Not scooters!
After the Alamo we walked around the River Walk central area and had lunch at Iron Cactus. We saw ducks, one with ducklings right next to the walkway. Then we walked home and spent the rest of the day relaxing on our porch.
Day 3: Guadaloupe River State Park
Another lazy start, with breakfast bars and good coffee provided by our hosts. Our destination today is Guadalupe River State Park to do some hiking. After that, we went home by way of Boerne. Boerne is where I stayed on my previous trips to the area. I wanted to see if Ye Kendall Inn (now The Kendall) was like I remembered and I wanted Steve to see it too. Then we hit HEB for ginger ale, carrots, and banana nut muffins. There was lots of freeway construction on both US281 and I-10. We walked to Rosarios for a great dinner, including excellent flour tortillas.
Here are just a few of the amazing old houses in the King William neighborhood.
And another lazy start. Banana muffins and double coffee today. We're doing the Mission Trail today, followed by dinner at Boudro's. We made a reservation but didn't need it, and got a table right next to the river.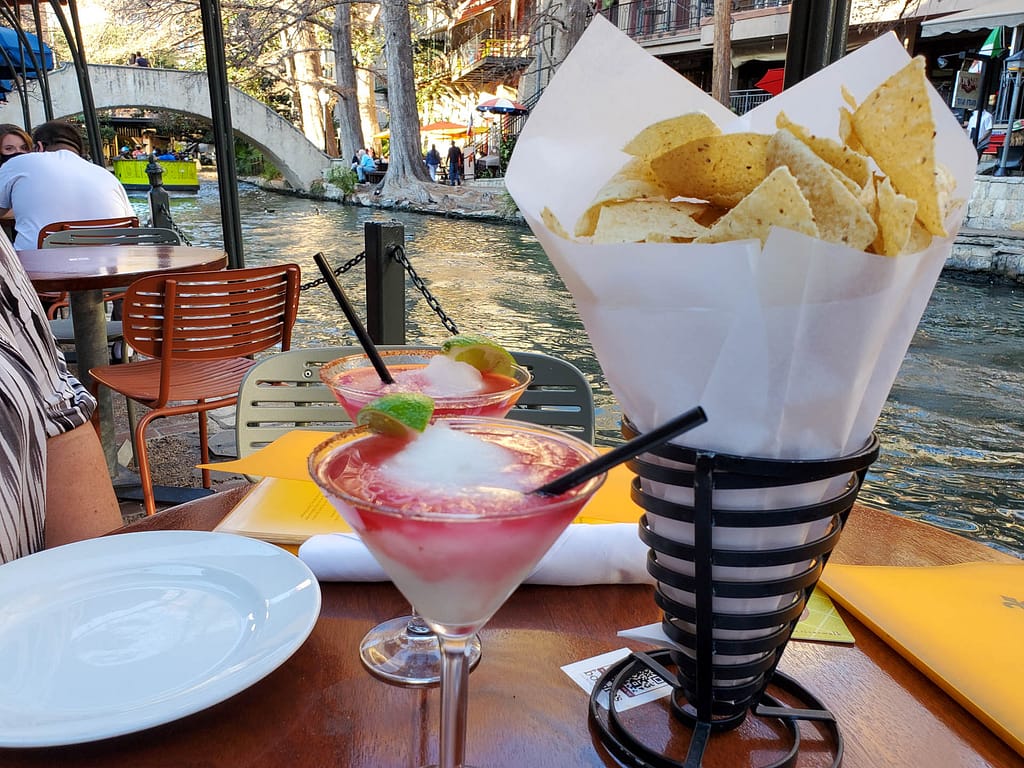 Tomorrow we head for our last stop, Port Aransas. Here are some tree roots melting into the sidewalk to finish up San Antonio.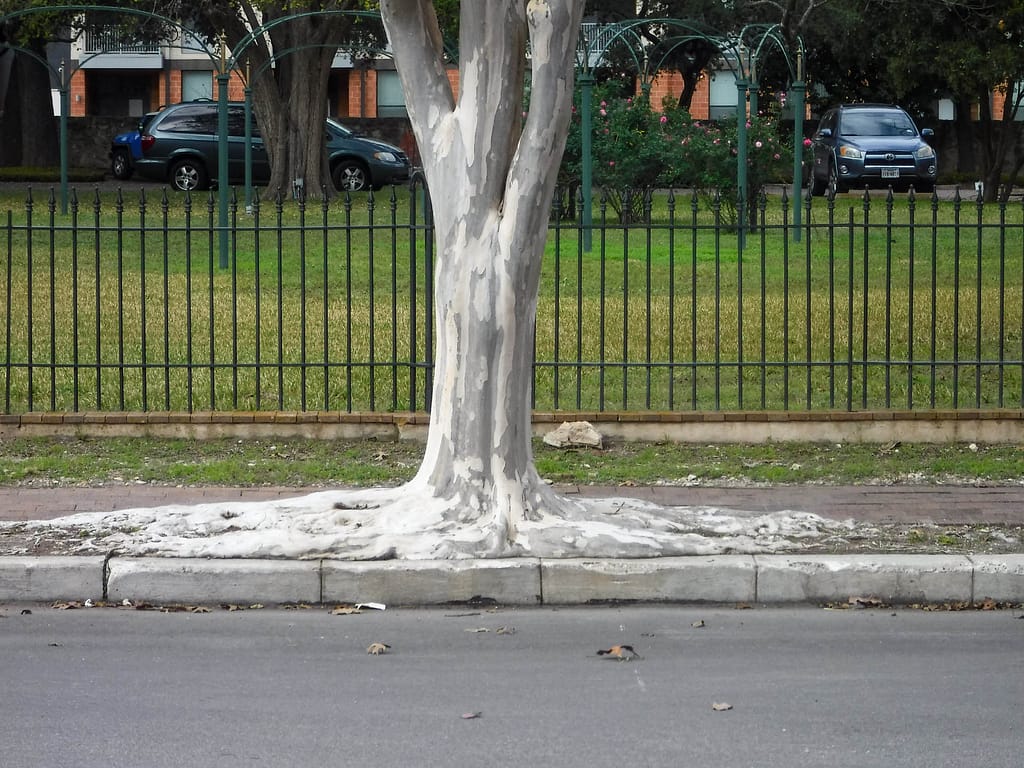 This section contains affiliate links. If you click on a link we may receive a commission at no cost to you. 
Our room was spacious and fit the Victorian vibe without being fussy. Space for dining and a bath with two sinks! The seating on the outside porch was lovely. It is in a residential neighborhood and the driveway is tight. Walking distance to downtown yet peaceful. Loved it!
There are a ton of great dining options in San Antonio. The River Walk is an obvious area. We found good options in King William too.
We drove our own car. We were able to walk to everything in town. We drove 140 miles in the San Antonio area. We took a meandering scenic route there from Austin and made a day trip to Guadaloupe River State Park and Boerne, and drove to the missions south of San Antonio.