Staying in the old town was so much more interesting than staying in the new town like I did last time I was here. Much more atmosphere and down at the south end where we stayed it was pretty peaceful.
Day 1: Lindos (Λίνδος) to Rhodes Town
Today we moved from Lindos to Rhodes via public bus. We didn't have to check out until noon and check in at our new place was at 1:00 p.m. so we had a leisurely breakfast and an extra cup of coffee before packing up and heading out. It was a mob scene at the square in Lindos waiting for the shuttle bus. There were lots of people from a day tour who needed to get to the top of the hill. Steve and I fought to get to the front of the line so we could get a decent seat and find some place to put our bags. We succeeded with both. The bus was standing room only.
Once we got to the top of the hill there was a bus that looked like it was just leaving for town but he told us to go buy a ticket. So we went to the kiosk and bought a ticket and were told that the bus would be leaving at 12:15 and it would be bus number 21. We waited about a half an hour and shortly after 12:15 low and behold bus number 21 showed up. So once again we got on the bus, shoved our bags into the overhead storage shelf and took off. At some point during the trip my bag fell off the shelf onto the floor so it ended up in my lap for the rest of the trip. Other than that and some Europeans not knowing any more about how to wear masks properly than some Americans, it was an uneventful trip. I figured out that Google maps can actually monitor the bus for you and let you know when your staff is coming up. Which was a good thing because once we got into town the bus stops didn't have names anymore so we didn't have any idea which one was ours.
Then we had to figure out how to get into the old town. Google gave us directions but it looked like there was an easier route so we decided to try it. It's kind of strange — in a fun way — walking through medieval fortifications to get to your hotel. We walked through a few alleys, down some uneven cobblestone streets with stones, went through a doorway in a wall, and found the quiet, leafy square where our hotel was located. Turns out it's a restaurant with a few rooms above it rather than a typical hotel with a restaurant. We dropped off our stuff and went downstairs to have lunch. They have Indian food!
After lunch we did some laundry and then headed out to do some sightseeing. The old town of Rhodes is even more interesting than I remember. We headed for the Street of Knights first and took it all the way to the end to the Palace of the Grand Master which we toured.
Since we had a combination ticket we also went to the archaeological museum which is located in the former hospital of the knights of Saint John, at the other end of the Street of Knights. That was an interesting building, although a lot of the exhibits were fairly similar, mostly ceramics.
After that, we went a little further north to the temple of Aphrodite which I remember from my previous trip. It wasn't exactly the way I remember it, but pretty close. The pebble mosaics on the sidewalk were impressive to me then. I hadn't been to Lindos yet where they have them all over the place!
We have an interesting challenge when taking photos. We prefer to take pictures without people in them — including ourselves. In some situations — like this photogenic doorway — people will wait patiently for their turn to do Instagram poses. But what about when you want the picture but without the posing? Maybe we'll just have to start asking people if they mind waiting while we get a shot?
We decided to have dinner at our hotel too since we wanted pizza and they had it on the menu. So we each ordered a special pizza and had a couple of beers while listening to a guitar player who's pretty good.
Day 2: Driving around Rhodes
We had to get up early to pick up our rental car. Since we're in the old town and they can't drop it off at our hotel, we met them at the port of Kolona. It was only a few minutes walk. It was all very well organized: he explained the car, took our payment, gave us directions to get to the West Coast and we were off. We ended up with a Fiat 500C. It seemed pretty nimble and it had a sunroof which was kind of fun.
We didn't have a great idea of where to park the car but we had a general idea, so we drove to San Francisco where we got off the bus the first day and started looking for a spot. We found one not far away. Since we were right near there we went to the Bishop Brewery Bistro to have a couple of beers that were not lager. We had a red ale from Ireland (McFarland's) and an IPA from Greece, Septum Day 8. The red ale was pretty good. The IPA was really good. The bathroom was amusing. Men are on the left because women are always right. The lights (red) come on as you descend the stairs. And the lights in the stalls are right inside the door so they illuminate the outside when the door is open and the inside when the door is closed.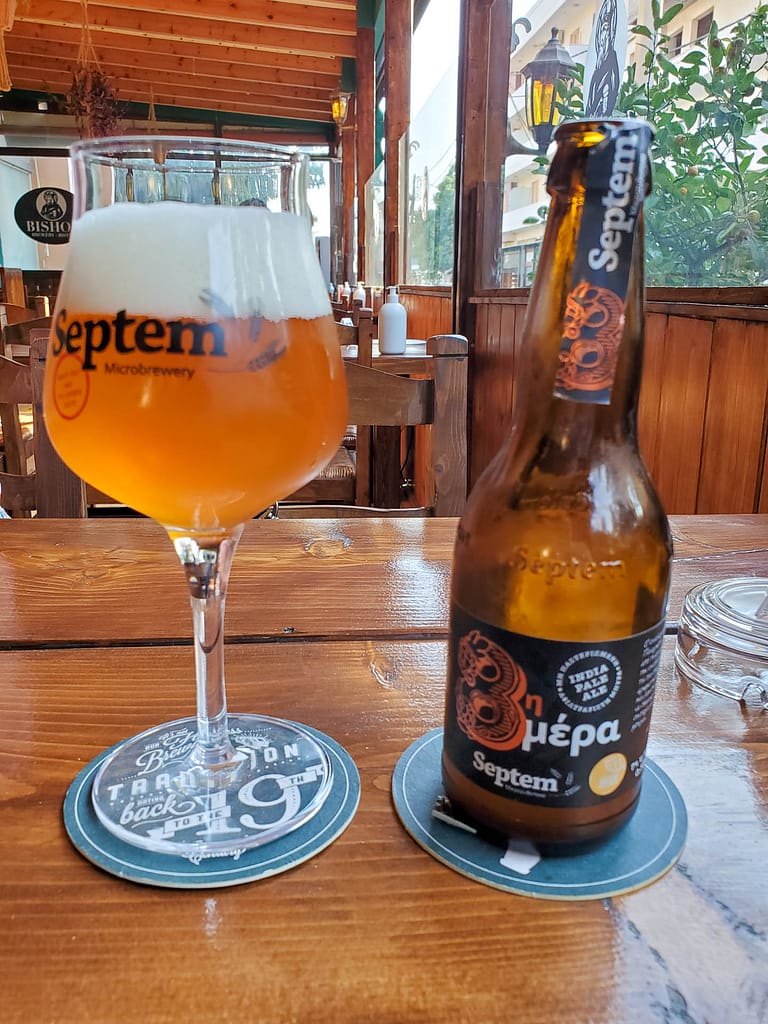 Then we walked back into the medieval city through a different gate that was a little closer and went up to the room to relax for a bit. We had dinner at our hotel again, drank beer, watched the cats, and listened to the guitar player. And we got a gift, a refrigerator magnet that was made by our server's friend who has a store nearby. It's pretty cute and is destined to be one of our travel Christmas ornaments.
Day 3: Tsambika (Tσαμπίκα) Beach
We woke up around 9:00 and had a great breakfast around 10:00 at Baluse. Touts harass you to visit their restaurants when you don't need them, but when you'd like to know if they're open for breakfast … nothing. Until the lady there, who was nice and most attentive. It's pleasant and relaxing walking in the old town before the crowds show up.
Our hotel has a roof deck and we decided to check it out this morning. The views were impressive and it looked like a pleasant place to hang out, if we didn't have wheels and plans for the beach!
We picked Tsambika Beach to spend the day at because it sounded like it would have sunbeds and umbrellas yet not be too built up. And it was the nice sandy beach we were looking for, with umbrellas, a few beach tavernas, toilets and lots of parking. And lots of goats. It was breezy and gusty wind so we didn't need to get in the water but it looked nice. They had a whole complex of inflatable stuff in the water to jump on and off of that looked like fun if you like that kind of thing. Our umbrella was €10 because of the wind. We were there for about 4 hours.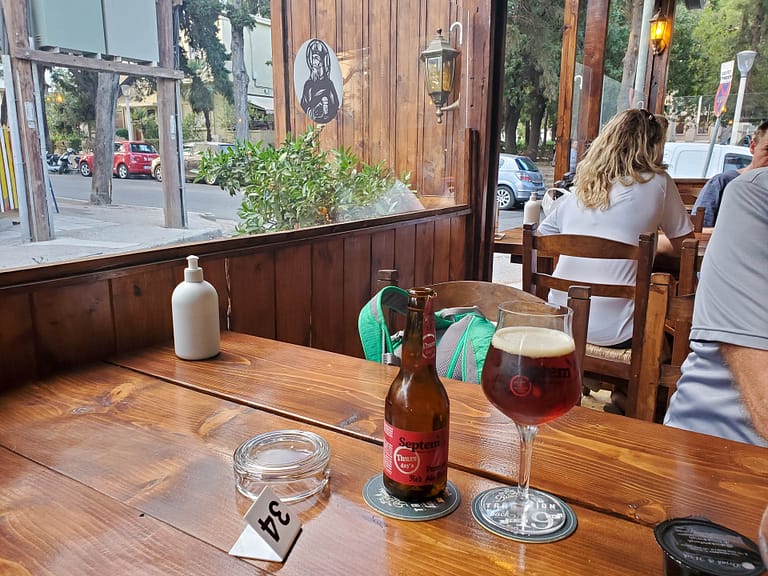 After dropping off the car at the port we went back to Bishop Brewery Bistro for another Septum IPA and then a Septum Red Ale. And then to our place for dinner. Extra music tonight. The crowd was digging it.
Side note about eating in Greece: Rhodes Old Town had some of the most persistent (and in some cases obnoxious) touts or hosts that we've seen. Rather than run the gauntlet daily we ate dinner at the restaurant where we were staying. The food was good, the service was great, and we got a 10% discount because we were staying there. We found many Greek restaurants and tavernas have similar menus and unless you want something that isn't on the menu (or want a change from Greek food), if you find a place you like just stick with it.
Day 4: Wandering Rhodes Town
We got started around 10:00 and had coffee and muffins (vanilla and chocolate) while sitting in the alley across from the coffee shop. We asked our host about getting to the airport. He said there was a taxi station at San Francisco. It took us a while to find it since we missed the sign. We thought the chances of a taxi showing up at 5:00 a.m. were slim so we booked one online. Glad we did that today and not tomorrow!
Then we wandered aimlessly around town until 1:30 or so then had lunch at Mama Sofia's. It's a family run operation and we met the son, Steven, who told us about the origin of some names, like Steven (Stavros in Greek) and Catherine. HUGE amount of food. We walked home and took a nap!
We got packed, then went to the supermarket to get something for breakfast. Steve had to shop since I forgot my mask. We're having one last (smaller) dinner at our place and tipping the excellent guitarist.
This section contains affiliate links. If you click on a link we may receive a commission at no cost to you. 
I was expecting a hotel that happened to have a restaurant but it's more like a restaurant that happens to have a few rooms to let. I like the reality better than what I pictured!
Great location in a quiet part of Rhodes Old Town. It was nice to be close to the action but not in it. Comfortable room and welcoming hosts. Nice roof deck and upper patio though we spent most of our time down in the restaurant on the square. 
There are a TON of restaurants in the old town, including a great one downstairs where we ate most meals thanks to great food, service, and a 10% discount for staying there.
Mango Restaurant
We ate here several times, sampling chicken madras, moussaka, pizza, Greek salad, whole sea bass, calamari, lamb kleftiko, and pitaroudia, a local fried chickpea patty. It was all great.
Baluse Club
We had very good ham and cheese omelets on bread with salad and latte/Americano for breakfast one morning. Calm, serene, and welcoming.
Mama Sofia's
We were served by a son at this family run operation. We had taramasalata, pita with olive tapenade and eggplant dip, moussaka, and calamari stuffed with feta and tomatoes. HUGE amount of great food. And Noctua beers!
The Old Town is walkable. In fact, you have to! We rented a car for a couple of days to tour the island and get to the beach, though we could have taken a bus to the beach. We weren't sure how much driving around we would want to do.