Porthmadog was the "anytown" with good transport connections we'd read about. A good base rather than a destination in its own right. Nothing wrong with that!
Day 1: Conwy to Porthmadog
We had a mildly stressful travel day today. It started when I looked at the bus schedule online and the bus that I'd seen before at 10:00AM was no longer there. So I and our host were both checking various online sources to try to find the truth. Most of the information I found was conflicting. So in the end we decided to wait for the #5 bus near the train station as originally planned and if it failed to appear walking over to the train station to catch a train. Thankfully the #5 bus did appear and we successfully rode it to Bangor. We bought a 1bws (bus) ticket which is a local deal that allows you to ride any buses in North Wales for 6 a day which is a pretty good deal considering our two bus tickets today would have cost us something like 10. Once in Bangor we discovered that we had a couple of hours to kill until the next T2 bus. That bus managed to freak us out by pulling up at 12:15 and quickly taking off. We figured that was because the bus driver was taking his lunch break because the T2 showed up again on schedule at 1:05. At least the bus rides were scenic.
TL:DR: Check closing times, especially on a Sunday!
We successfully arrived at Porthmadog to find our room was ready so we dropped our stuff off and relaxed for a while. Turns out that wasn't the best decision we could have made because we arrived at around 2:15 and the whole town shuts down at about 4:00PM. So we went next door for dinner and drinks at 3:45 only to discover that they were closing shortly. He said our best bet was to head to Tremadog, the next village one mile up the road, but that didn't sound all that appetizing in the rain. So we walked by The Australia but they don't serve food on Sunday. So we walked over to The Port which looked like it was open to discover that they had stopped serving food at 3:00PM. They suggested a place down by the harbor. We walked down that way but failed to find Good Mood, which The Port had mentioned, and Spooners, which our host had mentioned but which wasn't serving food because they didn't have a chef. So we scooted back to The Port and bought a couple prepackaged prawn sandwiches they had along with a couple bottles of porter and then asked for directions to the Spar which they said would be open later. Found the Spar a little ways up the road and bought some Hobnobs (yum!), some crisps, also yum and some Elvis Juice IPA which we drank when we were in Cadiz. So we stayed in for the night and consumed our picnic. And I will make sure that we have things arranged for upcoming Sunday nights so we don't have to do this again unless we choose to! Oh and while we were at The Ship next door I remembered to ask about their curry and a pint special tomorrow night. So we have that booked for 6:00PM.
6,619 steps today
Day 2: Walk to Borth-y-Gest
We had a wonderful breakfast this morning. Steve had smoked salmon and scrambled eggs. I had the à la carte breakfast that included buttered smoked haddock that I will be eating everyday while I'm here. The rest of it was pretty good too.
Then we headed out for a walk and discovered it was raining more than we thought it was and we were ill prepared because we were not wearing rain pants. So we went back to our room and waited for it to stop raining so much and then went out with our rain pants on. I learned that my zip off pants do very little as far as resisting water though they do dry quickly. And that when I wear the rain pants over the zip off shorts I do not get all sweaty and slimy when it's about 65°.
Anyway we had a nice walk over to Borth-y-Gest and went a little beyond along the coast to a couple of coves where we got some nice views and saw some nice little beaches that are probably a good place to hang out when the weather is not like it was today.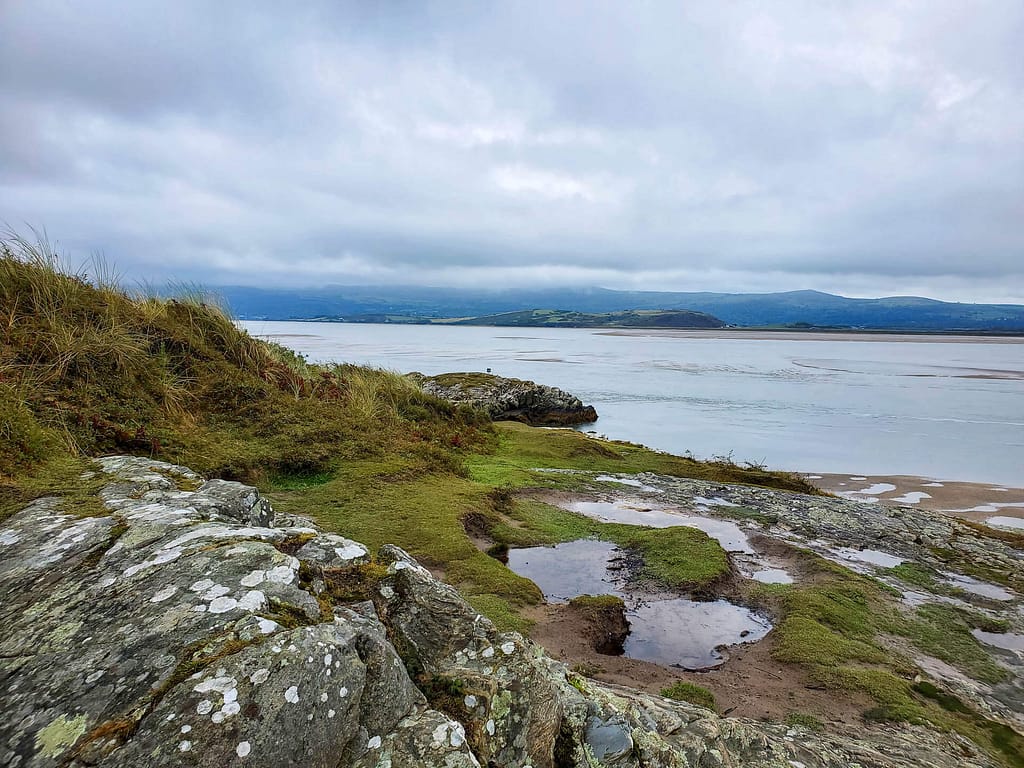 After our walk we did some laundry and relaxed for a bit then we went to The Australia for two pints each of Antlered IPA. We got to witness one of those pub things where two different couples of about the same age ended up sitting next to each other and striking up a conversation about who knows what. At least the women were talking about reading. After a pit stop at our place we went next door to The Ship where we both had the chicken curry special which included a pint of Worthington's bitter for about £13. We got vacation chips too. Because why not get chips AND rice while on vacation? Oh and it also came with a poppadom and mango chutney. Yum. After dinner we took a stroll down to the port to look at the boats and the scenery.
13,087 steps today
Day 3: Heritage Train to Blaenau Ffestiniog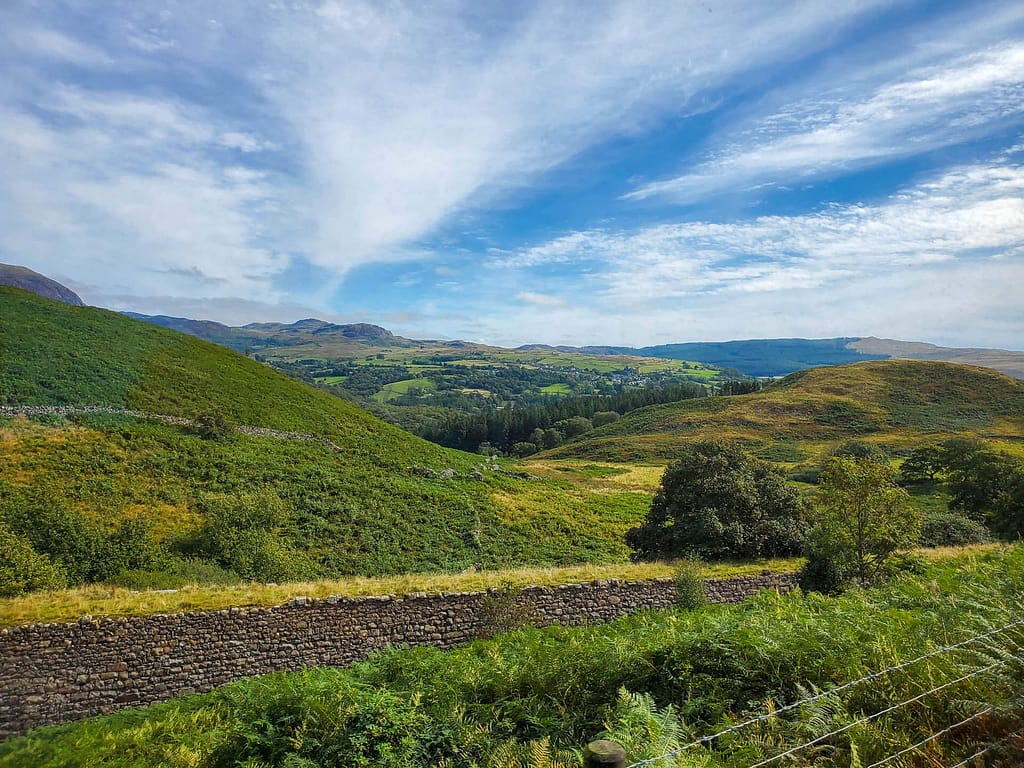 Since we didn't get much exercise on the train when we got back to town we took a walk to Tremadog, the village just up the road, to get some exercise and because the village looked kind of cute when we came through on the bus.
We stopped at the Red Lion on the way back into town since they advertised having a beer garden. They didn't have the greatest beer selection so we had Guinness, Carling, and Strongbow cider. Then we hit the Spar for a four pack of Hazy Jane IPA that we took back to our place and drank at the little table outside our room because the weather was nice. We had our first meal at our restaurant too. We made dinner reservations for three nights of our stay.
10,001 steps today
We thought about going to Barmouth today but discovered that the viaduct is closed for repairs so we ended up going to Beddgelert instead. It was that or Criccieth and the bus schedule was such that it made sense to go to Beddgelert. We had dinner at Yr Hen Fecws again.
9,576 steps today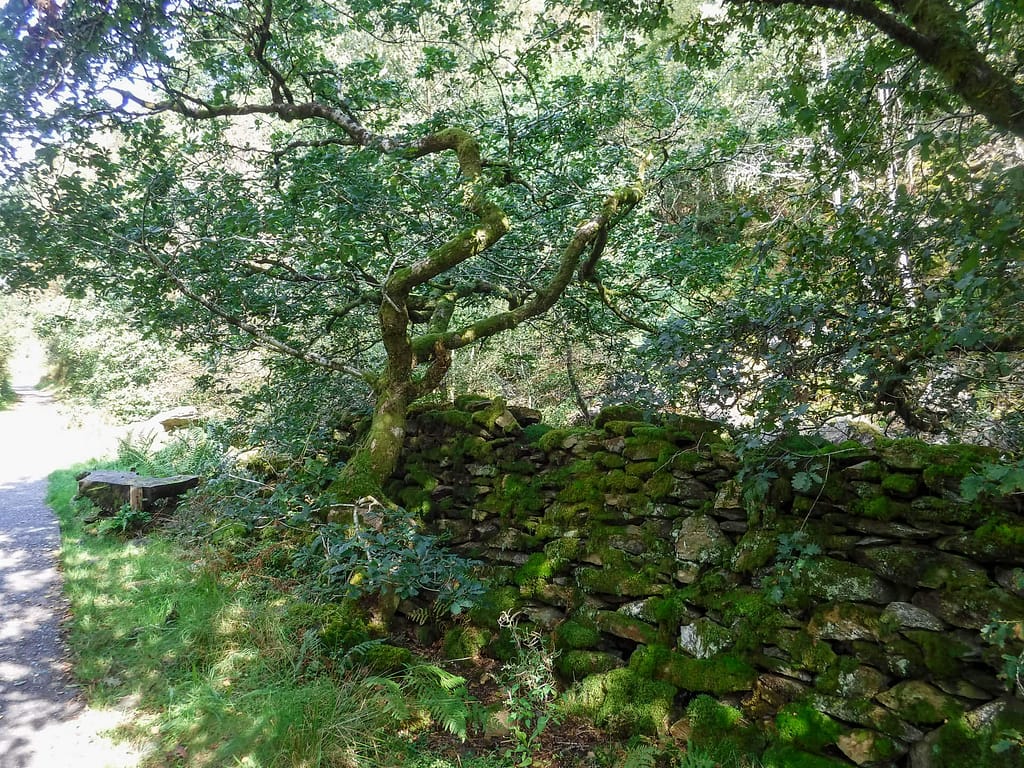 Today we walked over to Portmeirion village and back. We were quite exhausted when we were done.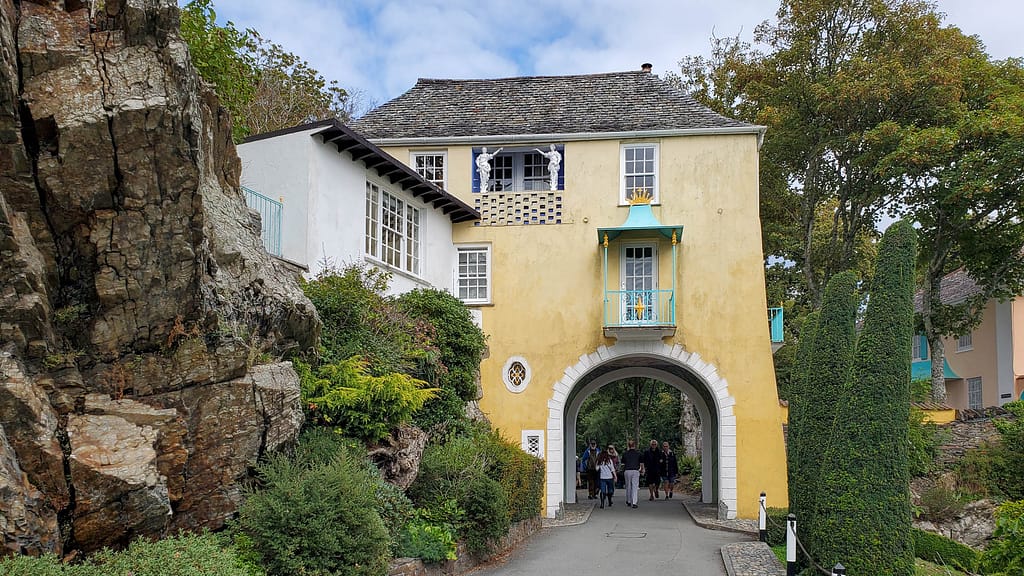 Once back in town we went to The Australia for a couple of beers. We had Antlered IPA to start followed by a Black Rock Stout and a premium bitter for round two and then two Black Rock stouts for round three. There is a beer garden there although it's basically just a couple of tables in an alley. No view to speak of.
18,212 steps today
A light day today to make up for yesterday. We took the bus to Criccieth at 12:30 and walked up to the castle, down to the beach, and then sat admiring the view. We saw someone swimming! We touched the water. Bit cold for us. We walked around town a bit too before taking the bus back and doing showers and some packing.
We've had a crow alarm every morning here, around 7:00AM.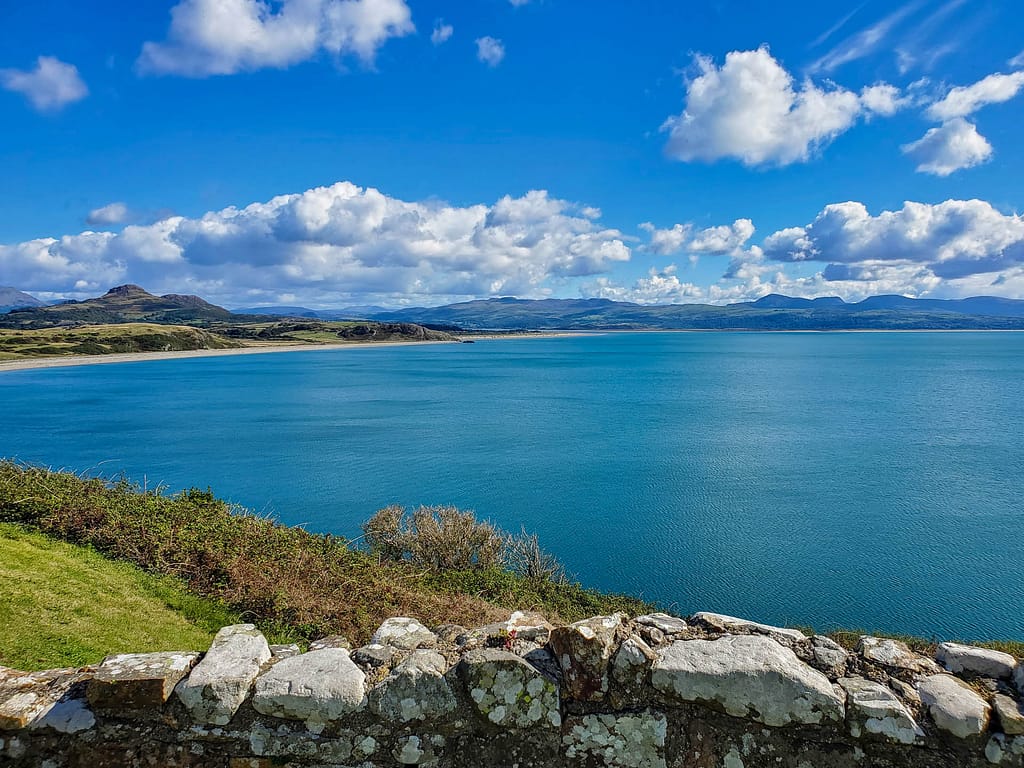 One last lovely dinner at Yr Hen Fecws. We had a nice conversation with an English/Scottish couple at the next table.
7,360 steps today
This section contains affiliate links. If you click on a link we may receive a commission at no cost to you. 
We stayed at Yr Hen Fecws, which is right in Porthmadog near the main bus stops. The room was small but nice. Breakfast was fabulous and staff were friendly and helpful. There's a pleasant little seating area out back that we took advantage of when the weather was nice. 
Yr Hen Fecws is one of the best we've eaten at anywhere. Delicious dinners without the fussiness of fine dining. We ate there all four nights it was open during our stay. (It was closed two nights due to staffing issues, which everyone had.) We also enjoyed the curry special next door at Y Llong (The Ship). 
We walked everywhere in town, which is small. (We averaged 10,809 steps daily.) We had all the bus connections we needed both for day trips and for getting to and from Porthmadog.