Port Aransas was the relaxed little beach town we were expecting. It was unexpectedly walkable and birding opportunities were closer than we thought.
Day 1: San Antonio to Port Aransas
We drove around the King William district before leaving town, since we have another day with a shortish drive. There are lots of cool old houses in this neighborhood. It was an easy 2.5 hour drive.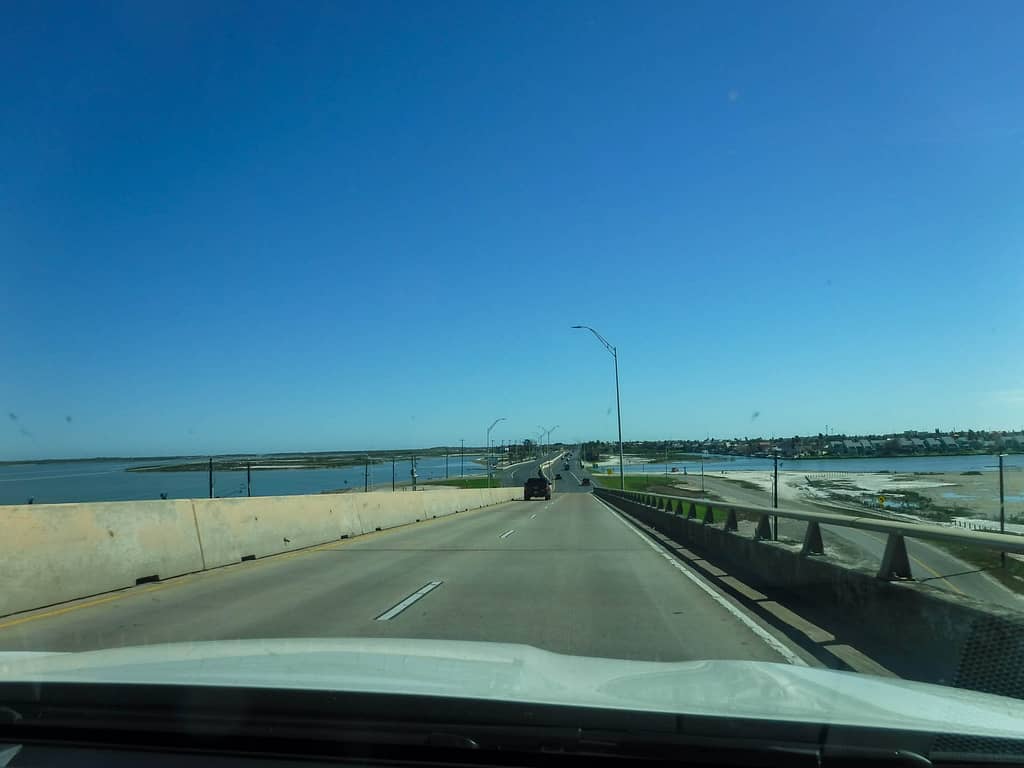 We checked in and met our host Brenda, a local potter. Our Airbnb is in the backyard of her pottery studio and house.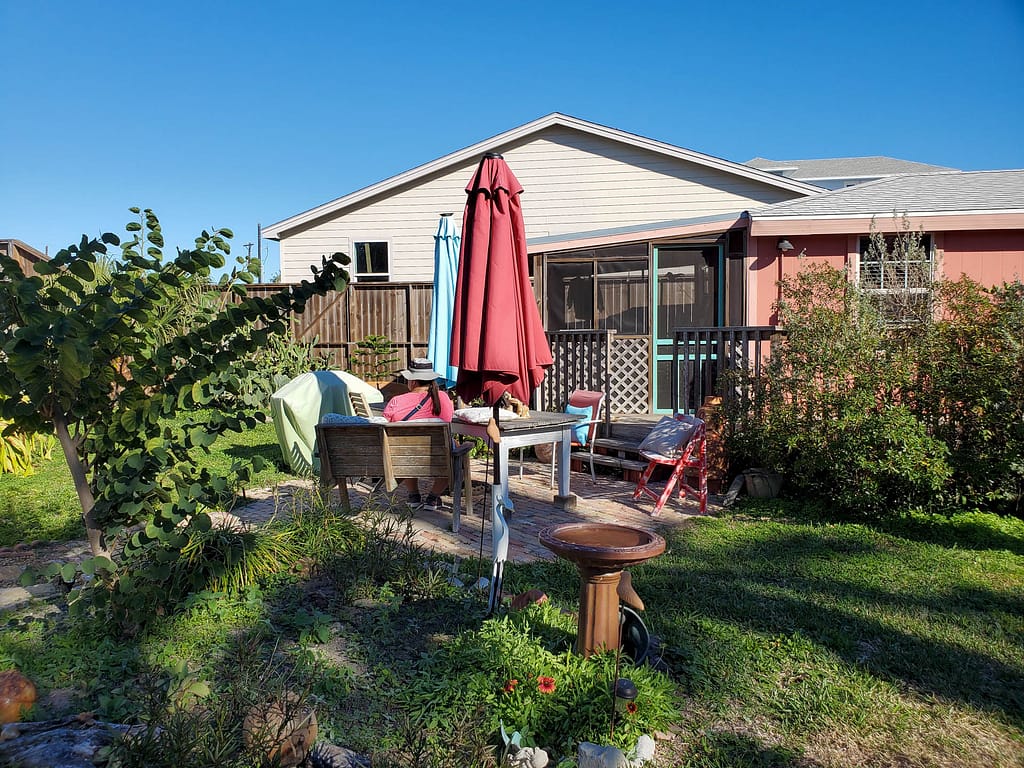 We walked down to the beach to check it out, then to what our host called "restaurant row," a group of 4-5 good restaurants about 10 minutes walk from where we're staying. It's Monday so they were all closed.  The parking lot at the beach was just sand (you can drive on parts of this beach) and we saw someone stuck in the lot in some loose sand get towed out.
We ended up at Fins for dinner. 
Our Tin Cottage is cute. The small bathroom doesn't have a sink but who needs it? There's one right next door in the kitchen. It was cold at night and the portable heater worked well.
We were hoping for birdwatching here and Brenda told us about the Leonabelle Turnbull Birding Center and Charlie's Pasture, two areas right in town that have lots of birds. So we headed there after breakfast. Then we hit Subway for lunch and restocked some items at the grocery store. We got takeout from the Crazy Cajun for dinner. Due to COVID-19 we're trying to avoid eating indoors and it's just a little chilly to eat outdoors.
Today we went back to the birding center, and earlier since there was a guide. We learned the names of some of the birds we saw yesterday. We walked to Roberts Park for lunch and to watch dolphins. We also saw lots of people fishing.
Then we drove over to IB Magee Beach Park with our chairs and sat on the beach for a while. Well, I sat. Steve walked. He may have seen an orca offshore?
Takeout dinner again, this time from Venetian Hot Plate. It's nice to have an actual dining area. We can get takeout beyond things like pizza, burgers, and things you eat with just your hands.
Day 4: North Padre Island
Today's destination is North Padre Island. We expected to spend more time here but have been happy with the wildlife we're seeing in town. Then we decided to take advantage of the grill at our place and bought steaks and potato salad for dinner. Yum.
One of the few small lizards we met on this trip liked to hang out at the picnic table. We also saw a pirate ship docked downtown, and an old airplane.
It's cooler (61°) and windy today and spitting a little rain. So we did some pre-packing in preparation for leaving tomorrow. We thought about taking the bikes available here for a spin but didn't. We got Subway for lunch and hit the liquor store.
Tomorrow we head for home, via the car ferry this time.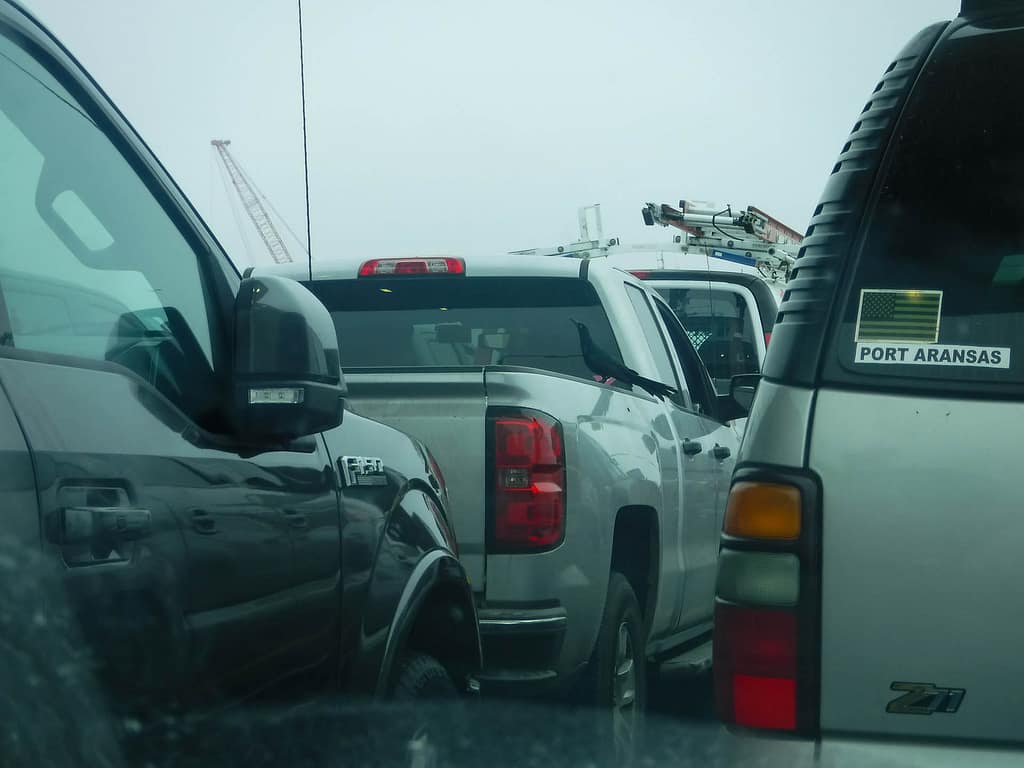 This section contains affiliate links. If you click on a link we may receive a commission at no cost to you. 
There's an outside sitting area in the yard that's very comfortable. The cottage has artsy and quirky touches like lots of quilts and art and no light switches; something about hurricane damage. It's walking distance to both the beach and restaurants. 
Port Aransas had a lot of what looked like typical beach tourist restaurants and a handful of gems. We didn't get the chance to try them all. 
Fins Grill and Icehouse
We didn't plan on eating here. The better restaurants were closed on Monday. We didn't plan on having the all-you-can-eat shrimp special but that's what we ended up getting.
Venetian Hot Plate
Excellent scallopine and chunky caesar salad. We ordered takeout due to COVID and it felt just as special as dining in.
We drove our own car. Port Aransas looks like it's strung out along a couple of main roads but it was surprisingly walkable. We only drove to the beach and the birding center because of the gear we were hauling with us. Golf carts are common. We drove 90 miles in the Port Aransas area, including to and from North Padre Island National Seashore. Port Aransas is an easy 178 miles from San Antonio.