Playa Grande was another beach we wanted to try out. We found it a little limited to support a longer stay but we enjoyed the 4 nights we spent there. The beach is great for walking though there's no shade. It is fun watching the surfers.
Day 1: Santa Elena to Playa Grande
We had a semi-relaxed breakfast this morning before getting our shuttle at 8:00. Our shuttle arrived promptly and we drove around town and picked up some more people. Then we parked in town near another van and swapped some people. Then we headed out of town, stopped somewhere else, and did some more passenger swapping. We don't know what all was going on but our van was quite full and we had very little leg room because it was a smaller van. And it seemed like the majority of people on board did not understand how air conditioning worked and kept opening windows. We stopped first along the way somewhere to drop off two couples who were headed to Samara. They got in a cab, who our driver paid in cash, and then they took off. Then the rest of us headed for Tamarindo. We dropped the first two off in town and then the other three girls were going to someplace that the driver needed directions to. It was a surf camp way out in the middle of nowhere. And no water around. We were beginning to wonder if it even existed. After that we took what was thankfully a shortcut to our place because it was a lot of gravel road that we didn't fancy driving on.
Our room wasn't ready yet so we walked down to the beach to check it out and then came back and had lunch. And while we were finishing up lunch we got notified that our room was ready. A lot of businesses seem to use WhatsApp for communication. Probably because as long as both sides have it there's no charge for international calls. So we connected with our hotel via WhatsApp when we got here and then she sent us a message when our room was ready.
It was really hot so after checking into our room we walked down the street to the market to get beer and rum and then got in the pool which felt lovely.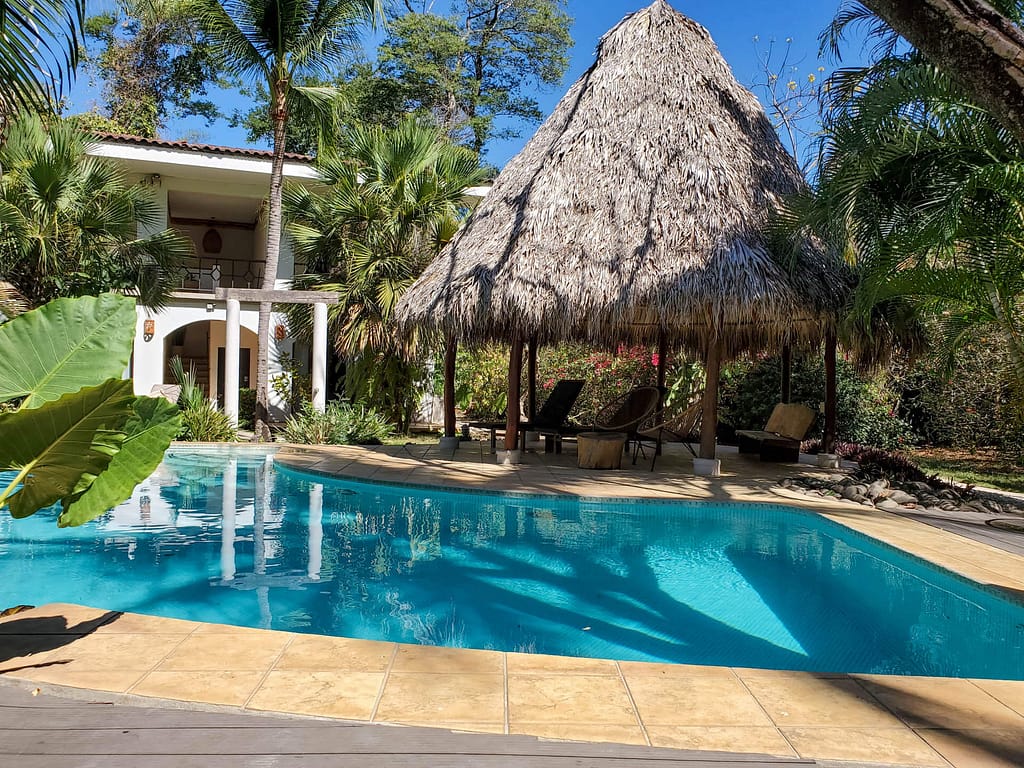 We sat down there for a while and then moved up to our balcony to drink. Oh and we went down to the beach for the sunset.
There are thousands of dragonflies here.
We got up early and went for a walk on the beach before it got too hot. We hit the beach about 7:15, walked down to the estuary, and were back to the hotel about 8:00 for breakfast. Our rental car showed up right on time at 9:00 a.m. just as we were finishing breakfast. We got that taken care of then had adventures in parking because one of the staff had to move their motorcycle so we could park in that spot.
After that we sat on the balcony for a while, did some laundry, then went down and got in the pool and sat by the pool for a while. I was kind of trying to stay close to a signal because I was expecting a call today but it never came in. Hopefully that's good news. Anyway, after the pool we got changed and went over for dinner around 4:00. Then we walked over for the sunset again and came back here to relax on the balcony. Where we saw a skunk! So maybe it is skunks we've been smelling. We also spotted a giant bees' nest on a tree. Thankfully it looked inactive!
Day 3: Driving up to Las Catalinas
This morning we used our Britt espresso machine to make instant coffee and had Oreos with it for breakfast. Then we took advantage of our rental car and drove it up the coast to Las Catalinas and back. After we dealt with the fact that the propane ran out at the cottage back home so the furnace was off and someone needed to go up there and restart things. Thankfully my brother was able to do that and got someone out to fix the furnace and get things warmed up again. Hopefully we dodged a bullet and no pipes froze and burst.
Our last stop on the way back was a purely practical detour for gasoline since Huacas was the only place around with a station. On our way back to Playa Grande we stopped at El Huerto for a meal.
After our meal we tried to find Playa Ventanas at the north end of Playa Grande but couldn't find a way to get over to the beach. We did see a crested caracara.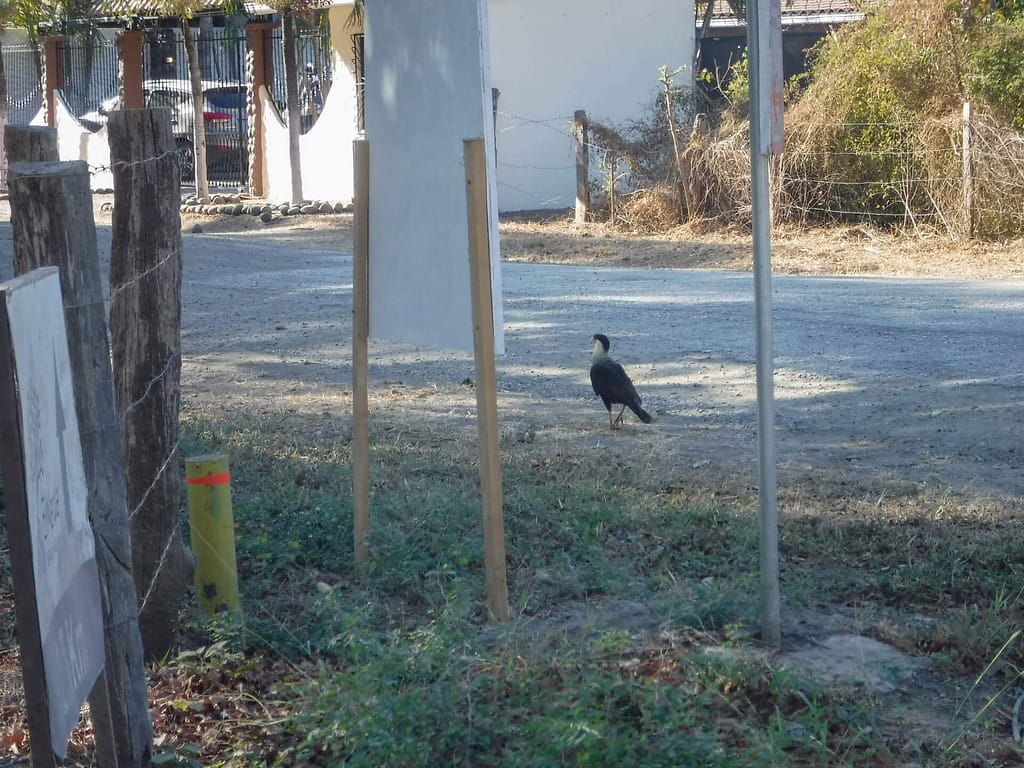 So we came back and got in the pool and sat around and relaxed for a while. While keeping up with the saga of what's going on with the furnace back home. Short answer: everything got resolved and at a more than reasonable price. And we found out the fireplace works too! And it's a good thing we stopped elsewhere for our meal because our restaurant here is closed today. So we'll be having Ruffles, yucca chips, and Oreos for dinner as needed.
From our balcony we saw some mealy parrots. We also got a close up look at one of the dragonflies and a good shot of a praying mantis.
Today we didn't do much. We went for a walk on the beach first thing in the morning, came back and made coffee and had baked goods we bought yesterday. We saw crabs on the beach as usual, and lots of interesting prints. A bluejay landed on our railing with some bread in its beak. I asked if it was bringing us breakfast. Apparently not since it flew away with it. Oh and there's some dragonflies out again. We've missed them the last couple of days.
Then we hung around on the balcony for a while until we got tired of that. We drove down to the other end of the beach to check out where we're supposed to meet the shuttle tomorrow. And saw a deer. That was a surprise.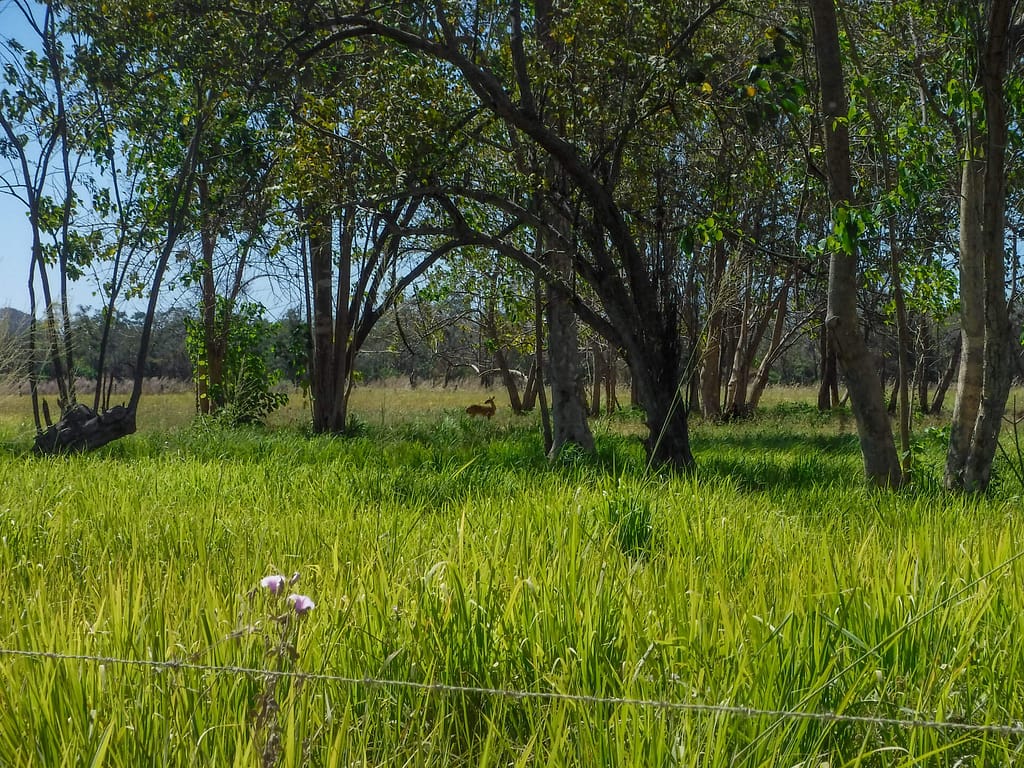 And then came back to more confusion as I discovered that there's a Hotel Las Tortugas and a Hotel Las Tortugas Apartamentos. I confirmed with the shuttle company that they're picking us up at the apartments at 8:00. (Spoiler: This will not help us tomorrow morning!)
Then we went down to the pool for a bit. The loungers in the shade weren't available so we sat in the sun. Then we came up and got cleaned up and went down to have our meal around 2:00. Then came back up here to wait until it's time for them to pick up the rental car at 5:00. And we did a little preliminary packing and now we're having some last drinks on the balcony.
This section contains affiliate links. If you click on a link we may receive a commission at no cost to you. 
Playa Grande seems to have large rental properties and small hotels. Our room and terrace at Hotel Cantarana were spacious and the pool and grounds pleasantly tropical. Excellent storage in the both the room and the bath. The pool has great shade though there isn't much of it. There's a great restaurant on site and friendly and helpful staff. It is really close to the beach.
We ended up eating most of our meals at the onsite restaurant because it was so good. We had excellent burgers, pizza, a spicy poke bowl, and shrimp curry. We also had gallo pinto and French toast with pineapple for breakfast one morning. El Huerto down near the other end of the beach had great pasta and Caesar salad. (We meant to have pizza but were there early and the pizza oven wasn't on yet.)
Getting to and around Playa Grande was a bit of a challenge. I had to hunt around to find a shuttle between there and Santa Elena, and our shuttle from there to Montezuma didn't run all the way to the south end of the beach. It is a really long beach and walking from one end to the other by road did not look appealing and by beach would be really hot as there's no shade.
We rented a car while there for sightseeing. If we were to go back I might just rent a car to get there and back too. We rented with Adobe through Mytanfeet and got a discount. (And it's a great site for Costa Rica info beyond that!)