We're often asked if we're taking a guided tour or have booked some kind of package. The answer – at least to date – is no! I do all the planning for our trips. Which amazes people. I think I like researching and planning trips almost as much as I like taking them. And I think anyone can do it.
Here's my process. You may want to plan more, or less, depending on your travel style. I know people who just show up and go day to day. I also know people who schedule every minute of every day. We're somewhere in between. We sometimes struggle with decision-making (we went to an all-inclusive resort on our honeymoon specifically to avoid decisions more difficult than whether to leave the resort and when, and which nights to eat at a sit-down restaurant rather than the buffet), so I like to have the essentials planned and the options researched before we go. 
Oh, and a little background: We're from the United States, land of chain hotels, chain restaurants, and no public transportation. We try to avoid the first two and use the last when we travel. We're also not full-time travelers. (We wish!) Nope, we have day jobs and take a traditional vacation a couple of times a year. 
Someone asked me the other day how we decide where to go. Which made me think. How do we do decide? Here's how I broke it down. 
Lots of planning advice starts with where you want to go. I start with when.
We don't travel during the summer. It's the only time the weather is reliably good at home, so we tend to stay home, or visit the family cottage. Summer is also when people with kids travel, which means larger crowds and higher prices. So we generally travel during shoulder season, when the weather is still decent but crowds are smaller and prices lower. Since shoulder season varies from one destination to the next, knowing when we plan to go is an important factor in where we go. Check the weather tendencies for places you want to go, when you want to go.
We also travel in winter to avoid winter. That can mean peak prices since we're in high season.
What kind of trip do you want to do?
We enjoy the outdoors, wildlife, and other cultures. We like hiking, snorkeling, hanging out at the beach, wandering around new cities and towns, and visiting museums and botanical gardens. It's often not possible to fit all of that in on a single trip. Some trips edge more toward the wild and natural, others more toward the urban and cultural. Lately we're trying to do our trips with extensive hiking sooner than later, before we get too old to do it!
Think about what type of trip you want to do. Has it been stressful at work and you want to relax? Do you feel like you're in a rut and need to shake things up? Think about what you need for this trip.
How long can you be away?
Our travels are defined by start and end dates, usually driven by paid vacation time.  
This factors into choosing a destination, since it takes time, effort, and money to get there and back. We generally take two weeks because:
We want to get into vacation mode and stay there for a while.
If we're going to spend time and money getting someplace we want time to enjoy it.
On a short vacation, even one day of bad weather can wreak havoc. More time means greater flexibility, and less pressure to do this right now. 
Now, where do you want to go?
If you're like us, you have a kind of loose laundry list of places you would like to go. Some may be higher priority bucket list items. Others may be more gee-it-would-be-nice-to. Comparing this list with the answers to the above questions can narrow down your options for your next trip. 
For example: 
If we're going in winter or spring and want to spend time snorkeling and hanging out at the beach, with maybe some hiking thrown in, we might go to the Caribbean. But we wouldn't plan that trip for the fall (AKA hurricane season). 
If we're going in the fall and want to mix some beach time with historical and cultural sites, we might choose Greece or Spain. In winter or spring, it might be too chilly for swimming, but still good for sightseeing, and maybe some hiking.
Once you have some idea of where you want to go, it's time for research. I like to start with a good guidebook for an overview and for information on what sights and activities are available. I often already have an idea of some things to see or do – or I wouldn't be looking at that destination! – but often find more once I start looking around. 
I used to buy physical books. (After all, that was once the only option!) Lately I've migrated to ebooks. For travel planning I often prefer to access the ebook on my iPad with the Kindle app rather than my Kindle:
The maps are easier to read and to expand
The links will actually take you to the website
The photos are in color
You can highlight entries and download them to a spreadsheet or document, which is handy when it comes to analysis later. I highlight sights or activities of interest, places to stay or eat that sound particularly appealing – the kinds of things you would highlight in a book. Using a different color for each category helps me identify what each item is.  
I'm trying to get a general feel for that destination and what it offers without stopping to analyze too much. It's kind of the brainstorming phase. And while I start with a guidebook, that often leads to links for different websites, which in turn leads to other sites … Most of my research is done digitally and online. 
What are your must-dos? What else would you like to do?
Now I have a rough idea of the things that we could see and do, without allowing for how much time we have. So it's time to start analyzing and prioritizing, to narrow it down to what we reasonably can do. Because I have yet to plan a trip where we have time to see and do everything we want to!
With a pretty good idea of your must-dos and your like-to-dos, at this point you can start building out an itinerary. I use a simple spreadsheet with numbered days where I jot down where we would be and what we might do with our time at each place. This isn't super detailed: AM, PM, and evening if needed (our idea of nightlife is a couple of drinks while we talk about the day, but sometimes we plan something special). A spreadsheet keeps it compact so I can see the whole trip. Additional culling is sometimes needed once I see how many days we need!
I like to use Google Sheets because it's highly portable; I can view and edit from anywhere, even my phone if necessary. Eventually I'll have printed documents. 
One of the benefits of a loosely planned trip is that you can rearrange chunks of itinerary as needed due to weather or illness. On our first trip to Hawaii we dealt with both a nasty head cold and record rain and flooding by adapting our plans. 
Which brings up another point: If something is a must-do, don't leave it until the end. One reason we've been to Costa Rica twice is because we missed out on Corcovado National Park because they canceled all the boats due to high seas the day we planned to go. When we went the second time we planned that for our first day in the area.
If you're going to be traveling from place to place, don't forget to allow time for that. I typically allow at least a half-day to move from one location to the next.
I like to arrange where we're going to stay before we leave, typically 6-12 months out. It saves time while we're there, and saves stress about where we're going to sleep! Sometimes I book lodgings first; sometimes I book flights first. It depends on which I think is going to be more of a constraint. 
To get the best value on lodgings focus on – and pay for! – only things that are important to you:
What are your must-haves in a room? We need to have our own bathroom. We don't care about a TV and probably won't even turn it on. A place to sit outdoors is a definite plus.
What about amenities? A pool? (We're beach people.) Parking? In many cities, there may be a (hefty) charge for hotel parking or no parking at all.
How about location? We like to walk to drinks and dinner, so we look for places that are walking distance to bars and restaurants. In larger cities I may even research restaurants before booking, to make sure we're in a good neighborhood.
What's your budget? I look for places that meet our criteria at the lowest price. I'm happy if it's less than $100 per night, but in some places (London) I've had to go higher. Beware of fees not included in the nightly rate when comparing prices. Some hotels charge "resort fees" that you can't avoid. Some vacation rentals or Airbnbs charge a cleaning fee. Then again, there may be extras included in the price, such as breakfast or transportation.
If I'm not completely sure of our plans, or it doesn't cost more, I book with free cancellation. (Many places, especially smaller places, charge for cancellations.)
I like Booking.com because they often include the smaller bed and breakfast, guesthouse, or pension types of lodging we like. Booking lodging direct is often the most economical, though not necessarily the most convenient. Shop around; I've seen the same room listed on different sites for different rates and with different rules. 
I use a comprehensive search engine to research prices. I like Momondo for its extensive filters and quality ratings of flights. I often book 6-9 months out to get a good flight at a good price. 
Some tips for looking:
Round-trip airfare used to be much cheaper than flying into and out of different locations ("open jaw" or multi-city when searching). Not so much anymore. It's worth finding out how much you might pay for the most convenient flights, keeping in mind that if you book a round-trip flight you may have to backtrack, which will cost time and money. 
How much of a layover are you comfortable with? I've been on enough delayed flights that my minimum layover is now two hours to change planes if flying within the USA, more if flying internationally and going through customs and immigration. It's just not worth the stress of missing the connecting flight.
Organize other transportation
Traveling in the US usually means having a car because we lack public transportation in all but some large metropolitan areas. But that's not true worldwide. Common options:
Flying is often the quickest and the most expensive, though you won't see much along the way. (Depending on security, it may not be that much quicker.) 
Trains are often in the middle as far as speed and cost, more comfortable than planes or buses, and often scenic. We love trains. 
Buses (or coaches) are usually the slowest and cheapest. 
Renting a car gains you maximum flexibility at a cost. (Do you need a car for the entire trip? We sometimes rent a car just for the few days we really need it.)
Other options we've used:
In the Virgin Islands and Greek islands ferries connect the islands, usually – but not always – cheaper than flying. 
In Costa Rica shuttles are popular. These are like airport shuttles, but take you door-to-door from your lodging in one city to another.
Your research may turn up different ways to get around. In some cases, as with shuttles in Costa Rica, you may need to book your transportation ahead of time. In others, you may be able to save money by booking ahead. We saved a few hundred dollars over the cost of a railcard by booking train tickets in advance for Great Britain; in some cases for only 10% of what we would have paid if we bought the tickets the same day. 
Don't forget local transportation. Is there a transport card or packet of some kind that you can use? Some cities offer options designed specifically for visitors. Some offer options designed for local residents that can also be used by visitors. 
You can combine options. When we took a road trip to the east coast, we knew we didn't want to deal with driving and parking in downtown Boston. So we stayed at a hotel in the suburbs that offered a free shuttle to the local train station, and took the train into town. 
Should you pre-book any attractions? Sometimes you have to. Sometimes you can save money. Sometimes you can save time standing in line. Sometimes both!
On our first trip to Britain, I booked most of our tours and attractions in advance. Except for Windsor Castle. So we spent three hours waiting to get in. 
What will you pack? Do you need anything?
Don't wait until the last minute to find out you need a special widget to plug in your stuff.  

Do you have good walking shoes that are broken in? My feet can tell you they're a good idea!
How will you communicate?
Do you anticipate needing to keep in touch with people back home? Doing much calling or texting within your destination? Free WI-Fi is very common but may not help with phoning or texting. You can stay in touch with people you know using apps like Facebook Messenger, WhatsApp, or GroupMe over Wi-Fi. Find out what offers your mobile provider has and, if you think you will use your phone a lot, consider getting a local SIM card. 
We have Sprint, which offers international coverage that works for occasional or emergency needs and covers lots of countries. Usually, we just use that. (While I've found regular Sprint support hit or miss, their international support has been excellent.)
In Australia and New Zealand we purchased local SIMs and a local plan for one phone, since we were in each country for 3-4 weeks. It was easy and cost-effective. The hardest part was getting the phone unlocked in the first place! We're saving our last generation cell phone to use as travel phone. 
Do you speak the language? If not, I've found Duolingo a fun and free way to learn, and Google Translate has come in handy. It's amazing how much you can communicate without language. One of our favorite examples was a grocery store in Greece. We couldn't understand when the cashier told us how much we owed, so she typed the number into a calculator and showed us. Brilliant! 
How will you pay for things?
Credit cards are the easiest way to go since they take care of any currency exchange for you. While credit cards are accepted in most of the developed world, you may find smaller businesses that accept only cash. And in less developed parts of the world cash may be the only option. Try to get a credit card that doesn't charge foreign transaction fees. And if anyone offers to charge you in your own currency rather than the local currency, don't take the deal! You won't get the advantage of the exchange rate that the credit card gets you.
The easiest way to get foreign currency is often using an ATM when you get there. ATMs and foreign-exchange booths at airports typically have the worst rates and/or the highest fees, so if you need to have local currency in hand when you land, you may want to get it before you leave. Our credit union, for example, offers any amount of foreign currency for a flat $14 fee. 
We've also been to a couple of places where ATMs were rare and sometimes not functional, and at least one place (Drake Bay in Costa Rica) where everything had to be paid for in cash AND there was no ATM. Again, research helps!
In some countries we've been to – Costa Rica, Belize, the British Virgin Islands – you can use US dollars. Change may be in the local currency.
We'll have a whole section on packing later. For now I'll focus on "packing" your information
Print anything that must be printed. We carry a folder with anything printed, so it's easy to find. 
TripIt is a great app for tracking transportation and lodging. It's super easy to use since it monitors your email and adds plans to trips automatically. (You can also add things manually.) It sometimes notifies me of flight changes before the airline does!
I've already mentioned Google Sheets, which I use primarily for planning. 
Google Drive is good for storing documents for backup reference. 
I hang onto any email communications just in case. 
We like good old-fashioned printed notes too. I make a one page (or so) quick reference for each day or location with information about:
where we're staying, how to get there, and how to contact them
anything scheduled, like transportation or tours
any "to-do" items like getting local currency, a SIM, booking tours once we're on-site, picking up tickets, etc.
a list of restaurants that sound good
a list of sights we're interested in, with hours and directions as needed
sometimes a map of the local area, with key places (to us) marked
With a printed sheet in your bag or pocket, you're not completely dependent on your phone battery or signal. It's handy for both crowded urban areas as well as the wilderness or the beach. There's a sample of one of our notes pages below.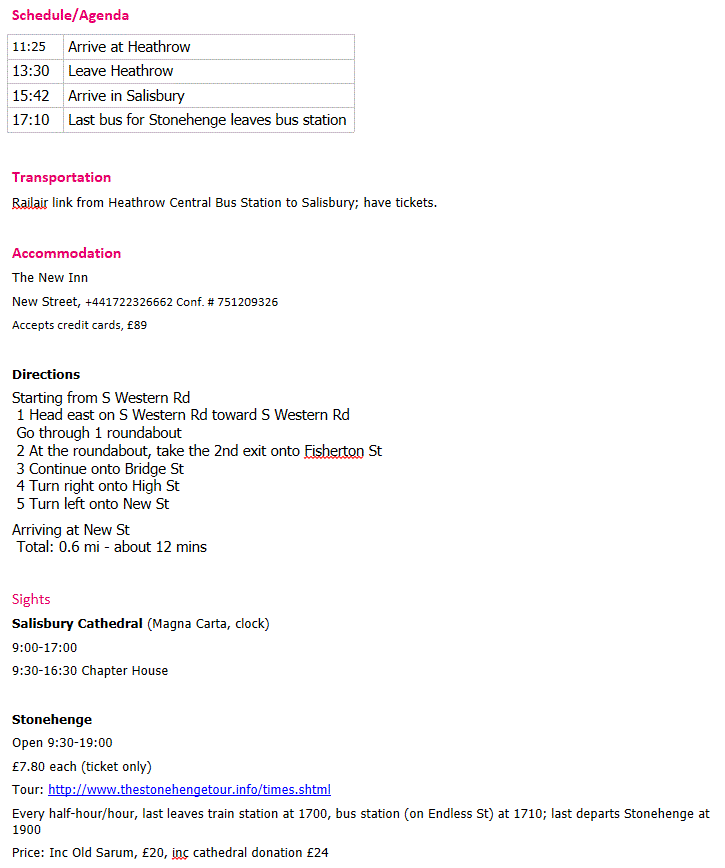 Hopefully you've done enough planning and research that you can relax and enjoy your trip. Without being SO regimented that your trip becomes yet another chore!
We like to spend our evenings talking about the day: what we enjoyed, what we didn't, what could have gone better. I also try to keep a journal as we go so the whole thing isn't a giant blur later. It's fun while we're on the trip and fun to review later.
And it helps in planning future trips!