We stayed near the beach near Panama City Beach but never made it into town. The beach was our destination! And it was a great beach for relaxing and walking. Not busy at all.
Day 1: Orange Beach to Panama City Beach
I scheduled our COVID vaccine appointments for the day after we get back! We're heading to Florida next and are VERY wary thanks to no mask mandate and, well, Florida. So we plan to buy groceries before we leave town, at a store that we know is taking masking seriously, and not have to go to restaurants OR grocery stores while we're in Florida.
We had cherry fritters again for breakfast. Checkout here is at 10 AM and check-in at our next place is 6 PM unless we get lucky. (We did.) So we'll be taking it sloooowly today. We started by getting contact lens solution because I'm running out. And we bought groceries for the week at Rouse's. Before we left the area we drove down to the west end of Gulf Shores. It's much like Orange Beach, and has fancier digs as you go west. We hit the trailhead restroom on the way back through town.
We took the scenic route to PCB (Panama City Beach): US98 to FL 30A, basically. There was a detour around the Pensacola Bridge, which is closed due to hurricane damage. We stopped for lunch at a roadside park in Pensacola. There are lots of little beach towns from Ft Walton around to PCB and much of 30A is 25mph through the little villages. Lots of pedestrians and lots of bikes. We got Subway in PCB after checking in.
We walked down to the beach to check it out. It looked a wedding going on, judging by the chairs on the beach and the men in tuxs. We're not on the beach but it's a painless walk of 5 minutes or less.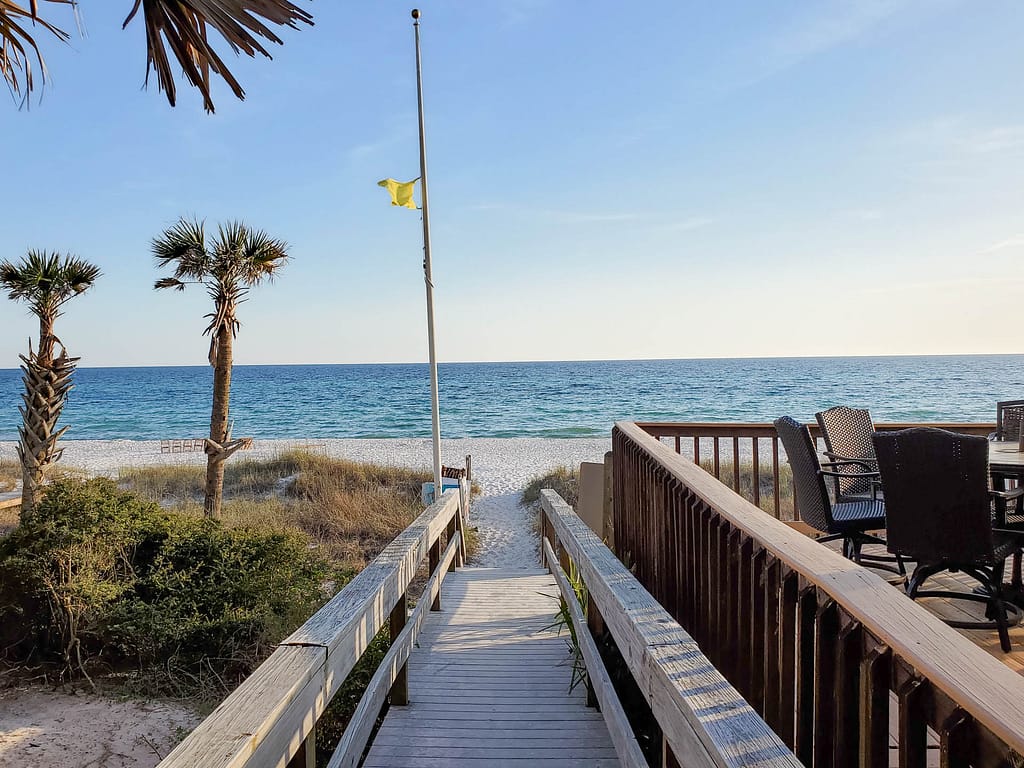 We tried a pecan beer (not as sweet as one we had in Texas) and an IPA.
We don't plan to drive while we're here unless we must.
We had pistachio muffins for breakfast, then headed for the beach. We walked east on the beach, into the wind first. Then we came back for water, chairs, and Kindles, and went and sat on the beach until lunch. After lunch, we took naps and relaxed. We had snacky food for dinner: chunky Cajun Krab dip, crackers, supremely spicy hummus. Tried a sour beer. Yum!
Sunny and windy today.
Blueberry muffins today. It's overcast and breezy. We walked west on the beach, away from the wind first. We plan to spend the afternoon on the deck since there's an off-and-on chance of rain. We were able to take a second walk later. Working on those 10,000 steps!
We had Creole Red Bean soup for dinner. Kinda boring but okay. And rolls.
Pistachio muffins again. And guess what? More beach. More walking. Twice. No sitting on the beach since it was cloudy and windy. Chicken noodle soup for dinner. Satisfying. We need to remember that we don't need to eat a lot to be satisfied.
We finished the blueberry muffins today. It was foggy until midday. The photos below are the view from our balcony with and without fog. Just to the right of the palm tree you can get a glimpse of the water. 
We walked later; didn't feel good this morning. We saw a longer-legged shorebird, a crab — try to find him in the bottom photos; he's well-hidden — and a lizard. We've also seen pelicans, tiny shorebirds, and of course seagulls. Lasagna for dinner.
Raisin bread for breakfast. It was partly sunny in the morning. Clouds and/or fog rolled in later but stayed offshore. We walked and sat on the beach. Snacky food for dinner. Summer sausage this time. Not as good as venison sausage. Mealy texture.
Raisin bread for breakfast again. Same as yesterday; lunch in between beach visits. We did some packing and took some things to the car since we leave tomorrow. Showers. Mac and cheese for dinner.
I'm starting on my tenth book since we left home. That's a good thing!
Our week here wasn't exciting but we didn't want it to be. We were just after low-key relaxation and being active every day, and we achieved that.
On our way home we saw a rocket next to the road. We saw another one being towed on a trailer but didn't get a photo of it.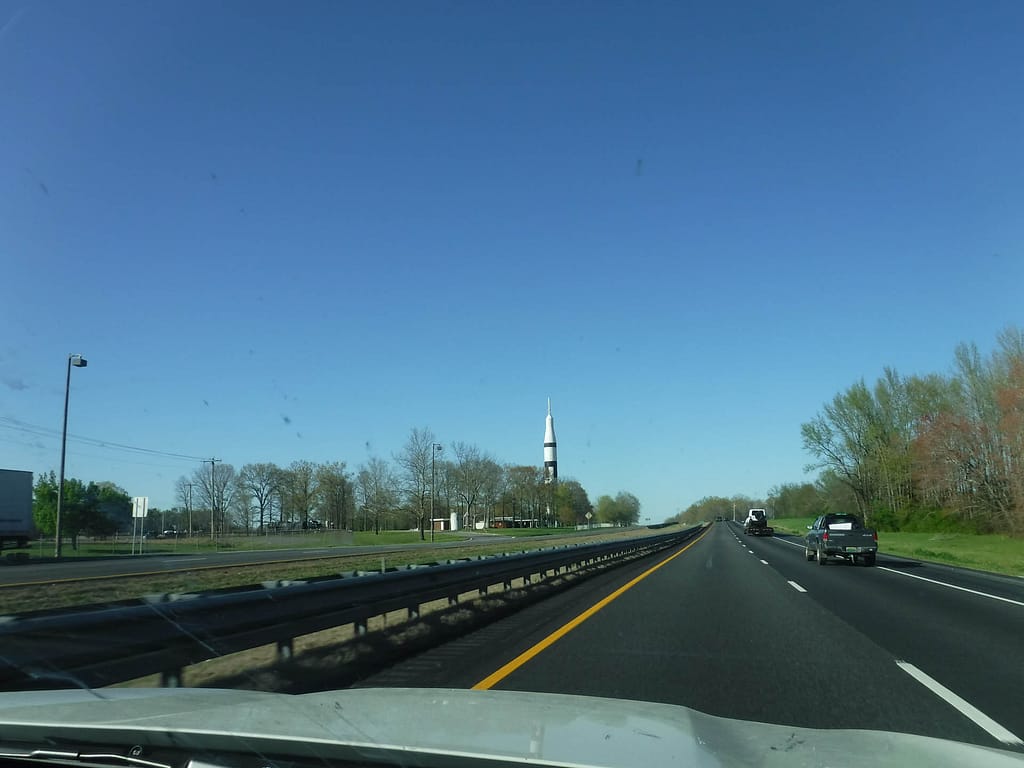 This section contains affiliate links. If you click on a link we may receive a commission at no cost to you. 
Our condo was more kick off your shoes than resort luxe. We're cool with that. There are some rough edges but also nice touches like bathroom storage and lots of hooks for hanging things. The bedroom is small but a good-sized closet helps compensate. The fridge sounds like a small animal is trapped inside. It's actually kind of sweet. We have a full kitchen and laundry again, and a large private balcony. (We came up with closer to 400 steps to the beach but hey, it's close.)
Due to COVID-19 we ate in every meal, having stocked up on groceries before we left our last destination. Part of the flexibility of having a condo with a full kitchen!
We drove our own car. We didn't need it to get back and forth from the beach.