Having visited Cambridge years ago on a day trip from London, I also wanted to visit Oxford, and stay the night in college if possible.
Getting to Oxford from Bath included changing trains at Didcot Parkway. The train was very crowded and there was lots of confusion. Glad we had seats, an advantage of booking in advance! We got to Keble and left luggage in what looked like some kind of meeting room and went siightseeing, since this is our one day here.
We had no agenda other than wandering around the different colleges. Some have areas open to the public at various times. Here are some of our highlights:
Balliol: Beautiful gardens.
Magdalen: Deer in a meadow, hydrangeas in the cloister, a zen garden with cotoneaster
Merton: Very old and complete, though we couldn't see the chapel; once home to Tolkien
Christ Church: Long line and lots of herding, but beautiful hall and cathedral, nice memorial garden.
All Souls: Closed, but we got to peek through the gate
New: Too tired to look for the gate
Below is the Radcliffe Camera, one of the famous landmarks.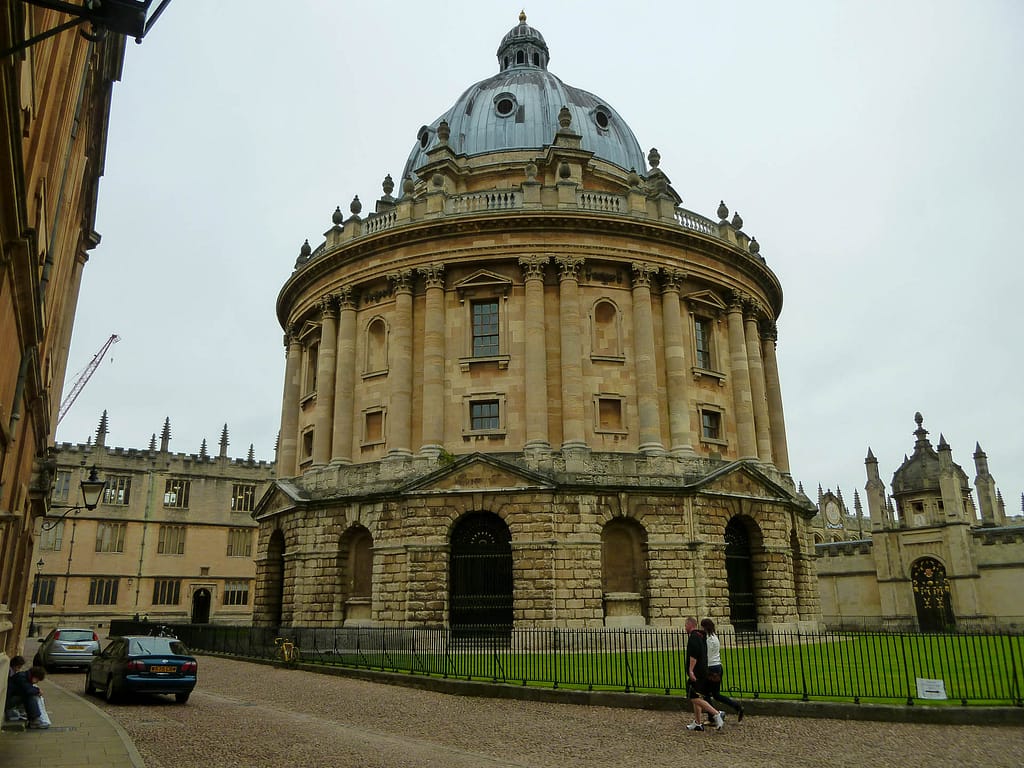 Here are some of the many spires Oxford is famous for. 
Some of the architectural details,  including gargoyles designed to represent studying at Oxford in medieval times. I thought the one was singing. Steve thought puking. 
Some examples of the ceiling details.
It's not all stone. There's lots of greenery around too. 
The colleges blend into the town and the surrounding countryside.
Merton College was on the agenda since it was Tolkien's college. He had rooms in one of these buildings somewhere.
Another view of Magdalen College.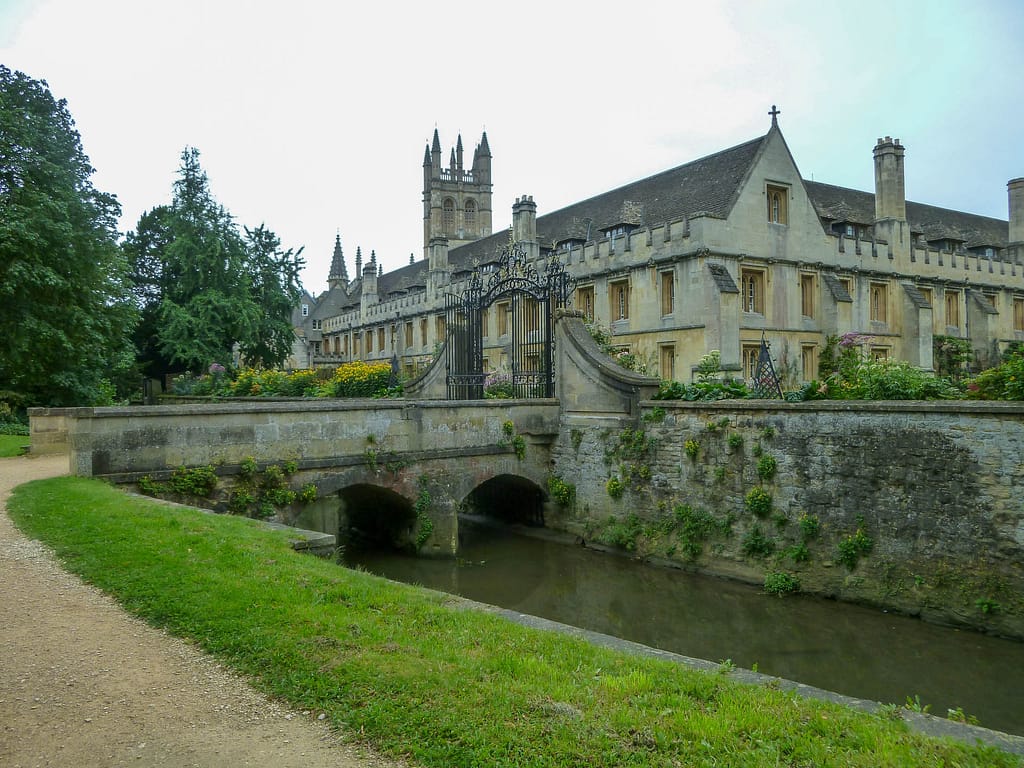 Christ Church College has several impressive and famous sights. It was founded in 1546 by Thomas Wolsey, advisor to Henry VIII. 
There's some beautiful stained glass too, including the feature photo for this post. The window on the left below is from the 1630s.
Most if not all of the colleges have gates and not all of them are open to tourists. We found some that were open only during certain hours. The bridge is modeled after a famous bridge in Venice. 
It was a lot of walking, so went back to rest for a while, then headed to Turf Tavern for Turf Tavern Landlord and Turf Tavern Summer Ale. Steve's head touched the beam. Then we went to the Eagle and Child planning to eat, but there was no more food so we had a Brakspear then headed to Chiang Mai Kitchen for Thai food. People continue to be helpful when we look confused. There are lots of bicycles here, and lots of traffic. We had to keep the curtains closed because our room was right on the street. We saw a finch-like bird but with orange, which we will learn much later is the famous English robin. It doesn't look much like its larger American relative.
We had breakfast this morning in hall, which made up for the dorm room. Egg, bacon, sausage, tomato, hash browns, beans, toast, coffee, juice. Keble has the longest hall in Oxford and it's beautiful. Keble College is more infamous than famous, as we learned later  but we wanted to stay in a college and this was the only available room with a private bath.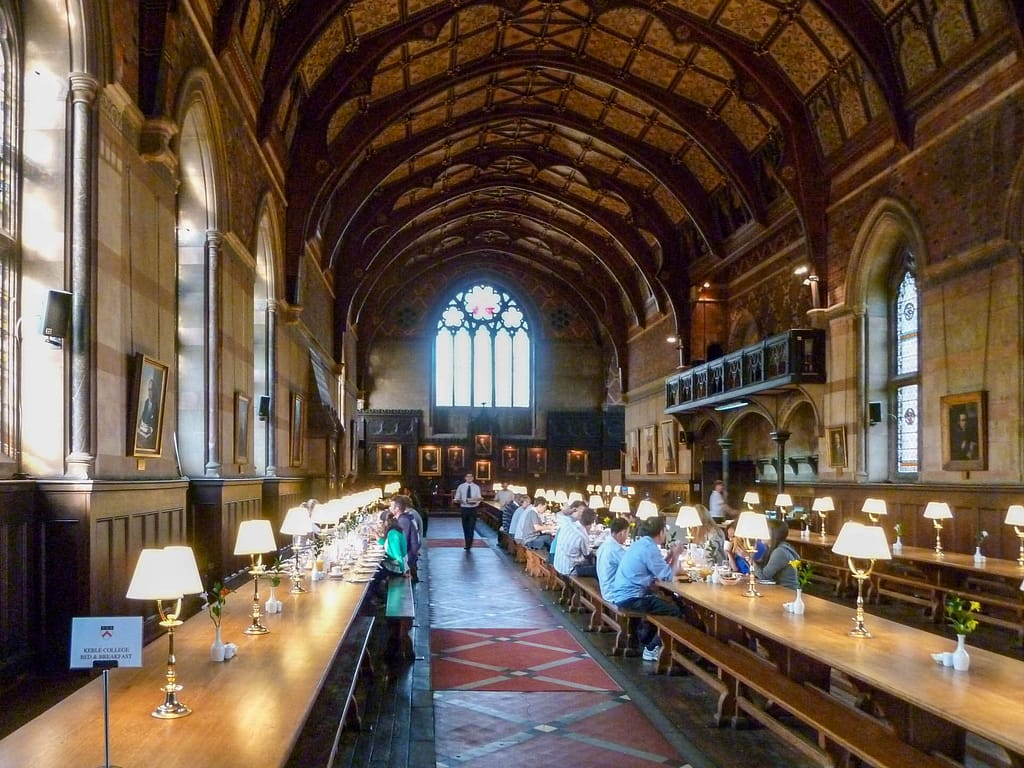 This section contains affiliate links. If you click on a link we may receive a commission at no cost to you. 
It's pronounced keeble, not kebble, as I found out later. We found the college easily (we walked from the train station; it takes about half an hour with bags) though finding the entrance was more challenging. It's on the east side, facing Parks road. Check in was a breeze; our room wasn't ready but there was a place to stash our bags until it was. The college was conveniently located for downtown, the colleges, and museums. Maybe a 10 minute walk to the center of things.
The room was an ensuite dorm room. Fairly spacious but spartan. Breakfast in the hall was everything I dreamed it would be. A real kick to eat in those surroundings! We thought the food was fine. Perhaps not the little extras of some of the other B&Bs we stayed in, but nothing wrong with it. Totally worth it for the atmosphere!
We had green curry chicken (gaeng keo wan) and pad thai at Chiang Mai Kitchen. Both were good, with enough heat to be interesting, but not overpowering. The service was great, and the prices were some of the most reasonable we saw on our trip. Also a nice, atmospheric environment. Don't let the entrance off the alley put you off.
We were able to walk everywhere. Bikes are also common, if you're better at riding them in traffic than we are.