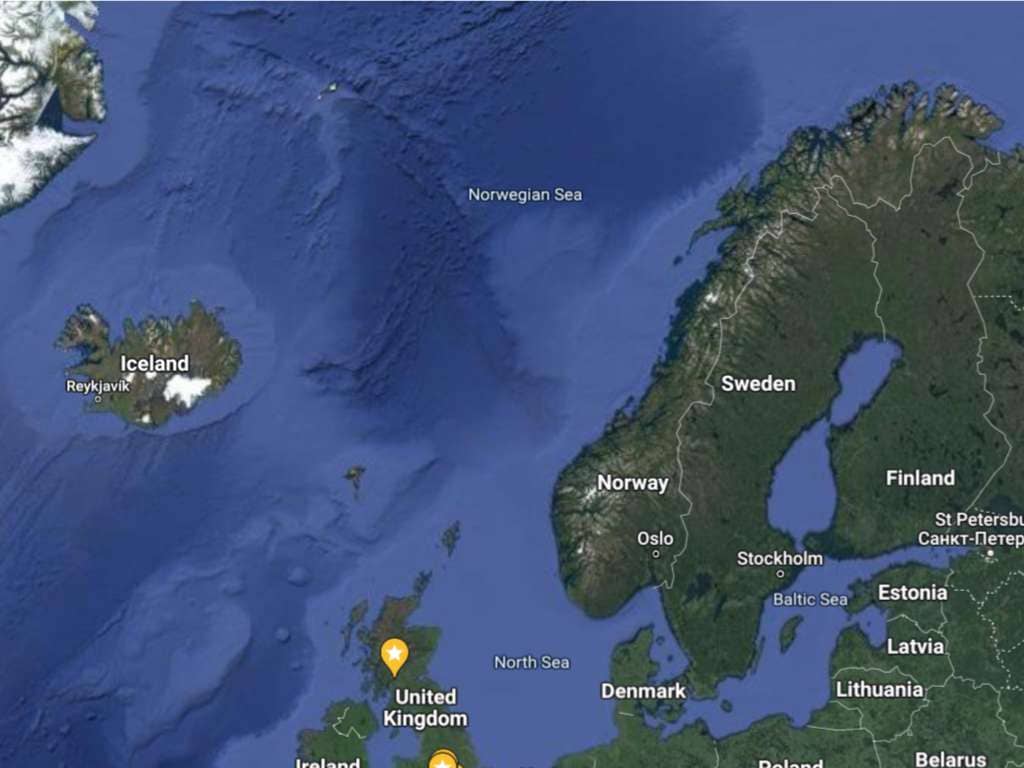 I've been intrigued by Iceland since I planned my first trip to Europe in 1983 and discovered Icelandair was cheap and you could do free layovers. I couldn't fit it in then and haven't been able to since. I've tried to see the Norwegian fjords a couple of times and failed. Third time's a charm, right? And since I've learned about Hurtigruten, I've wanted to take a cruise with them. I liked Copenhagen when I was there before and would like to go back. I lived in Finland and have wanted to go back. Sweden is the lowest priority. 
The Plan: We can do a free layover for up to seven days so we'll do that and take a road trip on the Ring Road, following Rick Steves' itinerary and adding a couple of days.
We'll fly through Iceland again on the way home so we'll see sights closer to Reykyavik then.
Day 1:From Keflavik airport to

Skagafjörður

Day 2-3: To

Mývatn

Day 4: To

Seyðisfjörður

Day 5: To

Höfn

Day 6:

South Coast

Day 7: Reykyavik
The Plan: The first thing we booked for this trip was a 12 day coastal cruise with Hurtigruten. This will be my third time trying to see the fjords, dammit. (The first two were road trips and we had car trouble.) We'll also do the Norway-in-a-Nutshell itinerary over a couple of days before the cruise, but maybe after. And we'll spend a couple of nights in Oslo when we arrive and again before traveling onto Copenhagen.
Days 1-2: Oslo
Days 3-4: Norway-in-a-Nutshell, staying in Flåm and Bergen
Days 5-11: Coastal cruise
Day 12: Bergen
Days 13-14: Oslo
The Plan: I spent a couple of days in Copenhagen on my first trip to Europe and really liked it so I'd like to go back. We'll take the overnight ferry from Oslo, saving us a night's lodging and getting us from A to B. We definitely need to visit Tivoli at night. I'd like to take a day trip to Louisiana art museum, which I missed on my first visit. 
Ferry to Copenhagen
Tivoli at night
Louisiana
Rosenborg Slot
Christiania
Museums
The Plan: I will be honest: Sweden is the most boring country I've visited. (Which doesn't mean it's bad.) Getting a train to Stockholm and then the nightly ferry to Helskinki felt like rushing too much. So we'll take the night train and spend a night in Stockholm. I figure we should visit an outdoor folk museum; maybe it's Skansen. Maybe Oslo?
Fotografiska
Skansen
Vasa Museum (Vasamuseet)
The Plan: I lived in Finland for a couple of years and have wanted to go back. Besides a couple of days in the city to see the sights I never saw because I was either (a) working or (b) socializing at the bar, I'd also like to meet up with old friends. I thought about spending a few days next to a lake but it makes more sense to come home and do that. 
We'll take the Silja line ferry from Stockholm. THIS time we're booking a cabin, not sleeping on the floor of the restaurant like the old days. I'm looking forward to the smorgasbord though!
Temppeliaukio Church
Finlandiatalo?
Esplanadi
Senaatintori and Uspenski cathedral
Shopping
Getting together with old friends and visiting old haunts
The Plan: On the way over we'll drive the Ring Road but won't have time for much else. So on the way back we'll see sights closer to Reykyavik.
Golden Circle
Blue Lagoon?