After the open spaces and small crowds of Amorgos Milos felt disturbingly urban at first. But we got into the rhythm after a couple of days. The villages of Plaka, Triovasolas, and Trypiti blend together making navigation challenging. I never did know exactly where I was while in town!
Day 1: Amorgos (Αμοργος) to Milos (Μήλος)
Our schedule worked out well this morning. Check out was at 11:00, we were supposed to drop the rental car off at noon, and our ferry left at 1:20. It was all going fine until the ferry was late. But we checked out on time, dropped the car off, used the fairly disgusting bathroom at the rental car place (it was clearly not intended for customers!) and were glad to have it, then walked around Katapola a little bit to stretch our legs.
We wanted to find something we could take on the boat to eat but couldn't find anything so we decided to just have lunch at Mythos taverna right by where the ferry left. Our server was great. She asked if we were taking the 1:20 ferry and advised us on menu options that would be ready and that we could eat in time and was just generally very efficient and personable. We were tracking the ferry online and knew that it was going to be late, but then we heard a ferry noise and Steve saw a boat coming in so we thought we better finish up eating — well I better finish up eating — and get over there. Only to discover it wasn't our ferry at all but that's all right. I left a couple of bites and some water on the table.
The ferry showed up as estimated about half an hour late. It was the usual semi-organized chaos getting on board. Another woman had the same seat assignment I did. She left to go make inquiries and never came back so I don't know what happened. There was some confusion because people weren't sitting in their assigned seats but eventually things got sorted out. Luggage was kind of a cluster. The really big bags got left on the back deck of the boat outdoors. The rest of us brought ours into the boat and put them on racks and piled them on the floor where we could find space. We were just a little paranoid that ours might get taken or moved or something but they didn't. A ton of people got on the boat at Santorini and a ton of them got off there too. Not so many at Folegandros. And then a fair number of people got off at Milos too
We were happy we arranged the transfer with our hotel because we were pretty tired by the time we got here. We had a shared shuttle with three English women who were staying someplace else. They were quite nice. So was our driver. He dropped us off at the hotel and the cost of the transfer will be included in the cost of the hotel. Our host here is the opposite of our host on Amorgos. We didn't see our Amorgos host once we got there. Aris, our host here, took us into our apartment and showed us around and then met us at the common area with some juice and discussed different things to do on the island and what the weather was going to be and recommendations for what to do on different days, etc. It was nice to have a local explain that the wind influences activities because boat trips and some beaches are not pleasant when it's windy.
Our first act after that was to walk to the grocery store. It was the biggest and most comprehensive supermarket we've seen since we got here. Due to COVID they had a system where you need to take a number when you enter the store so they know how many people are in there at one time. That was new. A nice cashier chased us down and gave us our cards so now we know how it works. They didn't have a great selection of cold beer but we bought some beer and some water — you can't drink the tap water here — and some cream and stuff for breakfast. We can get breakfast through the hotel but decided to keep it simple tomorrow morning.
We dropped our groceries off at the room and then headed to Plaka for dinner. We didn't go with our instincts and walked past the turn that we should have taken. But eventually we found our way. By the time we got to the village we were sweaty and tired and just wanted to eat anywhere. The walk from Plakes — where we're staying — to Plaka was pretty flat. Plaka itself is all uphill. A couple of the restaurants whose names I remembered were full but we found another place that looked fine, Mavros Xoiros, and had tables available so we took it. Pretty good choice.
After dinner we walked through the village just a little bit and then walked back to our place to sit and have beer on our small balcony. The air conditioner's in the bedroom so we have the door closed to the living room to cool things down in there and then when we go to bed we'll open the bedroom door and let the air kind of cool down the rest of the apartment.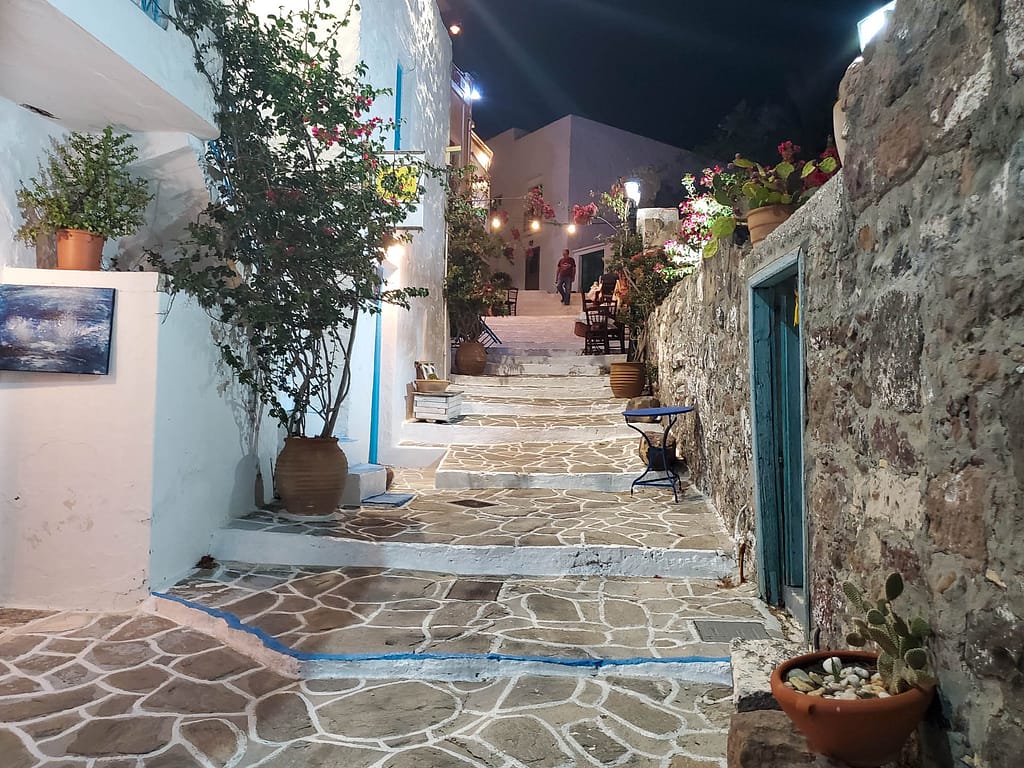 We had a leisurely start this morning with coffee and muffins that we bought at the supermarket. It's pretty windy today which influenced our plans. But not too much. We checked on picking up the rental car at our hotel rather than the port but it's an extra €25 and our host agreed that it didn't make sense to spend that money. He said we could catch the bus at 8:50 tomorrow and get down to the port to pick up the car. We also found out that they have a station downstairs where you can refill water bottles which will be handy since we can't drink the tap water. It's fine to use the water for cooking, making coffee etc. as long as you boil it.
We started our day by walking to Plaka and just kind of checking things out in daylight. There's a series of maps of the island that they have in printed form but you can also get online. I needed to download an app called Avenza maps and then you can load the free Milos maps once you're in the app. That worked out really nicely because it also shows your location so you can track where you are. We used that to navigate on the recommended tourist trail through Plaka and then down the hill to Klima.
We didn't know we needed a nap but when we got back to our place that's what happened. After our nap we decided to go to a local place that serves mezes.
On our way home we stepped at the supermarket again. It was really busy; we had to wait for someone to leave before we could go in. We got some more beer, some more water, some more muffins, and a couple of different kinds of apple cider. Then we walked back home and took a shower. The shower stall here is tiny. It's a good thing I don't care that much about shaving my legs becauseI think I have to step outside the shower to do it. It's also interesting that you need to turn the water heater on manually to heat up the water and then you're supposed to turn it off again before you actually get in the shower. A little different but it worked.
Day 3: Sarakiniko to Pollonia
Today was our first day with the car. It almost started out late because we didn't set an alarm. Thankfully Steve woke up early enough to set an alarm so we could sort of get up on time. We misunderstood our host. We thought we were supposed to meet him at 8:30 this morning but apparently he was just telling us that's what time we should leave to catch the bus. Anyway, we made it on the bus, we picked up our rental car, we brought it back here so we could finish getting ready for our day, and then we hit the road. The bus was about €3.80 for the two of us. And we had apple tarts for breakfast that were good. (We've been enjoying Greek baked goods — muffins in particular — even the packaged items from the grocery store. Nothing has been icky sweet and the texture feels substantial.)
We wore swimsuits just in case and headed for the north coast and drove from Mandrakia to Pollonia.
After leaving Pollonia we headed back to Adamas to try to find a boat tour for tomorrow because the weather is supposed to be good for that. I was reminded why I do these things online: it's annoying wandering around in the sun looking at offices of people who want to sell you things without giving you information you'd really like to have like how long is it, how much does it cost, do you have any space tomorrow, etc. So after walking around for a bit we decided to go back to our place where we had a Wi-Fi connection to do some more research. We also had a couple of beers since we didn't have any at lunch since we were driving. We ultimately found Zephyros, a sailboat that does 4-hour trips to Kleftico among other places, which is what we really wanted to see. We don't care that much about snorkeling and lunch etc. And we could book it online which was handy. And it was only €30 each which looks like a pretty good deal. Then we did some laundry. After all that hard work we took a nap.
For dinner we walked back up to Plaka and got an earlier start hoping to get a table. In fact, we got the first table at Archontoula. We had a view down an alley to the sunset. Not the sun itself but the sunset in general.
Then we walked back home to check to see if our laundry was dry and now we're sitting on the balcony drinking beer. And we will set an alarm tomorrow morning.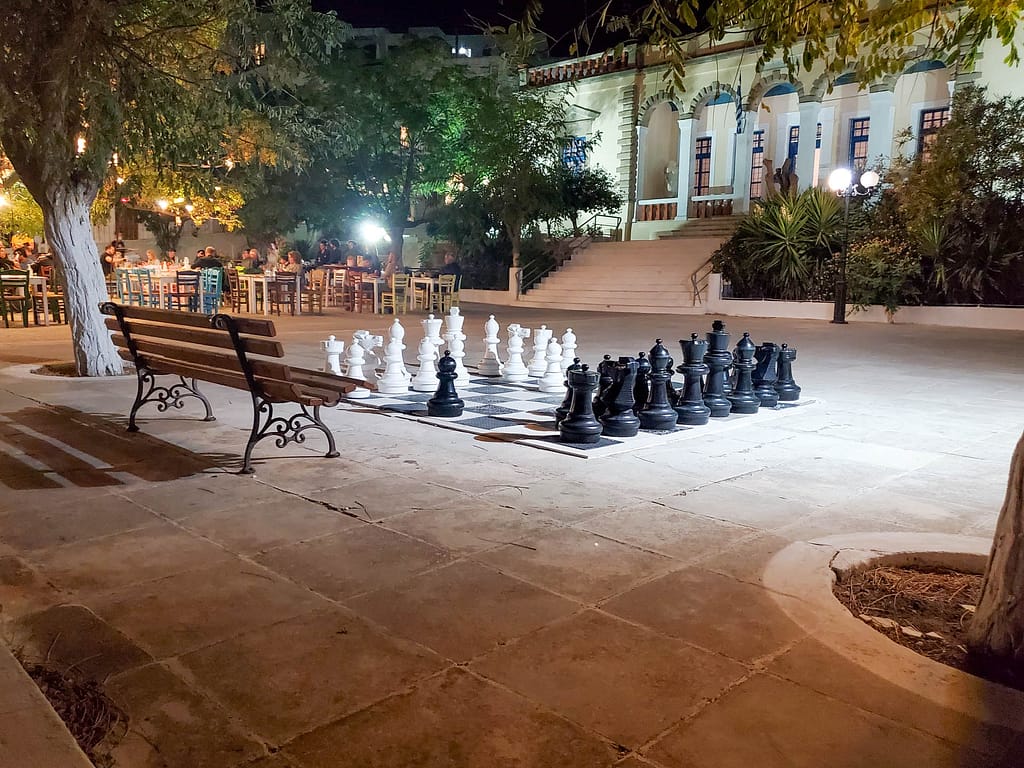 Day 4: Boat trip to Kleftico
Today we did our one planned activity on Milos, a boat trip to Kleftico.
After we got off the boat we had lunch at a taverna there at the beach. Squid was spelled two different ways on the menu. I got a kick out of that since squid in the US is usually listed on the menu as calamari. When we left Kyriaki beach we did some scouting for a beach to hang out at tomorrow.
Back at our place, we had a beer before going to dinner. I was craving pizza so we did a little Google research and ended up going to Kokkino in Plaka, right next to where we had dinner last night.
Back at our place again, I took a shower and we sat and drank beer and discussed beach options for tomorrow. Tomorrow is the last day we have the car; we'll be dropping it off around 6:00 p.m.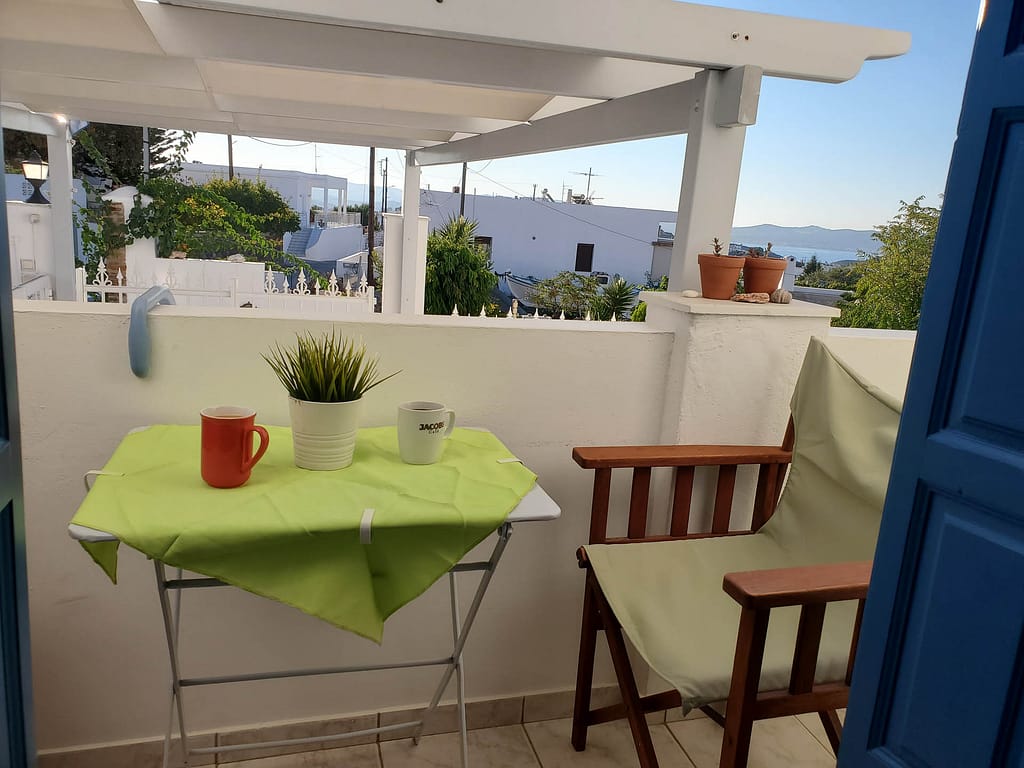 Day 5: Agia Kyriaki Beach
Today was our last day with the car so we went to a beach that we could only drive to. We ended up going to the same beach that our boat left from yesterday because it had sunbeds and umbrellas but looked like it would be fairly relaxing.
After we left the beach we put gas in the car and then dropped it off at the rental place. Then we went to find the bus to our place. We went to where we got off the bus coming into town and were approached by a French couple who were looking for the same bus. Between the four of us we managed to track it down. It turns out that the bus doesn't leave from the same place that it ends. It actually starts from around the corner so we were glad we found it. The bus didn't have buttons to stop it at the different stops but the driver helpfully called out the stops as we arrived at them so we knew when to get off.
Our plan for this evening was to catch the sunset since it's supposed to be good here. So we relaxed for a little bit and then headed for Plaka around quarter to 7:00 since sunset was at 7:12. We found the church courtyard that's supposed to be good for viewing the sunset and were surprised to find that while there was a crowd it wasn't huge and we were able to get a spot up front for an unobstructed view and some good photos.
After sunset we went to Archontoula for dinner again. Took a while to get the check. We asked for it but it wasn't coming so in the end Steve just went inside and told them where we were sitting and they pulled up the bill and he paid it there. Then we walked back here to sit and drink beer.
Another day, another leisurely start, another trip to the beach. Although we did have a small earthquake while having coffee. It was about a 6.5 and in Crete and we felt it here.
Back from the beach we emptied a backpack and went to the grocery store to get snacky food for dinner. We still have some bread left from Amorgos and bought some salami, cheese, and olives to go with it. Plus a couple of beers to make sure we have enough. Now we're going to take showers and watch the sunset. And then drink beer.
This section contains affiliate links. If you click on a link we may receive a commission at no cost to you. 
Aris is such a great host! He had lots of suggestions for making the most of our stay and working around the windy weather. The apartment was spacious, the underlit bed was cool, and it was nice to have a larger fridge and kitchen facilities. The balcony was small but sufficient. Designated parking. Vivere is in a residential neighborhood and we kind of liked that.
It's a bit of an uphill walk into Plaka but we couldn't have avoided that even staying in Plaka. The extra distance to Plakes was flat. Our room (#5) was right next to the street at street level so it was noisy but not unbearably so. (We expected that.)
Mavros Xoiros
Plaka
Nice Greek salad, boring chicken fillet with good couscous. Pork shoulder a lot like dry rub barbecue with usual great Greek potatoes.
Astakas
Klima
We had our choice of sitting under cover or right out on the waterfront at the front of the breakwater. We had excellent taramasalata followed by calamari and pork chops. My calamari was more like pan fried calamari than the typical breaded and deep fried and was very good as were the pork chops with gravy and french fries that were also really good right. In the end they brought us complimentary drinks which I believe were frozen daiquiris which were also good.
Bakalikon Galanis
Plakes
We tried some new stuff: sun-dried mackerel salad, grilled meatballs, spicy sausage, zucchini balls (which were zucchini fritters basically) and french fries. Other than the fries it was all new to us. When we asked for the bottle caps from our beer, our server told us he and a friend who now lives in Canada pass a bottle cap back and forth when they meet for beer.
Archontoula
Plaka
We ate here twice. We tried saganaki made from local cheese, lamb with tomato and artichoke sauce, and lamb cooked in the oven with potatoes and lemon sauce. They were both good and so was the saganaki. On our second visit we were pretty full from lunch so we ended up each getting a Greek salad and splitting an order of saganaki and some bread. The salads were good though we've had more olives and capers elsewhere.
Thalassopetra
Agia Kyriaki beach
We ate lunch here twice. (It's the only place to eat at Agia Kyriaki beach.) We had grilled octopus, fried calamari, burgers, and fries. It was fine but nothing special. Don't go out of your way.
Kokkino Podilato
Plaka
We had two special pizzas. The pizza was really good and the staff were very nice. They both asked how the pizza was.
Plathiena Foodies Beach Bar "Sunrise to Sunset"
Plathiena beach
Silly name but a really elegant beach bar with some of the best food we've had. Also a real bathroom and shower. We had a salted cod and potato salad with capers and tomatoes, taramasalata, and meatballs with french fries. They were all meze size so we shared all three of them.
We rented a car for a couple of days to explore the island. There are public buses that are convenient for getting to and from Adamas. We also did a lot of walking. Plaka is quite hilly so expect to do some climbing if you go there! No vehicles at the top so you can't avoid it. The streets are often narrow making driving challenging though the locals are accustomed. There are lots of traffic mirrors!