Our sailing trip to Kleftico along the south coast of Milos was as beautiful as we hoped for. Try for a day that's not windy.
We went with Zephyros on a sailing boat. We were able to book the trip online on their website which was convenient. This morning when we got to the beach we parked by the beach and then had to walk quite a ways to the end where the boat leaves from but it wasn't a bad walk. We had some forms to fill out for COVID-19 first then we had to line up to pay and get checked off their list. Then we all headed over to the boat. We were asked to wear masks during boarding and disembarkation but didn't need to wear them otherwise. The crew wore them most of the time.
Once on board the first thing we were asked to do was take off our shoes. We'd worn our water shoes; we'd have been better off wearing our Teva sandals since they're easier to get on and off. The boat was nearly full but not crowded. There was room for everyone to have a seat and to move around a bit. It's not a catamaran so everyone sat around the outside of the boat and there was a second level. It was a single masted sailboat. We used the motor.
We set off along the south coast of Milos which was very pretty.
The highlight of the trip was Kleftico where there were beautiful rocks and caves to explore. The catch was you had to do it by swimming. And the water was too deep to stand in unless you got close to shore. And avoided the large rocks. They had a few noodles on board so we grabbed one of those for Steve to use and we paddled around for a little bit. It was a bit of a shock getting into the water but once you got used to it it was quite pleasant. It was not so pleasant not being able to touch down. Had we known, we would have brought our snorkel vests with us.
They used the dinghy to nudge the boat into anchor position. Yes, the water really is that color and that clear. If you look closely you can see trumpetfish.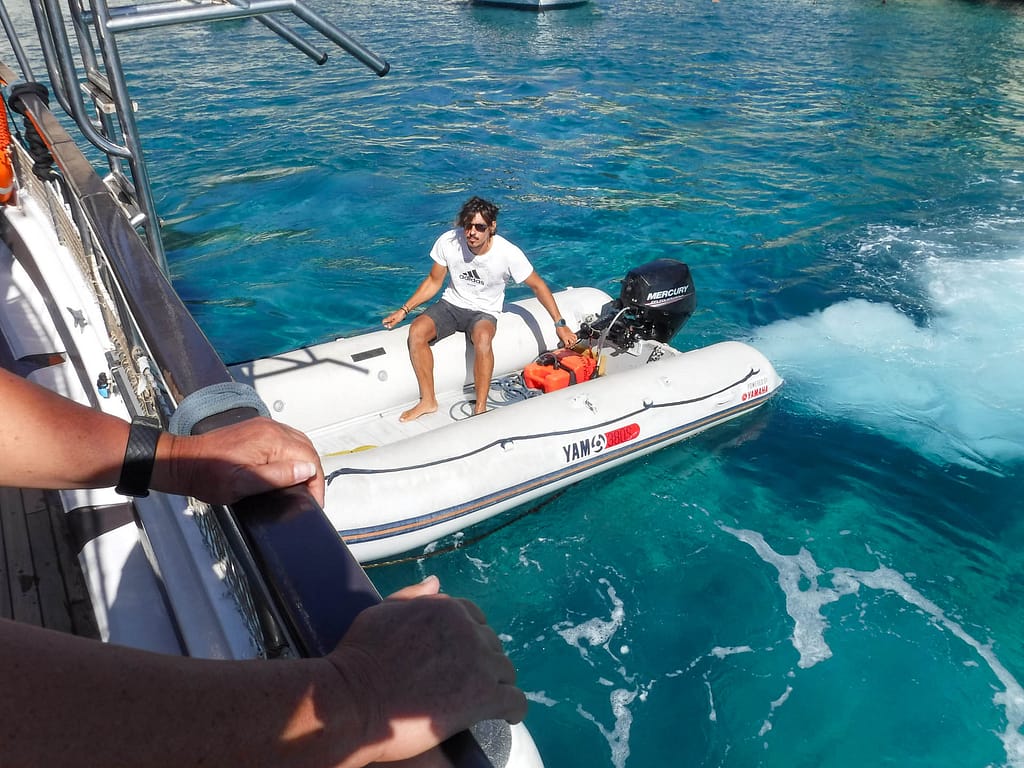 If you look closely at these photos you can see goats down by the water, plus a woman we dubbed the goat whisperer. 
We had about an hour at Kleftico to swim around. Our trip was only 30 euros each, more expensive trips cost upwards of a hundred but I think they include inflatable boats that will take you into the caves.
After the boat took off again they brought out some snacks and raki. And they also had water coffee and tea available on board. And you could bring your own stuff. Some of the other passengers brought beer.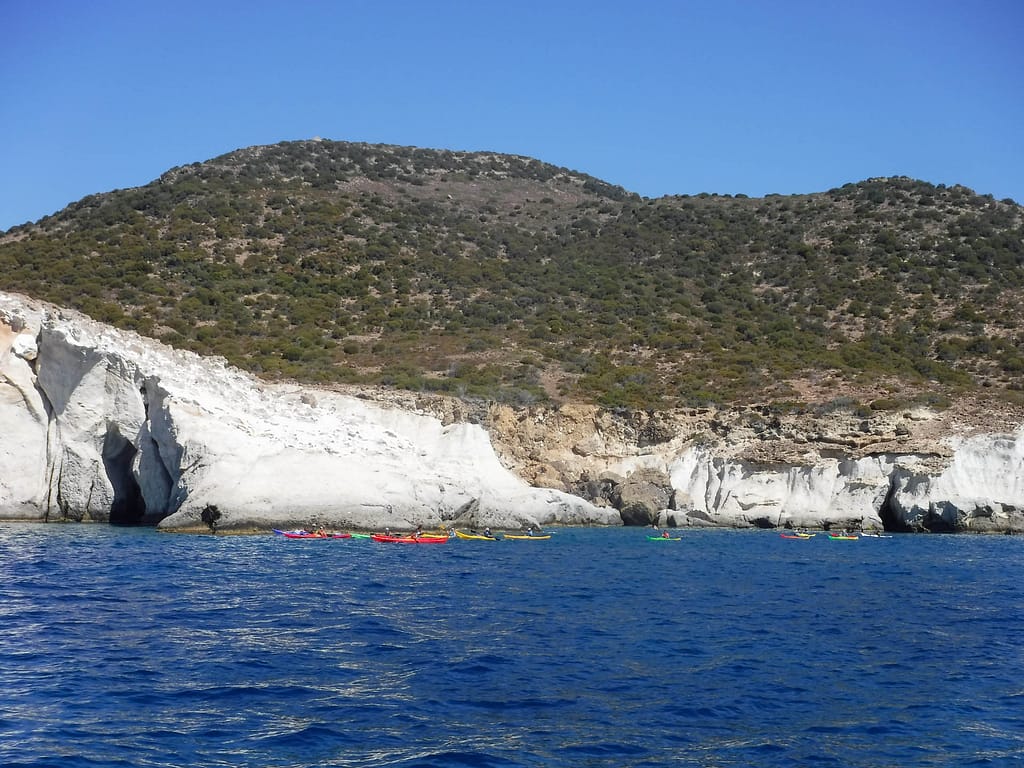 We saw some mining operations along the way. There is (or was) a lot of mining on Milos.
We got to see some beaches that we wouldn't see otherwise including Tsigrado beach that you need a ladder to climb down to the beach. I think we'll skip that one.
While Kleftico is the highlight, the rest of the south coast is not boring. 
On the way back we stopped at a second location for a half hour. We didn't get in the water that time but there were interesting caves there including an echo cave that you could sing in as demonstrated by some of our fellow passengers.
 We met a nice woman on board who's Greek but lives in Washington DC. Well apparently now she's a digital nomad but… The trip lasted from 10:00 a.m. to 2:00 p.m. Here is some more of the coastal scenery.
We had lunch at the one beach taverna when we got back. Agia Kyriaki is a pretty nice beach. We ended up spending the next day there. You can get a close-up look at the rock colors right by the parking lot.