Milos has LOTS of beaches. We sampled a few.
Some of the more famous beaches on Milos — Sarakiniko, Papafragas, Kleftico — are to us more the kind of place you walk around and explore than a place to hang out for the day. And we visited those too. 
Firopotamos was beautiful but the road down to it was narrow, steep, and winding and something we didn't want to drive twice. Or hike! So while we're glad we checked it out, we didn't go back. 
We got our first look at Agia Kyriaki when our sailing trip left from the end of the beach. It was nice and sandy and had sunbeds and umbrellas but looked like it would be fairly relaxing.
And it was. We rented some loungers and a palapa from the little snack bar down at the end of the beach and hung out there. We had a couple of beers before lunch, did some reading, did some napping, went in the water, picked up a couple of rocks. The beach is sandy and has a couple of rocky headlines on either end that are interesting to look at. Plus lots of little white rocks that look like seashells and plenty of sparkling blue water.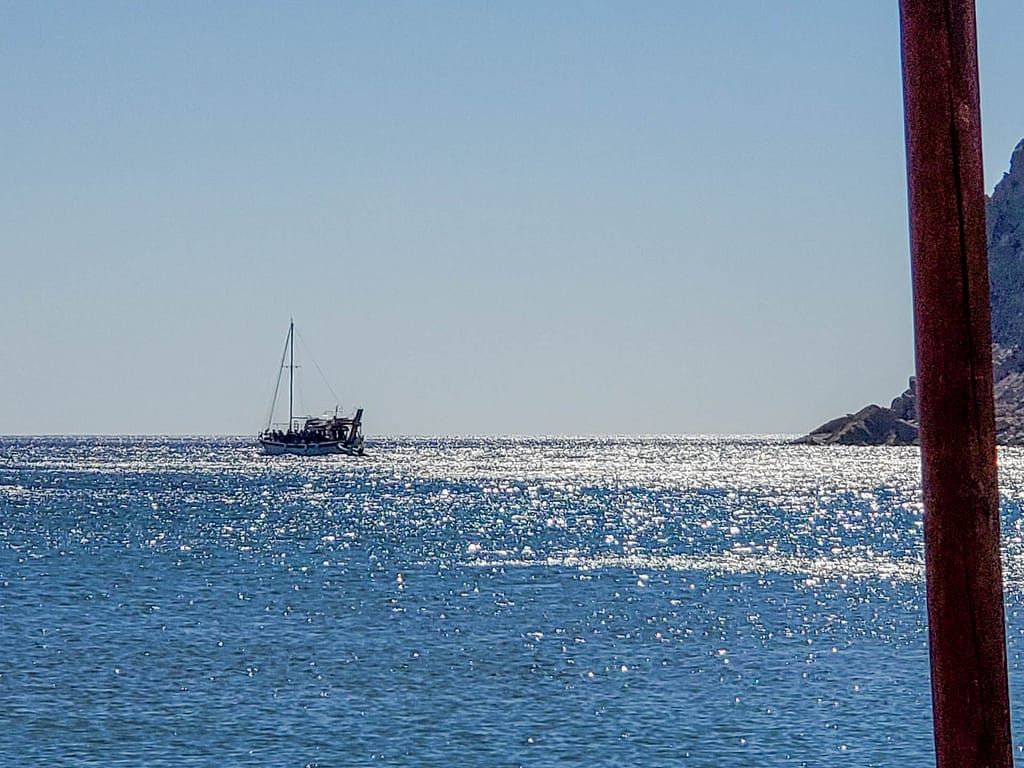 This beach was more work since we walked about a mile and a half each way from our place in Plakes to get there. We did part of it on an actual trail which was a little overgrown but still passable.
Then we met up with the road down to the beach. It was fairly easy getting there because it was mostly downhill. Coming back up of course was a different story.
Given the location of the beach the water wasn't quite as calm as it was the day before but it was still good for swimming. Once you got beyond the rocks there was a bit of a sandbar so the water was only about waist to chest deep. We got there probably around 12:30 and spent the afternoon hanging out reading, getting in the water, having a couple of beers.
We wanted to get back home in time for the sunset so we had a late lunch around 3:45 at the beach bar with some of the best food we've had on the trip. It made a nice lunch before hiking back up the hill from the beach.
We left the beach around 4:45 and it took us about an hour to get back. We knew it was going to be tough. It wasn't quite as awful as I thought it might be. There was a point on the trail on the way back where we lost the trail and had to poke around a little bit until we found it again. That's the problem with hiking among terraces: they all look the same and sometimes you run into dead ends. But we made it. And we got a good look at the landmark three crosses.
You can drive to Plathiena beach. We just chose to walk there because we could, and use our day with a rental car to drive to Agia Kyriaki. 
We also checked out Paleohori and Papikinou beaches. Papikinou was near a taverna (O Hamos!) that I wanted to try but the beach was right next to the road. With more time we might have spent more time at either of those.