It's a long drive from mid-Michigan to Glacier National Park and not a lot along the way.
Day 1: Harrison to Munising, Michigan
It's a good thing Steve didn't have to work today because it took us most of the day to pack. Then we had stops to make before we left town: Meijer for some last-minute food and beverage, two Jersey Giants for dinner subs (because the first one was unexpectedly closed), and my office to drop off my laptop so the techs could work on it while we're gone.
We drove as far as the cottage and I got my first experience driving my new Subaru (pictured below at the lake) in the dark and the rain. This cottage, by the way, is why we don't travel in the summer. We come here!
As usual, it was a painless drive north to Munising. We never get tired of the Mackinac Bridge. I will put it up against any bridge in the world for beauty. And surprise, the Cut River bridge is finished! The last few times we've been this way there was a detour. 
We got into Munising around 2:00 PM. We checked in and ate the sandwiches we brought with us, then walked downtown. A beer outdoors sounded good but Beer by George didn't have any outdoor seating or any beer that sounded interesting. Instead we bought some Keweenaw Brewing Company Point Trail Ale and Ore Dock Brewing Company Porter at a small beer and wine shop, and got fritters from the IGA for breakfast. We planned to get pizza from Pictured Rocks Pizza but they were closed today so we got a Main Street Pizza special instead. 
Day 2: Munising, Michigan to Walker, Minnesota
Today was lots of two-lane highway through the forest, with the occasional glimpse of lake. We found a new place for treats: Huron Mountain Bakery. Their website mentioned salt bagels which they didn't have, dammit, but they did have lots of other yummy treats. Loved the adaptive cruise control on the two-lane roads and appreciated navigation through Duluth.
We stopped near Jacobsen, Minnesota by the Mississippi, pictured here. LOTS of mosquitoes so we didn't linger! We spent the night in Walker, Minnesota.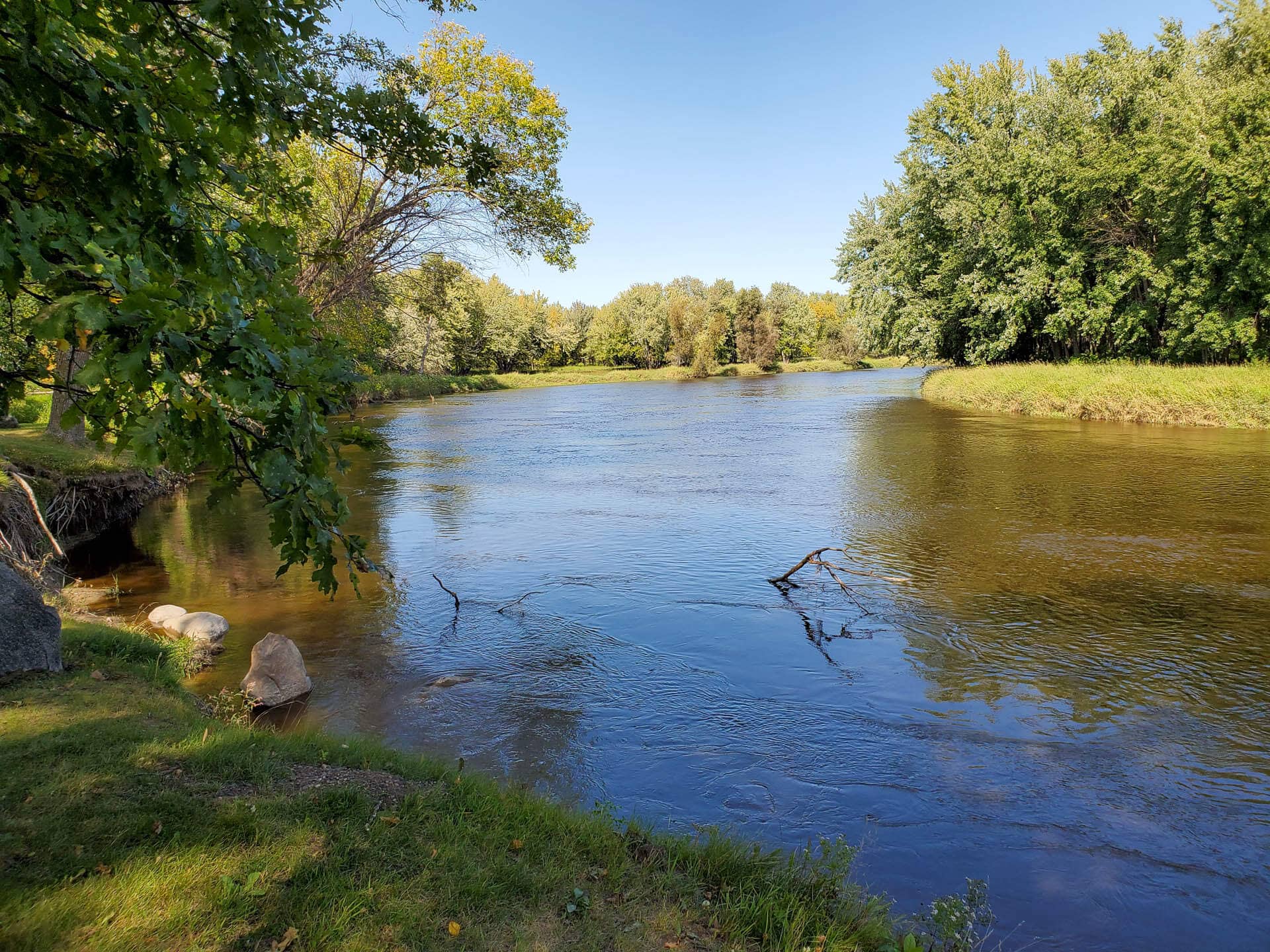 This section contains affiliate links. If you click on a link we may receive a commission at no cost to you. 
Neither of the places we stopped had a wide variety of options but we found good choices.
The Terrace Motel is an inexpensive locally run motel that meets the necessities. Clean, comfortable, and functional. Walking distance to downtown.
The Walker Hotel is a fine option for a one night stay. Finding a sock and charcoal(?) in the room left us wondering about housekeeping standards. (To be fair, we didn't notice the sock until the following morning it blended in with the carpet so well!)
We drove our own car. A lot of the roads we drove were two-lane highways. There wasn't much traffic and speed limits were generally 65-70 mph so traffic moved along.