We expected to like Melbourne a lot and we did. It's a great city for wandering and exploring.  
Day 1: Hobart to Melbourne
Our flight from Hobart to Melbourne was uneventful. We used StarBus to get from the airport to our lodging in South Yarra and it worked nicely.
Our hotel room is actually a one-bedroom apartment with a balcony. It even has a dishwasher and washer and dryer! Quite homey. Since our new digs came with a kitchenette, one of our first stops was the supermarket for breakfast and other supplies. Then bahn mis at the Vietnamese restaurant on the corner, and a stop at the train station for Myki cards. 
We also have a view of the train station, which is surprisingly entertaining. 
Day 2: Queen Victoria Market and Shrine of Remembrance
Today we did our first exploring in Melbourne. We took the train into town to scout out where we're meeting our tour tomorrow. Then we walked through town to Chinatown, and then Greektown, a Victorian arcade, and the Queen Victoria Market, which is the largest street market in the southern hemisphere. Because I love street markets. The market has delis, bakeries, fresh meat and fish, produce, souvenirs, floor mats for your car… Anything you can think of! We bought a couple of snacks and some lunch.
Next, we took a tram to the Shrine of Remembrance. That's a memorial to soldiers who died in World War I and then in wars since then. They have a ceremony every November 11th at 11 a.m. (or the11th hour of the 11th day of the 11th month). The building is designed so that at that time, a ray of sunlight goes across the floor and highlights the word love on the Stone of Remembrance in the center. We weren't there in November, but they simulate it every half hour. It was a short and moving ceremony.
The Shrine is next to the Royal Botanic Gardens Victoria – Melbourne Gardens. After viewing the Shrine we walked through the botanical gardens to return to our hotel. (We have a streak going on botanical gardens.)
Melbourne has an interesting blend of modern and Victorian architecture. 
Day 3: Great Ocean Road Day Tour
Our one major planned excursion in Melbourne was a day tour of the Great Ocean Road. And it was a full day, from 7:00 AM to 10:00 PM.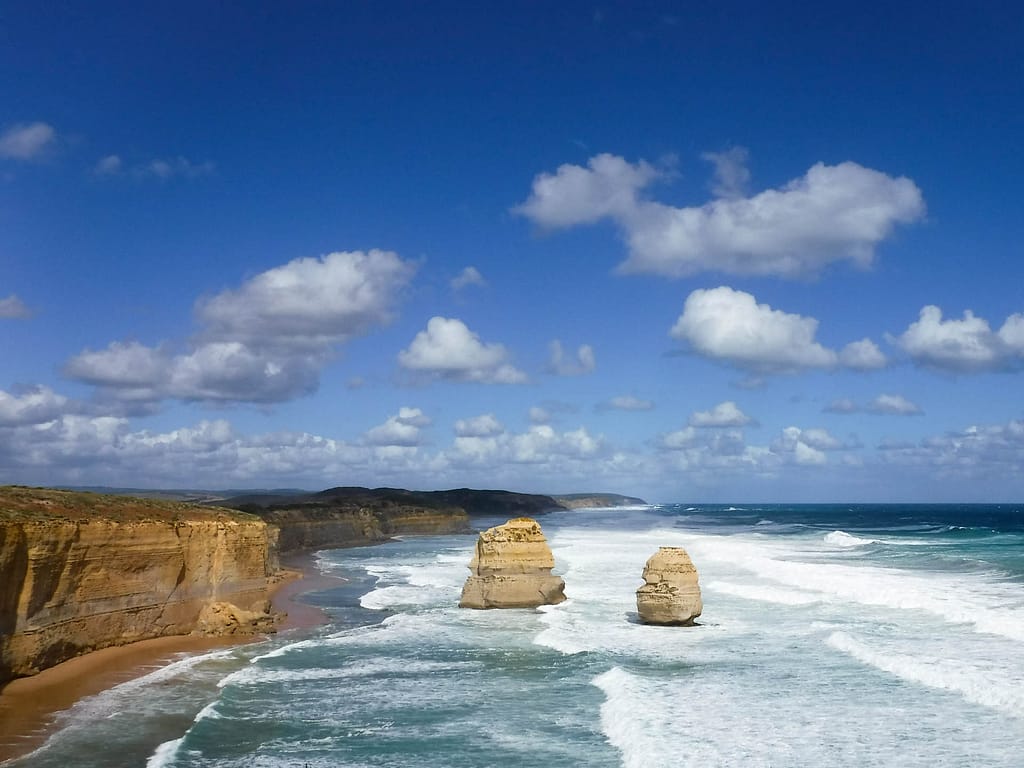 Day 4: The Aquarium and St Kilda Beach
First thing this morning we bought coffee, since the coffee in our room sucks, to be blunt. We went to the IGA — the cashier knows us now, does that mean we're locals? — and bought the instant coffee we'd had in Tasmania, which is really good. We have an electric kettle in our room that works super fast so instant works well.
Once caffeinated, we headed for the Melbourne aquarium via tram. 
After that we went to the beach at St Kilda. We saw a penguin in the wild at the beach. There's a breakwater where they nest. During the day they're out hunting, so the one we saw was sick, sleeping, or dead. But we saw it! The beach wasn't exciting but it was interesting to have a beach and a city skyline and sailboat masts all at once. 
We walked by the entrance to Luna Park, an amusement park with a creepy entry. (I had to see if it was as creepy in person as it looked online. It was.) Then onto a pub for some local beer and burgers on a roof deck.
Day 5: Laneways and the Victoria State Library
Laneways are narrow pedestrian streets that have restaurants and shops and such alongside them. And down the middle of them. The photo at the top of this post is an example. Melbourne has a lot of them. You can see more laneways here.
We also went to the Victoria State Library. It's been a long time since I've been in a library; kind of miss the hushed quiet. The library had an interesting exhibition on the history of books that included a cuneiform tablet from about 3000 BC, and a copy of Audubon's book on American birds that was enormous. Each page was probably about 3 feet by 5 feet. The library also has a copy of armor worn by Ned Kelly, a famous Australian outlaw. Unfortunately, the armor was not on display because they're doing renovations. But we did get to see their Shakespeare stained glass window from the mid-1800s. And Steve got to pose with his twin.
After all that culture old and new we were hungry, so we went to a Greek restaurant called Stalactites for lunch. (Melbourne has the largest Greek-speaking population outside of Greece.) It's called Stalactites because the ceiling in the restaurant looks like stalactites in a cave. Can't pass up an opportunity to get taramasalata and calamari. With warm homemade pita bread that was fabulous.
After lunch we'd planned to take a free city tram that circles downtown. But it was hot and crowded so we only took it as far as the central train station, where we switched trams and went out to visit a neighborhood where they have beautiful ornate Victorian houses surrounding a garden square.
Then we came home and did some laundry while we have the facilities. We're also watching the Melbourne bats. We've discovered Melbourne has bats the size of hawks or crows. Thankfully they do not seem too interested in our balcony. We should probably mention that we're on the 10th floor of the hotel and they fly by at eye level.
Day 6: Bats and a Brewery
So those giant bats, the ones that have about a three-foot wingspan? Well, it turns out they're flying foxes. Today we went looking for them. (No photos here, just in case anyone gets freaked out by bats. But you can see the bats here.)
After that, we took the bus to the Stomping Ground Brewery & Beer Hall for some beer and pizza. They actually had one with anchovies, olives, and capers. AND chilies! 
Then on the way home, we stopped off at Flinders Street train station one last time to make sure we had a photo of the front entrance that has a bunch of clocks on it. Because apparently it's a Melbourne thing to meet someone under the clocks at the train station. It's the oldest train station in Melbourne by the way. And quite nice to look at. 
Oh, and it's Labour Day weekend here. We got a bonus fireworks show on our last night.
This section contains affiliate links. If you click on a link we may receive a commission at no cost to you. 
While the central business district would have been more convenient, we opted to stay outside the center so we could have a balcony for a similar price. It was a one-bedroom apartment in a nice neighborhood. Great front desk staff. 
Like Sydney, Melbourne has a plethora of dining options. 
The Myki card is Melbourne's version of the reloadable transit card. Since we were staying for five days and using public transport every day — our hotel was a couple of train stops from central Melbourne — we purchased unlimited passes for a week. We bought ours at the train station next to our hotel.