We opted to splurge a bit on the hotel for our last two nights in Spain and stay centrally rather than near the airport.
We ate breakfast in our room and then got a taxi to the train station. There was no challenge switching trains at Antequera-Santa Ana other than we left the platform and went into the train station only to see that we needed to be back on the same platform for our next train. We landed in Madrid and figured out the best way to share a transport card: I tap for Steve and he goes through and then I tap for me and I go through. Then we don't have to hand off the card! Maybe we'll remember that next time we need to remember that.
Our hotel here has the promised wonderful view of the Royal Palace. We had a lot of fun people watching.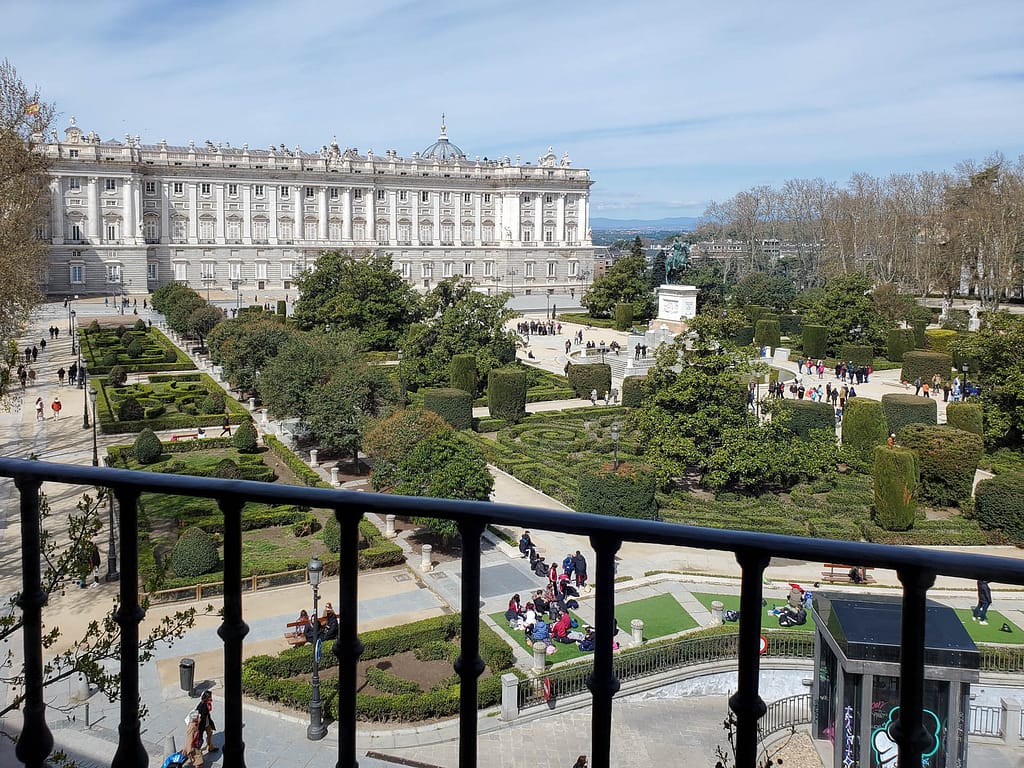 We didn't do much today other than walk over to see where we're going to get our COVID test. It's a good thing we did that because the testing is not at the location stated but around the corner. Now we know where to go tomorrow. Then we went over to the El Cortes Ingles to check out their gourmet experience on the top floor. We took nine escalators to get up there. Eight in one spot then we had to walk to a different part of the store to get up to the ninth floor. They had some nice views from up there but we didn't bother to eat anything. (The Gran Via was honestly a bit of a letdown.)
Instead we walked back over to our place by way of a supermarket for some last cava and beer, and pastries for tomorrow morning. We ended up eating at La Botilleria which is right downstairs. Steve got the house pizza and I got a calzone. After that we walked around the formal gardens in front of the palace a little bit.
We ate our ham and cheese and apple pastries this morning with the instant coffee we brought all the way to Spain and haven't used until today. But it was nice to be able to drink several cups of coffee. Then we went and got our COVID tests. We got there pretty early and they were able to get us in right away. We stopped at a different supermarket on the way back so we could get large cans of beer. Then we came back and got warmed up for a bit because it's kind of cold today.
We went for a walk planning to go to the Sabatini Gardens but they were closed for renovations so we walked up to the Egyptian temple instead.
It was a pleasant walk. Not a lot of crowds. Some nice views from the hilltop.
We ended up eating at La Botilleria again. Steve got the calzone today and I got calamari one last time. Then we came back here to take showers and then drink some beer so that hopefully we can take a nap. Our flight is at 6:00AM tomorrow which means we need to leave here about 2:30AM. 
Below are some of our people-watching highlights: mounted police, opera singers, and a guy in a Transformer costume. Also a couple of whippets, that we dubbed General Grievous dogs. The guy behind them spent a lot of time hanging out down there. We were trying to figure out if he was interacting with a local cat or if it was just coincidence. 
The person we talked to at the front desk about a taxi was properly appalled at the time that we needed to get a taxi. She suggested we wait until 3:00AM. to get a taxi because at that time it would only take about 15 minutes to get to the airport.
Turns out we may have been better off sticking with our original 2:30 estimate. The taxi didn't appear and the night front desk person had to chase one down for us. Then the check in line at the airport was long and slow. We made our flight – which was delayed because they needed to wait for people to check in – but it was stressful. The Amsterdam airport has a nice feature: An express lane for immigration control for people with flights leaving shortly. We didn't need it but it's good to know it exists.
This section contains affiliate links. If you click on a link we may receive a commission at no cost to you. 
We very much enjoyed our splurge at the Hostal Central Palace. The room and bath were spacious and pretty and the view was everything we hoped. We had some confusion over a taxi but staff resolved it as quickly and as well as possible. It is a little tricky to find; the lobby for check-in is not at street level. Look for the sign above a doorway next to a cafe. The entry is shown below. 
We ate both meals at a restaurant right downstairs. There were a few other choices right nearby and of course lots of options if you want to go further afield. 
We took the Metro to the hotel and got a taxi to the airport because we had to be there in the middle of the night. The taxi was €30. Other than that we walked.