We spent five glorious days kayaking and hiking at Ludington State Park on the shores of Lake Michigan. My favorite Michigan state park.
Day 1: Interlochen to Ludington
I remembered from our last visit how enticing the entrance to the park is. To the west, you catch glimpses of Lake Michigan between gaps in low dunes. To the east are more established dunes, with patches of grass and trees. In September it's magical. Just pick a spot on the several miles of road, pull over and park, and have your own little slice of beach paradise. (In high season I imagine both sides of the road are bumper to bumper with parked vehicles. Probably less enticing, but it's still a lot of beach.) Temperatures were still in the 70s and the water was cold but not unbearable.
Ludington is not unique in being on the water. Most state parks in Michigan center around water. Ludington IS special in having a Great Lake, inland lakes, AND a river to play with!
We camped at Pines campground, which is the closest to Lake Michigan. Our site was on the west side backing up to the dunes. We climbed the dunes for beautiful sunset views over the lake. Sites in that campground were generally sandy and wooded. Some of them are narrow.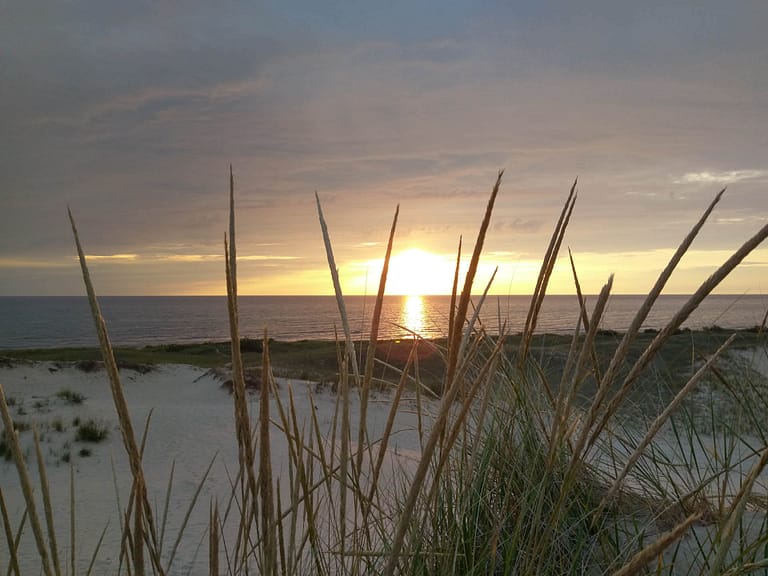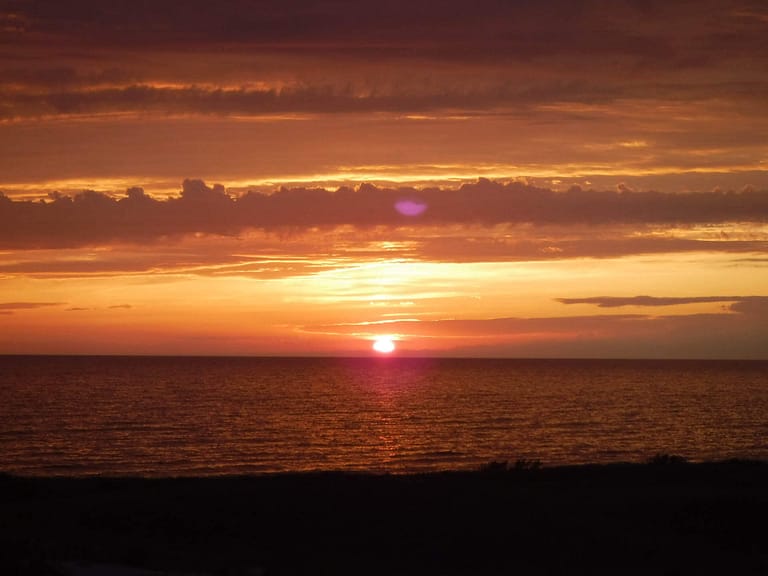 There are two other campgrounds. Beechwood campground is on the shore of Hamlin Lake, though there's no direct lake access from the campsites. There's a boardwalk between the campground and open water, with several bridges out to the boardwalk. There's also a small island where it looked like campers had stowed their kayaks. Cedar campground is in between the other two. It's probably the least interesting of the three, though it does have the camp store and camp host. Sites here are more open and grassy; probably good for larger trailers. The camp store was actually open (a lot of them close after Labor Day) and we were able to get firewood. We hit Meijer to stock up on food, and walked part of the way to the lighthouse. 
There is also a hike-in tent area and another rustic area for tent camping. Judging by the rolling coolers we saw headed to the hike-in area, it might be more party central than rustic retreat.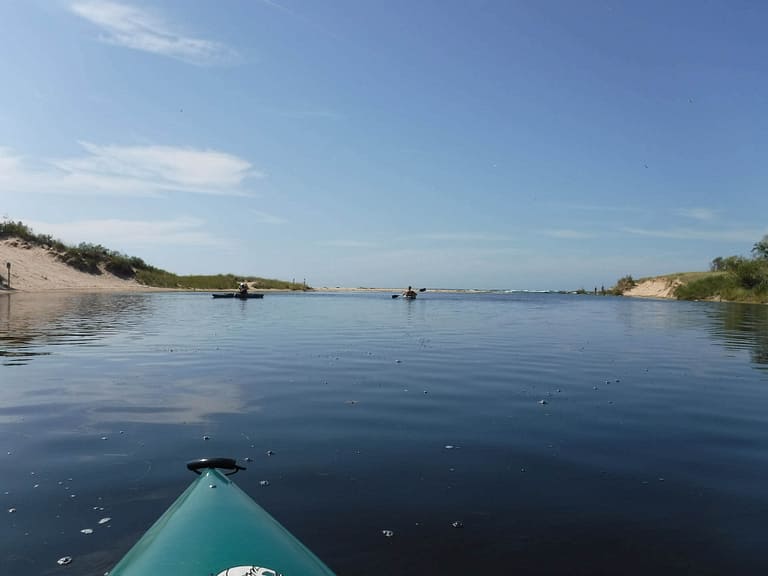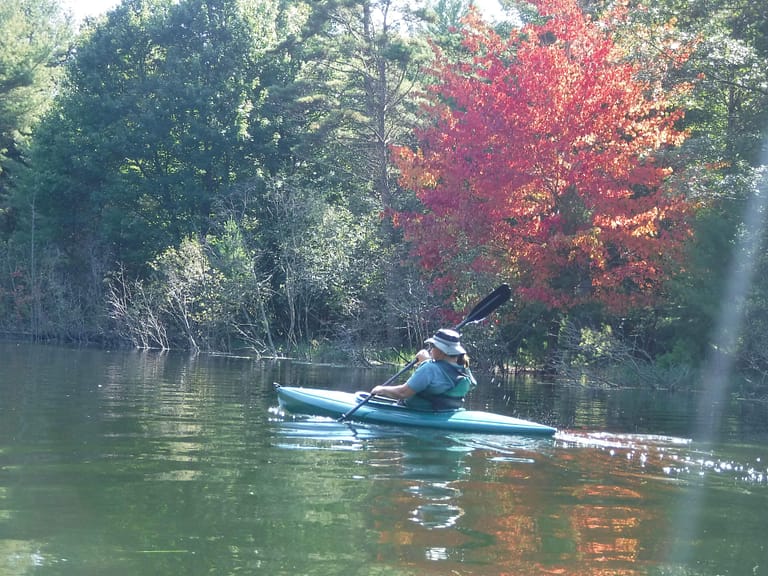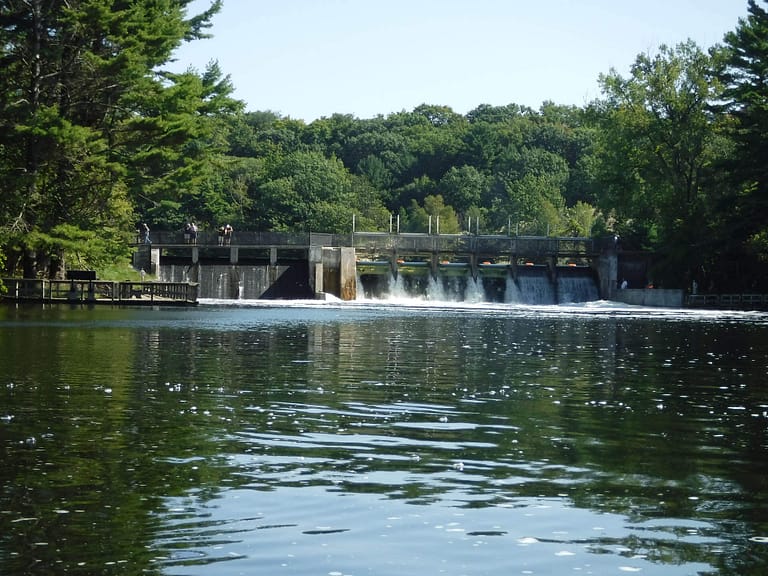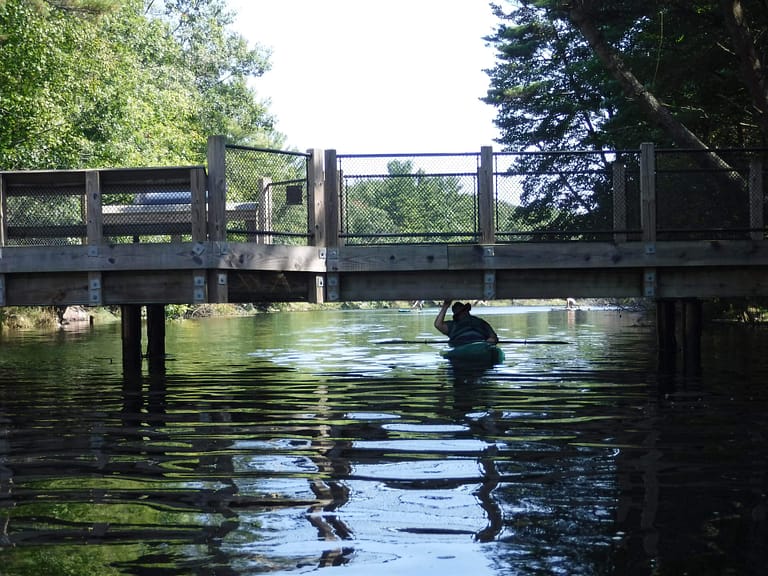 We also walked the paved path from the beach at Lake Michigan along the river to Hamlin Lake. That was especially popular with cyclists. We appreciate the bells to let us know we need to get out of the way! It's a nice way to see the river without a boat. And it's a seven-minute walk to the beach for sunset. We timed it.
Day 3: Kayaking the Canoe Trail
Our second kayak outing was on the canoe trail on Hamlin Lake. We did that when we were last here in 2007 and remembered enjoying it. This time, not so much. It was difficult to locate the signs marking the trail, for one thing. We left the open lake at one point (over a two-foot portage) to find ourselves in a kind of inland pond filled with stumps and water lilies. While picturesque, it was difficult to paddle, and we couldn't find the trail out on the other side. We tried another entrance and ended up hemmed in by tall grass and cattails on both sides, in a waterway so narrow we could barely paddle, let alone turn around. Again, we turned back, rather than risk getting stuck. It was pleasant out on the open lakes, and easy paddling since the water was calm. Lost Lake looked pretty picturesque, and had at least one spot where you could beach a kayak on the beach.
That afternoon we got more firewood, then drove into town to wander around and have dinner. Of course I had to pee as soon as we got there, so we went to Jamesport Brewing Company for a beer and a starter so I could use the bathroom. We then walked around Ludington looking for something for breakfast, and for a Christmas ornament and beer cozies. We didn't find either. Ludington has lots of bars and restaurants, not so many cute little shops. It's more of a real town. We went back to Jamesport Brewing Company for round two, dinner.
Ludington has over 20 miles of hiking trails, most of which interconnect, so you can choose your own adventure.
We looped around Lost Lake following the Lost Lake trail and the Island trail. Then we went to the beach for a while and wandered around the park. We're pretty sure we camped at the Beechwood campground the last time we were here. To finish the trip, we trapped and evicted a mouse that decided to move into our trailer! 
Sorry, Petoskey! Ludington is now my favorite Michigan state park. I've always loved the broad expanse of beach at Petoskey, but the variety of activities available at Ludington has won me over.
We camped here for five nights and could have happily stayed longer.
This section contains affiliate links. If you click on a link we may receive a commission at no cost to you. 
Ludington State Park is VERY popular, so book early! There's a LONG stretch of beach on Lake Michigan. We spent a few minutes exploring the beach house and concession, which has some interesting displays on local plant and animal life upstairs. There's also a beach on Hamlin Lake with canoes, kayaks, and paddleboats for hire, plus a picnic area, playground, and boat launch. One thing the park doesn't have is Wi-Fi, or much of a cell signal. Perfect for those of us trying to avoid the office for the last few days! Camping was $33 per night, with a Recreation Passport (aka park pass) required. Reservations and Recreation Passports are available at the Michigan DNR website. You can also purchase the Passport at the park.
The town of Ludington has several bars and restaurants and a couple of major grocery stores. It's more of a functioning small town than a cute tourist destination. And it does have connectivity if you want it!
Ludington State Park is located on Lake Michigan north of Muskegon, about a four-hour drive from either Detroit or Chicago. There is no public transportation. We were pulling our trailer so we had our own vehicle.