Llandudno is just how I pictured a classic Victorian seaside resort in Great Britain. The beach promenade was great for walking.
It was a pretty long but pleasant bus trip from Caernarfon to Llandudno. We got to take the same bus all the way through which made it easy. It was a short but uphill walk from where we got off the bus to the Capri Guest House. Our room was ready so we got to drop off our stuff and change into shorts.
We thought about taking the cable car up the Great Orme and the tram down but our hosts said they stop running the cable cars if there's the least breath of wind and it would cost twice as much. So we decided to just take the tram both ways. Plus the tram stop was right down the street.
Conveniently the King's Head, the oldest pub in Llandudno, is right at the tram station so we sat in the sun on their deck and had a couple of beers.
After doing a little laundry and relaxing in our room we went to dinner at the Blue Elephant where we had a nice meal and got a look at some dramatic skies.
6,299 steps today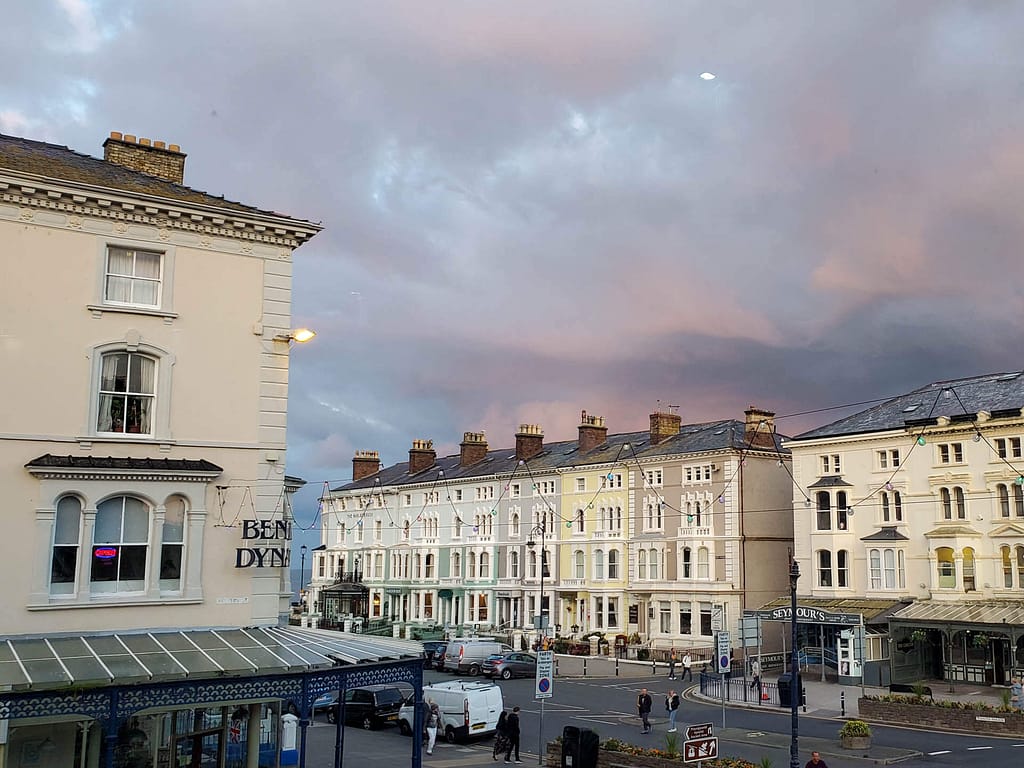 Our first full day in Llandudno. We had another nice breakfast with two hash browns. At about noon we went out and did a walk along the beachfront all the way to the other end and back. Then we walked to the end of the pier and back.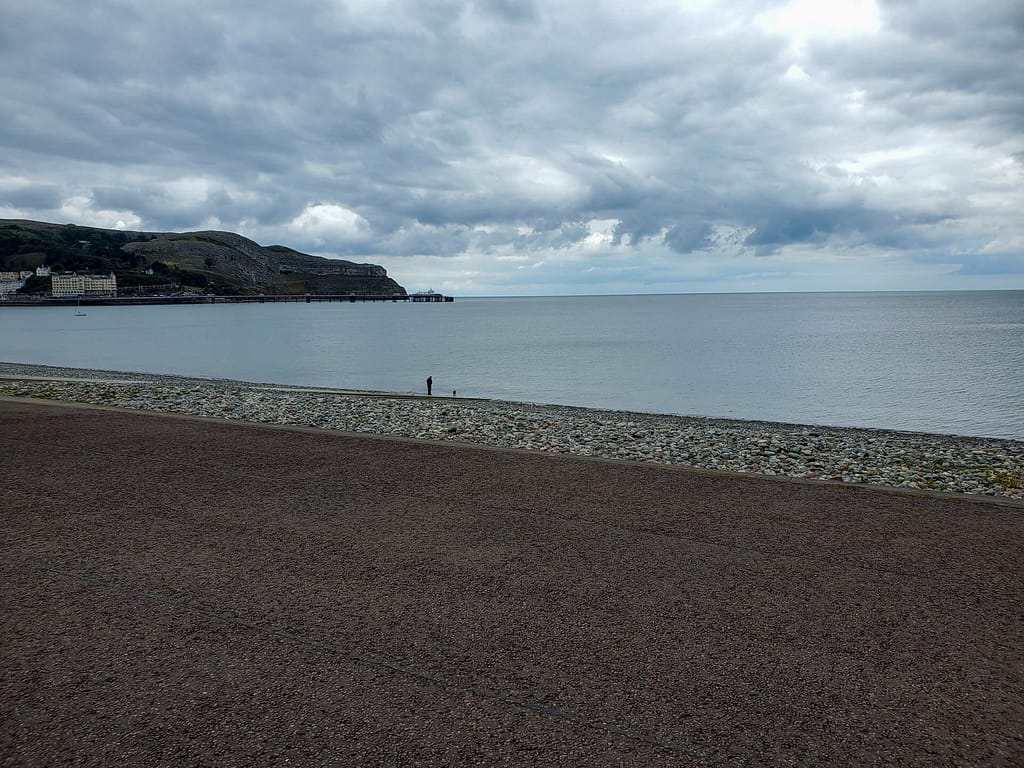 Then we came back to relax for a while before going back to the King's Head for more Shipyard IPA and burgers for dinner. It's handy having a pub with good food right up the road. 
We continue to feel like we are some of the younger people around.
10,465 steps today
A light day today thanks to the threat of rain most of the day which we haven't had up until now. We went for a walk pretty much right after breakfast because of that. We walked over to the West Coast beach which is quieter and more wild than the North Coast beach. We saw some nice old houses along the way. 
Other than that we pretty much lazed around in our room reading until it was time to go to the pub for drinks and dinner. We opted to have our fish and chips at the pub rather than going to the chippy across the street. The King's Head is a nice pub. They have good food they had some live music when we first got there, playing "This land is your land" of all things. They also remembered we were drinking Shipyard so they told us when it was back up again.
6,380 steps today
This section contains affiliate links. If you click on a link we may receive a commission at no cost to you. 
We stayed at the Capri Guest House, a warm, welcoming place near the beach, the tram, the bus stop, a great pub … Clean and comfortable with a great breakfast. Danny and Juliette are warm and welcoming hosts. 
We had great Indian food at the Blue Elephant and great pub food at the King's Head. There were many other options available; we were happy with our choices.
Walking around Llandudno was easy, if hilly. The #5 bus took us right from our B&B in Caernarfon to downtown Llandudno.