After two weeks of natural splendor we finished up with a couple of days of manmade extravagance.
We had our bagel and coffee on the scenic route by the Vermillion Cliffs. It wasn't the best scenery of the trip but it was still nice. We got really mixed up with timezones but managed to return the rental car on time. We had a strange confrontation trying to gas up the rental car. One old guy got out of the car in front of us, a passenger slumped out the other side along with a lot of trash, driver started shouting … we just left. 
We took a taxi from the rental car drop off to the Mirage and checked in, then took off walking. We walked through the Bellagio to Aria, where we stopped at Julian Serrano for a tapas lunch.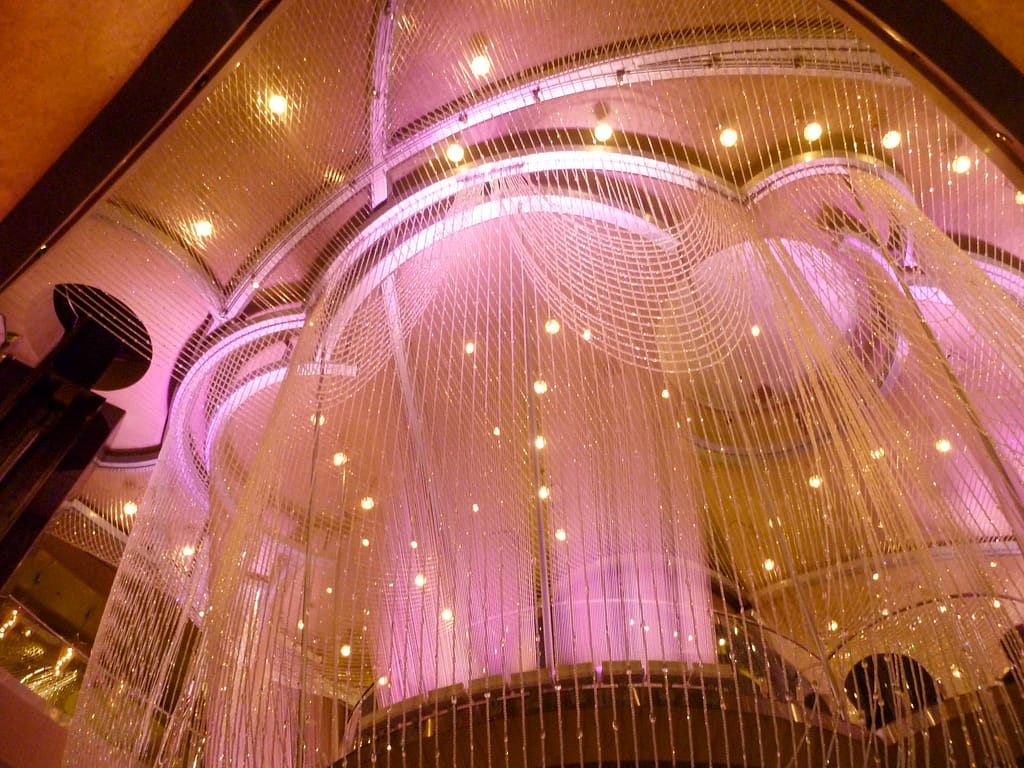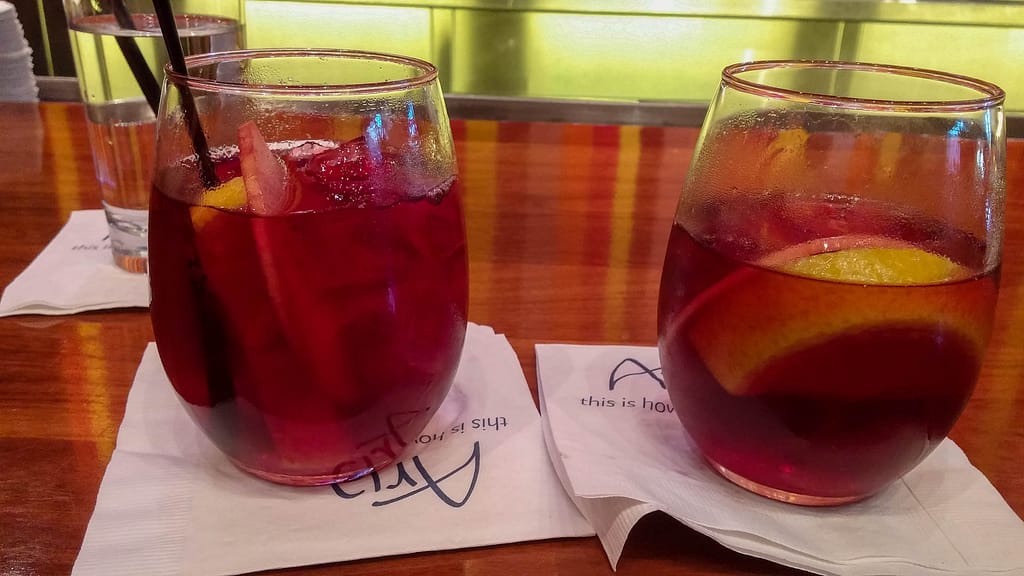 We walked back via the Forum Shops, the Bellagio fountain, and The Venetian. We had dinner at Cravings, the Mirage buffet.
Urban hiking today, 5.84 miles.
We woke up about 9 AM and went to the breakfast buffet. They'd given us a two-for-one coupon the night before, which was nice because it was the weekend champagne brunch rather than the usual breakfast. Some items were the same as the night before. Then we came back to the room and lolled because we were too full to do anything else!
We left around 2:30 to go walking again. We timed our walk to Paris so we know when to leave for brunch tomorrow, then went down to Mandalay Bay and back. Then we hit Yard House for happy hour and the pool for while. 
We went to Fogo de Chao for dinner. It was a bit of an adventure getting a taxi back. We caught the Bellagio Fountain show, then finished up our booze. Las Vegas sidewalks are amazingly crowded at night. We tried taking photos, but it's difficult with all the glass barriers. We saw a chick with inflatable boobs. And walked 7.58 miles.
We paid $30 for a late (3 PM) checkout. Which didn't keep housekeeping from stopping by repeatedly, despite a do-not-disturb sign. There was an issue with the TV but we were able to catch the end of the game on BTN2GO on a phone. We had brunch at Le Village at Paris.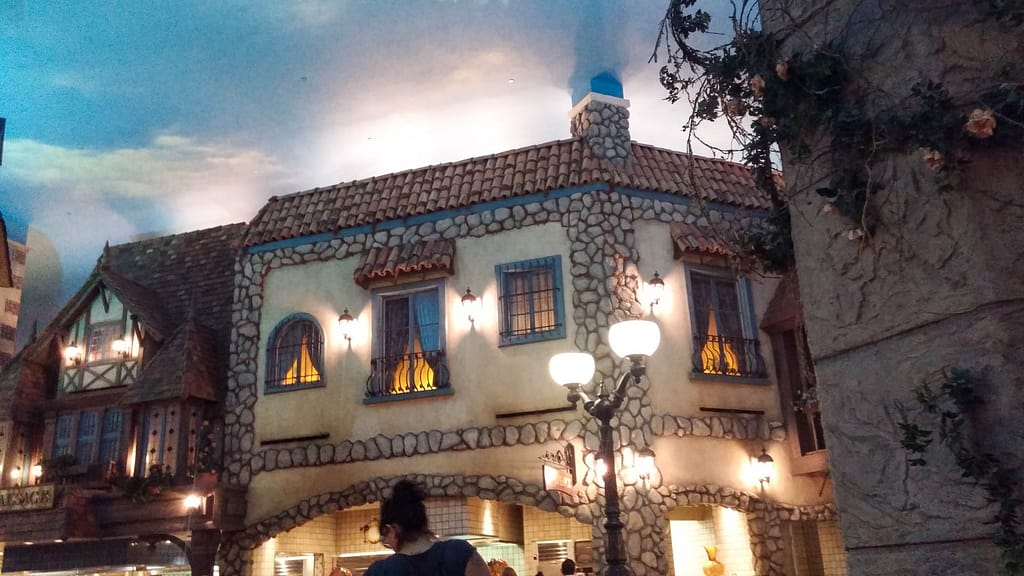 After checking out — which required waiting in line — I played some slots and video poker, our first gambling of the trip. I quit after doubling my $5. We walked through the Forum Shops, saw a last Bellagio Fountain show, then went back to Yard House for beer and food. Back at the hotel, we caught the volcano show at the Mirage before getting a taxi to the airport.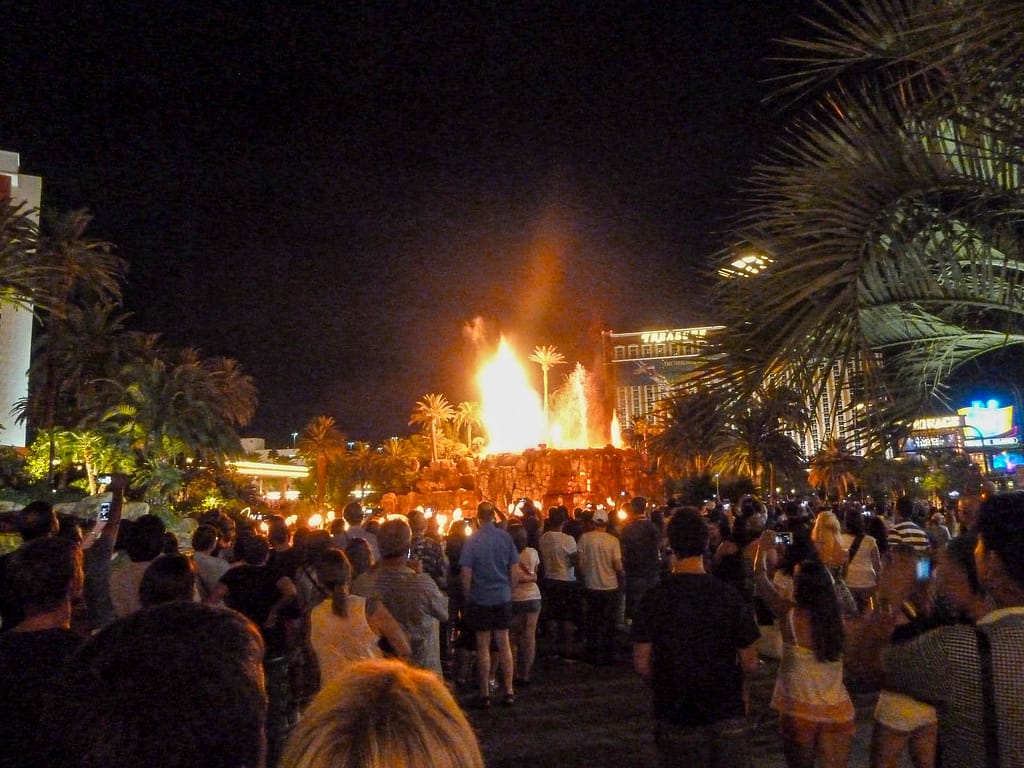 This section contains affiliate links. If you click on a link we may receive a commission at no cost to you. 
This isn't our usual type of place but we decided while in Vegas we needed to do the full Vegas experience. I booked the Mirage for its location and its pool and was not disappointed in either. I particularly wanted a pool with some shade and was glad I chose the Mirage — it was over 100° when we were there.
The room was more than adequate. The bathroom was pretty standard. We were on the 8th floor, so not a great view, but not bad. Elevators were efficient, not the mess I experienced at Mandalay Bay on a previous trip. We arranged and paid for late check out ($30) which worked nicely, other than being interrupted a few times by housekeeping despite that and putting the do not disturb sign out.
Staff was consistently great. When we mentioned to housekeeping that the TV wasn't functioning she came in and called maintenance for us.
It's Vegas. You can get ANYTHING!
We had rented a car for the trip but dropped it off when we got to Vegas. We walked and took the odd taxi.