We love laid-back relaxed beachy islands, and Jost Van Dyke is a great example. A beautiful white beach and a collection of great beach bars.
Day 1: Virgin Gorda to Jost Van Dyke
We got up in time for a nice breakfast before we left, but no one showed up at the restaurant until about 8:30. So we had coffee and toast. Andy, the guy who we've seen hanging around and who does tours — turns out to be the owner! He gave us a ride to the ferry in his safari vehicle, which was our first trip in one of these. Most are pickup trucks with benches installed in the back. Kind of a cross between a cab and public transport, and common in the Virgin Islands. He and Steve chatted while I was checking out. The hotel plans to rebuild the second story of the hotel building (there are also freestanding cottages) in concrete rather than wood. They were originally afraid it might be too heavy, but it hasn't moved at all. The taxi to the ferry was $6 and I was able to use the credit card to buy ferry tickets at the office.
We got to watch a barge loading and unloading while we waited for the ferry. It was amazing to watch them use a backhoe to take a pickup truck off and load a couple of dump trucks on.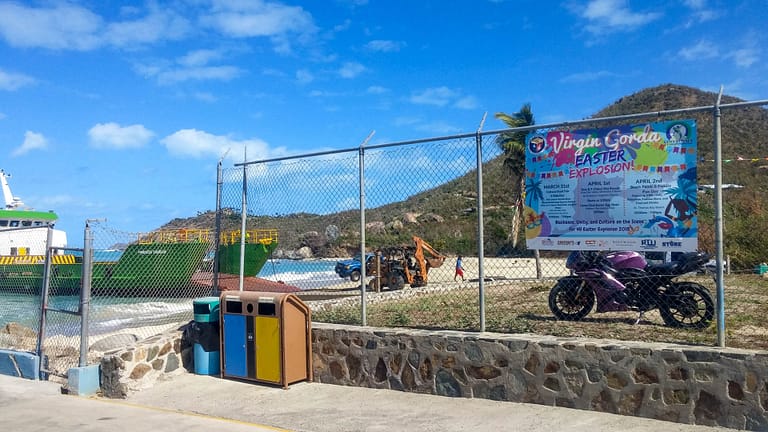 To get to Jost Van Dyke from Virgin Gorda we had to take a ferry from Virgin Gorda to Road Town in Tortola, then a taxi to the West End of Tortola, then a ferry to Jost Van Dyke. At Road Town in Tortola, we got an old van taxi driven by Lonely. He gave us a tour while we drove the shore road to West End. Lots of potholes and destruction. He had very long fingernails and may have been blind in one eye, and the van rattled and squeaked. But we made it safely. It was about $33 for the taxi.
There was nothing at West End. Some official people of some kind under a shade shelter but no place to sit and not much shade. So we walked down the street to an empty building with some shade on the porch and something to lean on to wait. Our New Horizon ferry to Jost arrived in plenty of time so we were able to sit inside in the airconditioning. The fare was $62 round trip for us and our bags. Not many passengers. The captain dropped by to say hello, which was a nice touch. On Jost, we arrived at a different dock than the one right in front of Ali Baba's where we were staying. We were going to walk — it wasn't far — but a taxi driver stopped along the road and offered us a lift for whatever we wanted to pay him. So we gave him $7.
We had a very laid back check-in at Ali Baba's. They had three rooms to rent. We'd planned on the second-floor room with a balcony overlooking the water, but it had broken windows they hadn't been able to replace yet. Our room on the first floor was small but it had what we needed, including a couple of chairs, a fridge, and a small porch with a water view. The AC wasn't working but we thought we probably wouldn't need it. We stowed our stuff and had lunch. We both had chicken roti and salad. Kind of like a curry burrito, with chicken, chickpeas, potatoes, wrapped in a tortilla with a curry/mango salsa and salad on the side. We had it added to our bill for the room. No idea how much it cost. It was really good.
Then we put on swimsuits and made the long, hot hike over to the hill to White Bay. Or at least it felt long due to the heat!
When we returned from White Bay Baba (the owner) and another couple of guys were having a beer, so we sat at the bar too. We heard stores about the storm, like pizza ovens disappearing from Coco Loco and the freezer at Ali Baba's ending up on the other side of the restaurant. 25-foot waves crashing over the building. There were lots of jokes too. Then we had dinner: stewed conch for me, grilled mahi for Steve. With beans and rice and salad and coleslaw.
We also made two trips to the store for beer. Two six-packs first, then when we found out no alcohol could be sold from 6:00-6:00 on Good Friday, we bought another six-pack.
Day 2: Hanging Out and Helping Out
Good Friday. We had coffee at Ali Baba's, then Steve made some cabinet doors for our host while I read. The cabinet doors will allow him to secure the liquor in the open-air restaurant rather than moving it. We had chicken sandwiches and beer for lunch. Just kind of a lazy day. We went for a stroll on the beach in Grand Harbour. Took a nap. Wrote in the journal. Walked on the dock. We overheard some kind of discussion among locals about speaking one's mind. And some guy on the dock yelling at someone.
More general lazing around and more beer, then for dinner, lime garlic shrimp for me, and chicken roti for Steve, with mashed potato and salad. There was loud music from vehicles later that night.
Our last day on Jost Van Dyke was a beach day. We had coffee and cookies we bought on St John for breakfast. Then we got ready for the beach and took a taxi over to White Bay with Mark the taxi driver. We also scheduled a time to come back so we didn't have to take our chances like we did the first day. Then back to our hotel bar. There were a couple of southerners there who seemed to know the owner and we joined them for a chat.
Steve spent the afternoon cutting down some bi-fold doors to make a bathroom door since they didn't have one. I spent the afternoon sitting around reading and napping. Then we took showers before beer and dinner. Urinthia brought us mixed nuts, then sausage and pretzels. We had three Caribs, and "BabaQ" for dinner: two pieces of chicken each, ribs, pasta salad, cauliflower, sweet corn, and salad. We were stuffed, and I couldn't eat it all. Then we finished our last three beers in preparation for heading out tomorrow. Baba and Urinthia were great hosts. Their kitchen was destroyed by the storm so they were cooking out of a little shed over at the side of the restaurant. The food they turned out of there was amazing! We were glad to help them out with some repairs while we were there and glad they could host us.
This section contains affiliate links. If you click on a link we may receive a commission at no cost to you. 
There are VERY few places to stay on Jost, and even fewer in our price range. Ali Baba's was the only place I contacted that responded. It's in Great Harbour across the "road" from the beach. Hurricane Irma had damaged the ocean view room we booked and took out the AC and TV. We didn't miss any of that. Our hosts were welcoming and friendly. Our room had all we needed and a small porch with a sea view. We'd love to go back. 
Ali Baba's
We ate most of our meals here while staying here. They did wonders from the little temporary kitchen they had set up!
Hendo's Hideout
We spent the day hanging out in their beach chairs and had a delicious lunch too.
Both Great Harbour and White Bay are walkable. The walk between them is more of a challenge. We walked it once and otherwise took one of the safari buses that make regular runs from one to the other.