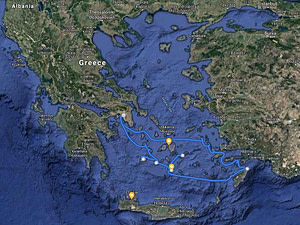 Greece: Cyclades and Rhodes
This will be my fifth trip to Greece — it's my favorite place to travel! — and our second trip together. I've been to Rhodes and think we'll love it, so we have that at the beginning of our trip, our favorite beach town (so far) at the end of our trip, and some of the less commonly visited Cyclades Islands in between. That should give us the mix of old buildings, charming villages, beaches, and walking that we enjoy.
The Plan: Our flight from the US will arrive here. We'll spend the afternoon in the Athens area then board an overnight ferry for Rhodes. (We were going to spend the night in a hotel and fly the next day, but this is a little cheaper. And we haven't been on an overnight ferry.) 
Planned Activities
Explore the village, beach, and ruins.
The Plan: I made a day trip here the first time I visited Rhodes and thought the village would be a good place to spend a few nights. So we're going to spend the first three nights here and gradually ease out of our jet lag while still doing something enjoyable. 
Days 5-8: Rhodes Old Town
Planned Activities
Explore the old town
Rent a car for a day or two and tour the rest of the island
The Plan: We stayed in Rhodes Town the first time I came here. We were in the new town then. We want to stay in the old town this time, right in the midst of the atmosphere. I see a lot of narrow cobblestone ways and tracking down old buildings. Maybe some beach time, though I don't recall the beach near town being that great. Perhaps when we have the car?
Planned Activities
Hike to villages from Aegiali
Drive from Aegiali to Chora
Hit the beach near Aegiali
The Plan: We'd like to do some hiking on this trip and Amorgos sounded like a good island for hiking. We also want to hit some of the less-visited Cyclades islands. Not too out there. Just a bit off the beaten path. 
Planned Activities
Hike to Klima
Hike to Sarakiniko
Hike to Kleftiko
Take a boat tour to places unreachable by road
Beach time
The Plan: We flew over this island on our flight from Crete to Athens on our last trip and it looked so fascinating from the air I put it on the short list for a future trip. The photos we've seen of rock formations and colorful fishermen's huts look enticing. And it has lots of beaches!
Planned Activities
Hike to Angali beach
Hike from Ano Meria to Chora
Hike from Chora to Agios Nikolaos
The Plan: On our last trip we really enjoyed the old town on Naxos, and Folegandros is reputed to have one of the nicer villages in the Cyclades. And like Amorgos it's a little off the beaten path. 
Days 23-29: Thira (Santorini)
Planned Activities
Hike from Fira to Oia
Hike from Perissa to Ancient Thira
Explore caldera villages
Boat tour?
Beach time
The Plan: We came here on our last visit to Greece. Yes, we know Santorini is the very definition of on the beaten path, but Perissa is our favorite beach town to date so we're coming back. For a week this time. We plan to re-do the Thira to Oia hike and be better prepared this time! We also didn't see much of the caldera villages so we may carve out some time away from the beach for that.  
Planned Activities
One last day at the beach?
The Plan: We have a morning flight home so we plan to return to Athens the day before. We're going to stay near the beach near the airport.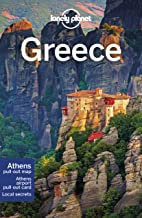 We used Lonely Planet Greece (Kindle format) as our main resource
Greek Travel Pages has a ferry search tool that allows you to enter an origin or destination and see how you can get from/to there. Great for researching possible ferry connections without having to know exact end points or dates. 
Matt Barrett's Greece Guides has been around forever and is an encyclopedic resource to travel in Greece.