The Alhambra is stunning and we enjoyed Granada. It felt more approachable. I don't know if that's because it's a little smaller city or because we'd been here for a while and feel more comfortable.
Day 1: Córdoba to Granada
Thanks to my bum leg we got a taxi to the train station this morning. And another one in Granada when we got off the train. Our room was ready when we checked in, which was very nice. It's just great to be settled right when you arrive. And it's a very nice room: two windows, two sinks, pretty nice traditional Spanish decor, three chairs AND a free breakfast!
After dropping off our stuff we went out for a walk because it wasn't raining. We found out where we would pick up our bus tickets tomorrow morning and then walked to Alcaicera, the old market.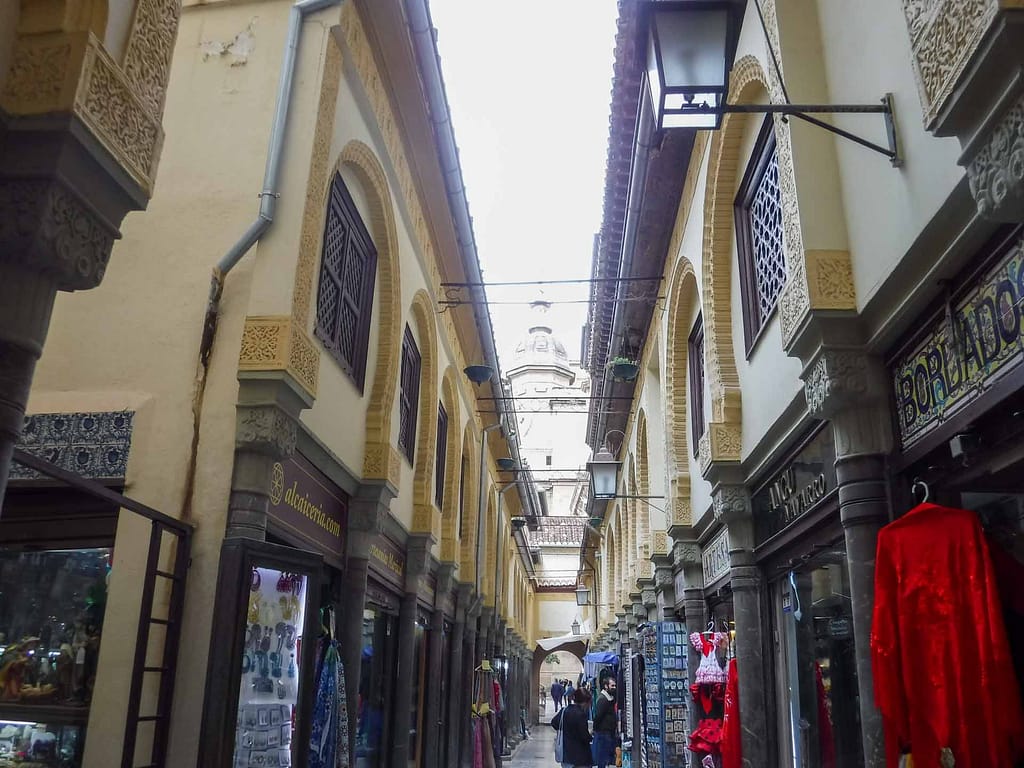 In Bib Rambla square we finally had churros and chocolate, then walked over to the Corral de Carbon. That wasn't super exciting but it was free. And an interesting old building if you're in the area.
Then we did a little souvenir shopping and hit a supermarket for some beer and wine. The front desk kindly loaned us a corkscrew for our stay.
We went to Bar Babel World Fusion to eat. They have craft beers and offer you a choice of tapas free with each beer. So we sampled an IPA and a honey cream ale along with tandoori chicken and rice and lentils with curry and coconut milk. The beer was excellent, the free food was good and it was all about €16. Steal! And the server recommended two other places when we told him we were going to be there for a few days, which was nice.
Then we came home and did boring but necessary things like laundry and taking showers.
Today we had the continental breakfast here at the hotel which was very good. There's a lot of variety including ham, chorizo, Spanish tortilla, etc. It was nice to have a relaxing breakfast with coffee. Then we picked up our bus passes from the bus ticket machine which was super easy since the machine had an option for English. When we caught the bus for the Alhambra the bus driver was in a hurry so we didn't get a chance to tap our cards and got a free ride out of it. The Alhambra is huge. Lots of gardens, lots to see. The gardens and the Nazrid palaces were the highlights. 
We caught the bus back to the center of town and ate at bar Los Diamantes, one of the recommendations we got yesterday. They specialize in seafood so we had fried baby sardines, fried artichoke, dog fish, and mushrooms sauteed in garlic as our free tapas. Oh and their bread roll had salt on it! Kind of like a salt bagel. At least mine did. Steve got the one without salt.
Then we walked a couple of blocks back to the hotel by way of a supermarket. And now we're kicking back because I'm still kind of exhausted.
We had another relaxing breakfast this morning including two coffees. And we headed out on a walk through the Albayzin.
We started our walk about 11:30 and finished around 4:00, just in time to eat.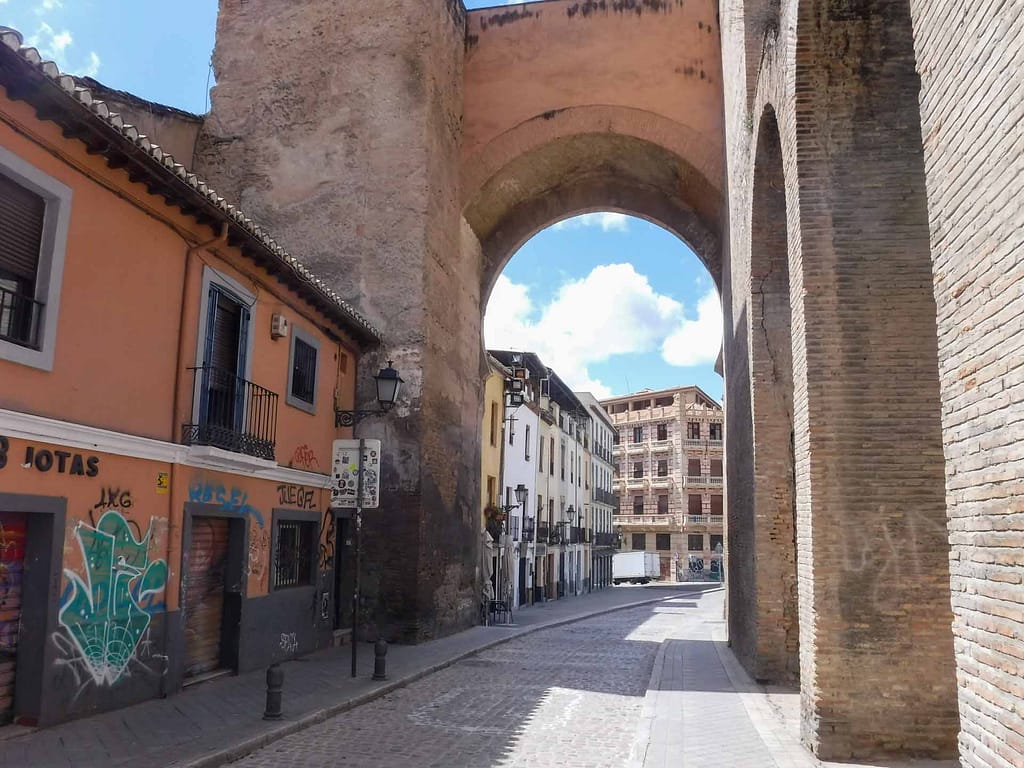 We ate at Bodega Castañeda where we tried their special drink Calicasas and I had a kind of Moroccan style chicken with couscous and Steve had potatoes with ham and eggs. It was all very tasty. Then we hit the supermarket and now we're kicking back. We're trying our third kind of white wine. We tried a white Rioja the first night which was good but too smooth for us. Last night we tried another variety that was tangier but a little astringent.
One thing having a bum leg has given me is a renewed awareness of and appreciation for access for people with mobility and disability issues.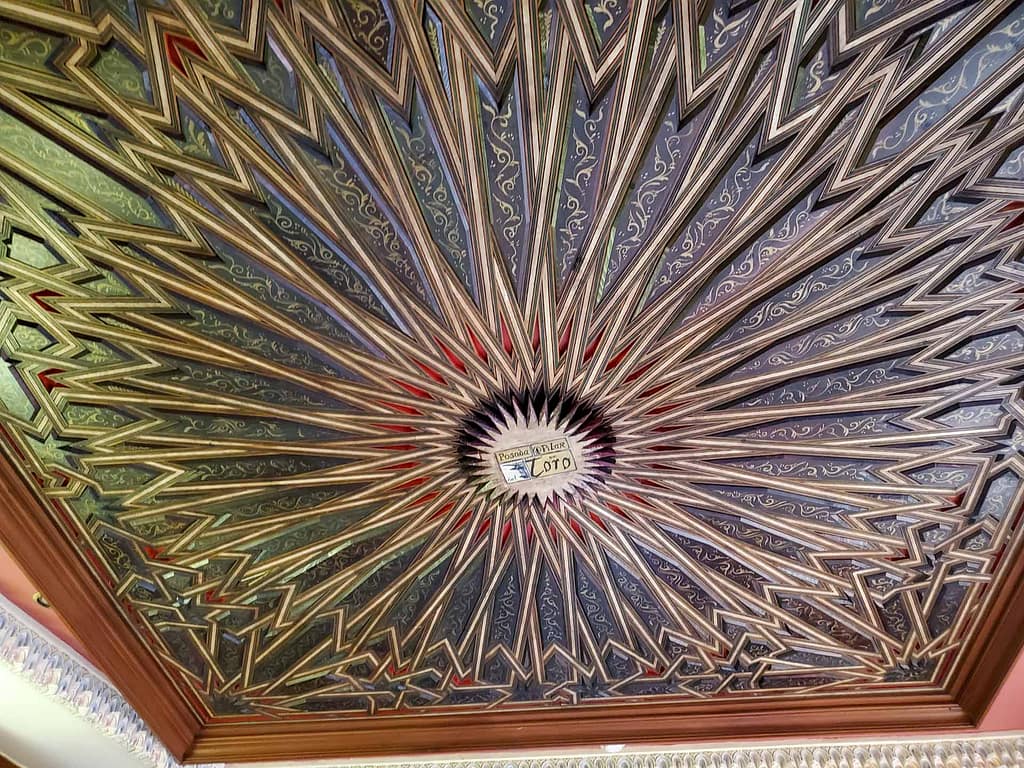 Day 4: Cathedral of Granada and other churches
We started with another relaxed breakfast at our hotel then headed for the San Jeronimo monastery because it was closed midday. The monastery was different from other churches and cathedrals we've seen in that a lot of the decoration was via murals painted on the walls and ceilings.
We headed for the Basilica de San Juan de Dios next only to discover that they were closing midday and would reopen at 3:00 p.m. so we headed for the cathedral. We thought we'd found the cathedral only to discover that we stumbled upon the Royal Chapel first. Which was okay because we planned on seeing that also. So we saw the chapel first with the elaborate tombs for Ferdinand and Isabella and then headed for the cathedral. This was another baroque cathedral. Mostly white on the inside with the usual stunning chapels and treasures.
We stopped at the supermarket for beer and wine for tonight and tomorrow night and then went back to the hotel to relax for a bit since I wasn't feeling so hot for some reason. We headed out again about 3:30 to go to the Basilica de San Juan de Dios. We were glad we went. It was another baroque building, this one lavishly decorated with different marbles and a stunning main altar with lots of gold and silver whether guilt or actual metal. We also stumbled upon an audiovisual show they put on where they opened some of the doors to the different parts of the altar. That was fun.
After that we headed for pizza for dinner. We didn't find the pizza place we were looking for but we did find another one in the same neighborhood, Carmella, and it was pretty good.
Tonight we witnessed a religious procession go by outside our window, complete with a lifesize statue of crucified Jesus.
Another relaxed hotel breakfast and then we did some shopping. We thought about going to the Cartuja monastery but our Granada cards had expired and possibly our bus tickets and besides we decided we didn't need to see yet another beautiful church. So we went shopping and got a spoon rest and a couple of bedazzled little bags for storing earbuds and such. We walked around some too since it was sunny and finished up by stopping at a bakery for some pastries for tomorrow's breakfast.
After taking showers we went around the corner to Hannigan and Sons Irish pub for cheeseburgers and Guinness since we didn't feel the need to eat any Spanish food today.
In our travels today we saw our first ever bicycle-powered carousel. 
This section contains affiliate links. If you click on a link we may receive a commission at no cost to you. 
We found nothing not to love about Hotel Posada del Toro, from the great central location to the delicious breakfast to the spacious room and bath and friendly staff. At a great price!
We heartily enjoyed Bodega Castañeda and Los Diamantes. Babel was great value with craft beer that came with free tapas. Two rounds of tapas and beer made a meal for us. Free (great) food!  And local tips.
We walked everywhere except a bus to and from the Alhambra and a taxi to and from the train station. Had it not been for my injured knee we probably would have walked back from the Alhambra and from the train station. Taxis were reasonable though.