The Chora of Folegandros is charming and leafy, in contrast to the ruggedness of the island. The walking trails were better sign-posted than we expected. We didn't get to experience the beaches since it was cooler (low 70s) and very windy. It was quiet and serene.
Day 1: Milos (Μήλος) to Folegandros (Φολέγανδρος)
So we had to get up about 6:00 this morning in order to pack and be ready to catch our ferry. We did have a chance to wish our host Aris farewell and have a nice chat with him while waiting for our taxi to show up. We've been seeing lots of designs painted in the streets around here. He told us that's part of Easter celebrations; they turn the kids loose with paint on the streets. Our host confessed that he is no good at painting; he just provides the paint. Apparently our building was built in 2004. We were wondering how old it was. His family also owns the apartments next door and he said when they originally built those places in 1998 there were not really any other buildings around. He also told us there's not really supposed to be large trucks going through the streets both for the tourist atmosphere and the safety of the local residents including the kindergarten down the street.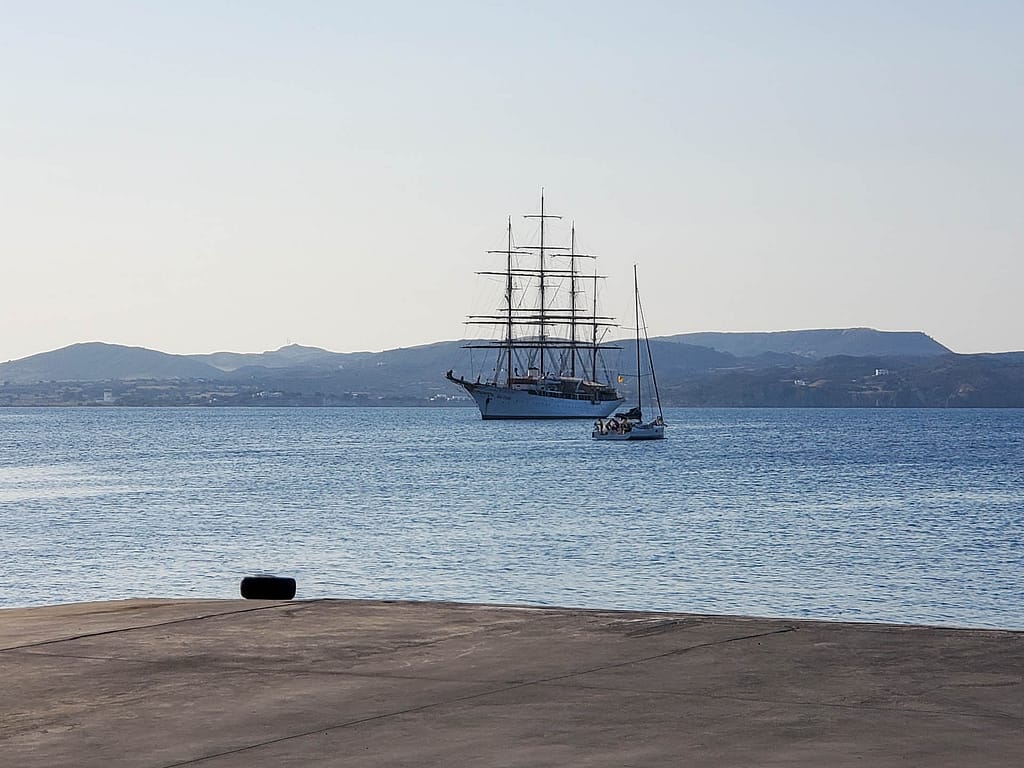 Our taxi driver was kind of fun. He played the radio really loudly and sang not necessarily along with the radio and drove very fast. I guess he didn't know the ferry was running late. Either that or he was. Getting on the ferry this time was a little more organized and a little less chaotic. Seemed to be a smaller crowd this time; there weren't as many bags in the hallways. We were actually the first people off the boat in Folegandros!
The hotel van was waiting to collect us and another couple at the ferry. Our hotel is quite pretty, all white with blue shutters and flagstone steps and paths. We have a cute little terrace with an umbrella and a classic Greek setup: shove two twin beds together and pretend it's one larger bed. We also have a round bathroom that's basically a wet room and blessedly has more space around the toilet than our last place. It'll be interesting to see how much of a mess we make the first time we take a shower.
After dropping our stuff off we walked into the village to have some lunch and hit the supermarket. We went to Melissa's for lunch. There were a couple different supermarkets in the village. We walked right past one and went back to discover that it was closed so we ended up at a tiny little place but they did have the water and the beer that we wanted. We also walked around the village a little bit and discovered that around the edges there are some nice views down the cliff and over the valley.
After lunch we came back home and had some water and took a nap to compensate for getting up so early this morning. After a nice nap we had a beer or two and then went back to Melissa's for dinner because supposedly they had good souvlaki and they did.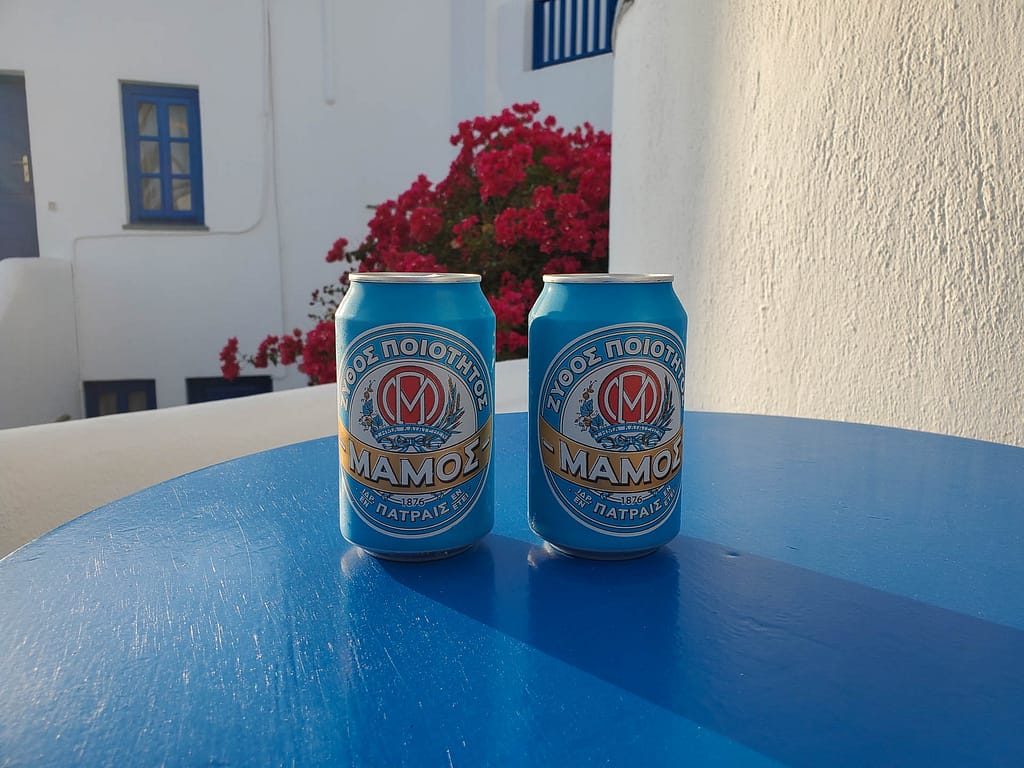 We came back to use the bathroom and then wandered around the village a little more to see what it looked like after dark. It's much more open feeling than other villages we've been in because things are organized around squares rather than along alleys. It's quite pleasant.
Day 2: Hike to Angali Beach
Since we couldn't make coffee and have breakfast in our room we went to Pounta for breakfast. The restaurant has a couple of tables outside and a garden with interesting seating among the plants.
After breakfast we decided to hike to Angali Beach. We stopped to take some photos at the first square. The cliffside village location is stunning.
By the time we get to the beach we decided we didn't want to hang out on the beach — it was pretty windy — so we found a place where we could have a beer and a snack while we waited for the bus to leave at 2:15. While waiting for the bus we overheard two other women talking to the bus driver about walks and such. The older woman is spending three weeks on this island. I'm glad we're only spending four nights. It's nice, but there's not a whole lot to do. Which is sometimes the point.
Once back in town we went to get beer and discovered that all the supermarkets but the one we'd already been to shut down in the middle of the day. So we bought our beer at the place we bought it yesterday then went back to our place and had showers and sat outside and had a couple of beers.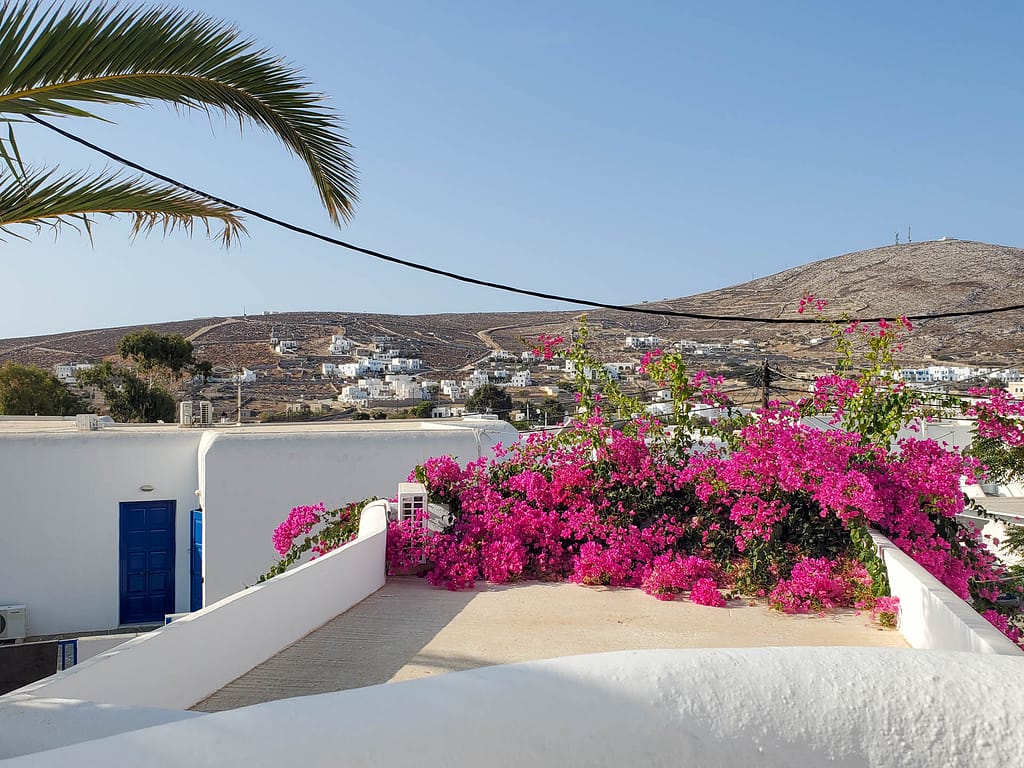 We went into town for dinner a bit early. We probably got there about 6:30. We went to Piatsa. The kitchen wasn't open when we got there so we got our beer and some olives to kill time until it opened. Their restroom is interesting and worth experiencing. You go down a few steps and then across a glass floor over some kind of well or cistern. It's actually a little creepy but interesting. We also had a rather irritating cat that kept trying to climb up and eat our food. (Not the cat in this photo. We just thought the markings were interesting.)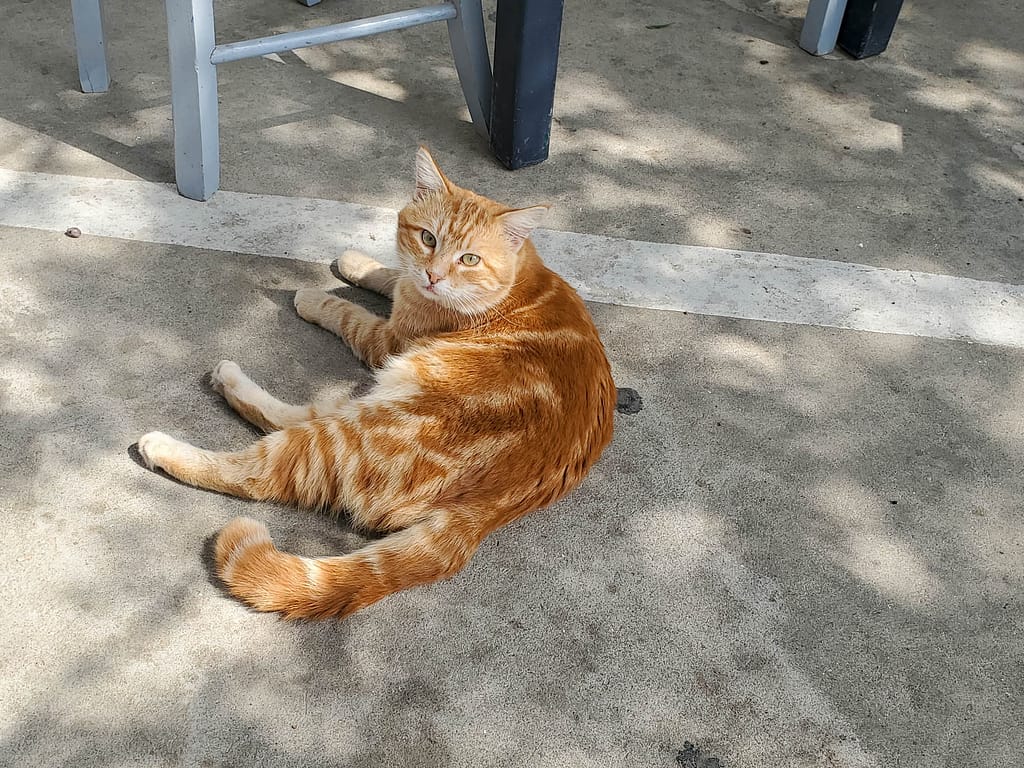 And then we came back here and sat outside to have another beer. It's actually fairly chilly tonight. Steve got out long sleeves and I got out one of our Turkish towels to use as a wrap. Now it's off to bed.
Day 3: Climb to the Church of Panagia
We thought about renting a four-wheeler today but in the end decided not to and just kind of stuck around the village. We went back to Pounta for breakfast. After relaxing for a bit we then tackled the climb to the church up on the mountain.
After climbing to the church we went into the village and explored the Kastro neighborhood. And were glad we did. It's very photogenic.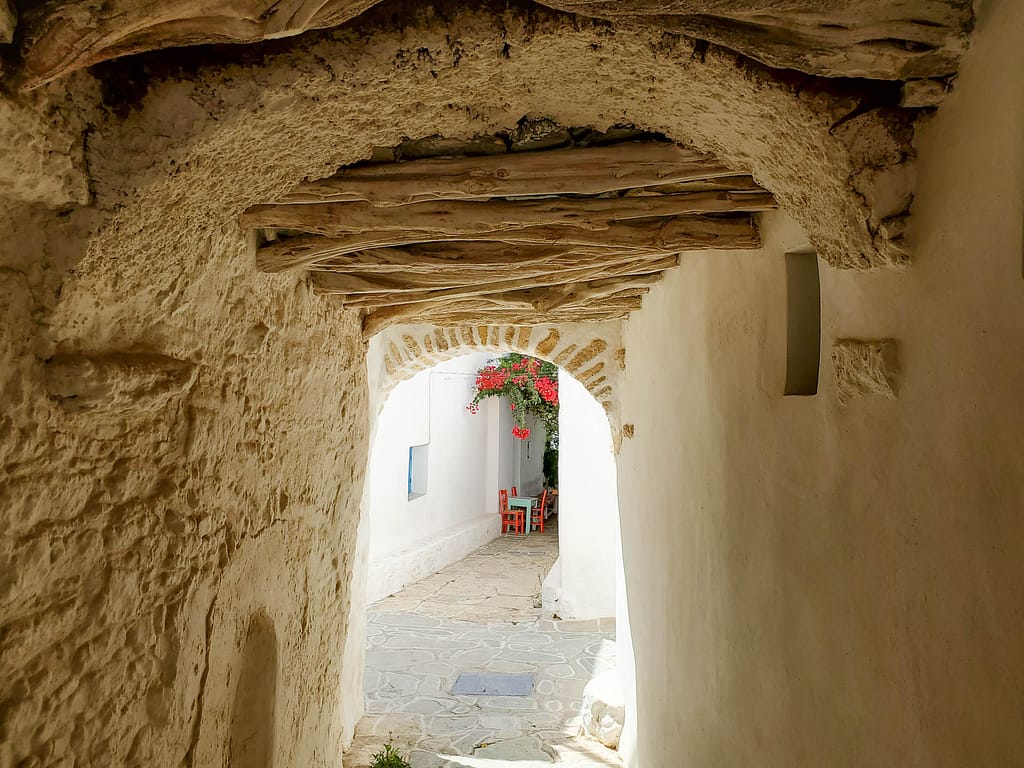 We wandered around the village a bit more before lunch, stopping at the Folegandros T-shirt store to get a Christmas ornament that is very pretty.
Then we went to Araxe for lunch. The guy had been talking to us every time we walked by trying to get us to go in so we decided to try it since they had pasta on the menu and that's what I was craving. The host Stratos told us the wine was very good and we asked him how the beer was. He laughed and said beer was easy. He also told us Mythos is no longer brewed in Greece. It's now brewed by Heineken. So we ordered Fix. It was a nice lunch and after that we went back to our place and just sat on the terrace and hung out for a while. Took a little nap. Then had a beer before dinner. The views are beautiful around sunset too. Not as vibrant but with a special glow.
We went back to Melissa's for dinner tonight. We like the place and we weren't up for trying something new. There were some entertaining cats nearby. Then we came back here to drink more beer and ended up coming inside because it was just too chilly and windy outside.
Still windy today. We went to Pounta for breakfast again. I got my first chocolate crepe. Yum!
After lazing around until about 12:20 we headed for the port by road. It was a steady downhill so easy walking except for the WIND. At one point in a canyon it was enough to push us along. We thought it was probably about 60 MPH.
Rather than walk back uphill against the wind, we had a beer at the port at Karavostasi and took the bus back. It was a minibus this time. Maybe the large buses have stopped?
There's a definite end-of-season feel in the air. We've seen one closed restaurant and one boat taxi that's stopped running. Since we arrived at least one restaurant has dramatically reduced its seating.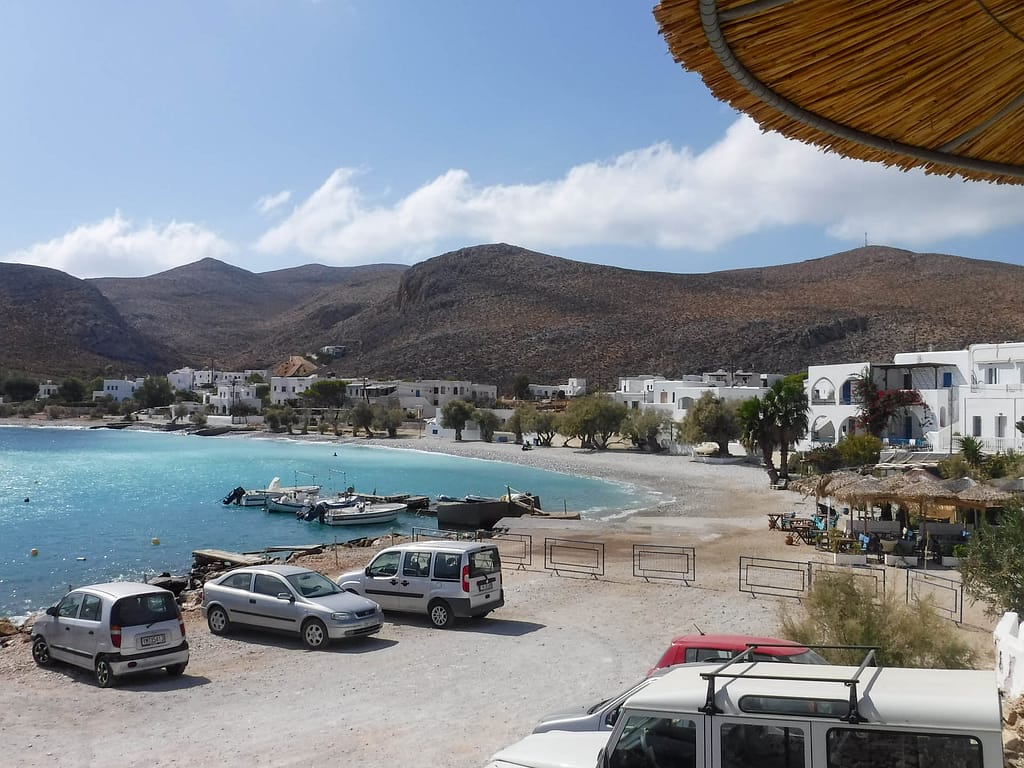 Back in Chora we had lunch at Nicolas Michailidis Taverna aka Nicolas' Place. The restaurant didn't look like much but it was at least as expensive as other places. We headed back for showers, packing, beer, and checking out. We heard that some ferries had been cancelled or rescheduled so we checked ours and discovered we're going on a different boat but about the same time. Some others staying here aren't going to make it to Amorgos on schedule.
Then we went to Melissa's one last time. Their souvlaki was so good we had to have it again. We ordered cheese pies but they didn't have any. Our server recommended a cheese roll so we tried that. It was even better! Then we headed back for beer and took a walk down the road to get a picture of the illuminated church.
We have a wacko cat that hangs out at the hotel. A couple of times we had to close the door to keep it from wandering in. And there was a cat by the restaurant that was entertaining, jumping and doing cat things. We bought 7 large bottles of water because tap water isn't potable.
This section contains affiliate links. If you click on a link we may receive a commission at no cost to you. 
Perfect location on the outskirts of Chora. Charming, spacious room, good storage, nice terrace with a view over the village to the hills. Bougainvillea right up front! Friendly and helpful hosts who pick up and drop off at the ferry. The bathroom was a wet room and the floor got wet and slippery when we used the shower despite trying to be careful. The floormat was handy for mopping up. Would love to stay here again!
There were lots of restaurants in Chora that sounded good. We were able to try a few. 
We walked everywhere in Chora and down to the port. We also took the bus back from Agali beach and back from the port.