Chania is a beautiful city with an underrated beach, and I would love to come back. There's so much of Crete to take in.
Day 1: Thira to Heraklion
We had breakfast, then a last walk on the beach. Now we're sitting by the pool chilling until it's time to leave. Or we get bored. We had a sandwich and beer. And watched sparrows drink and bathe in pool water. Took a selfie of our feet! (It won't be the last one.)
On the ride back to the port, our host told us the switchback road has grades of 20%. Stelios has been traveling that road for 22 years, first on foot, then on donkey, to go fishing with his father. Now he drives it 2-8 times per day. They shut down the hotel in October and go on vacation. Last year they went to Spain. This year maybe Turkey? (We always wonder where people who live in paradise go on vacation.)
The ferry was more like an airplane, with assigned seats inside. We got a photo of the sunset out the window as we left. We arrived in Heraklion and found the hotel no problem. It's easier to get there when you can see it from the port. We had dinner at the rooftop restaurant. It was probably good; I couldn't taste it. (Sinus issues.) Steve liked his. We had stuffed phyllo pastry with pepper sauce and potato souffle with cheese to start, then lamb stuffed with mizithra (local cheese) and mango sauce, and sea bass with pureed chickpeas and mastiha oil. We bought beer at a kiosk and drank it on the balcony. Very impressive view.
Day 2: Iraklion to Chania, and Knossos
We started our day at Knossos, after an amazing breakfast at Lato. Best buffet outside an Iberostar that we've seen. Great Greek pancakes, self-serve fresh squeezed orange juice. 
We got a 1:30 bus to Chania. A nice woman worked the ticket machine for us. It was a fairly scenic drive; too bad there were teenagers behind us. 'Nuff said. We got in about 4:00 PM. No difficulty finding our hotel.
We walked out to the Venetian lighthouse, around the waterfront — where we saw the most obnoxious touts yet — and by the tavernas on the other side: Strata, Portes, and Ela.
We ended up eating at Ela. Beer with stuffed mushrooms (bacon, cream, cheese), tomato and cucumber salad, and exochiko for two. Also free yogurt and raki for dessert. There were weird guys playing good music and a Japanese guy selling tourist trash inside the taverna. There were also kids playing accordion in random places.
We bought beer on the way home, then crashed without drinking it.
We had English breakfast at Faros, then walked over to the town beach and back, to stretch our legs and check it out.
Then we wandered the town and booked our Samaria Gorge tour. There are lots of tour operators and tourist agencies and the tours are much the same. We went with one nearby that our host recommended.
After that we went grocery shopping: beer, retsina, juice, cookies, cheese, and other snacks for hiking. Then back to the hotel for a couple of beers, then to the ATM, out for gelato, and back for more beer on the balcony.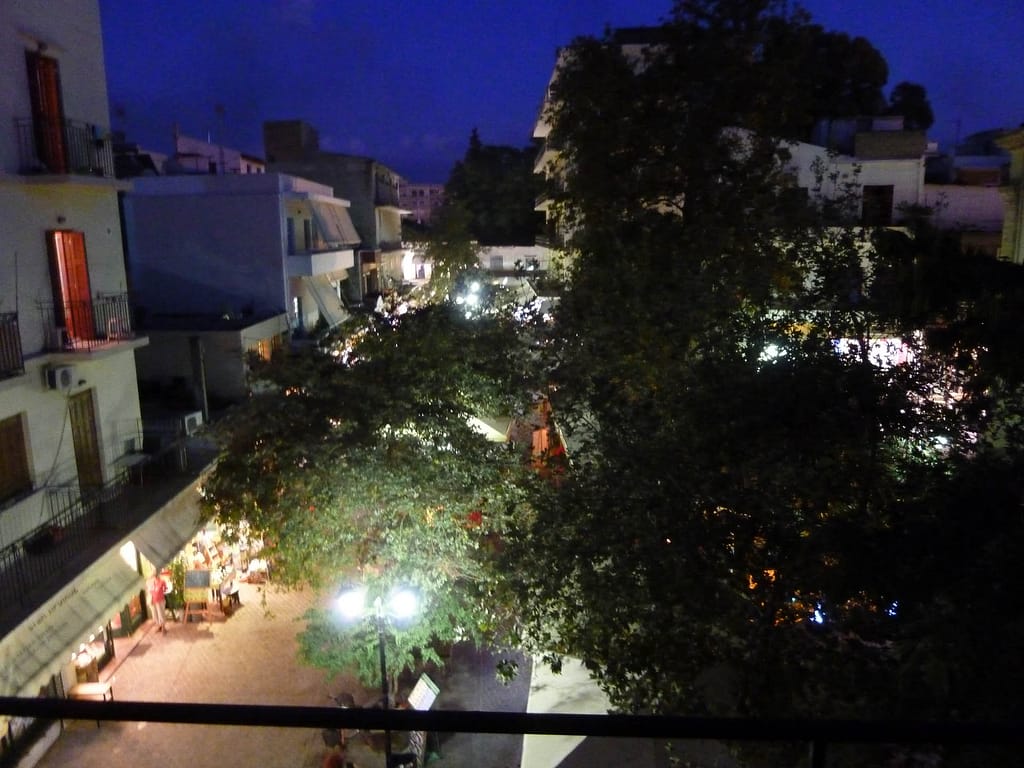 We had dinner at To Steki. Staka, boretski, cretan rice with yogurt, lamb, and chicken. Plus wine, raki, and cake. Very personable (and humorous) service at the restaurant. Now back to the hotel to sleep before hiking.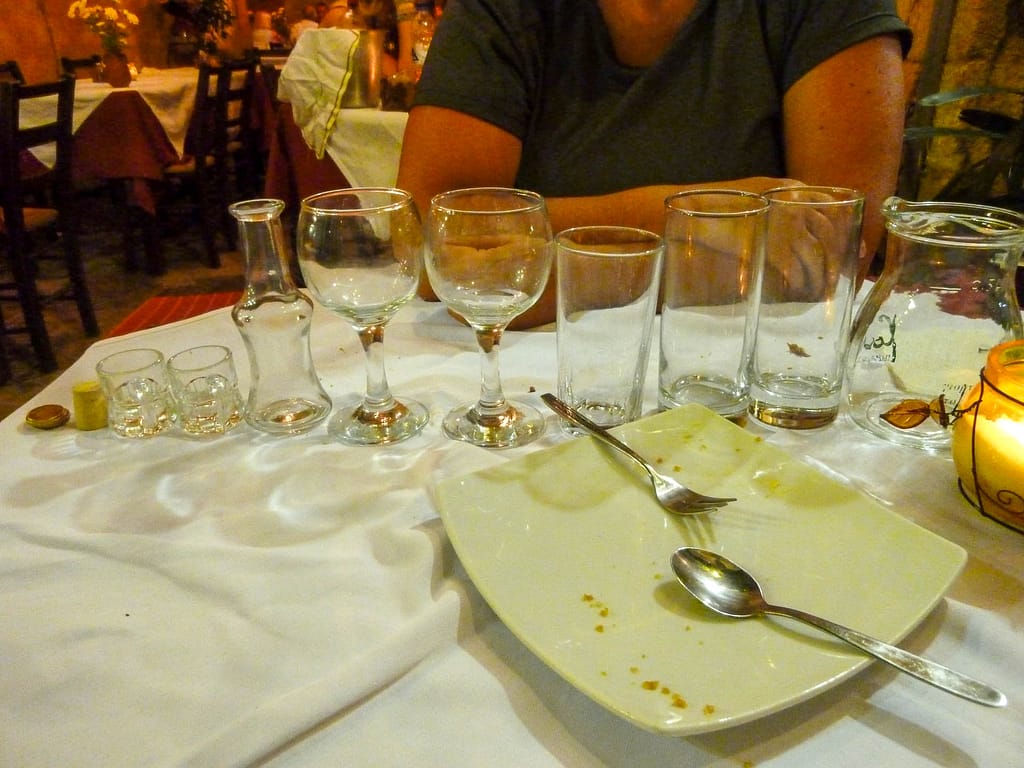 Day 4: Hiking the Samaria Gorge
We were up early (5:30 AM) to hike the Samaria Gorge, one of THE highlights of our trip.
Once back in town we had to run all over shopping for beer. We had one, then went across the street to Tholos to eat.
We had kalitsounia, chicken with orange sauce and lamb sfakiano, with raki and grapes for dessert. The food was good and the restaurant was beautiful, though both our dishes had a lot of picky little bones, making them difficult to eat. We had another beer after dinner.
After our early start yesterday we slept in, then went to Neo Hora beach. It's probably the nicest beach for sand quality and lack of rocks that we've seen. We sat at Akrogiali, where we also had lunch.Taramasalata, chicken souvlaki, and a small seafood variety for me: tiny squid, cuttlefish, octopus, shrimp, salmon, swordfish. Also great bread, toasted and seasoned; much like garlic bread. We had beer with and after lunch. Also shots and baklava. 
There was a group of Norwegian women sitting in front of us who changed their swimsuits many times. We had no idea why. There were giggly Irish(?) boys behind us. And a nearby single mom trying to corral a toddler and a baby.
We went back to the hotel and chilled until about 8 PM. We went shopping and found all our trinkets, then had retsina followed by dinner at To Steki. Potatoes with smoked pork and cheese, then pork stifado and penne with smoked pork, local cheese, and tomatoes. Raki and cake to finish, then back to our balcony to finish our beer, because tomorrow we leave.
Church bells rang about 7 AM. Then again an hour later? We got up around 9 AM, had English breakfast at The Green Eye, then went back and packed. Then we went to the archeological museum and the ship museum. The archeological museum is in an old monastery and is beautiful. The ship museum holds a reproduction of a Minoan boat. They sailed the boat to the Athens Olympics. 
We also stopped at a gallery in a mosque where we bought a calendar, wandered for a bit more, then picked up our bags and headed for the bus to the airport. Vranos kindly held our luggage for us and allowed us to print boarding passes.
It was very confusing getting on the plane. We took a bus to the plane. A really cranky old guy was our shadow. He hit Steve in the head with his cane (by accident, but it still hurt). We flew over Milos. Maybe one of our next islands? (Spoiler: Yes!)
Back in Athens we again stayed at the Cypria Hotel. We had dinner at Meatropoleos 3. Funky, modern, mix and match souvlaki. We had pork, chicken, kebap, and lots of fries. Amstel and Heinekin. We're now back at the room drinking Amstel as I write. We have our bus tickets to the airport for tomorrow. And €4.25 left. Time to go home.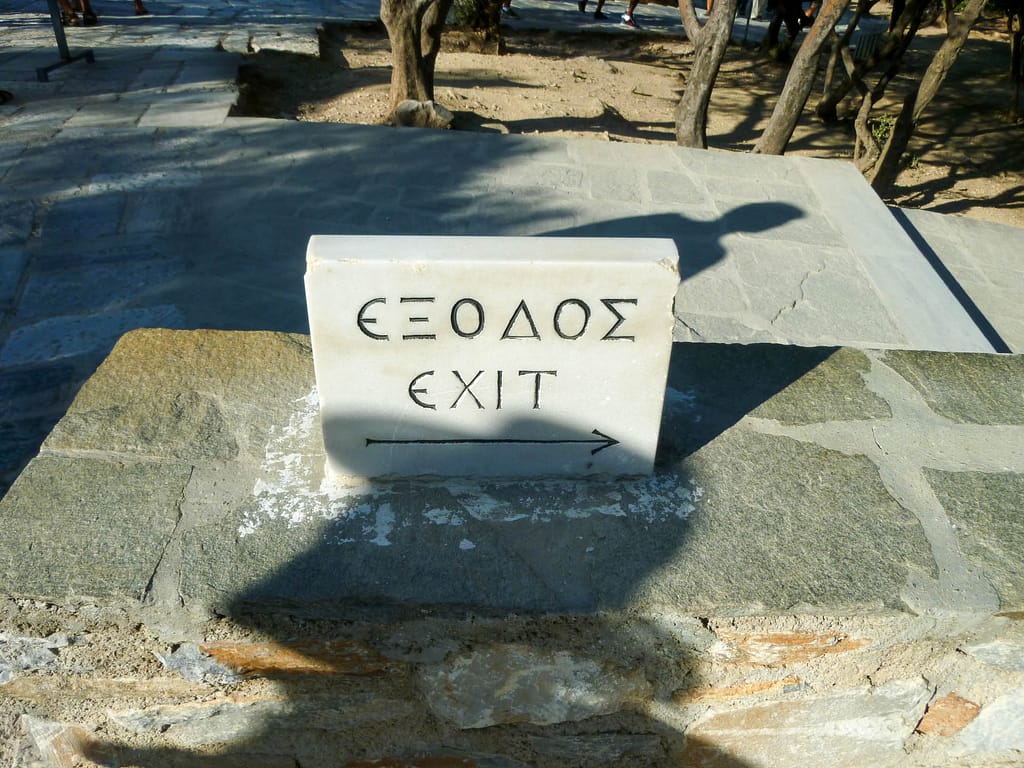 This section contains affiliate links. If you click on a link we may receive a commission at no cost to you. 
The Lato was very convenient to both the port and the central bus station, perfect for our overnight stay arriving on a later ferry and traveling on the next day by bus. The hotel was stylish and comfortable and provided excellent service. The included breakfast buffet is the best I've seen outside a cruise or 5-star all-inclusive resort. The hotel restaurant was convenient and tasty.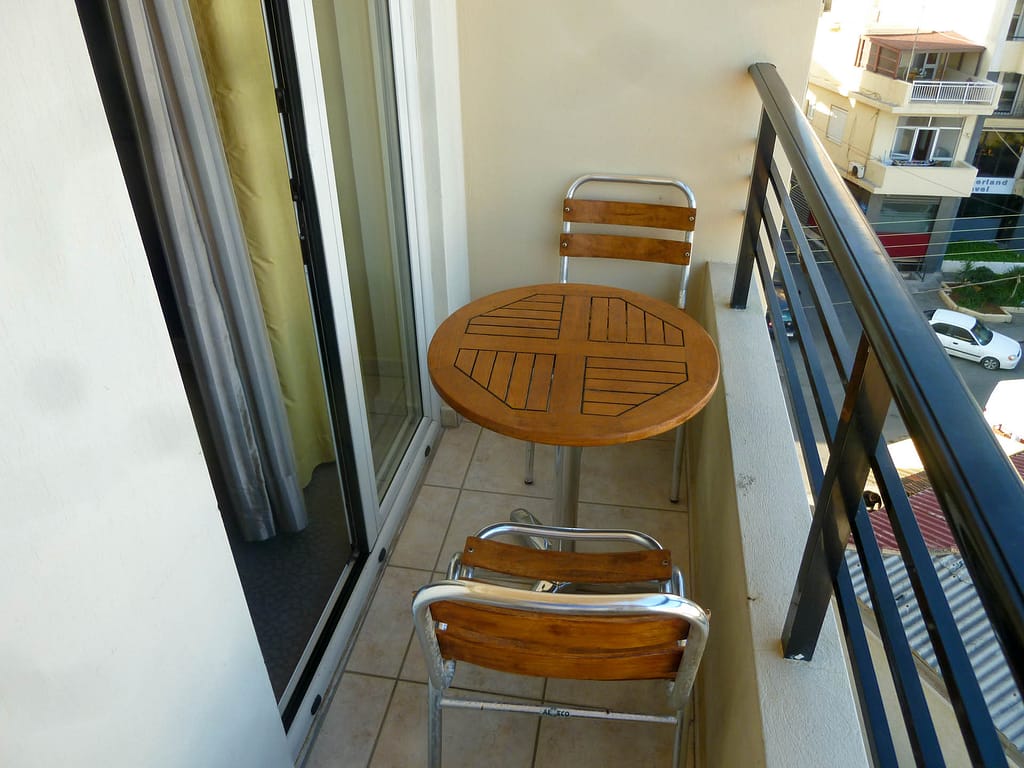 The location is great, right in the middle of the old town, with bars, restaurants, and shopping nearby, yet quiet and neighborly. The studio was spacious and airy, with a small balcony over the square. The kitchenette was handy, especially the fridge.  Everyone was very helpful recommending restaurants, tours, answering questions, and allowing us to print boarding passes and store our luggage.
I took off one star because the toilet lid wouldn't stay up on its own due to the placement of the toilet and the fact that there was no in-room safe. But the guy at the desk was so obviously shocked at the thought of theft when I asked about the safe that I felt perfectly fine without it.
We found several excellent restaurants in Chania and it sounded liked there were many more!
We took a bus into town and a bus out to the airport. Other than that we walked everywhere.