We enjoyed Caye Caulker immensely. We spent the six days we were there in flip flops and swimsuits and while we had lots of great food, none of it was fussy or required dressing up, and it wasn't hideously expensive.
Day 1: Belize Zoo to Caye Caulker
We began our trip to Caye Caulker by shopping for luggage. Not because of all the souvenirs we'd acquired, but because the zipper on our duffel bag did not respond well to seawater, and the teeth went flying when we tried to open it! Our helpful rental car driver and very helpful security concierge at Ocean Ferry told us where we could buy a replacement and we did. Simon Quan, just up the street. Looked like a fun place to poke around if we'd been more in the mood, and that you could buy just about anything you could think of.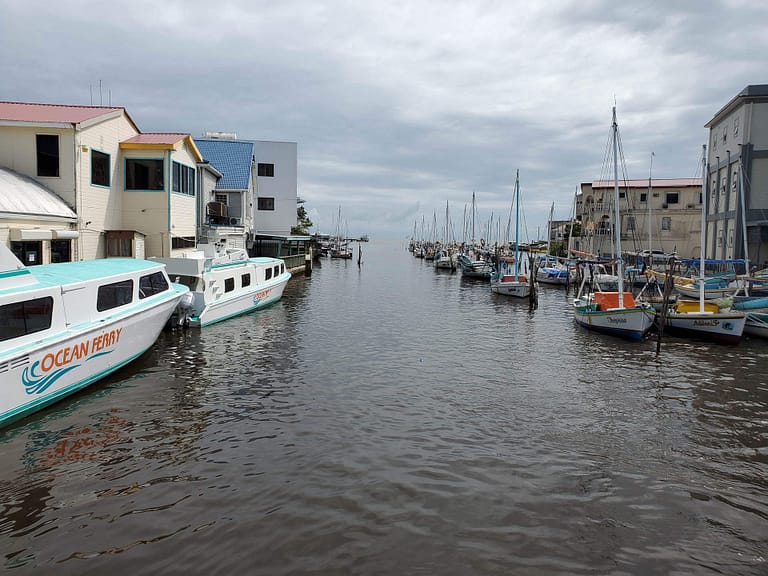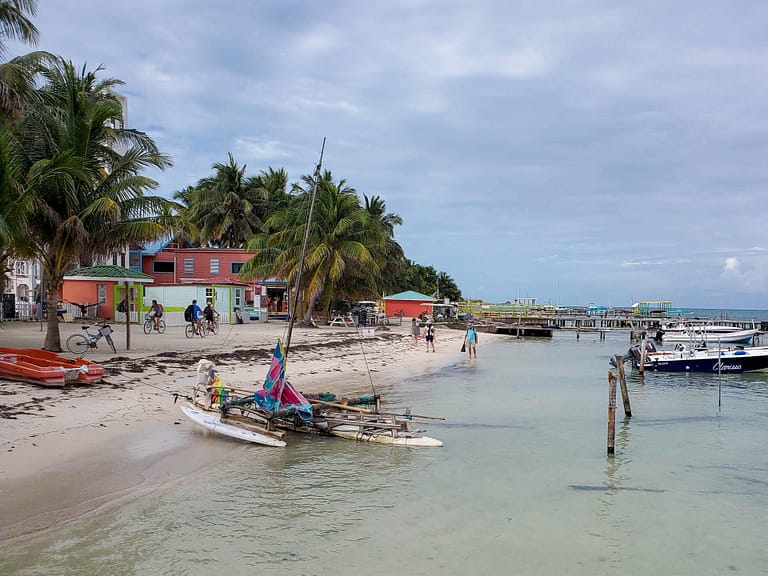 We were way early (again) for our scheduled ferry so they put us on an earlier one. It wasn't a great view through the windows but it also was not a butt stomper like our boat to Tobacco Caye either. It looked like most of our fellow passengers were sleeping. A golf cart taxi on Caye Caulker got us to our lodging without having to carry our luggage in the heat.
Day 2: Exploring Caye Caulker
Most of our time was spent ranging from dock to deck to dining. We spent our first day just wandering the island. We had breakfast at Ice & Beans, after sampling their excellent coffee and fresh doughnuts. We hit the bakery to get something for breakfast the next day and the store for alcohol. We spent some time relaxing on the dock. We had lunch. And we booked our snorkel excursion with Carlos Tours. Lots of places offer tours. Shorter trips go the reef near Caye Caulker. Longer trips head further north. After much discussion we went with Carlos as our first trip and decided we would add another shorter excursion if we felt like it. (We didn't.) Carlos was full for the next day, so we booked for the day after.
We stopped at Casa per Caso to make dinner reservations and they were able to seat us right then, so we had excellent salads and pasta, with Belizean craft beer. Casa per Caso is a tiny place that makes pasta with two sauces every night, one meat and one not. We tried both and they were delicious.
We started our day with breakfast at Amor y Cafe, where we ran into our taxi driver from the day before in his role as a server. Then we spent some time reading and relaxing on our dock. A fellow guest had pointed out a guy on a bicycle selling banana bread yesterday and said his stuff was good, so we bought some from the dock to have tomorrow. Then we headed for The Split. Caye Caulker is divided into two pieces by The Split, a channel with clear water that's good for swimming, though there is boat traffic. There's a bar there called the Lazy Lizard, with tables right in the water. We walked there to check it out and have a beer and ran into some neighbors when we both grabbed the same table at the same time. We enjoyed chatting with them. 
We had lunch at Chef Kareem, one of several barbecue stands along the main street. The chicken took a while but it was delicious. We had a waterfront view with our meal too, and curious dogs and children for entertainment. 
We went back to our place to hang out, then strolled down the road to Reina's for dinner. Another tiny little place, with a sand floor and an open kitchen. They had nice touches like mosquito coils to keep the bugs away, and great local food. 
Day 4: Snorkeling with Carlos Tours
Today was our one big excursion of the trip, snorkeling with Carlos Tours. We've been wanted to get on a sailboat — neither of us has been on one. We tried a sailboat snorkel tour off St Croix a couple of years ago, but our group was so small they used their powerboat instead. So this was our next chance. It was a great trip. (You can read more on that here, with some wildlife photos.)
Dinner was at Il Pellicano, easily the fanciest restaurant we went to on Caye Caulker. It was still outdoors and casual. They had live music that night, a singer-songwriter from Kalamazoo, Michigan, about 65 miles from where we live. Carlos was there too. Caye Caulker is a small place. 
Day 5: Hanging Out and Riding Bikes
One of the nice perks of Colinda Cabañas, where we stayed, was free bikes for each room. So we got to see if we could still ride a bicycle. We've been on one twice in the last … 30 years? (We can, but it was wobbly at first.)
At lunch, we found the raucous drunks at the Barrier Reef sports bar. They actually weren't obnoxious and the burritos were pretty good. 
Dinner was Maggie's Sunset Kitchen where we got to experience a different type of annoying drunk: the ones who sit with their feet on the bench where other people sit. The first and only time we saw a Belizean (one of the staff) anything but warm and friendly. And rightly so. The sunset and the seafood were both good. 
A couple of other guests had said there was a place you could feed tarpon up on the inland side of the caye. On our last day we went to check it out. For a few bucks, you buy baitfish from the women who hang out by the dock. Then you dangle them over the water and let the giant (toothless!) fish eat them out of your hand. That was a hoot. (If you're interested, head west at the corner by the Barefoot hotel and go all the way to the water at the end.)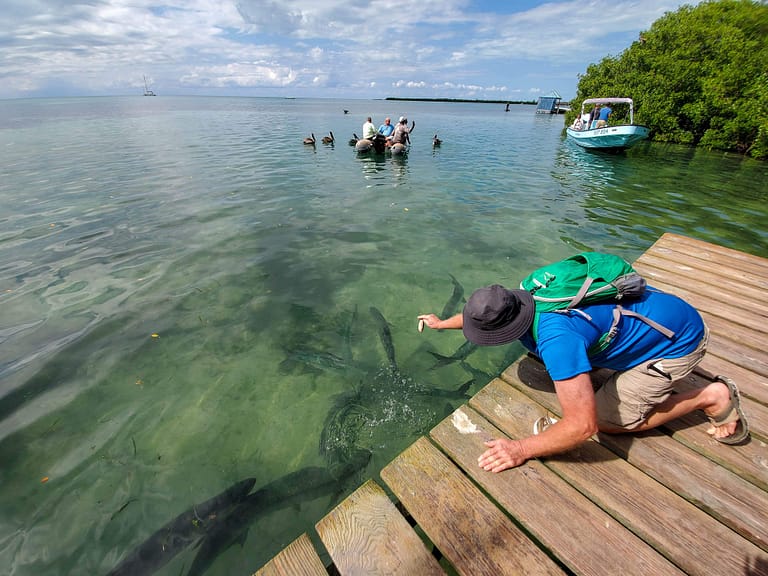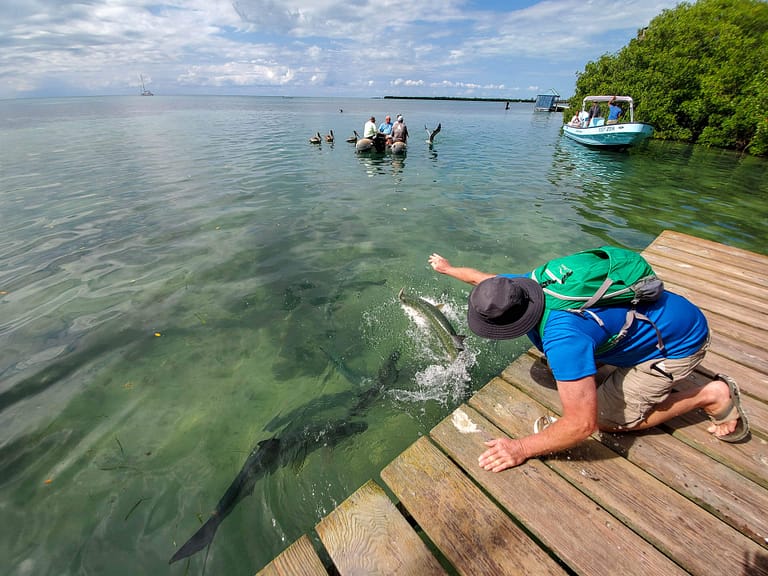 We stayed at Colinda Cabañas, at the very end of the street on the east coast, and we highly recommend it. It was clean and quiet and everyone was helpful and friendly. There are several different room configurations to choose from and they're well described on their website. Bicycles and a lock are included with each cabin and you have the option to have them stock cold Belikan for when you arrive. Genius! At the seafront are plenty of chairs, hammocks, and sun loungers to choose from onshore and on the dock. There's a ladder at the end of the dock so you can get in the water.
The relaxed friendliness of the island seems to rub off on the guests. Or relaxed and friendly people are drawn here. Who can tell? In any case, we had some nice chats with other guests at Colinda's and got some nice recommendations on restaurants, snorkel tours, and street vendors. 
Caye Caulker is pretty close to a perfect beach town for us. Other than the lack of an actual beach, which may keep it from getting overbuilt! We're happy we stayed on the water; I don't think we would have enjoyed it as much without ready access to the dock and waterfront because there isn't much public space along the water. 
This section contains affiliate links. If you click on a link we may receive a commission at no cost to you. 
We booked well in advance and still didn't get our first choice – someone snagged it earlier the same day! – but were happy with the room we did have, #12. It had a frig, coffee maker (and coffee!), and filtered water. The room wasn't huge but it was large enough, and the spacious bathroom had a table handy for dishes, laundry, and toiletries. And plenty of space to hang wet things in the bathroom and on the private deck. There was air conditioning though we never needed to turn it on. And while decor isn't something we care about when traveling, the wood ceiling in our room was really cool, and the conch shells they put over the solar lights on the dock were too. 
There are LOTS of great restaurants on Caye Caulker. Too many for us to hit them all in six days! We were able to use credit cards for many restaurants and at the supermarket.; we weren't sure if that would be the case.
We took the Ocean Ferry to Caye Caulker and back, which is the smaller and cheaper of the two companies. They don't run as frequently, but they ran frequently enough for us.
The streets on Caye Caulker are sandy and potholed and when it rains you get to slalom around the puddles. Most people get around by walking or cycling, and golf carts are used for carting stuff around. We stayed at the south end near the airport and it was still only about a mile to the Split at the north end; an easy walk even in flip flops.