The Caprock Coulee trail is a great day hike through the badlands of North Dakota, offering overviews, rock formations, and wildlife opportunities.
We had a day to spend at the North Unit of Theodore Roosevelt State Park and planned to start by hiking the Buckhorn Train to a prairie dog town. Until we met him coming round a bend.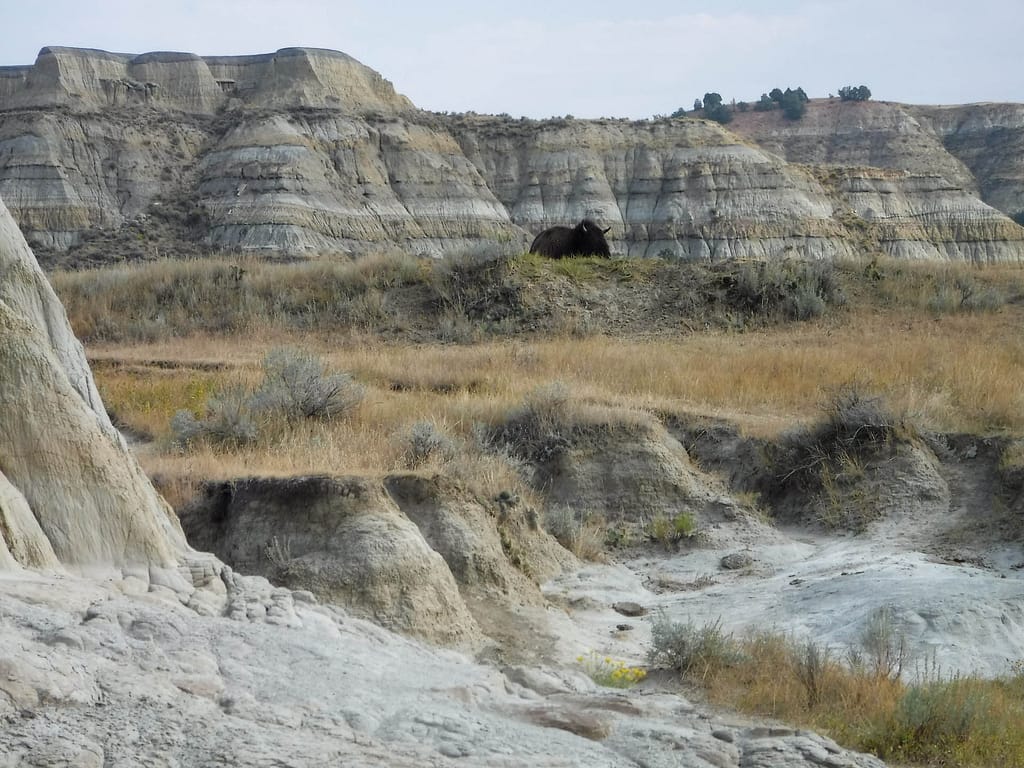 He perked right up when he saw us too, so we decided to skip that trail and just do the Caprock Coulee hike. We think he was a sentry for the bison below. The trail winds around the rock outcropping on the left. 
We saw deer on the Caprock Coulee trail. We had no idea they could handle such steep slopes. 
The trail meanders through rock formations and up onto a high ridge. Beautiful overviews everywhere. 
The only real challenging part of the trail comes after it crosses the scenic road through the park. There's a rocky area where it's tough to figure out where the trail is and then how to stay on it. We also saw a lone buffalo from there, in the distance thankfully!
From then on it's going mostly downhill to finish the loop. Overall the trail is not very strenuous. There are a couple of places where footing is tricky. I was glad to have hiking poles. 
Even if you stick to the scenic drive and the pullouts you'll see lots of badlands. And probably a few bison. The South Unit of the park also has a nice scenic drive. We stopped there on the way to Glacier National Park.